Hue, the former capital of Vietnam, is world-renowned for its long-lasting treasure trove of royal mausoleums, imperial citadel, and iconic pagodas. It proudly boasts of a place where visitors can immerse themselves in Vietnam's illustrious history as if traveling back in time.
Overview
As regards historical aspects, Hue was the capital city of the Nguyen Dynasty dating back from 1805 to 1945, the last and the longest dynasty in Vietnam's feudal period. This ancient capital is famous for numerous temples, pagodas, tombs, and palaces that still exhibit the brilliance of an entire dynasty.
The ancient capital is also famous for its exquisite cuisine, contributing to enriching Vietnamese culinary art. Several specialties of Hue, such as mussel rice, Hue beef noodle soup, and so on, are worth a try. Besides, this ancient capital is considered a festival city. Since the first time in 2000, this biennial cultural festival has become a particular cultural affair and the pride of Hue's residents. With the participation of domestic and foreign artisans, festivities have revived many of Vietnam's antique capital values. Visiting the main attractions in Hue and savoring many specialties here will bring tourists many memorable experiences.
Attractions to visit in Hue imperial city
Below is a list of top-rated tourist attractions in Hue. Remember, these suggestions only skim the surface!
The Imperial Enclosure
The Imperial Enclosure, the most popular destination in Hue, is a must-see when visiting Hue. It is a citadel-within-a-citadel, serving as a venue for significant court ceremonies, ancestor worship, and the royal family's residence. With a tremendous value in history, culture, and architecture, this landmark has been regarded as a World Heritage Site by UNESCO since 2010.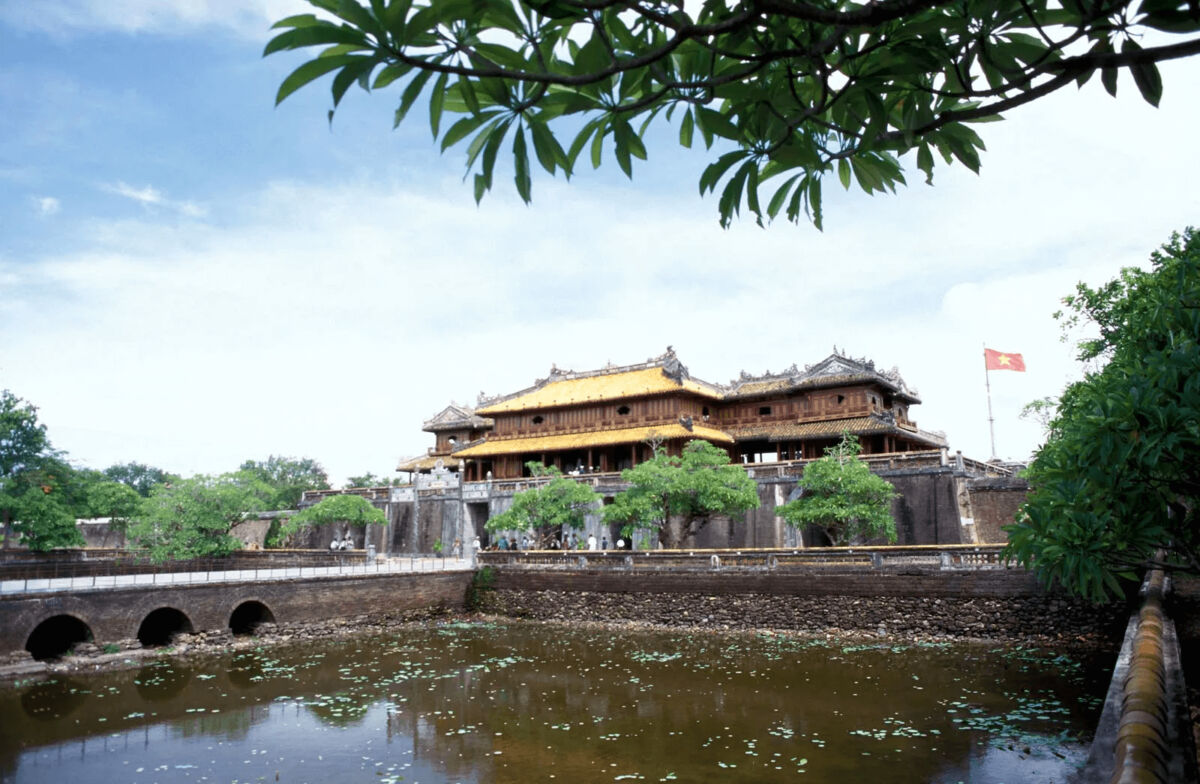 There are some critical architectural landmarks that travelers should not miss including The Meridian Gate, Hue Flag Tower, Thai Hoa Palace, Temple of Literature or today's Thua Thien Hue Historical Museum, and Long An Palace also known as Hue Royal Antiquities Museum.
Thien Mu Pagoda
Located on Ha Khe hill, Thien Mu pagoda has become the symbol of Hue with its natural beauty. Built-in 1601 by the first king of the Nguyen Dynasty – Nguyen Hoang, this was the largest-scale pagoda. The experience not to be missed when coming to Thien Mu Pagoda is to see the magnificent Phuoc Duyen tower and listen to its unique sound of bells ringing twice per day (13:00 and 19:30), which hits 108 chimes each time.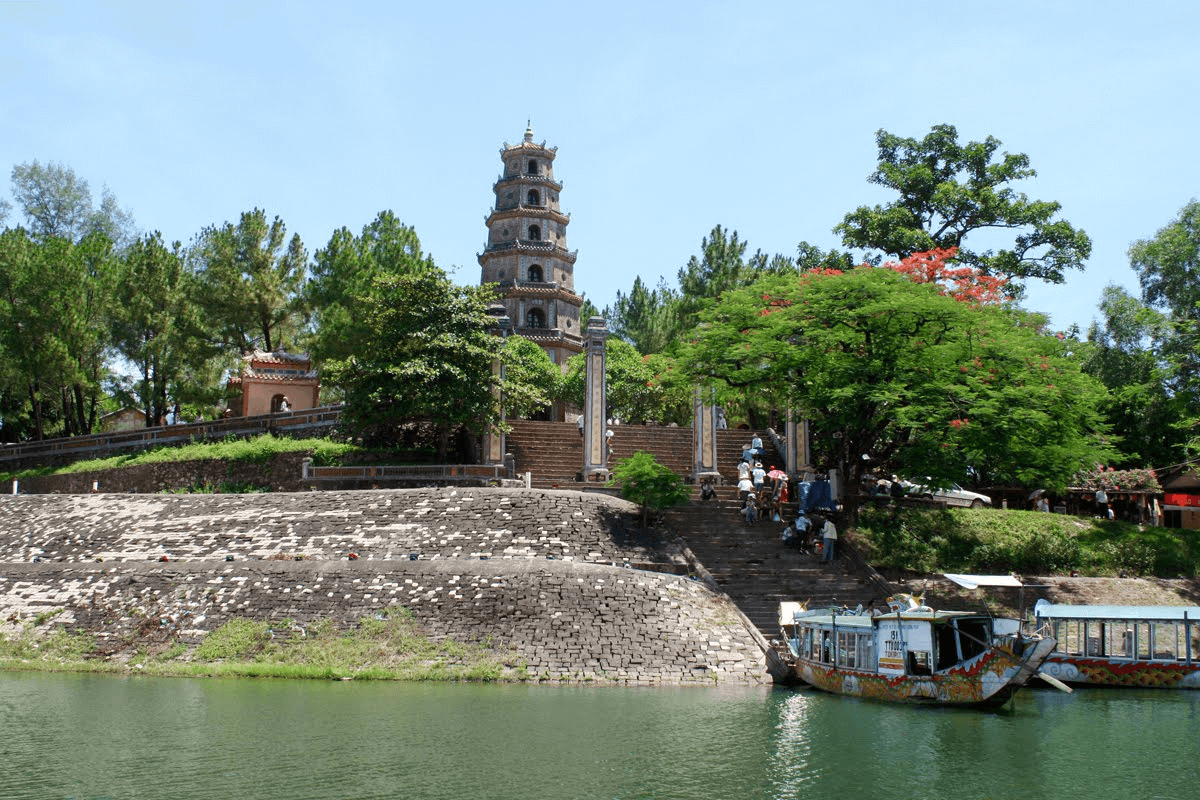 Perfume River
Stretching the imperial city of Hue is the gentle and winding Perfume River. As an iconic symbol of this ancient capital, visitors can admire its breathtaking beauty from many points of view, like from Thien Mu pagoda, a dragon boat ride, among others. Each experience will bring a unique image of this tranquil river.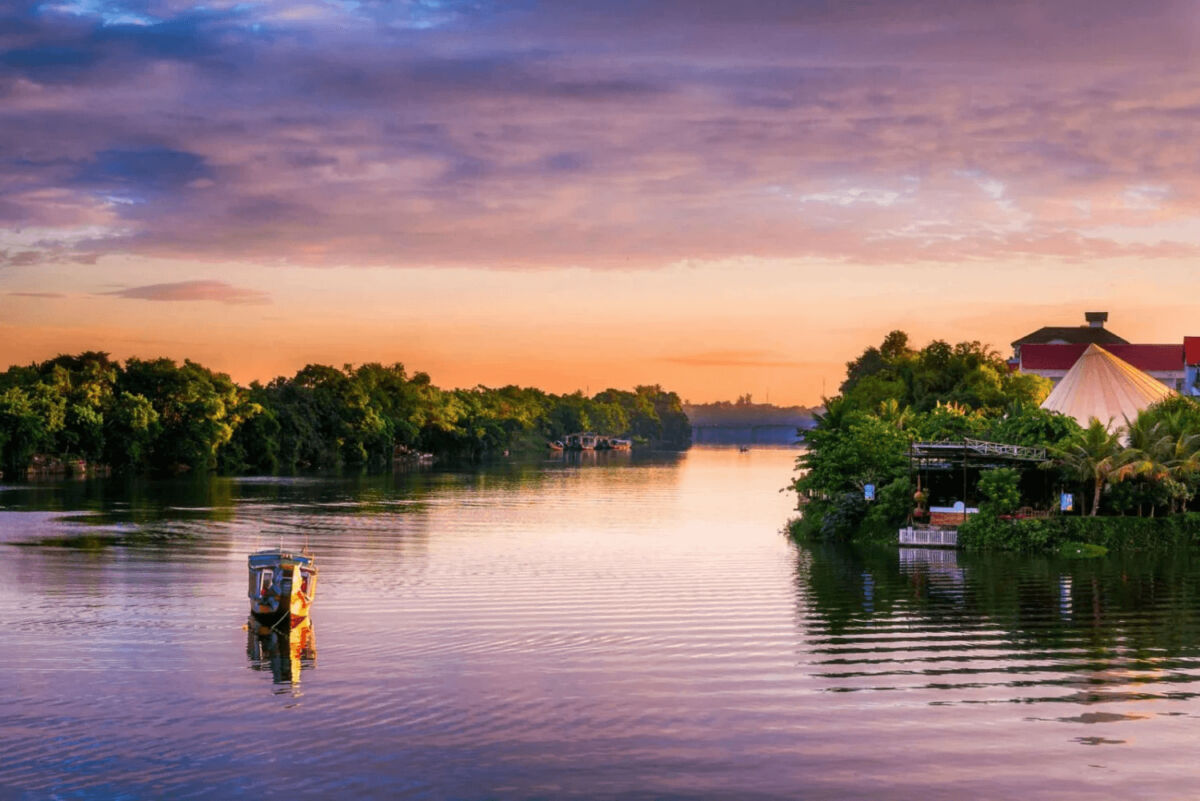 Trang Tien Bridge
This historic bridge is a must when coming to Hue. As a symbol of the ancient capital, Trang Tien Bridge crossing the Perfume River is the pride of Hue's people, which witnesses all the ups and downs of this city's history. The rows of flamboyant trees along the road by the bridge bring a peaceful and romantic scene to passersby.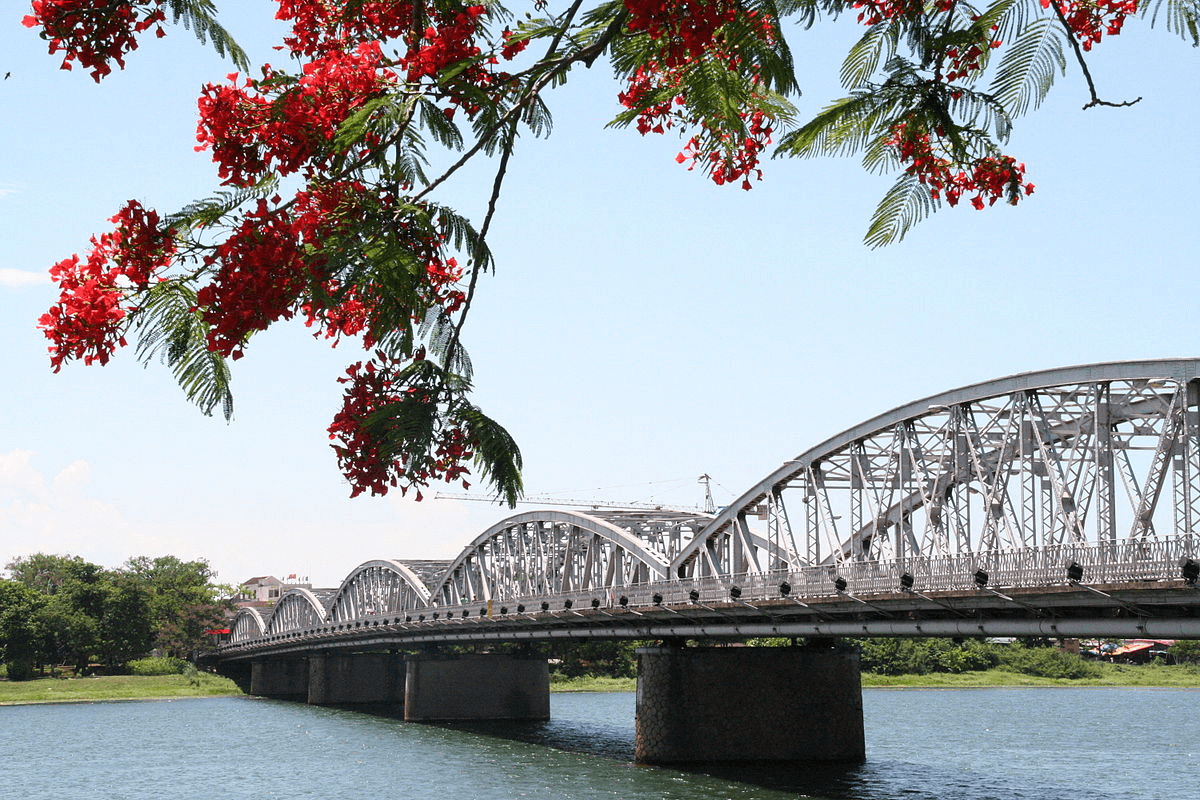 Dong Ba Market
A visit to the Dong Ba Market is a fascinating insight into Vietnamese daily life. This market is likened to a paradise for snapshots of locals' daily activities and shopping with its extensive range of offers so visitors can find everything they want, like food, and daily supplies, especially Hue specialties.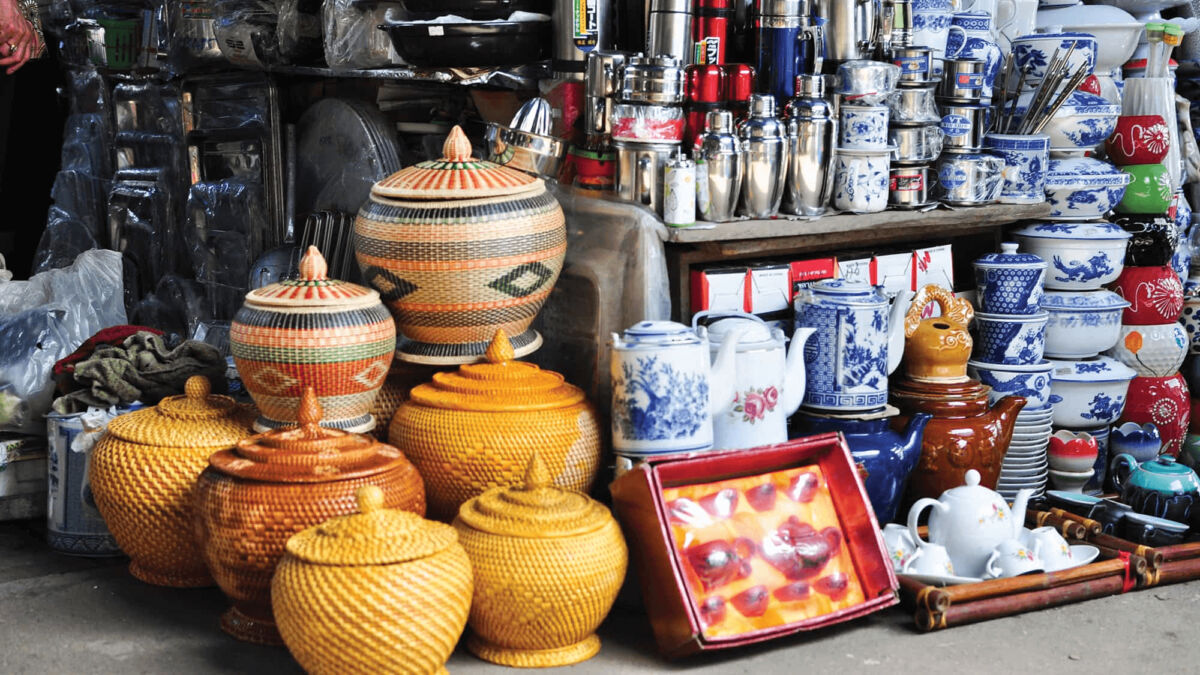 Tombs of Nguyen Dynasty Kings
Tombs of the Kings under the Nguyen Dynasty are destinations worth experiencing in Hue. There are a total of seven tombs among the 13 kings of this dynasty. Each of them has a unique architectural style, designed according to Eastern feng shui, and bears the specific characteristics of the king, which contributes to the extraordinary features of these landmarks.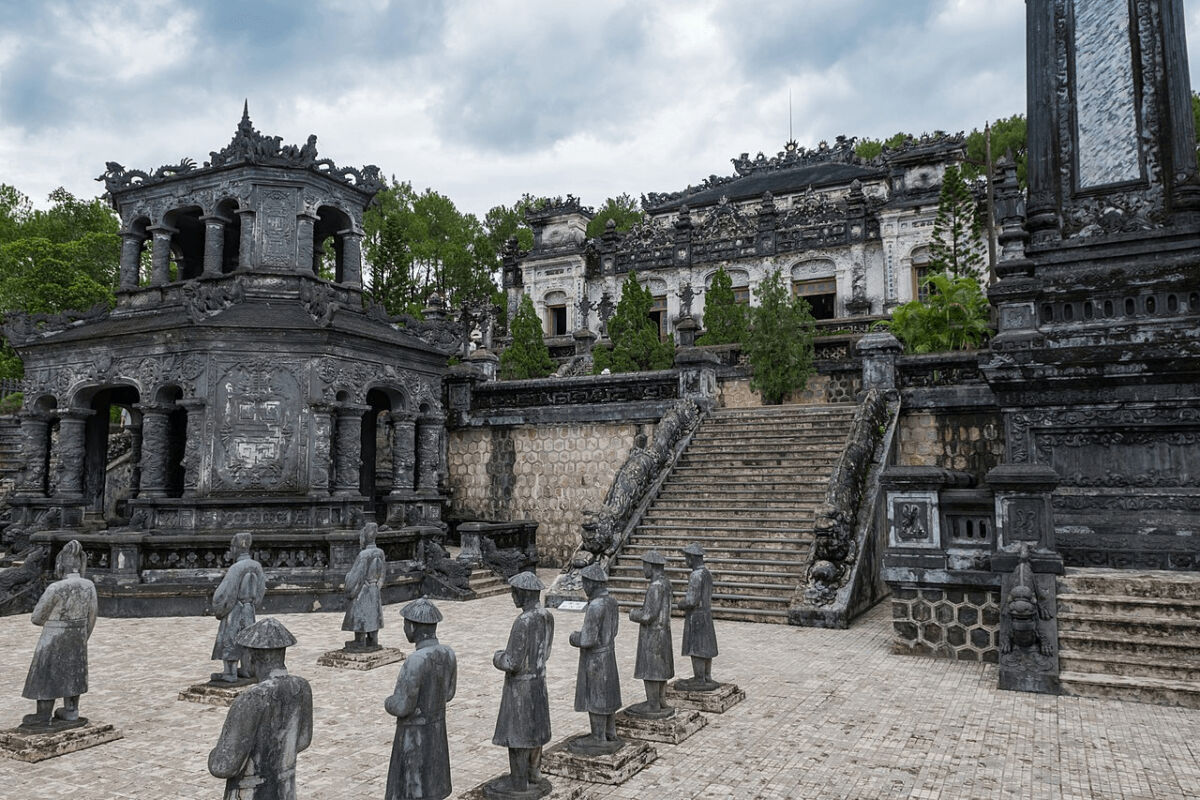 Thuan An Beach
As a small beach near Hue, Thuan An beach is an ideal attraction for beach-lovers. The beach stretches for more than 1 km, making a strong impression with its spectacular sunset and sunrise sceneries.
Lang Co Gulf
Regarded as one of the most beautiful bays in the world in 2009, Lang Co Bay is famous for its tranquil natural sites, converging rivers, mountains, sea, and lagoons. This place is an ideal tourist destination for its peaceful and poetic beauty of winding sand beaches and clear crystal blue sea, which helps relax after stressful working days and escape from bustling city life.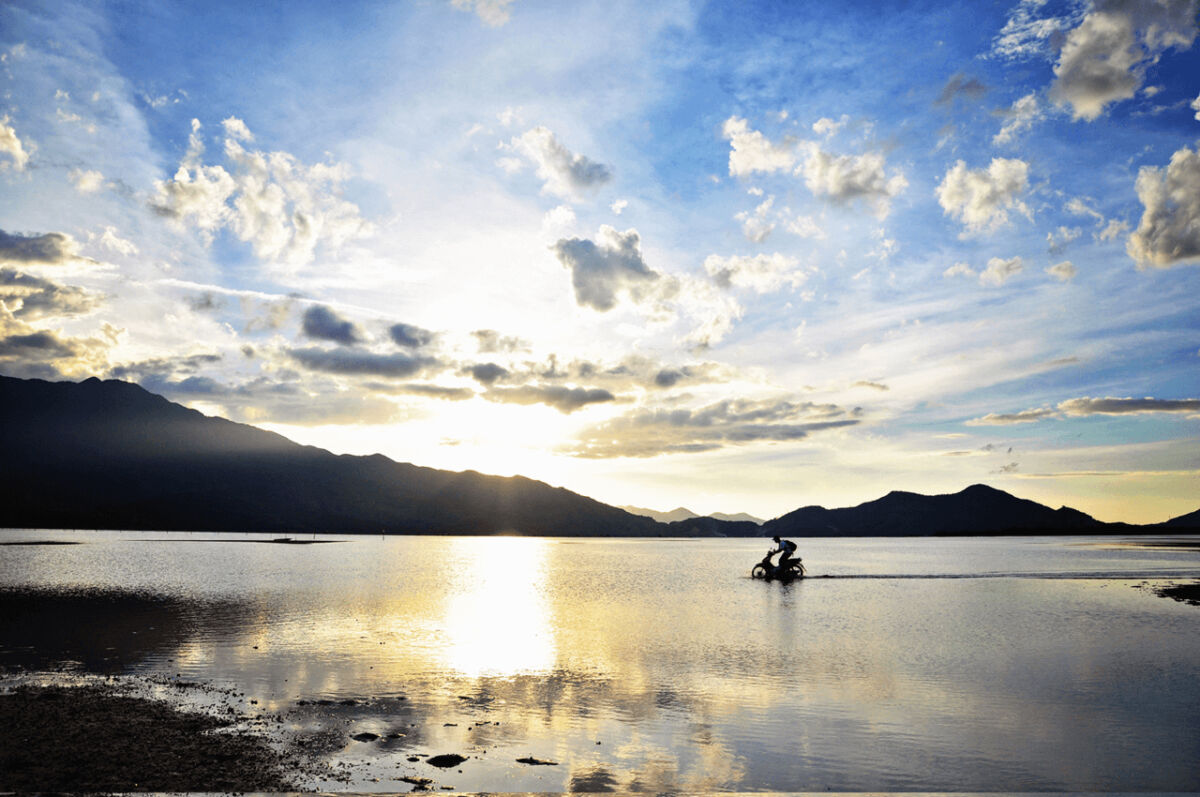 Tam Giang Lagoon
As the largest lagoon in Southeast Asia, Tam Giang lagoon, along with the Thai Duong Ha fishing village, is an isolated oasis amidst beautiful natural landscapes. This lagoon, one of Hue's most beautiful sunset spots, is the meeting place of the O Lau, Bo, and Perfume rivers before flowing into Thuan An Beach. Besides the majestic pristine nature, exploring the daily life of local people in the fishing village is also a valuable experience to visitors. The local life is quite lively in the morning but sometimes peaceful.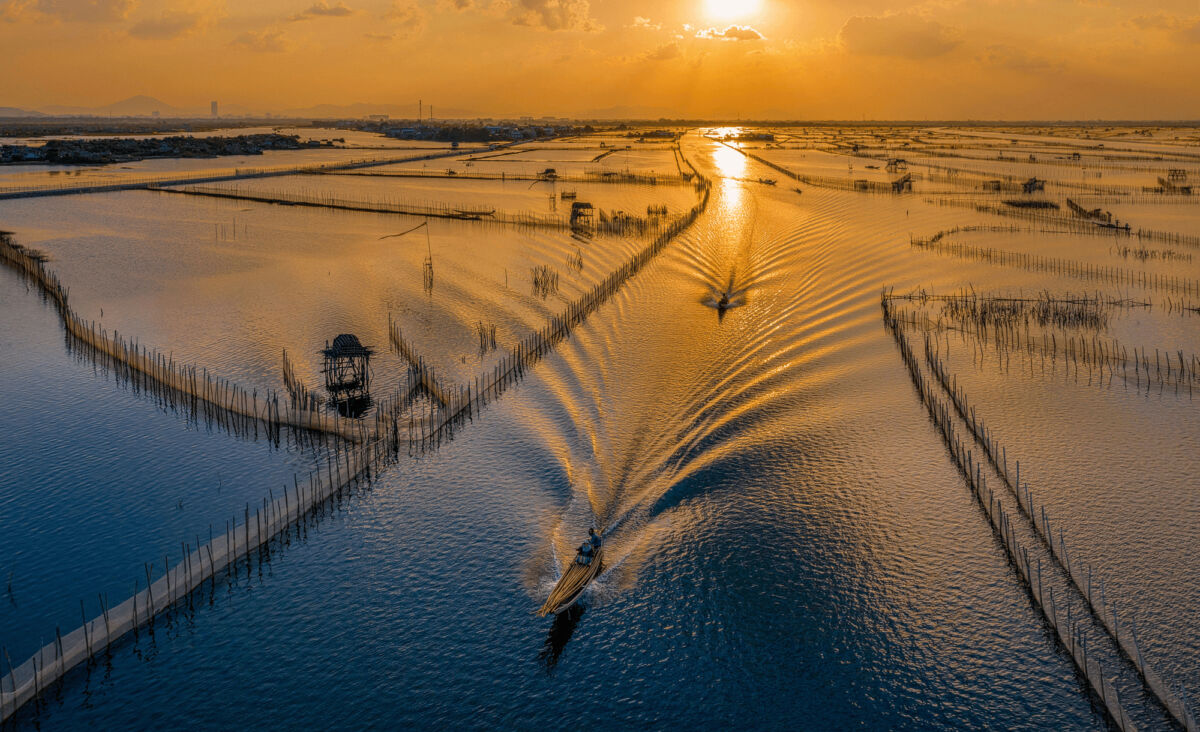 The best time to visit Hue
There are two distinct seasons in Hue, correspondingly the dry season and the rainy season. While the former is usually from March to August with scorching weather, the latter lasts from August to next January, accompanied by heavy rains or sometimes storms.
Tourists travel to this ancient city at different periods during the year. Domestic visitors typically go to Hue from May to the end of September, while many foreigners do not. Their choice is often around the period from October to the end of April.
---
Tours related to Hue