Hue Weather Forecast
{{current_weather.dt | momentjs( atts.date )}}
{{current_weather.temp | temp}}°{{units}}
{{day.dt | momentjs(atts.date)}}
{{day.temp_min | temp}}°{{day.temp | temp}}°{{units}}
{{current_weather.temp | temp}}°
Humidity: {{current_weather.humidity}}%
Clouds: {{current_weather.clouds}}%
Wind ({{current_weather.wind.deg}}): {{current_weather.wind.speed}}{{units_wind}}
{{current_weather.desc}}
{{day.dt | momentjs(atts.date)}}
{{day.temp | temp}}°
{{day.temp_min | temp}}°
Hue – A City Packed with Ancient Relics
For generations, Hue has been associated with the dreamy, ancient charm of the imperial land, even though it has now become one of the central cities of Vietnam. If you want to escape noisy urban areas, it would be better to spend your time in Hue and enjoy the rich cultural life on every street corner.
Highlights of Hue
The city of Hue is located in central Vietnam on the banks of the Perfume River, just a few miles inland from the East Sea. It is approximately 700 km (430 mi) south of Hanoi and 1,100 km (680 mi) north of Ho Chi Minh City. As of 2021, the city has a total area of 265.99 km2 (102.70 sq mi) and is home to over 600,000 residents following a territorial expansion.
As regards historical aspects, Hue was the capital city of the Nguyen Dynasty from 1805 to 1945, the last and longest dynasty in Vietnam's feudal period. This prolonged period of history has left the city with innumerable temples, pagodas, tombs, and palaces that still exhibit the splendor of an entire dynasty, such as The Imperial Enclosure, the Tombs of Nguyen Dynasty Kings, Thien Mu Pagoda, and Trang Tien Bridge.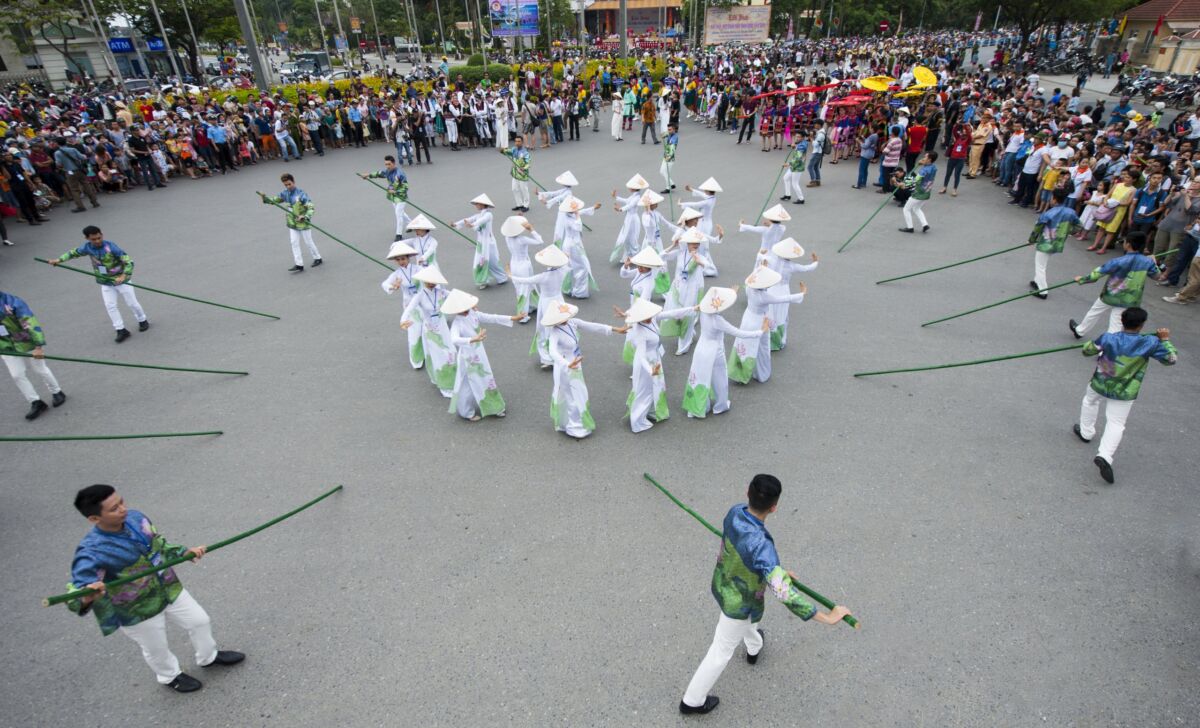 In addition to its historical significance, the ancient capital is famous for its delectable local cuisine, which has enriched Vietnamese culinary art. Hue's specialties, such as mussel rice and Hue beef noodle soup, are worth trying. The city is also known as a festival city while its biennial cultural festival has become a particular cultural affair and the pride of Hue's residents, providing tourists with many memorable experiences since its inception in 2000.
Must-visit tourist spots visit in Hue
Below is a list of top tourist attractions in Hue. Remember, these suggestions only skim the surface!
The Imperial Enclosure
As the most sought-after attraction in Hue, the Imperial Enclosure is worth visiting due to its historical significance as a venue for court ceremonies, ancestor worship, and the residence of royal families. With immense value in terms of history, culture, and architecture, this landmark has deservedly been designated as a World Heritage Site by UNESCO since 2010.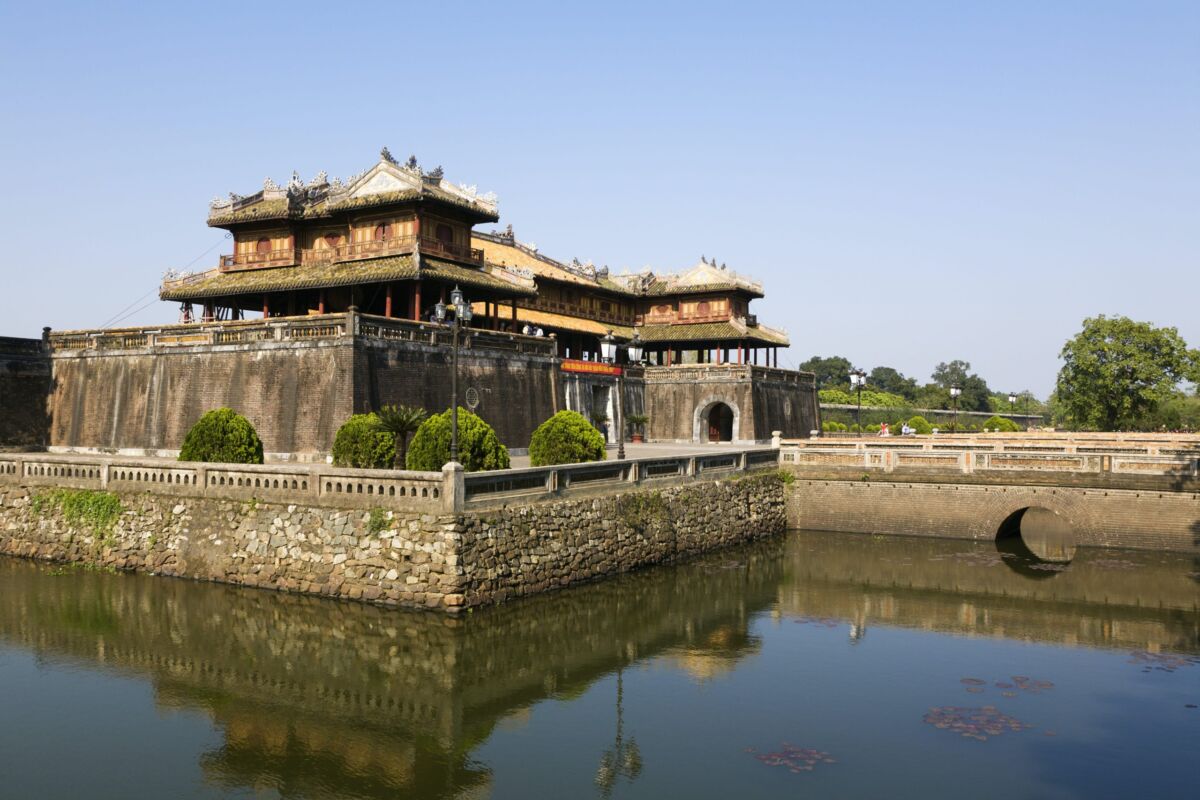 Thien Mu Pagoda
Thien Mu Pagoda is one of the most well-known temples in Hue, possessing ancient architectural features, unparalleled sacredness, and many hidden stories that contain numerous mysterious historical elements. Visitors to Thien Mu Pagoda will be amazed by the temple's beauty, the tranquility of the Perfume River, and the opportunity to delve deeper into the enigmatic tales surrounding this iconic landmark.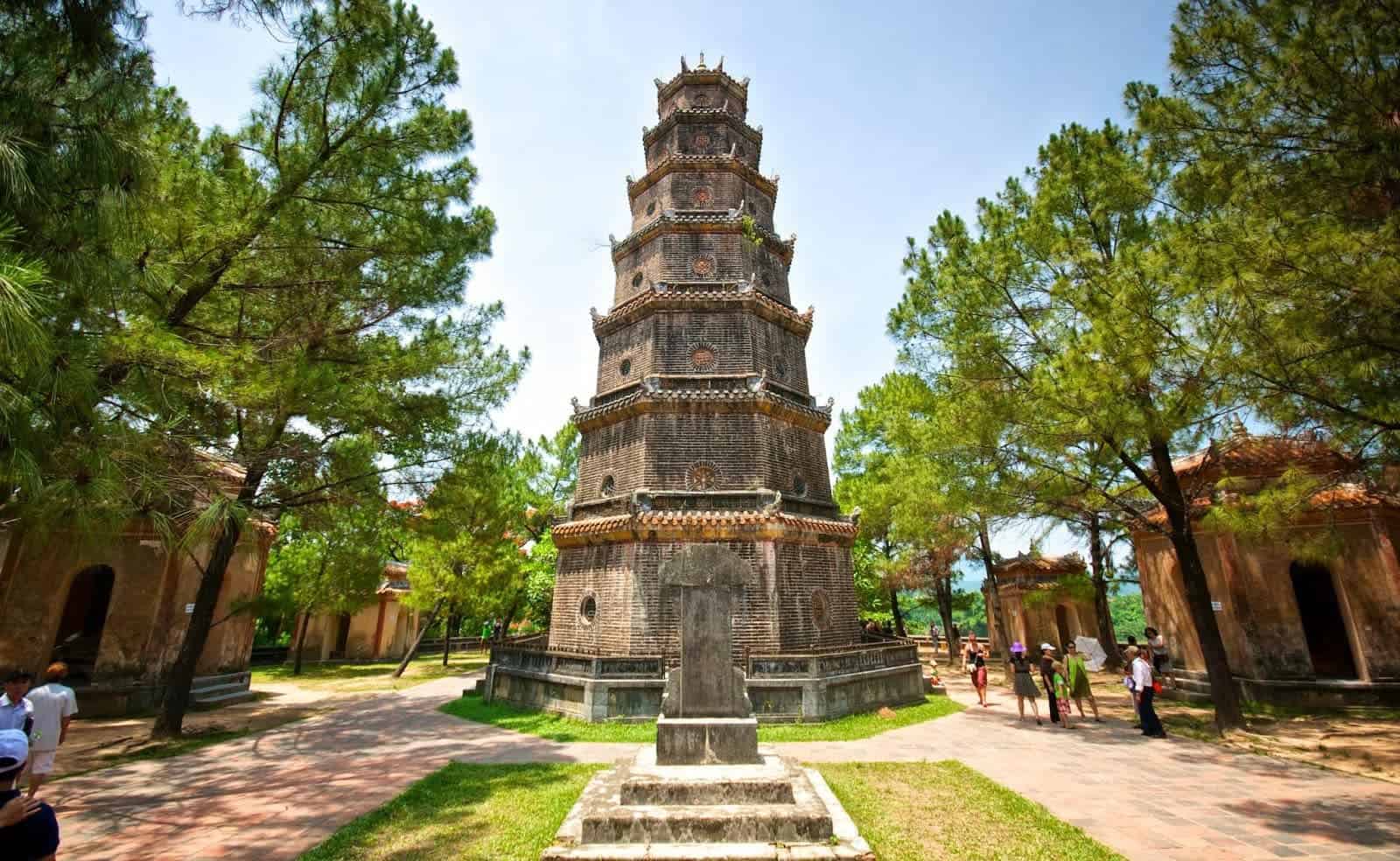 Perfume River
Perfume River is a source of pride for the people of the ancient capital, with its mild climate and natural beauty that never fails to impress visitors. Its central location in the city of Hue makes it easily accessible, so tourists can enjoy its scenic beauty at any time of the day while also experiencing the vibrant tourism scene of the city.
Trang Tien Bridge
Trang Tien Bridge is an iconic symbol of Hue, spanning the Huong River. It has witnessed the country's ups and downs throughout history. With its serene and elegant beauty, the Trang Tien Bridge never fails to leave a lasting impression on the hearts of both locals and visitors to Hue.
Dong Ba Market
Dong Ba Market is a must-visit for any tourist in Hue. It is the most famous traditional market in the ancient capital with immense cultural and historical significance. Visitors to the market have the chance to explore the rich history and culture of the market as well as purchase a wide variety of specialties and souvenirs to take home to loved ones and friends.
Tombs of Nguyen Dynasty Kings
The tombs of the Nguyen Dynasty Kings are an outstanding collection of architectural structures that showcase the peak of artistic construction during the Nguyen Dynasty. Although there were 13 reigning kings during the Nguyen Dynasty, only seven tombs were constructed, each with its distinctive characteristics. They are a historical relic and an iconic symbol of Hue, attracting a large number of tourists to the ancient capital.
Our Best Hue Tours
How to book with us?
3 simple steps to book your dream holiday
1
Contact us
You can contact us by phone, email, WhatsApp, contact form or inquiry forms available in product pages.
2
Get the free quote
Our travel experts will contact you within 24 hours to help you get the best trip that meets your requirements.
3
Finalize your booking
Finally, you can make additional adjustments, and once you agree, all that's left to do is pack your bags and go.
Hue Travel FAQs
What is the best time to visit Hue?

The best time to visit Hue is from February to April or March to August, when the weather is pleasant and ideal for outdoor activities. These months make up the spring season and the dry season respectively.
How many days should I spend in Hue?

To explore Hue thoroughly, including its historical and cultural landmarks, you should plan a stay of at least 2-3 days. This will allow you to experience the city's rich heritage without feeling rushed.
What are the main attractions in Hue?

Hue's main attractions include the Imperial City, a UNESCO World Heritage Site, the Thien Mu Pagoda, a historic temple, the Royal Tombs, and a scenic boat ride on the Perfume River.
What local food should I try in Hue?

Local foods in Hue that are worth trying include Bun Bo Hue, a traditional beef noodle soup, Banh Khoai, a crispy pancake, and Com Hen, a unique baby clam rice dish.
What souvenirs should I buy in Hue?

For souvenirs, consider purchasing traditional Vietnamese handicrafts, silk products, conical hats known as Non La, and local treats like sesame candy and dried lotus seeds.
If you have any other questions or requests, please feel free to contact us
Hue Travel Guides
All tours related to Hue