Vung Tau Weather Forecast
{{current_weather.dt | momentjs( atts.date )}}
{{current_weather.temp | temp}}°{{units}}
{{day.dt | momentjs(atts.date)}}
{{day.temp_min | temp}}°{{day.temp | temp}}°{{units}}
{{current_weather.temp | temp}}°
Humidity: {{current_weather.humidity}}%
Clouds: {{current_weather.clouds}}%
Wind ({{current_weather.wind.deg}}): {{current_weather.wind.speed}}{{units_wind}}
{{current_weather.desc}}
{{day.dt | momentjs(atts.date)}}
{{day.temp | temp}}°
{{day.temp_min | temp}}°
Vung Tau – A Vibrant City with Stunning Beaches
Vung Tau is undoubtedly the top destination for sea lovers and those seeking short resort vacations near Ho Chi Minh City. Its fresh energy and plethora of unique attractions make it stand out as a multifaceted location, sometimes youthful and dynamic, sometimes nostalgic and filled with experiences.
Highlights of Vung Tau
Vung Tau is an idyllic coastal city located in the Ba Ria-Vung Tau province, which is in the Southeast region of Vietnam. When viewed on a map of Vietnam from north to south, Vung Tau is located on the section where the direction changes from south to west of the letter "S," jutting out from the mainland.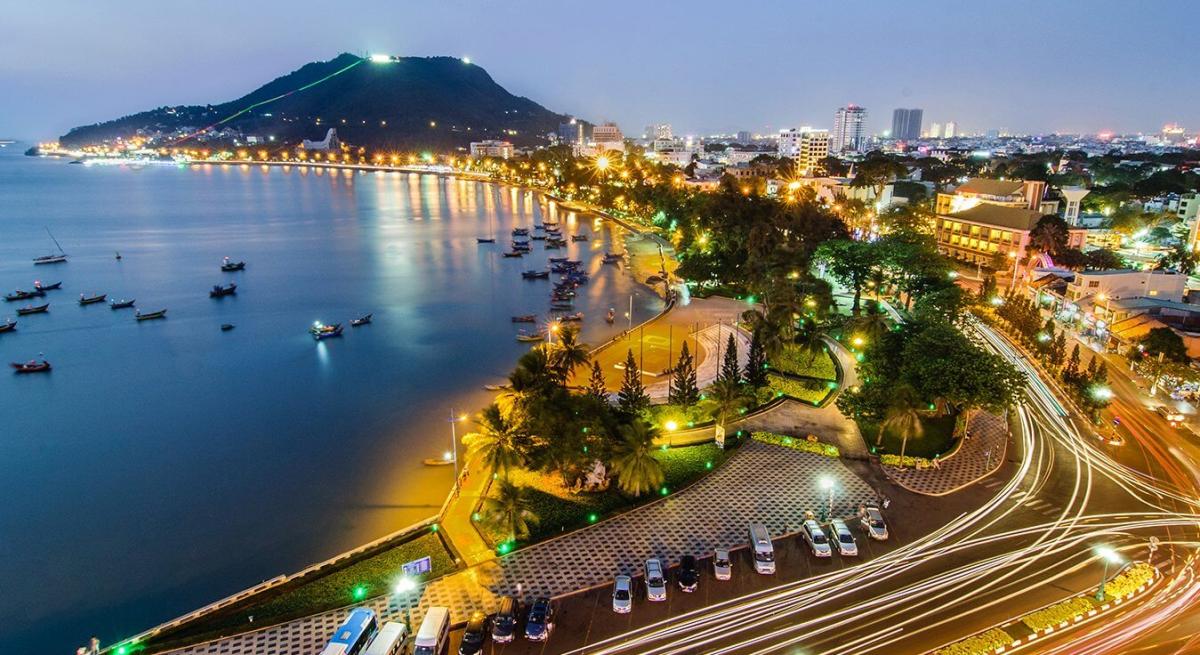 When you arrive in Vung Tau, you'll immediately feel a sense of peace and comfort due to the spacious and airy roads. The breathtaking blue sea below and the wide range of rolling mountains above, combined with several serene temples, create a truly magical atmosphere in Vung Tau. Some of the most attractive destinations in this city include Front Beach, Back Beach, Vong Nguyet Beach, Con Dao Island, Big Mountain, Small Mountain, Nghinh Phong Cape, and more.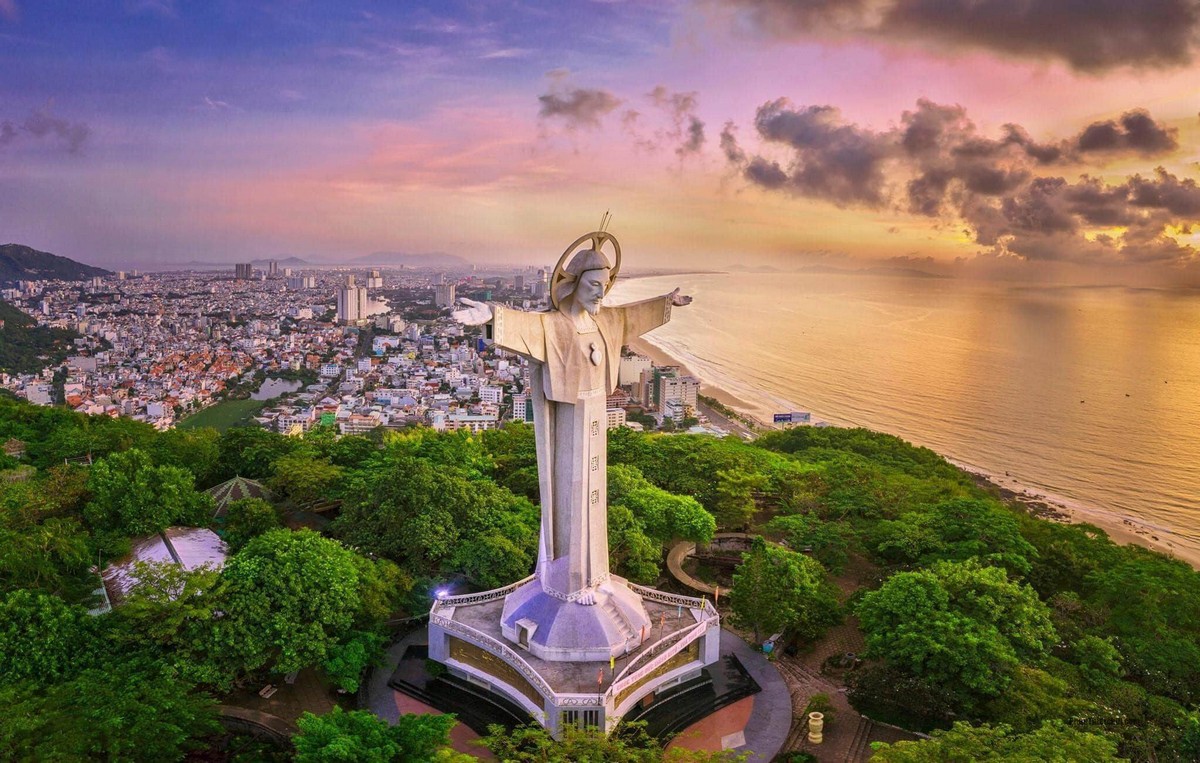 Another incredible destination that is worth visiting when you come to Vung Tau is Con Dao. As an archipelago located offshore on the southeast coast, this place not only boasts magnificent natural scenery that will captivate your heart but also holds deep historical significance. It is a place that marks the historical struggle of a brave and sorrowful nation, leaving an indelible imprint on the land that continues to inspire awe in visitors.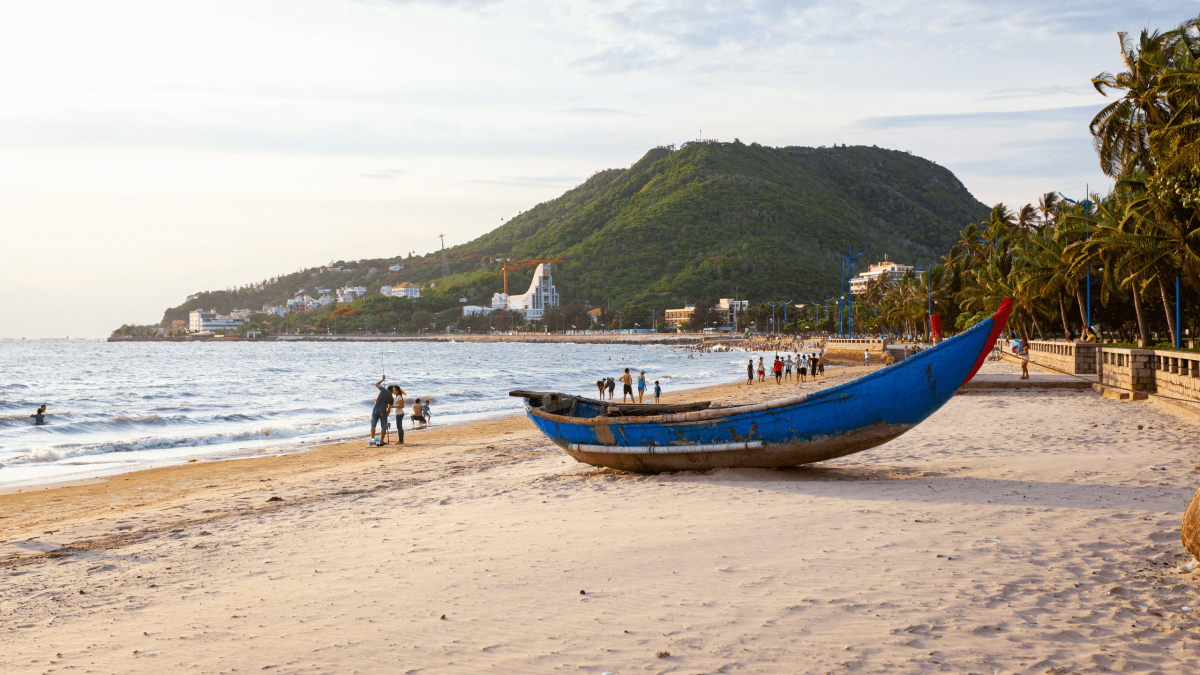 Best time to visit Vung Tau
Vung Tau is located in the tropical monsoon climate region and experiences two distinct seasons throughout the year. The rainy season, characterized by the southwest monsoon winds, lasts from May to October. On the other hand, the dry season, marked by the northeast monsoon winds, starts in November and lasts until April of the following year.
However, in Vung Tau, the tourism season is year-round due to its moderate temperature. The average temperature is a comfortable 27°C, with the lowest month at around 24.8°C and the highest around 28.6°C. You only need to keep track of the weather forecast to avoid traveling to Vung Tau during storms. Additionally, on weekends and public holidays, Vung Tau attracts a large number of tourists, causing prices for services to increase significantly.
Our Best Vung Tau Tours
How to book with us?
3 simple steps to book your dream holiday
1
Contact us
You can contact us by phone, email, WhatsApp, contact form or inquiry forms available in product pages.
2
Get the free quote
Our travel experts will contact you within 24 hours to help you get the best trip that meets your requirements.
3
Finalize your booking
Finally, you can make additional adjustments, and once you agree, all that's left to do is pack your bags and go.
Vung Tau Travel FAQs
What is the best time to visit Vung Tau?

The best time to visit Vung Tau is from November to March, during which the weather is warm with minimal rainfall, making it ideal for exploring123.
How many days should I spend in Vung Tau?

A typical stay in Vung Tau would be around 3-4 days, providing enough time to explore the city's key attractions and experience its unique culture.
What are the main attractions in Vung Tau?

Vung Tau's prime attractions include its beautiful beaches, the Christ of Vung Tau statue, Vung Tau Lighthouse, and the White Palace.
What local food should I try in Vung Tau?

In Vung Tau, try out local delicacies like Banh Khot (miniature fried pancakes), fresh seafood, especially crab, and Hu Tieu (rice noodle soup).
What souvenirs should I buy in Vung Tau?

Consider buying souvenirs from Vung Tau such as local handicrafts, dried seafood, and locally produced pearl jewelry.
If you have any other questions or requests, please feel free to contact us
Vung Tau Travel Guides
All tours related to Vung Tau