Mekong Delta – Discover the Magical Kingdom of the 9 Rivers
If you're interested in ecotourism, river tourism, cultural tourism, or even just immersing yourself in lush green orchards, look no further than the Mekong Delta. With endless opportunities for discovery, a visit to this area is undoubtedly an unforgettable experience.
Highlights of Mekong Delta
The Mekong Delta region features a diverse ecosystem, accredited by the fertile alluvium of the Mekong River and its two main branches, the Tien River and the Hau River, as well as a network of canals, rivers, and forests. This has led to the creation of unique and attractive landscapes, including numerous national parks, bird sanctuaries, and stork gardens, with countless water birds and rare plant and animal species distributed evenly across provinces. Some of the notable sites that attract thousands of visitors annually are Tram Chim National Park (Dong Thap), Phu Quoc National Park (Kien Giang), Vam Ho Bird Sanctuary (Ben Tre), and U Minh Thuong and U Minh Ha National Parks, as well as the Nam Can Mangrove Forest (Ca Mau).
The Mekong Delta region is a popular tourist destination, renowned for its colorful flower gardens and fruit orchards. Notable locations include Sa Dec flower village (Dong Thap), Thanh Tam flower garden (Long An), and Cai Mon Orchard Village (Ben Tre). Visitors can also experience the region's bustling floating markets in the early morning, such as Cai Rang (Can Tho), Phung Hiep (Hau Giang), Cai Be (Tien Giang), and Nga Nam (Soc Trang), which further highlight the region's charm. Additionally, the area features countless islets bathed in sunlight year-round and surrounded by pristine nature. For example, Phung islet, Oc islet (Ben Tre), My Phuoc islet (Soc Trang), and Thoi Son islet (Tien Giang) are all unique and beautiful attractions that make the Southwestern region so special.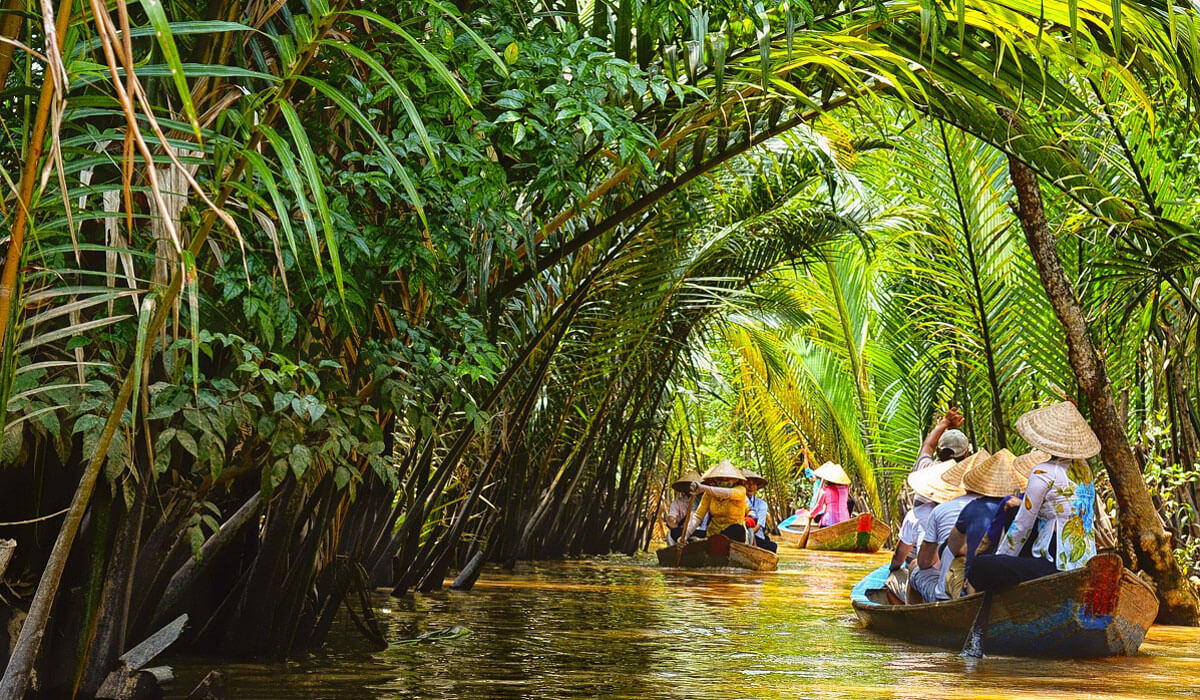 Furthermore, the gentle and friendly locals, in conjunction with distinctive cultural festivals such as the Ba Chua Xu Temple Festival, Ook Om Bok Festival, boat racing, and Seven-Mountain Ox Racing Festival, which are imbued with a unique cultural identity, are also fascinating and alluring to tourists. Additionally, visitors to this region have a chance to experience the traditional folk arts that distinguish the area, particularly Don Ca Tai Tu – a representative intangible cultural heritage of humanity recognized by UNESCO.
Top-rated destinations in Mekong Delta
Below are some truly incredible destinations in the Mekong Delta. Explore them yourself, and you'll see how worth this trip can be.
Cai Rang Floating Market (Can Tho)
The Cai Rang Floating Market is an iconic and bustling market that is typical of the cultural traits of the Mekong Delta region. Visiting the market promises to offer an unforgettable experience, with opportunities to admire the picturesque scenery at dawn, leisurely sit on a boat amidst the bustling trading atmosphere early in the morning, and savor a delicious bowl of "bun rieu" (Vietnamese crab and tomato noodle soup) right on the boat.
Dong Tam Snake Farm (Tien Giang)
The Dong Tam Snake Farm, located 9 km west of My Tho city, is the largest breeding and treatment center for snakebites in the Mekong Delta region. It also houses the only snake museum in Vietnam, which has been recognized as a Vietnamese Guinness record for its collection of over 50 rare and precious snake species.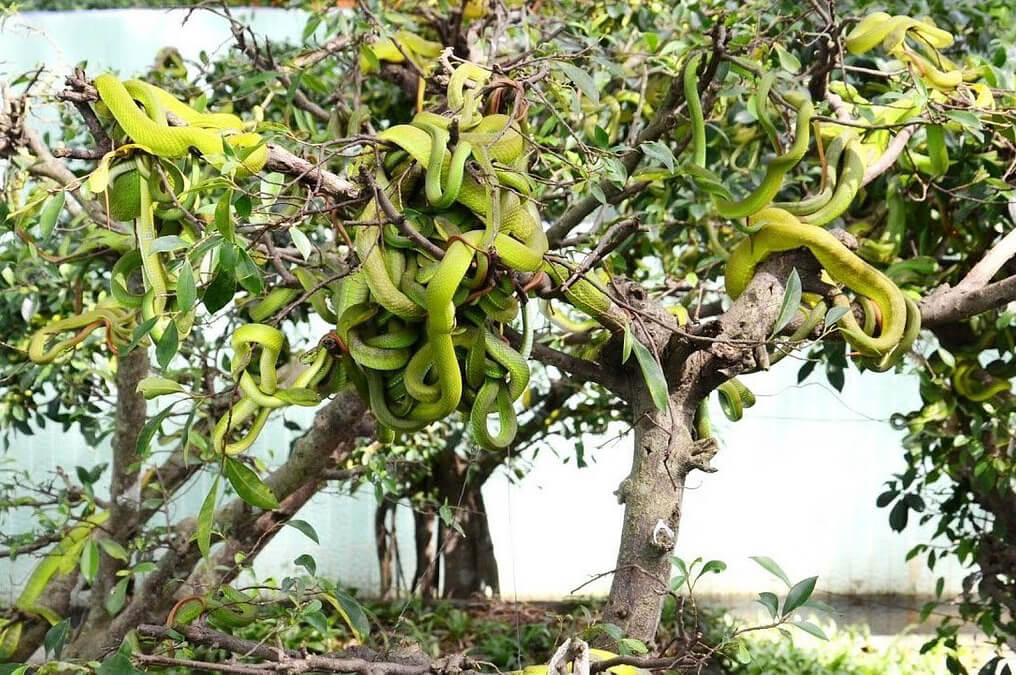 Sa Dec Village (Dong Thap)
As "the flower capital" of the Mekong Delta, Sa Dec village is considered a flower museum with its vast array of beautiful and exotic flowers. Unlike other flower-growing areas, this hundred-year-old village features the unique sight of flower beds "floating" above the ground. In the flood season, the farmers navigate their boats between the flower beds to tend to the flowers, creating a fascinating and iconic image of this river region.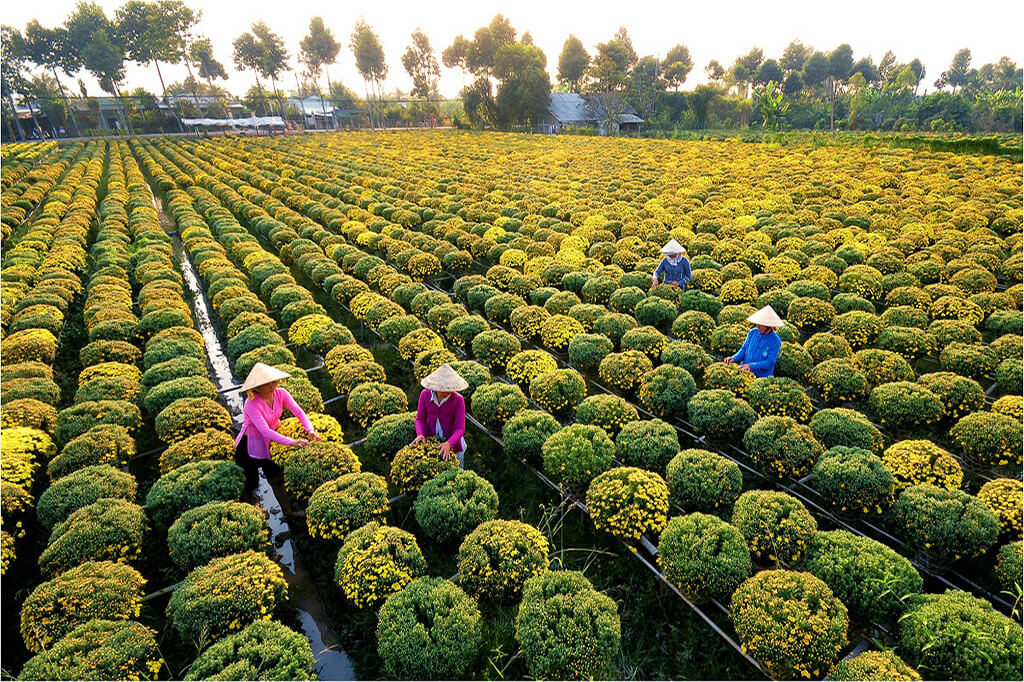 Wind Farm (Bac Lieu)
When visiting the Bac Lieu wind farm, visitors have the opportunity to admire the beauty of the giant wind turbines towering against the blue sky. With landscapes similar to those of the European countryside, this place attracts hundreds of thousands of visitors annually.
Tra Su Cajuput Forest (An Giang)
Located just 30 kilometers from Chau Doc and a short distance from the Vietnam-Cambodia border area, Tra Su Cajuput Forest offers a stunning natural space complete with shady cajuput forests on both sides. In addition, visitors to the forest can enjoy the once-in-a-lifetime opportunity to observe a variety of rare water birds and wild animals up close.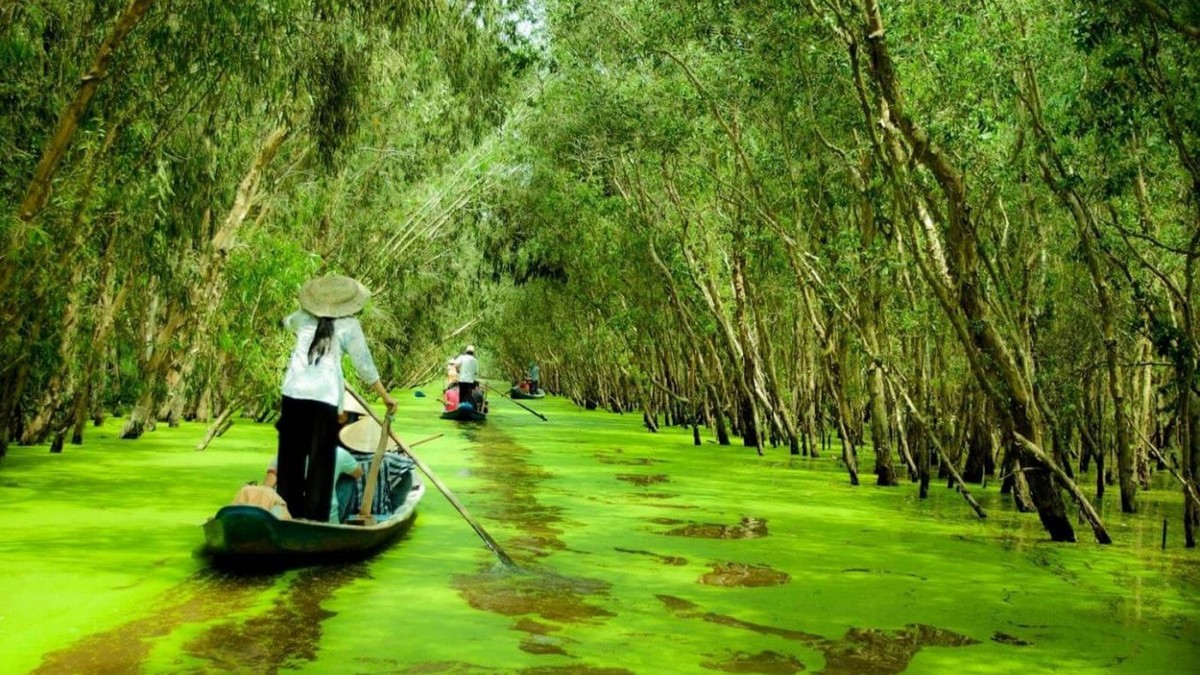 Ca Mau Cape – The Southernmost Point of Vietnam
Ca Mau Cape is a cherished destination where every Vietnamese person longs to set foot on this beloved land. In this spiritual haven, you will have the opportunity to witness the sovereignty landmark or stand on the iconic ship pointing straight to the East Sea. Upon departing, you will forever remember this place, where there are no towering buildings, only sites of lush mangrove forests that create unforgettable memories.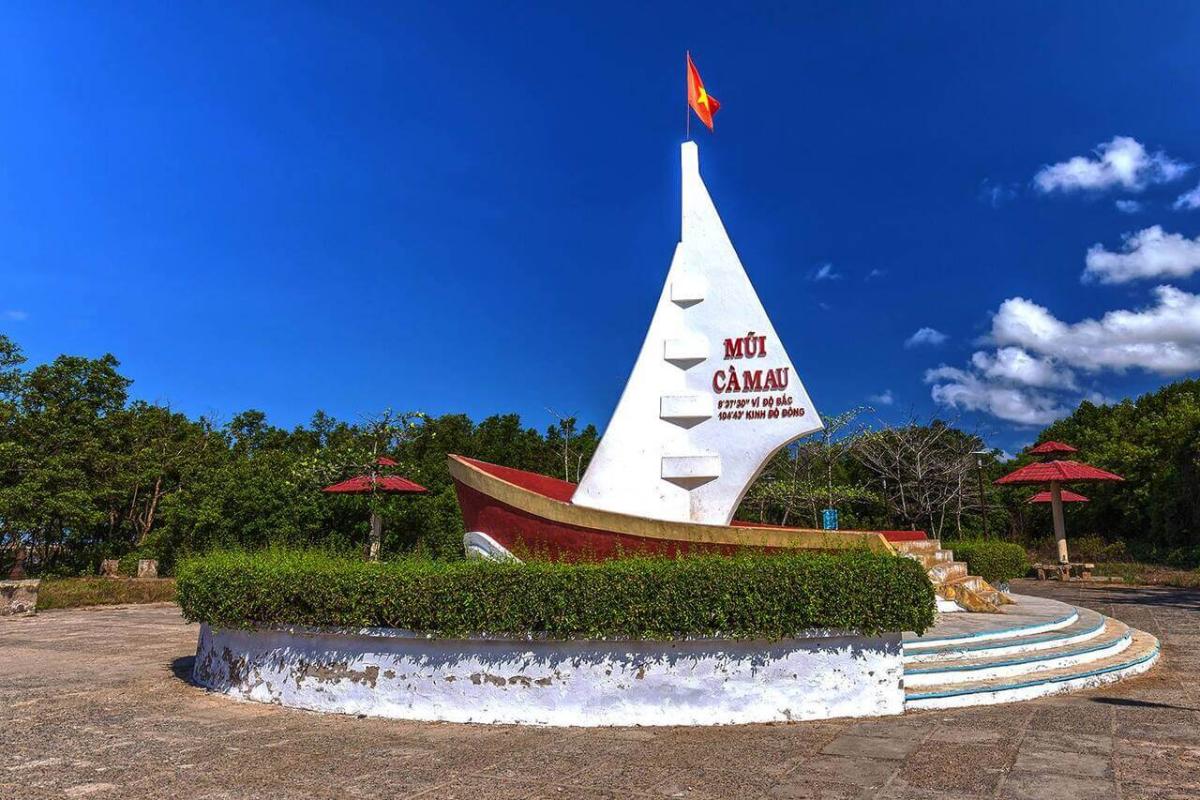 Our Best Mekong Delta Tours
How to book with us?
3 simple steps to book your dream holiday
1
Contact us
You can contact us by phone, email, WhatsApp, contact form or inquiry forms available in product pages.
2
Get the free quote
Our travel experts will contact you within 24 hours to help you get the best trip that meets your requirements.
3
Finalize your booking
Finally, you can make additional adjustments, and once you agree, all that's left to do is pack your bags and go.
Mekong Delta Travel FAQs
What is the best time to visit Mekong Delta?

The best time to visit Mekong Delta is between November and April during the dry season, with water levels at their highest and weather cool12.
How many days should I spend in Mekong Delta?

A typical stay in Mekong Delta would be around 3 to 4 days, allowing enough time to fully experience the region's unique attractions and culture.
What are the main attractions in Mekong Delta?

Mekong Delta's prime attractions include the vibrant floating markets, Sam Mountain, Tram Chim National Park, and the traditional Khmer pagodas.
What local food should I try in Mekong Delta?

Must-try local delicacies in Mekong Delta include Elephant Ear Fish, Banh Xeo (Vietnamese pancake), and Hu Tieu (rice noodle soup).
What souvenirs should I buy in Mekong Delta?

Consider buying souvenirs such as local handicrafts, tropical fruits, coconut candy, and honey from bee farms in Mekong Delta.
If you have any other questions or requests, please feel free to contact us
Mekong Delta Travel Guides
All tours related to Mekong Delta