Vung Tau, located just a three-hour drive from the center of Ho Chi Minh City, is a wonderful place to visit. Its terrain includes both mountains and beaches, with a beautiful 20 km coastline. It's no wonder that Vung Tau is one of the top tourist destinations in Vietnam! Below are the top 10 must-see tourist attractions in Vung Tau. Let's plan your trip!
Vung Tau Beaches
Vung Tau is renowned for its coastal beauty and collection of stunning beaches that attract visitors from both domestic and international locations. Some notable beaches include Long Hai Beach, Front Beach, Back Beach, Dam Trau Beach, Ho Coc Beach, Ho Tram Beach, Vong Nguyet Beach, and many others. These beaches are impressive with their cleanliness and crystal-clear blue water, allowing visitors to see the bottom.
Visitors to Vung Tau can enjoy strolling along the long stretches of white sandy beaches or immersing themselves in the cool blue seawater to unwind and relieve daily fatigue. The beaches in Vung Tau are also ideal for underwater sports, providing great experiences for adventure-seeking tourists.
Small Mountain
Small Mountain, also known as Tao Phung Mountain, is a beautiful destination not far from the center of Vung Tau city. With a height of about 170 meters and an area of about 120 hectares, Small Mountain has not one but two peaks to explore. The lower peak features a magnificent statue of Christ the King with his outstretched arms, while the higher one is home to the iconic Vung Tau lighthouse, which offers breathtaking views of the surrounding area.
Walking up to the statue of Christ the King requires roughly 1000 steps, but visiting the lighthouse is a breeze – a quick motorcycle ride is all it takes. Both peaks of the mountain are popular among tourists, attracting countless visitors every year. And don't forget to stop by Niet Ban Tinh Xa pagoda (Nirvana Vihara), an extremely sacred Buddhist temple, and several other temples and pagodas dotted along the mountainside.
Big Mountain
Big Mountain, also known as Tuong Ky Mountain, is a stunning location in Vung Tau that spans a vast area of about 400 hectares. It is home to numerous famous tourist attractions such as the White Villa (a villa used as a vacation home for the Governor-General of Indochina, Emperor Bao Dai, and the Presidents of the Republic of Vietnam), the complex of Buddhist temples with a magnificent statue of Gautama Buddha, and the statue of Our Lady of Bai Dau.
The mountain peak is 245 meters above sea level, and if you follow the mountain path, you can admire a beautiful view of Vung Tau city from above. Watching the glorious sunset around 5 in the afternoon is an unforgettable experience. Although the road is not too wide, cars can still drive in, so you don't have to worry about transportation.
Con Dao Prison
Con Dao Prison is a historically significant and spiritually important landmark in the Con Dao district, Ba Ria – Vung Tau. It has been notoriously described as a "hell on earth," with its prison system comprising 127 detention rooms, 42 cells, and 504 isolated cells, also known as Tiger Cages, and scattered cemeteries. It is where over 20,000 revolutionary soldiers bravely endured the brutal punishment and torture of the colonial regime.
In 1975, following the reunification of Vietnam, the prison's secrets were exposed, and it was dissolved. Nowadays, as one of the 23 national monuments in Vietnam, it stands as a testament to the war crimes committed by colonialists in Vietnam and serves as a reminder to future generations of the importance of peace and justice for all.
Ba Ria Green Stone Lake
Located just 15 kilometers away from the city center, Green Stone Lake is a unique tourist spot in Vung Tau. Nestled amidst rocky mountains, it is a stunning water lake that was once a quarrying area. The chemicals from the quarrying process have given the lake's water a distinctive emerald green color, making it stand out brilliantly among the gray and brown rocky mountains.
The picturesque wooden bridge that leads into the lake, wooden swings, green grass fields, and herd of sheep raised here all provide a plethora of photo opportunities. Take advantage of this scenic spot and capture memories that will last a lifetime!
Hon Ba Island
Hon Ba is a small rocky island located near Vung Tau Beach. It spans about 5,000 square meters and is approximately 220 meters from the shore. The main attraction of this place is the Mieu Ba temple that sits atop the island, occupying almost the entire area of this rocky island. This temple is highly revered by the locals, as it is a place to worship the deity who bestows smooth sailing upon the local fishermen.
To reach the island, tourists can take a boat. They can also walk to the island on the 14th-15th of the lunar month when the tide retreats to expose a rocky path connecting it to the mainland. This route takes about 20-30 minutes and offers stunning views of the surrounding scenery.
Nghinh Phong Cape
Nghinh Phong Cape is the longest strip of land in the south of the Vung Tau peninsula. It's a place where the wind blows all year round, hence the name "Nghinh Phong," which means "embracing the wind." The sea breeze blowing here is gentle and cool, bringing a pleasant and refreshing feeling. Nghinh Phong Cape is like a small hill with a gentle slope, which visitors can easily climb up to the upper area.
Tourists flock to Nghinh Phong Cape to rest and relax after days of hard work. The seawater is clear and clean, and the air is fresh and comfortable. You'll also find a "sky gate" here – a short wall with a gate facing the sea. While it may have been an unfinished construction project, it now serves as an interesting background for visitors to take stunning photos in Vung Tau.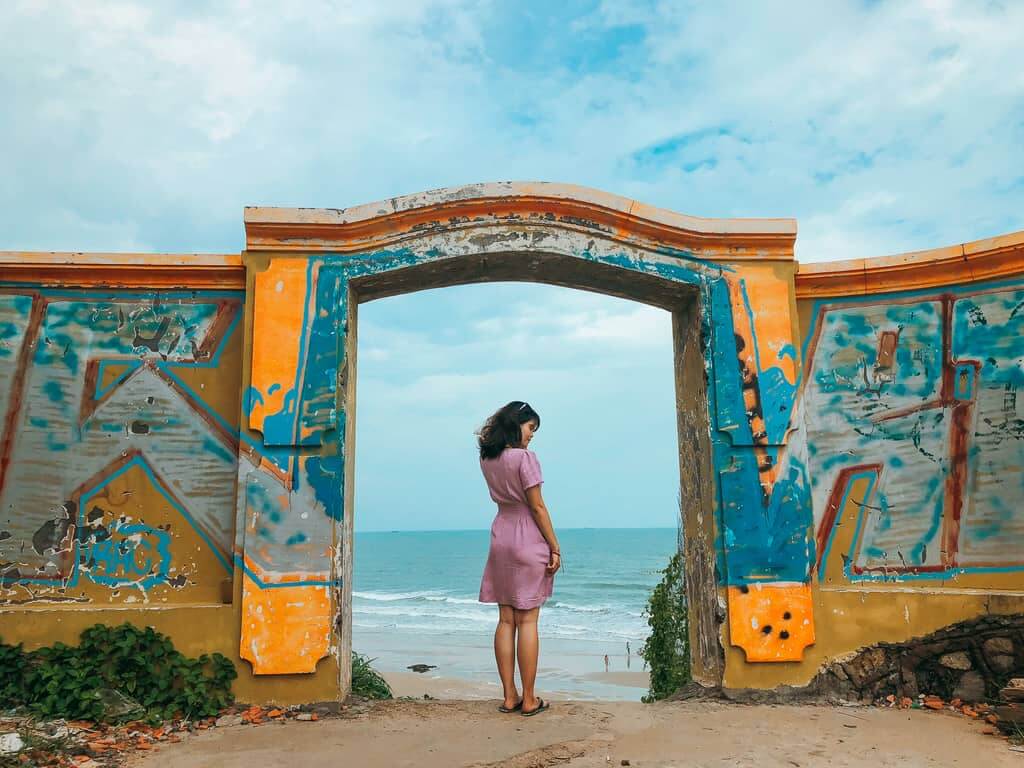 Pig Hill
Pig Hill was once a site for stone mining, so it did not see many visitors. However, in recent years, this rustic hill with its endearing name has been discovered and has quickly become a favorite spot for leisure, sightseeing, and photography.
Pig Hill captivates visitors with its unspoiled beauty and breathtaking vistas, which overlook both Thuy Van Road and Vung Tau Beach. The charm of this locale is the perfect blend of mystery found in the rocky terrain, the wildness and romance of the grassy hills, and the vastness of the sea and sky. Despite the challenging journey to reach Pig Hill, it is definitely worth visiting. The best times to explore Pig Hill are at sunrise and sunset. For camping enthusiasts, overnight camping on the hill is also a great experience.
Suoi Nghe Sheep Hill
Suoi Nghe Sheep Hill has become a popular destination for travelers looking to take beautiful photos with a white sheep herd without going too far or to Europe. Located on Phuoc Tan – Hoi Bai road, Suoi Nghe Commune, Chau Duc District, Vung Tau, this pasture is home to many different sizes of sheep herds raised by locals.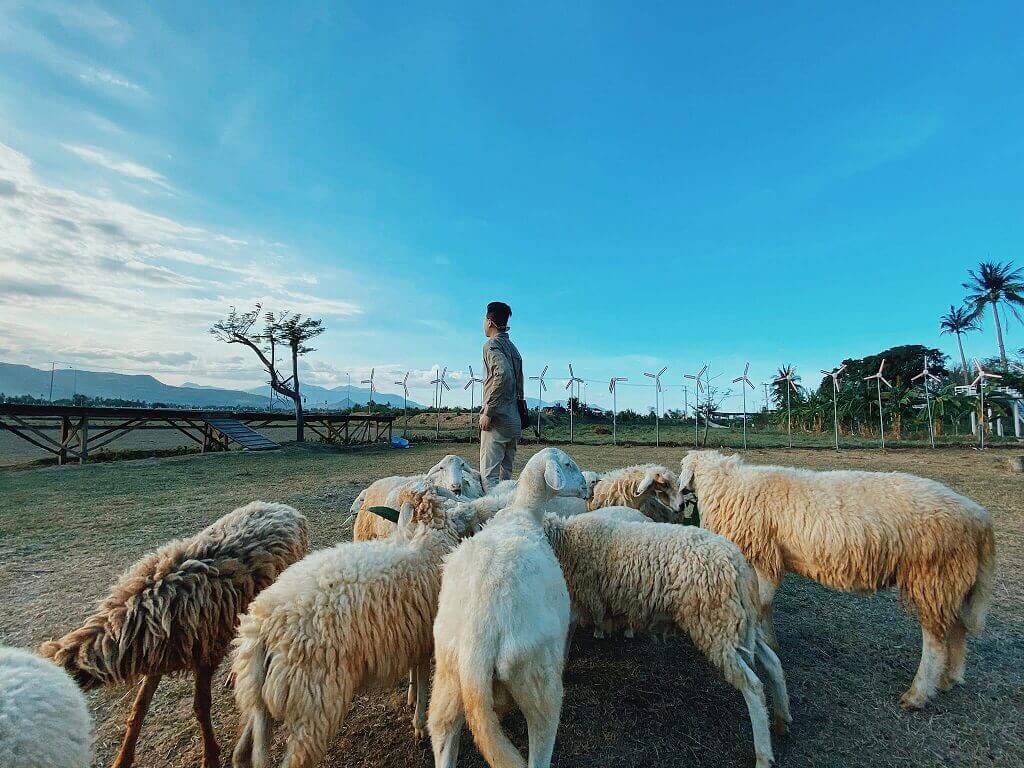 Families with young children and those who love photography will definitely enjoy visiting this location. The lovely meadow under the blue sky with the white sheep flocking together provides a perfect background, creating a summer atmosphere that makes your photos sparkle. For the best photo opportunities, it's better to visit in the early morning (before 10 am) or in the afternoon (3-4 pm) when the light is perfect, the sheep are gathered in the field. Don't forget to wear safari-style clothes to complete the experience!
---
In addition to the destinations mentioned above, Vung Tau has many other exciting tourist spots for you to discover. Come to Vung Tau and embark on a great journey!
---
Tours related to Vung Tau