Vung Tau is not only a beautiful tourist spot with stunning beaches, but it also boasts a cuisine that is simply irresistible. Below are the top 10 mouth-watering dishes in Vung Tau that are guaranteed to satisfy every guest who visits this amazing location.
Lau Ca Đuoi (Stingray Hotpot)
Stingray hotpot (Lau Ca Duoi) is a favorite among tourists and is ranked as the best dish in Vung Tau. The broth is a perfect blend of sweet and clear tastes from stingrays, bamboo shoots, and fish meat, which all combine perfectly to tantalize your taste buds. The hotpot usually comes with a tempting dipping chili fish sauce and is served with vermicelli. The aroma and smoke rising from the hotpot, along with the spicy and sour broth, as well as accompanying herbs, all of which make it a delight for foodies.
Banh Canh Gio Heo (Thick Noodle Soup With Pork)
Thick Noodle Soup With Pork (Banh canh gio heo) is a famous dish in Southern Vietnam. It can be found in many provinces and cities throughout the country, but the Vung Tau version is particularly well-known for its high-quality ingredients and unique preparation method, which never fails to delight diners.
The soup is made entirely from tapioca flour, giving it a cloudy white color and a soft, chewy texture. The broth for this dish is simmered from a combination of sea fish, shrimp, and pork femur bone, resulting in a sweet, clear, and rich flavor. The dish is typically served with pork, a plate of leafy vegetables, and a bowl of dipping sauce that complements the main course's delicious taste.
Banh Khot (Savory Mini Pancakes)
Savory Mini Pancakes (Banh Khot) is a must-try for tourists visiting Vung Tau. The cake is made from rice flour and stuffed with shrimp, although some stalls offer fillings made with pork, beef, squid, scallops and a layer of dried shrimp powder sprinkled on top. The dish is typically served with a sweet and sour dipping sauce and leafy vegetables such as lettuce, beefsteak plant, fish mint, and julienned papaya and carrots. As you savor each bite, you'll relish the crispy crust, the fragrant aroma of scallion oil, the sweet taste of shrimp, and the delightful sour-sweet-salty flavor of the dipping sauce.
Bun Sua (Jellyfish Noodles)
Jellyfish Noodles (Bun Sua) is an iconic dish enjoyed by coastal residents in Central and Southern Vietnam, and it has become a must-try delicacy in Vung Tau, attracting numerous diners. The broth of jellyfish noodles is simmered from pork bones for several hours, resulting in a delectably sweet and fresh taste. The hot bowl of jellyfish noodles comprises jellyfish pieces, slices of fish cake, and roasted peanuts atop the vermicelli and the rich broth. The dish comes with fresh leafy greens such as lettuce, bean sprouts, cabbage, banana flowers, and other spices such as ground chili or sliced chili, lime, and fish sauce to enhance the rich flavor of the dish.
Goi Cuon (Fresh Spring Roll)
Fresh Spring Roll (Goi Cuon) is a popular specialty among food enthusiasts. In Vung Tau, there are many restaurants serving this delicious dish that are worth a try. The chewy rice paper wrapped around a filling of rice vermicelli, vegetable greens, shrimp, and meat, and dipped in either peanut sauce or spicy and sour fish sauce, is an irresistible delicacy that will leave you craving for more.
Lau Tom (Shrimp Hotpot)
When dining in Vung Tau, the shrimp hotpot is as much of a crowd-pleaser as the famous stingray hotpot. Its alluring appearance and delectable taste are sure to win over any diner. The broth is infused with succulent, fresh shrimp and is accompanied by vermicelli and a variety of leaf vegetables, elevating the dish to new heights of appeal.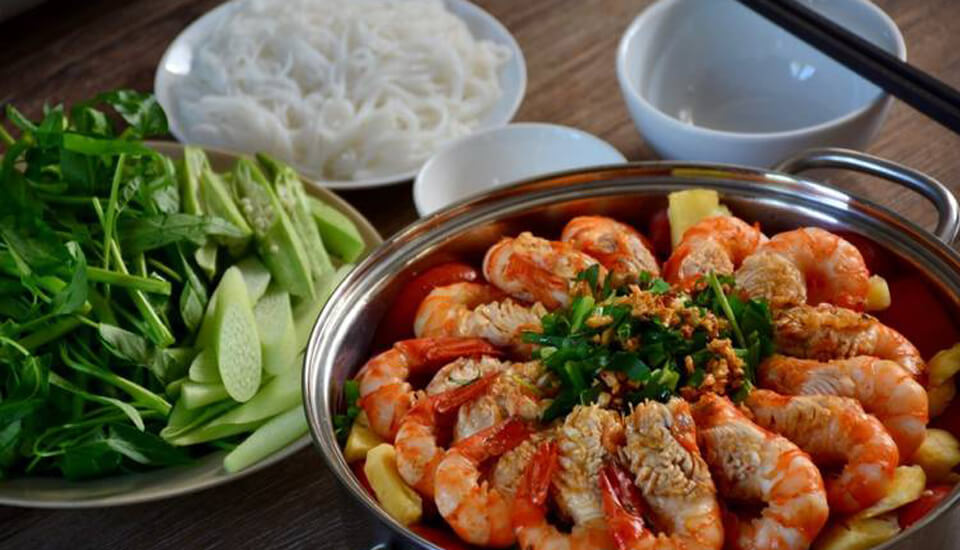 Tiet Canh Tom Hum Long Hai (Long Hai Lobster Blood)
Lobster Blood (Tiet Canh Tom Hum) is an exclusive delicacy found only in Vung Tau. If you are eager to savor this distinctive cuisine, head to Long Hai, a town in the Long Dien district. The dish requires the freshest and highest quality lobster, resulting in a delicious and fascinating culinary experience. Despite its rarity, the taste of lobster blood is simply delightful and intriguing. The tender lobster meat blended with the lobster blood has a jelly-like texture with an exquisite balance of saltiness and sweetness, delivering an unparalleled and distinctive flavor.
Hau Phuoc Hai (Phuoc Hai Oyster Dishes)
Phuoc Hai is a small fishing village in Dat Do district, Ba Ria – Vung Tau province, approximately 30 kilometers from the city center. When you visit this charming village, you will be captivated by the delectable taste of oyster dishes as you stroll along the seawall. The oysters sold in this area are caught by local fishermen on the same day, ensuring their freshness and exquisite flavor. Visitors can purchase them and ask the locals to prepare them on the spot. These oysters can be cooked in various ways, such as raw oysters with lime, grilled oysters with onion oil, grilled oysters with cheese, and much more.
Banh Kep – Bong Lan Trung Muoi (Vietnamese Waffle & Salted Egg Sponge Cake)
When visiting Vung Tau, tourists must try the famous dishes of waffles and salted egg sponge cakes, which can be found at the Goc Cot Dien store. These dishes have their own unique flavors and have satisfied many diners in recent years. Customers can choose from 5 different types of cakes, including:
rice flour waffles with coconut
rice flour waffles with fresh milk, egg yolk, and coconut milk
corn flour waffles with coconut
waffles with butter and milk
salted egg sponge cake
These special cakes are baked with coconut shell charcoal, which is very safe for health, so you can enjoy them with peace of mind.
Mut Hat Bang Con Dao (Con Dao sugared Indian-almond kernel)
The final one on the list is Con Dao sugared Indian almond kernels (Mut Hat Bang Con Dao). If you're looking for a gift that will impress everyone in your hometown, the Con Dao sugared Indian almond kernel is an excellent choice. You can choose between two types: salty or sweet. Each Indian-almond seed is handpicked, dried for four to five days, and roasted with great care to ensure plump and even kernels.
---
Above are some of the most famous and delicious dishes in Vung Tau. In addition to swimming and exploring the beautiful landscapes and unique architecture, indulging in these specialty dishes will make your trip even more attractive and interesting. Hopefully, you will have a valuable experience and don't forget to bring back meaningful gifts from Ba Ria Vung Tau for your loved ones!
---
Tours related to Vung Tau