If you are visiting Da Nang, be sure to try the delicious local cuisine in this vibrant city. The locals will definitely recommend some of the popular dishes listed below:
1. Banh Xeo – Vietnamese pancake
Banh Xeo, a Vietnamese pancake, is made from rice flour, water, and turmeric powder, and is stuffed with slivers of fatty pork, shrimp, and bean sprouts, then pan-fried to perfection. To serve, the pancake is traditionally wrapped in lettuce, cucumber, green banana, herbs, papaya salad, or other herbs, then dipped in a unique sauce that takes it to a whole new level.
Da Nang has perfected its own version of this popular dish with a twist. Instead of using the familiar fish sauce (Nuoc Mam), Da Nang's Banh Xeo is served with a special sauce made of pork liver, hoisin sauce, and garlic. This variation takes the pancake's flavors to even greater heights, making it a must-try dish for anyone visiting this city.
2. My Quang – Quang noodles
My Quang, a popular rustic dish in Central Vietnam, is a must-try for tourists visiting Da Nang and Hoi An. This delicious dish is often sold on sidewalks in the morning, or in shops and markets, at a reasonable price of 15,000 – 35,000 VND per bowl.
What sets My Quang apart from other noodle dishes is the unique characteristics of its broth and noodles. The chef starts by adding a layer of raw vegetables at the bottom of the bowl, followed by pre-cut noodles. Then, just enough broth is poured in to mix with the raw vegetables and toppings, giving it a delicious greasy taste and a red-yellow color. Finally, a pinch of crushed roasted peanuts, along with chopped fresh onions, lemons, and chili, enhances the dish's flavor with an additional sour and spicy kick. Nowadays, there are many filling variations to make Quang noodles even more diverse, such as chicken, beef, pork ribs, frog, shrimp, and jellyfish.
3. Bun Cha Ca – Noodles with grilled fish cakes
When it comes to noodles with grilled fish cakes, Da Nang's version (Bun Cha Ca Da Nang) stands out from Nha Trang or Binh Dinh's alternatives due to the addition of vegetables like pumpkin, cabbage, pineapple, and tomato. The dish's main ingredients are mackerel and tuna, cooked and cut into small pieces or thin slices. The broth is expertly made from fish bones, giving it a delectable sweetness.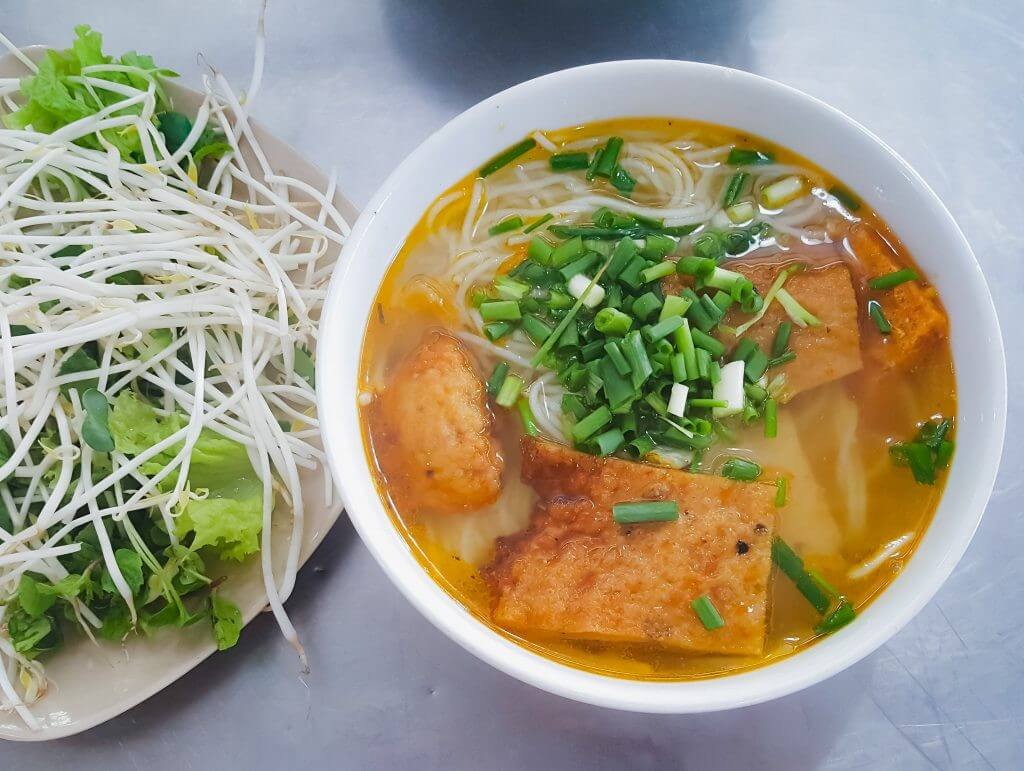 To enhance the flavor, some places add pineapple and tomato into the dish. The noodles are small and soft, filled with broth and fish, and best enjoyed with herbs and raw vegetables. A truly exceptional bowl of Bun Cha Ca is the one without any fishy smell, only the sweet aroma of the vegetables and the rich and flavorful broth that will leave you satisfied and wanting more.
4. Goi Ca Nam O – Nam O fish salad
Nam O fish salad (Goi Ca Nam O) takes its name from the place of its origin, the Nam O fishing village. This village has been thriving for hundreds of years and is located at the foot of the Hai Van Pass in Lien Chieu District, Da Nang.
This salad can be made using various types of fish such as sardines, carp, anchovies, and more, but the most suitable fish for this dish is herring. The harmonious combination of sweet herring meat, spicy broth with galangal and chili, and fresh vegetables creates an impressive and delicious dish that is a must-try for anyone visiting Da Nang.
5. Cao Lau
Despite its appearance similar to Quang noodles, Cao Lau is a dish with distinct features. While other dishes may incorporate diverse ingredients, Cao Lau remains true to a single recipe consisting of noodles, pork, raw vegetables, and a little broth.
The broth of Cao Lau is made from marinated pork, giving it a slightly sweet, rich, and delicious taste that is unique to this dish. Unlike other dishes in the Central region that contain an abundance of vegetables, a plate of Cao Lau only has young cabbage and some bitter vegetables. Visitors to Da Nang can find Cao Lau at many restaurants in the city. With its signature recipe, Cao Lau stands out among other Vietnamese dishes and is a must-try for those looking for an authentic culinary experience in Vietnam.
6. Banh Dap – Dap cake
Banh Dap is a rustic and delectable Vietnamese dish made by combining a layer of baked rice paper with a layer of Banh Uot. As its name suggests ("Dap" meaning "smash"), the two layers are then "smashed" together, resulting in a tasty and flavorful combination. To further enhance the flavor, Banh Uot is topped with onions and pureed green beans.
Depending on the region, it can be eaten with fish sauce or served with shrimp, boiled pork, or grilled meat. Banh Dap is often sold by street vendors at a reasonable price, making it an accessible culinary delight for food lovers.
7. Banh Canh – Vietnamese thick noodle soup
Banh Canh is an exquisite dish native to the central coastal provinces of Vietnam that offers a variety of preparations depending on the region's preferences. It can be cooked with pork bones, crab, fish, or duck, among other ingredients, resulting in a unique and diverse range of flavors.
One of the highlights of this dish is that the broth is not only delicious but also packed with essential nutrients. The noodles are also an absolute delight to the palate, and the presentation is visually appealing. Diners can add a touch of chili sauce or fish sauce to elevate the taste to even greater heights.
8. Banh Trang Cuon Thit Heo – Sliced pork rolled with rice paper
Aside from the famous Nam O fish salad and Quang Noodles, Pork Rolls (Banh Trang Cuon Thit Heo) are also a must-try in Da Nang. This dish perfectly blends taste, color, and aroma that is sure to delight any gourmet.
The fresh taste of the pork and vegetables perfectly blends with the rich dipping sauce, which features a delicious saltfish flavor and a spicy kick from chili and ginger. When visiting the beautiful city of Da Nang, do not miss the chance to savor this delectable dish at one of the many reputable restaurants or street vendors, such as Con Market, Han Market, and more.
9. Ram Cuon Da Nang – Da Nang spring roll
Ram Cuon is very similar to the famous spring rolls in Northern Vietnam, with only a slight variation in the type of rice paper and fillings. The dish is evenly fried after being rolled until it takes on a golden yellow hue. Diners should savor this dish with leaf mustard and sweet and sour fish sauce, which undoubtedly leaves a lasting impression on their taste buds.
10. Bun Mam Nem – Da Nang noodles with fermented fish sauce
Bun Mam Nem is an absolute must-try delicacy in Da Nang. This rustic yet flavorful dish harmoniously blends vermicelli with a few key ingredients, including succulent pork, fresh vegetables, roasted peanuts, and Mam Nem – the quintessential sauce of the Central region. Without a doubt, this sauce is the essential ingredient that imparts Bun Mam Nem with its distinct and irresistible flavor.
---
Hopefully, the suggestions above about Da Nang dishes will help you explore the wonderful culinary experiences in this bustling city. There is always an abundance of delicious food and beautiful sights in Da Nang, so make sure to seize the opportunity to discover something new!