Phu Quoc Island not only boasts breathtaking landscapes, pristine air, and diverse nature but also attracts tourists with its famous specialties. Below is a list of the top 10 delectable dishes that are worth trying during your visit to this paradise for travelers!
Ham Ninh Blue Crab
If you are looking for fresh and reasonably priced seafood, a visit to Ham Ninh fishing village is a must. Here, you can find the freshest blue crabs, one of the most delicious dishes in Phu Quoc that is sure to leave you craving for more. They only need to be steamed and dipped in a bit of salt, pepper, and lime – they're simply delicious!
Sea Urchin
Sea urchin is a unique creature of Phu Quoc that is worth trying! Although its appearance is full of sharp spines, sea urchin is a very nutritious seafood that can help you quickly regain strength after a day spent at the beach. Grilled sea urchin with scallion oil, sea urchin with lime, and sea urchin porridge are just a few options that you can explore to savor a sweet and rich flavor from the sea that is sure to delight your taste buds!
Crab Blood Soup
This specialty is one of the local dishes that draws in countless travelers. To ensure its delicious and nutritious taste, only sea crabs that are rich in tomalley are used. The dish is prepared with great care, and the crab paste is served alongside the crab meat, all of which is seasoned just right to create a perfect balance of salty and sweet flavors.
Vietnamese Raw Herring Salad
Phu Quoc's raw herring salad is a famous specialty dish with a distinctive and unusual taste. It can be a challenging dish for picky eaters, especially those who avoid raw food. However, if you're in Phu Quoc, not trying this dish would be a regrettable mistake.
The salad features filets from both sides of fresh herring blended with thinly sliced purple onion, chili, shredded coconut, and shallots, creating a perfect balance of sweetness and spiciness. Eating a bite of raw herring salad, sipping a glass of sim wine, and admiring the peaceful sea and sky is a truly wonderful experience!
Bun Ken – Ken Noodles, Dried noodle with fish, pickle, and coconut milk
When you wake up early in the morning in Phu Quoc and are unsure of what to eat, try the Ken Noodles. Unlike the ken noodles dish on the mainland, which is usually made from snakehead fish, Phu Quoc's ken noodles are cooked with various kinds of sea fish, with the most common being yellowtail scad. The fish is mashed instead of being left in whole pieces, then stir-fried with garlic, chili, and lemongrass until it becomes dry, crisp, and fragrant. All the ingredients are then cooked together with coconut milk to create a thick, light-yellow broth with a rich coconut flavor.
Starting your day with a bowl of Phu Quoc Ken Noodles means you get to taste the spicy flavor of chili, the richness of coconut milk broth, and the freshness of sea fish all blended! What could be better than that?
Bun Quay – Stirred noodles
When it comes to noodle soup dishes in Phu Quoc, the ken noodles and the stirred noodles (quay noodles) are a perfect match. A bowl of stirred noodles includes various raw seafood, such as sea shrimp and fish, that are minced into thin, flat cakes. When the hot broth is poured in, the cakes are gradually cooked to perfection while still retaining their fresh and sweet taste.
Don't forget to add squid eggs, scallions, and coriander to enhance the flavors. And the best part? You can mix your own seasoning, including soup powder, sugar, lime, and ground chili, to make your dish one-of-a-kind. Savor every bite, knowing that no two bowls of stirred noodles are alike!
Melaleuca Mushroom
Melaleuca mushroom (or "Nam Tram") is a delicious specialty of Phu Quoc with a diverse flavor and many health benefits. These mushrooms often grow on hillsides or the leaves of mangrove forests. They can be used to make soup, consumed raw, or dried. Tourists often purchase them as a gift. The mushrooms are known to help treat colds and headaches and even improve physical health. If you visit Phu Quoc in April or July, don't forget to check out Dong Duong Market for the freshest mushrooms. Don't forget to add this to your culinary notebook – it's a must-try!
Palm Sugar Honeycomb Cake
Get ready to indulge your sweet tooth with the delicious dishes of Phu Quoc! The sweet specialties in Phu Quoc are made from the region's characteristic fruit, ice apples (or sugar palm fruits). As you take a stroll around the night market, you'll easily spot small booths selling palm sugar honeycomb cake.
This delightful delicacy is made using aged ice apples mixed with cake flour, creating a natural yellow hue. The cake is then steamed in a basket, with smoke rising, and the pleasant aroma will surely make you stop in your tracks!
Banh Kheo – Kheo Cake
Kheo cake is a savory snack made from rice flour in different colors and cute shapes. It is sweet and spongy, filled with various ingredients such as mung beans, coconut, and taro. This delicious snack is also very affordable, making it a popular choice among tourists as a souvenir from Phu Quoc.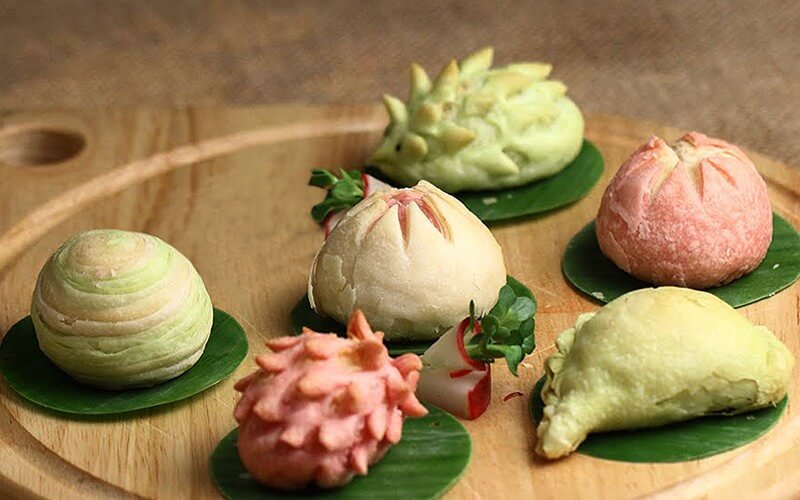 Sim wine
Sim Wine (also known as Ruou Sim or Rose Myrtle wine, Sim Alcohol) is a delicious drink made from the fruit of the rose myrtle plant, which has a fragrant and sweet taste. As the wine ferments, the rose myrtle fruit enhances the wine's flavor, making it a delightful addition to any meal.
In addition to its taste, Sim Wine is also known for its medicinal properties. Locals use it as a remedy for digestive problems and joint pain. If you're visiting Phu Quoc, don't forget to try this delicious drink and consider bringing some back home as a popular souvenir.
---
Here are the top 10 mouth-watering dishes in Phu Quoc that you absolutely must try during your visit. However, keep in mind that this is just a small glimpse of the vast culinary culture in Phu Quoc. What are you waiting for? Let's head down to Phu Quoc, relax by the beautiful blue sea, and indulge in the amazing local cuisine!
---
Tours related to Phu Quoc Island