Mai Chau, located in Hoa Binh province, is a peaceful mountainous region that attracts tourists with its serene ambiance. This region is perfect for those looking to escape the hustle and bustle of the city and immerse themselves in the scenic beauty of the mountains and forests after a long and tiring day at work. Let's explore the top destinations that are worth visiting in Mai Chau!
Thung Khe Pass
This is the pass that you need to cross on your journey to Mai Chau. With its winding road and breathtaking views, Thung Khe Pass is an impressive route that leaves a lasting impression on all who travel it. Many bikers enjoy this road because of the majestic scenery. From up high, you can see the whole panorama of the picturesque surroundings.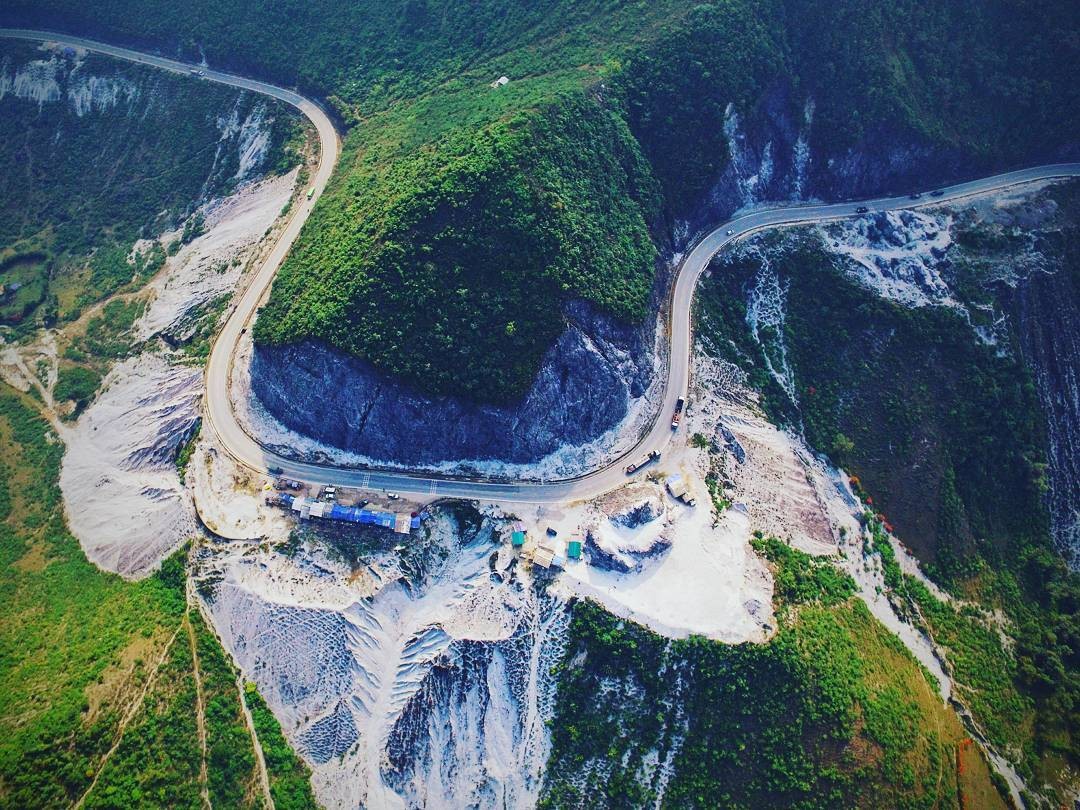 Mai Chau Flagpole
Standing at the Mai Chau flagpole, you can enjoy a panoramic view of the entire Mai Chau valley. It is such a wonderful experience to breathe in the fresh and cool air while admiring the breathtaking scenery of mountains, forests, and plains stretching out before your eyes. Don't forget to check in at the flagpole and capture the beauty of the landscape in a photo!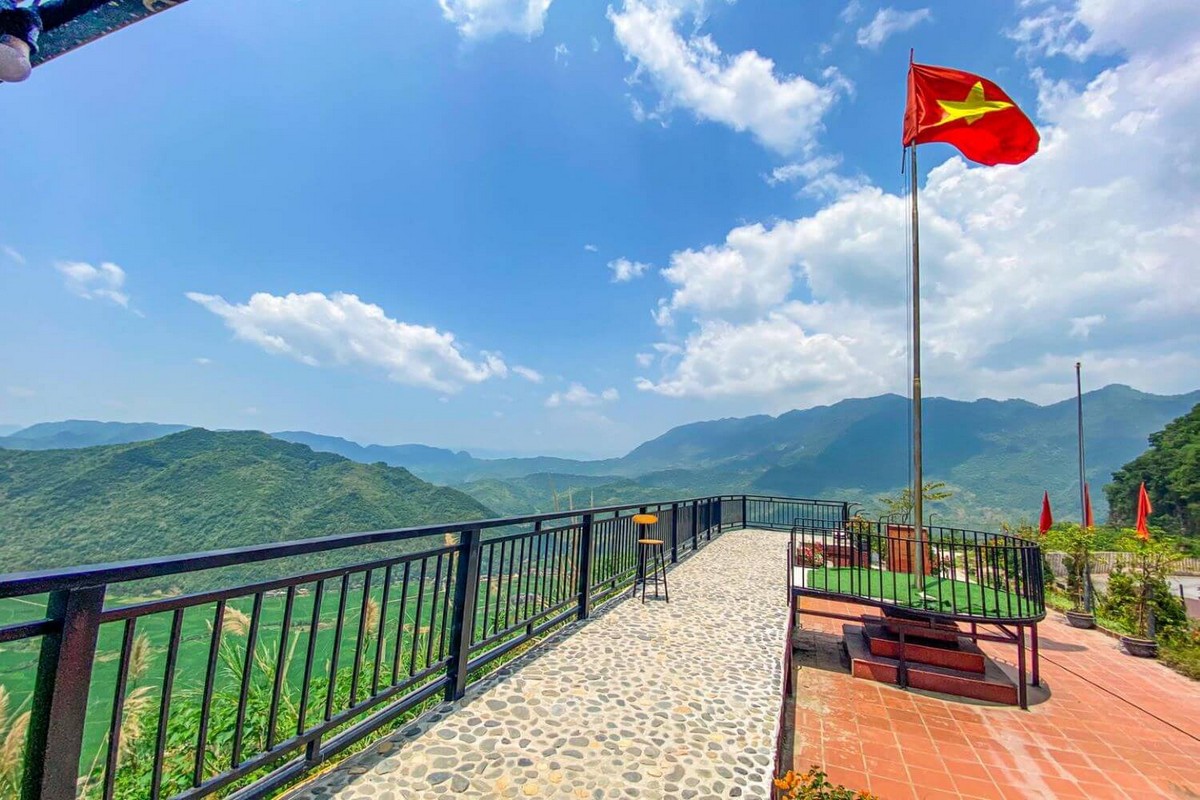 Mo Luong Cave & Chieu Cave
Located in Chieng Chau commune, these are the two largest and most unique cave systems in Mai Chau. With over a thousand years of age, these caves possess a unique and mysterious beauty that will leave you in awe. Legend has it that a snake turned into a dragon and protected the harvest for the people in the region, adding to the allure of these caves. Furthermore, Mo Luong cave was a shelter for Vietnamese soldiers during the resistance war. Hence, people still affectionately refer to it as "Soldier Cave" even today.
Go Lao Waterfall
Although the waterfall is a bit hard to locate on maps, once you reach this spot, you will surely feel that your effort was well worth it. When you look at it from above, the waterfall appears as white silk strips spread out over the rocks. And the best part? You can enjoy all of this for just VND 10,000 per person! So why not come and experience the breathtaking beauty of Go Lao Waterfall for yourself?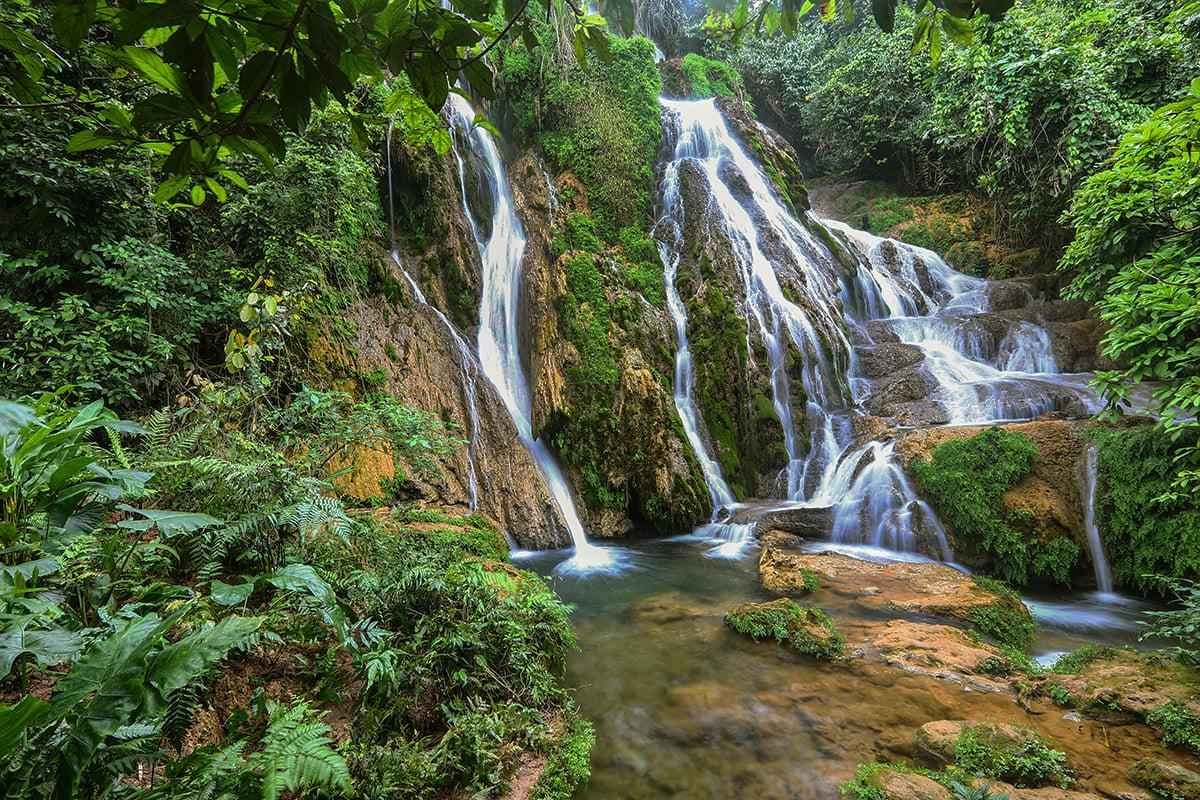 Lac Village
When it comes to Mai Chau, it would be a big mistake not to mention Lac Village, a 700-year-old village home to the Thai ethnic people. Despite the world's development, Lac Village still maintains its rustic and primitive appearance from ancient times.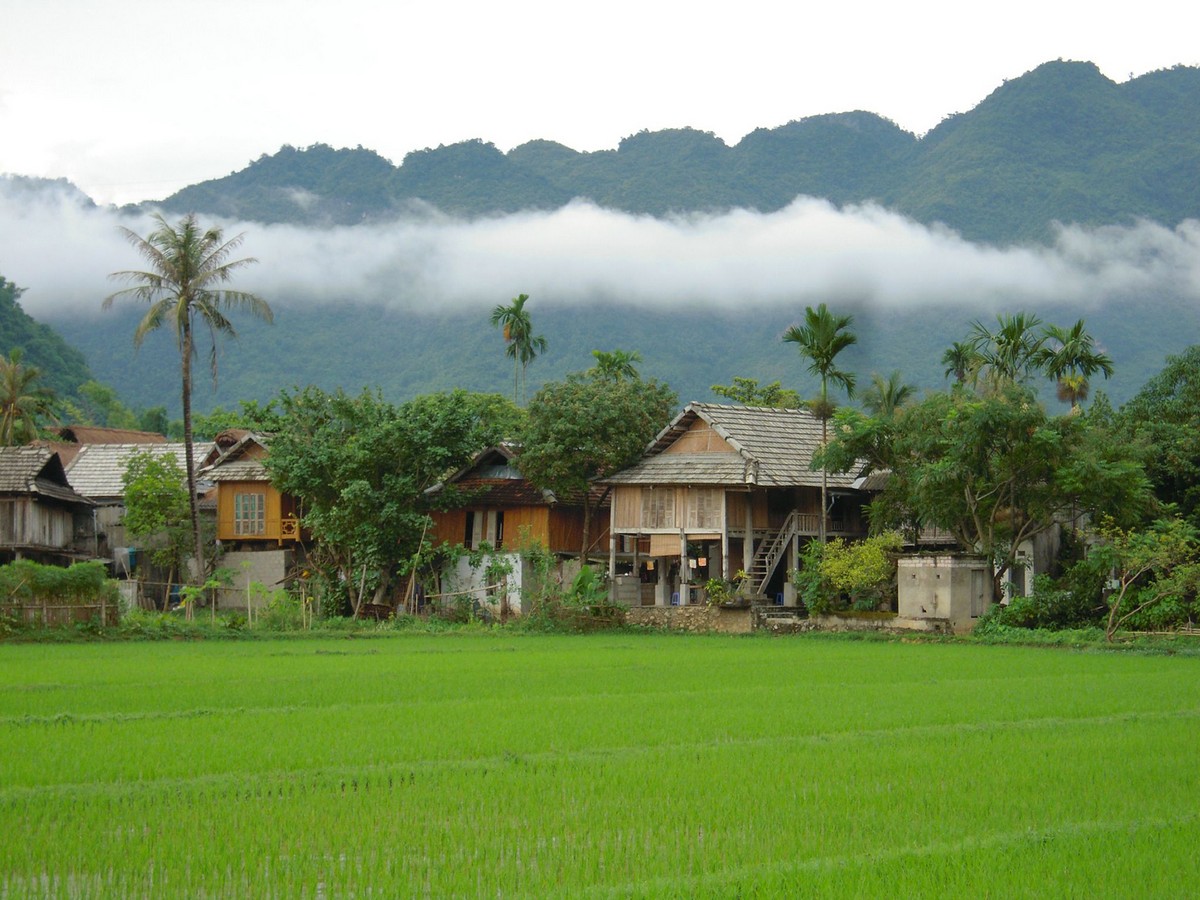 There are many interesting things to explore here, from the traditional stilt houses made of precious wood with nine steps leading up to the house to the agricultural and traditional textile works. Moreover, you have the opportunity to experience spending a night in a local person's house, gathering around a fire to enjoy roasted sweet potato and corn while listening to fascinating tales.
Pom Coong Village
In Thai people's language, "Pom" means hill, and "Coong" means drum. This name reflects a unique feature of the destination, a hill full of the sound of drums. Nowadays, this village is a place of residence for seven major family lines. Like other villages in Mai Chau, Pom Coong village is surrounded by beautiful natural scenery and friendly locals.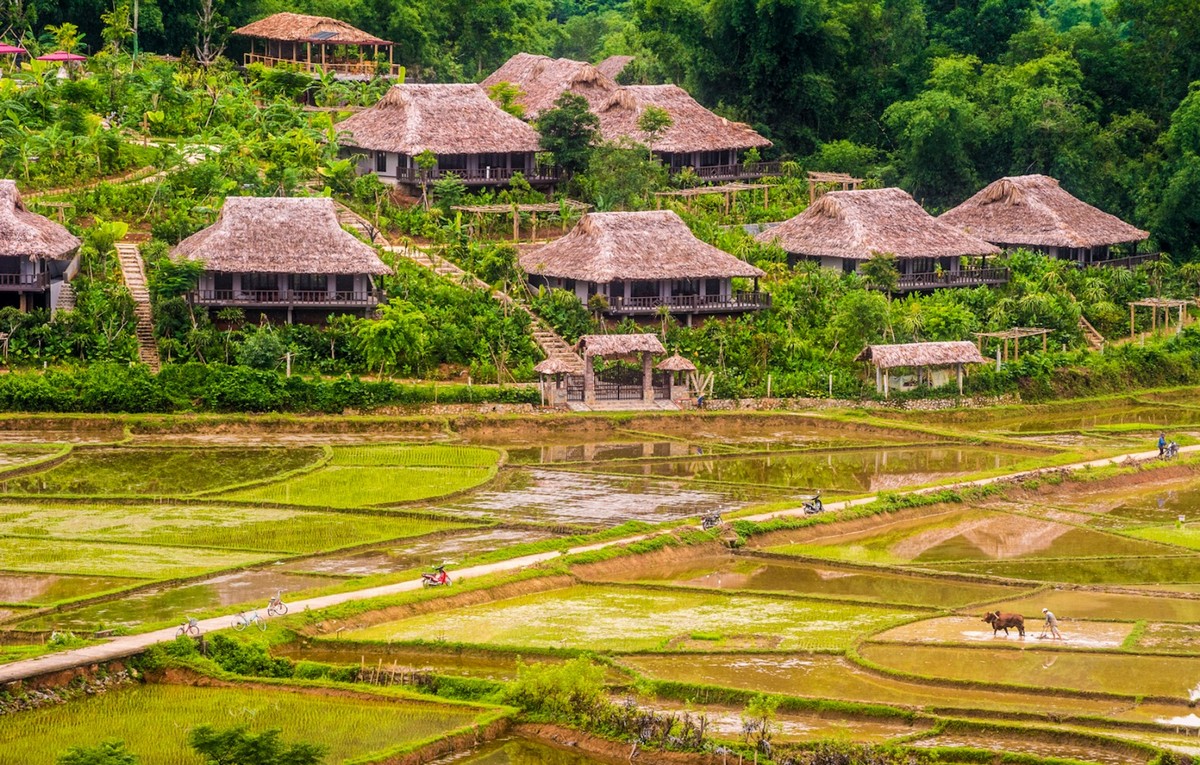 The houses in the village still retain their traditional style, which has been preserved for generations. The food is impressive and diverse, including bamboo tube-cooked rice and seven-colored sticky rice. Additionally, visitors can enjoy traditional dances every night with traditional rhythms, adding to the overall cultural experience of the village.
Thung Nai
Thung Nai, located approximately 20 kilometers from the heart of Hoa Binh City, is a popular destination known as the "Halong Bay on land." The beauty of Thung Nai lies in the harmonious combination of the Black River and the majestic mountains, creating a serene and dreamlike atmosphere. During your visit to Thung Nai, you can engage in activities such as boating on the Black River, exploring the Thac Bo temple, and visiting the Thac Bo floating market.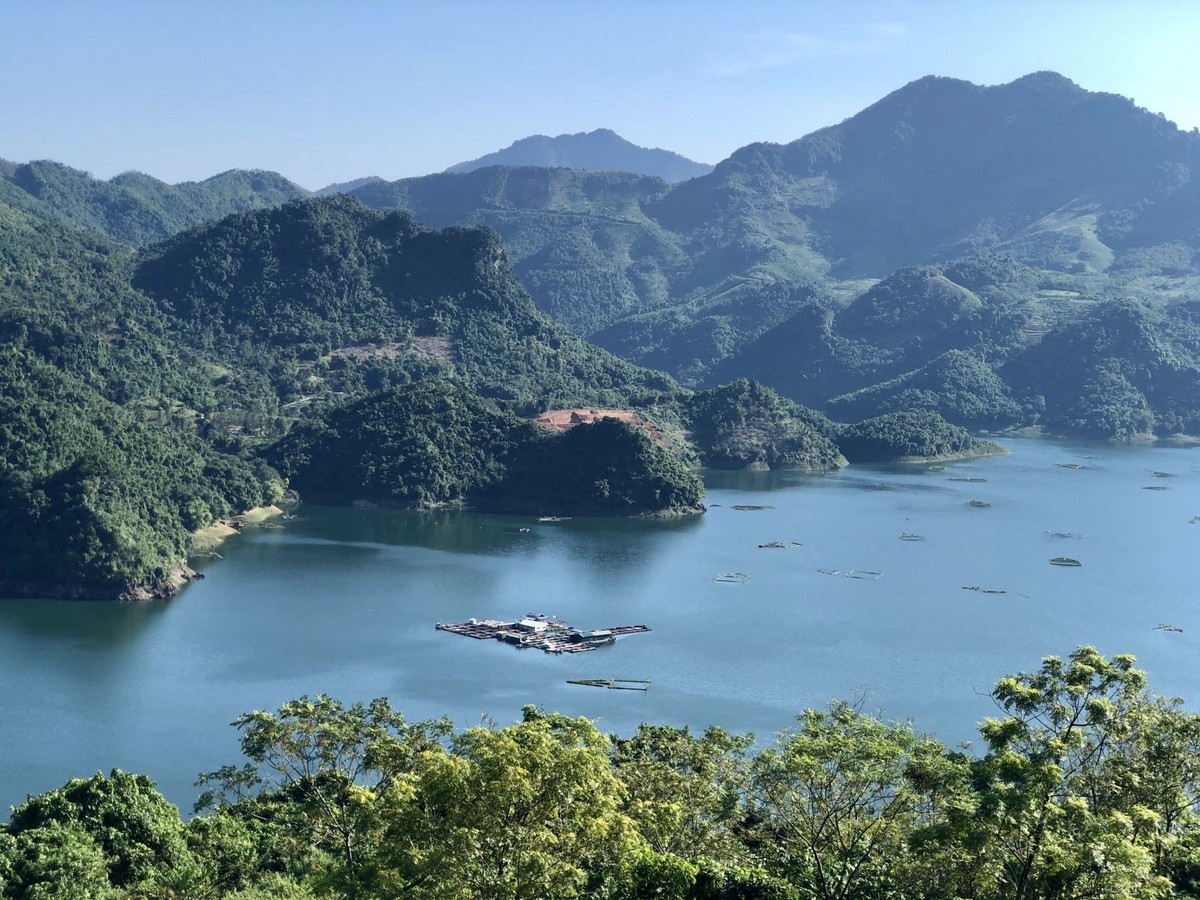 Mu Waterfall
Mu Waterfall is truly a sight to behold, located high up on the gorgeous Truong Son mountain range at an altitude of over 1000 meters. It is hard to describe the beauty of this natural wonder, but once you arrive here, you will be awestruck by its unique natural beauty. As the water cascades down, it creates a magical atmosphere that feels almost otherworldly.
A visit to this place is an opportunity to experience the refreshing coolness of the mountain stream and the lush forest. If you are lucky, you might even catch a glimpse of the mystical mist that sometimes surrounds the waterfall. Don't miss out on the chance to visit this enchanting tourist spot!
Ba Khan Valley
Dubbed the "heart" of Mai Chau, Ba Khan Valley shows you a picturesque landscape of rugged mountains and a serene blue lake. You will be amazed by the majestic mountains and the romantic blue lake. In the afternoon, this place becomes an attractive spot for sunset viewing, where you can witness the last rays of sunlight slanting over the mountains and stretching across the sparkling lake, giving you an unforgettable experience.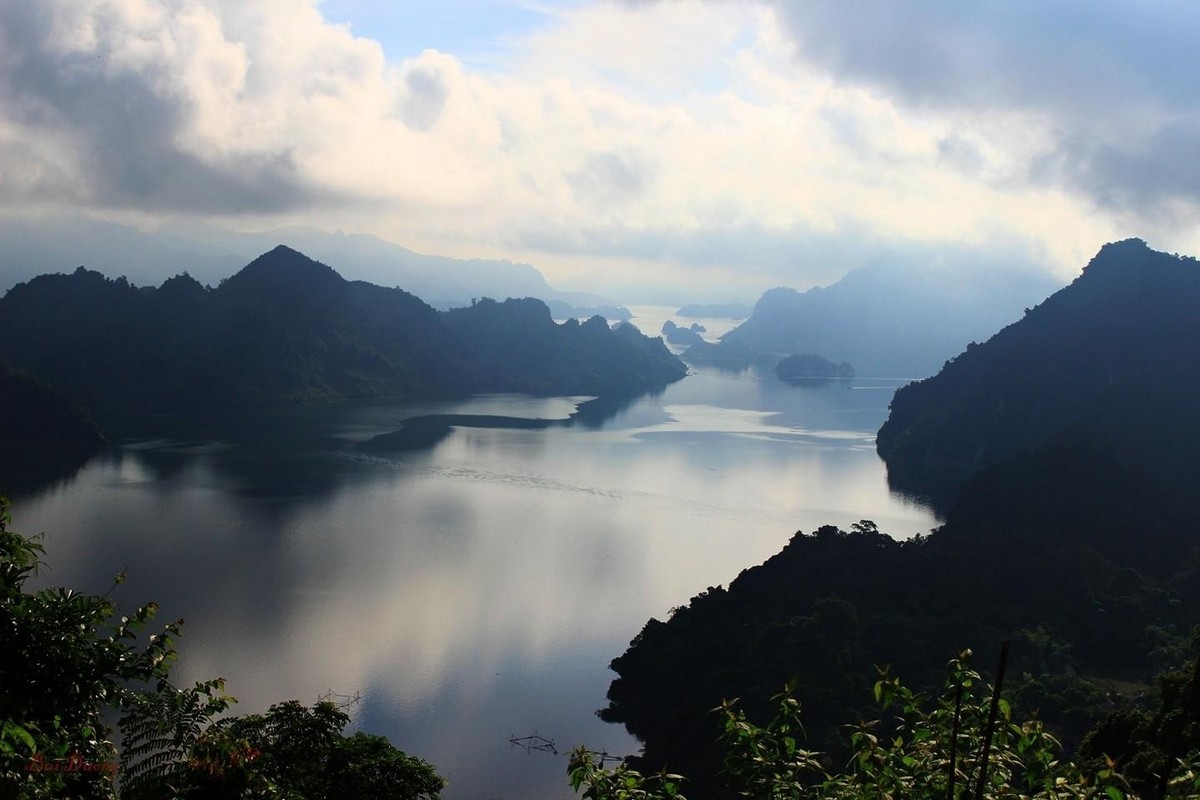 Hai Son Mural Village
On once-ordinary walls, students from the University of Arts and Design have painted numerous vibrant ethnic artworks. The impressive 800-meter wall is now full of colorful paintings. But that's not all – creative works from local children featuring fun and playful shapes have also been added to the mix, making it even more colorful and lively.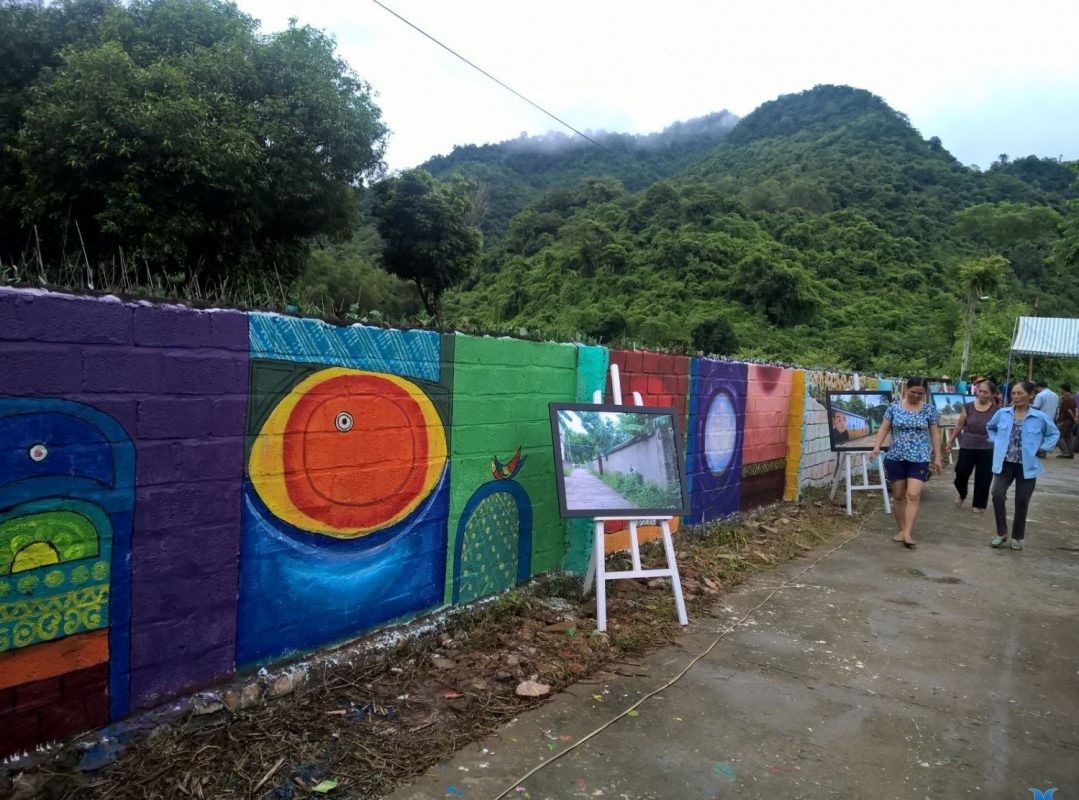 ---
Mai Chau is a beautiful green valley with a unique ethnic minority culture and vibrant people. All of these will give you an enthusiastic and unforgettable memory. Hopefully, with these suggestions above, you'll have a wonderful time sightseeing and relaxing in this highland region!
---
Tours related to Mai Chau