Located in the Red River Delta, Hanoi, the peaceful and ancient capital of Vietnam, is home to approximately 8.5 million residents. Despite its thousand-year history, Hanoi is envisioned not only through long-standing cultural and architectural works but also through dynamic and exciting activities. Below is a list of 10 must-see stops in this thousand-year-old city.
1. Sword Lake
Sword Lake (also known as Hoan Kiem Lake) is located in the heart of Hanoi and the middle of the old quarter, making it ideal for all excursions. This lake is associated with a historical myth dating back a thousand years ago. Legend has it that a divine Golden Turtle had lent King Le Thai To a magical sword to help him fight and defeat the invaders. After the victory, the King returned the sword to the Golden Turtle on this very lake.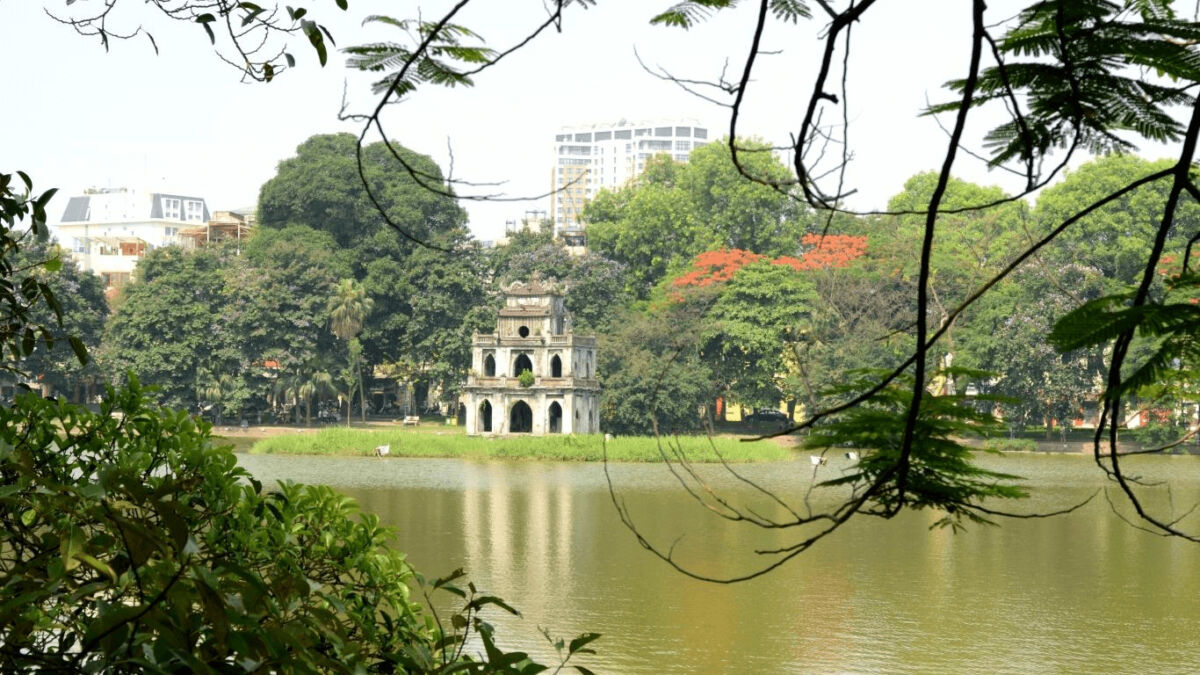 Visiting this lake, travelers not only get a feel for the history but also marvel at other attractions built inside it. In the middle of the lake are Thap Rua (Turtle Tower) and the beautiful The Huc Bridge that leads to the Ngoc Son Temple, which has unique architecture and scenery.
2. West Lake
West Lake is the largest natural freshwater lake in Hanoi. The lake view is so breathtaking, with numerous historical sites nearby. West Lake still retains its beauty regardless of the parts of the day: tranquil and misty in the early morning while vibrant and bustling when the sun goes down.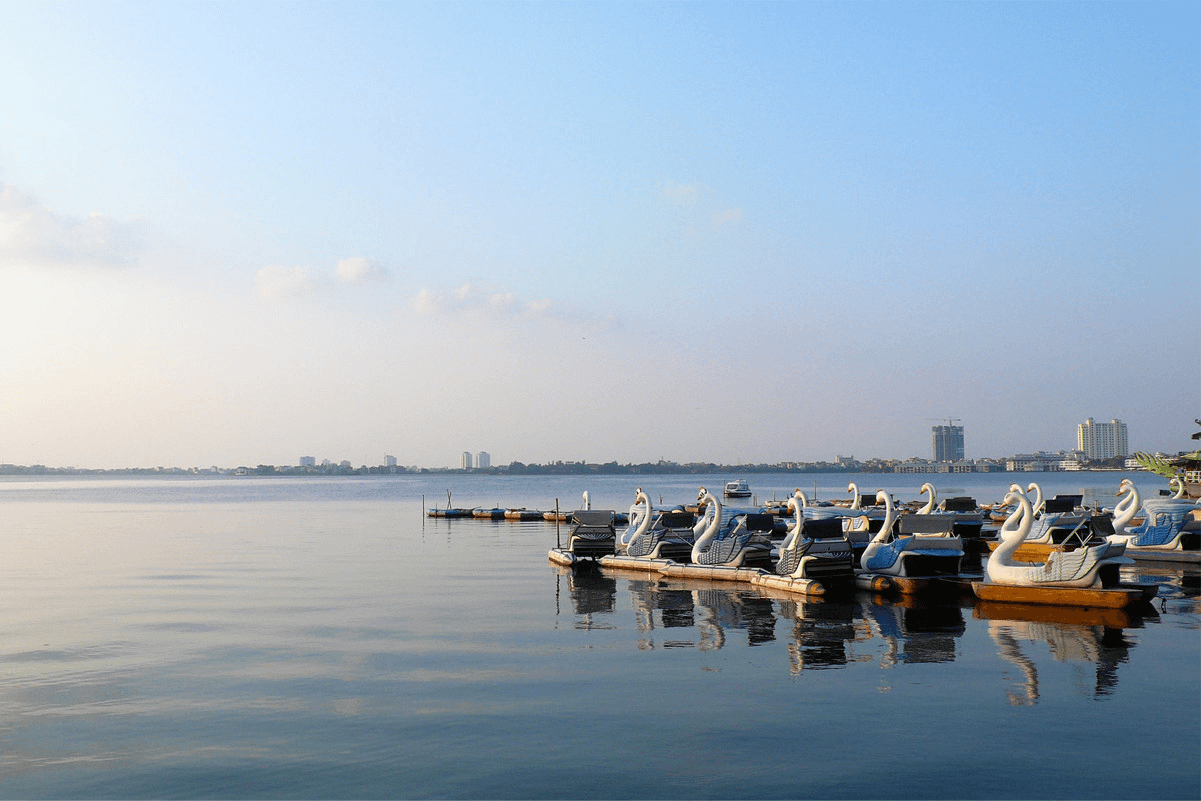 A favorite activity of Hanoians is riding around West Lake and watching the sunset. In recent years, there has been a variety of water activities enhanced around the lake, making it a place not only to sit and quietly enjoy the scenery but also to participate in outdoor activities.
3. Temple of Literature
The Temple of Literature is a well-known tourist attraction in Hanoi. It was built in 1070 under King Ly Thanh Tong as a place of worship for Confucius, Confucian scholars, scholars, and sages. Temple of Literature is also known as Vietnam's first university, which nurtured talents for the country.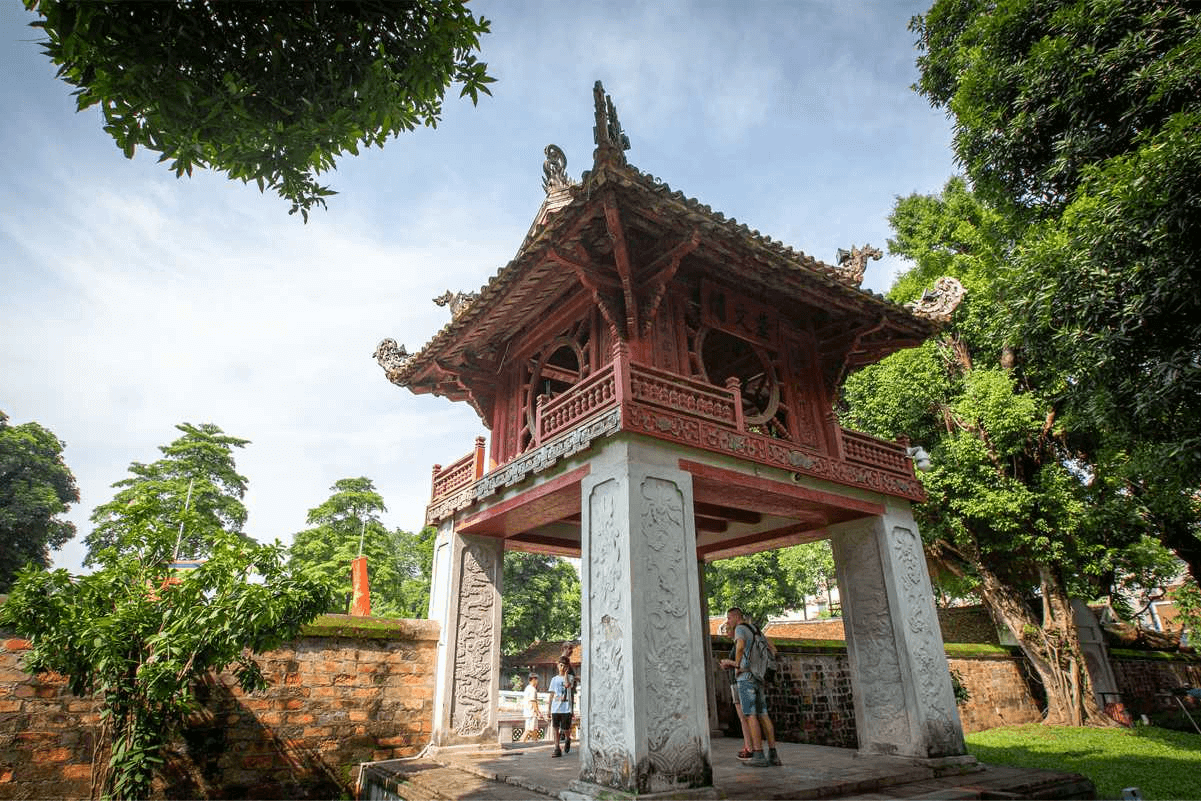 To this day, the temple remains a symbol of the cradle of Vietnamese thousand-year civilization. Students religiously believe that this temple will bring them good luck in exams. Therefore, on the occasion of the Lunar New Year and examination season, the temple is packed with people praying and waiting for lucky calligraphy.
4. Ho Chi Minh Mausoleum
Not only does Ho Chi Minh Mausoleum have a political and historical significance in Hanoi but also a prominent role in the hearts of all Vietnamese people. It is the resting place of Vietnamese revolutionary leader and President Ho Chi Minh. Located in Ba Dinh Square, this historical attraction is covered with a vast green of grass and trees, giving visitors an immediate sense of peace and solemnity.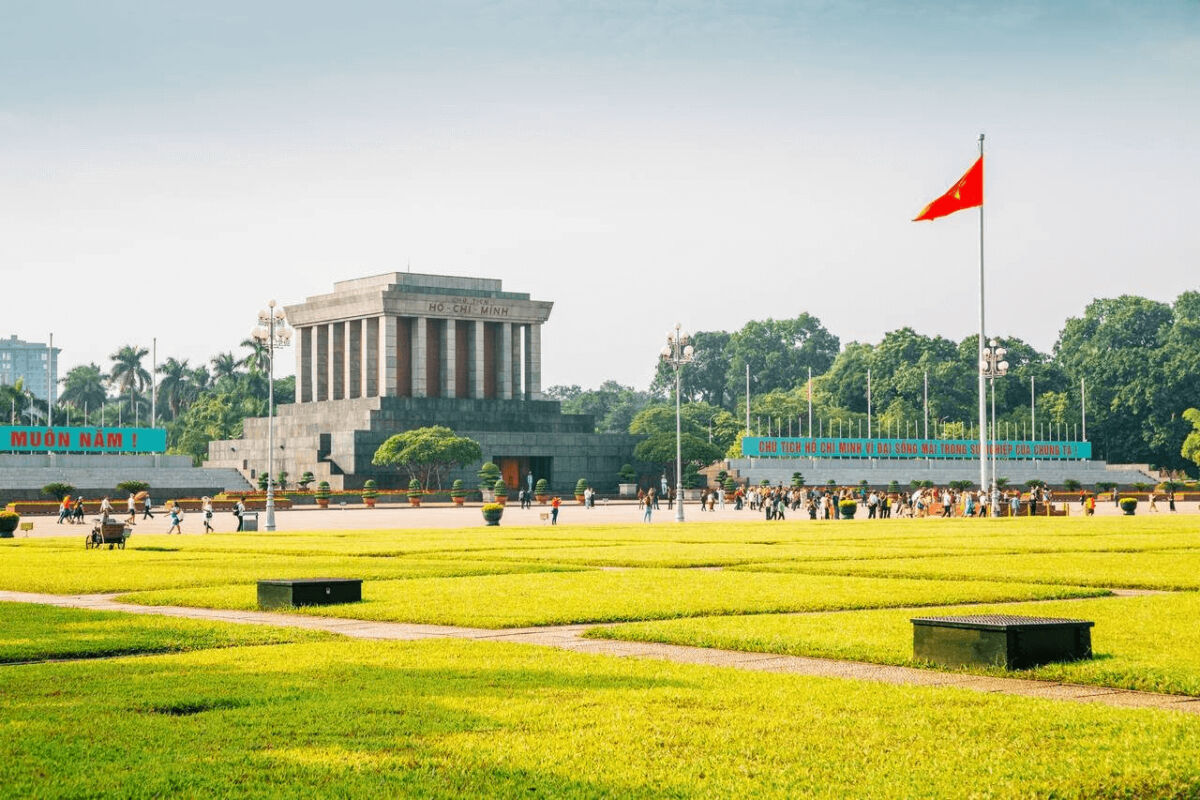 At this place, the flag-salute ceremony takes place every morning at 6:00 AM and evening at 9:00 PM. This activity gives a deeper understanding of the heartfelt gratitude of the Vietnamese people to the Father of the country. All visitors are required to dress formally (no tank tops and shorts are allowed) and remain silent throughout the ceremony.
5. Hanoi Old Quarter
Hanoi Old Quarter is a must when visiting Hanoi. The highlight of this area is that each street specializes in one specific product, with the name of each street indicating the products sold. Hàng Tre (Bamboo Street), for example, sells tall bamboo sticks and all kinds of bamboo objects; Hàng Bạc (Silver Street) is where to purchase gold and silver jewelry, and so on.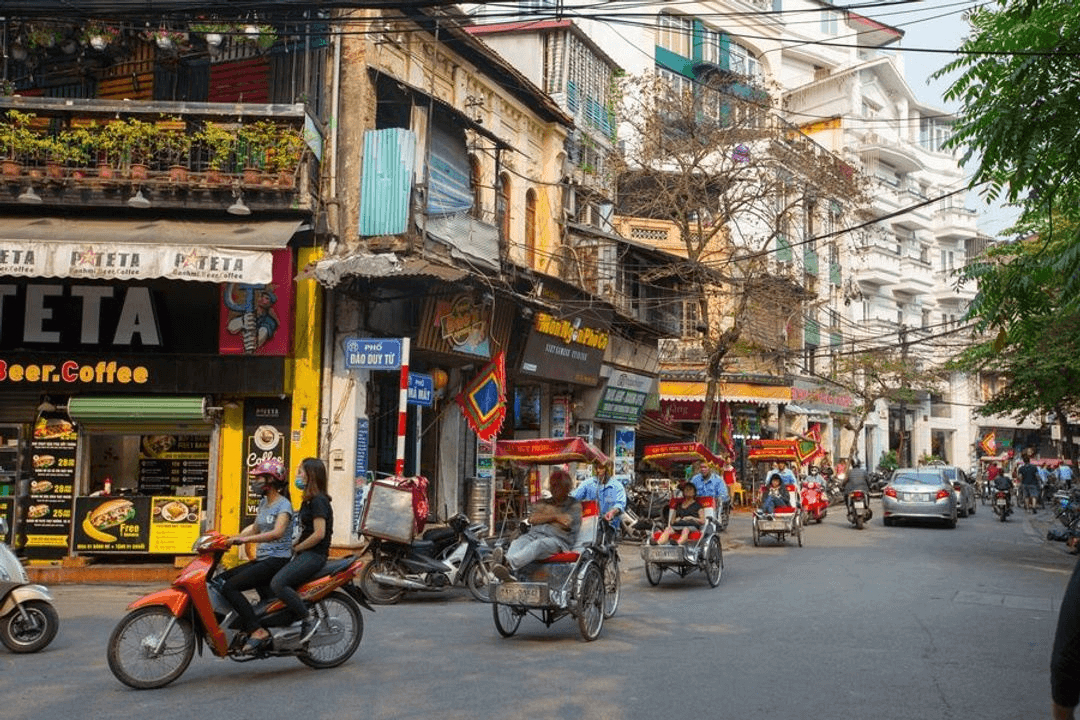 The setting of the streets shows not only traditional commercial culture but also unique and iconic architectural styles, including hundreds of ancient and historic buildings such as temples, pagodas, assemblies, and ordinary residential housing. Visitors can also sample a variety of local foods here. Taking a cyclo, bicycling, or walking are recommended to explore this area.
6. Hoa Lo Prison
Hoa Lo Prison, also known as Maison Centrale, was built by the French in 1896 to capture revolutionary soldiers fighting against the colonial regime. The former prison covers an area of over 12,000 square meters. However, there are only 2,434 square meters for tourist purposes. The campus is divided into four zones: A and B (misdemeanors and warning penalties), C (French and foreign offenders), and D (felons and death sentences).
This prison depicts the harsh conditions soldiers had to endure and the brutal punishments during the French colonial era. With its significant historical role, Hoa Lo Prison has become a popular tourist destination in Hanoi, attracting domestic and international visitors.
7. Imperial Citadel of Thang Long
Designated a World Heritage Site by UNESCO in 2010, marking its 1,000th anniversary, Hoang Thanh Thang Long (Imperial Citadel of Thang Long) is an important historical and cultural relic in Vietnam. Home to various imperial palaces and other ancient royal structures under thousands-of- year feudalism, this campus continues to be the political center of Vietnam until this day.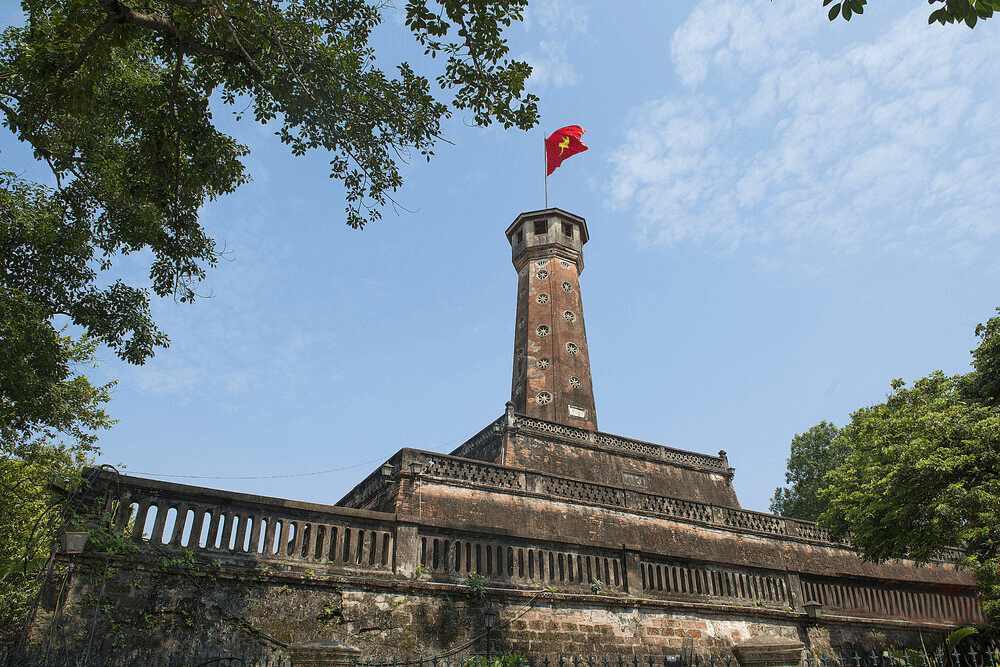 There are three destinations worth visiting on the campus (to name but a few):
The Flagpole (or Hanoi Flag Tower) was in the nineteenth century with spiral stairs leading to the top where visitors can have a 360-degree view of the entire Imperial Citadel of Thang Long.
The gates were built in four directions, reflecting the splendor and iconic architectural style of ancient Vietnam.
Dien Kinh Thien (Kinh Thien Palace) is a historic fortress and former royal residence where all the formal royal ceremonies occurred.
8. Long Bien Bridge
Long Bien Bridge was the first steel bridge built across the Red River originally to facilitate colonial exploitation during the French invasion. As time has passed, this bridge has witnessed all the bittersweet the nation has endured and has become one of the most iconic, favored with the nickname "the historical witness."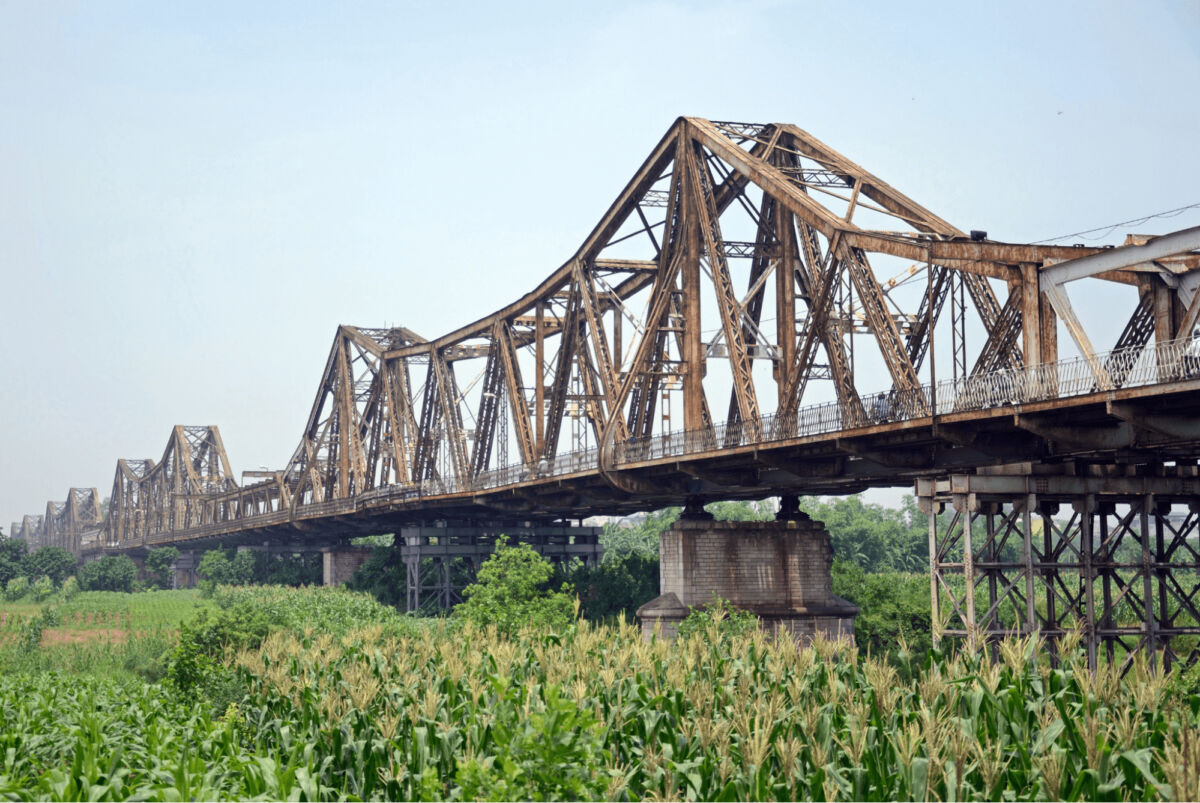 This bridge divides into two traffic lanes, mainly for light vehicles and pedestrians, with the railway running through in the middle. Being on the bridge as the trains pass by is a mesmerizing experience, while a stroll on the bridge offers visitors panoramic views of Hanoi from afar. There is a lush banana island with peaceful countryside landscapes under the bridge, accessible by taking the secret stairs in the middle of the bridge (bicycles are also available).
9. One Pillar Pagoda
One Pillar Pagoda, also known as Chua Mot Cot, Dien Huu pagoda, or Lien Hoa Dai, was built by King Ly Thai Tong in 1049 and has undergone numerous restorations due to war damage. Legend has it that the King dreamed of the bodhisattva deity Quan Am (or Lady Buddha) sitting on a blooming lotus and asking him to join her on her path to enlightenment. After the dream, the King commissioned the construction of this pagoda, which resembles a lotus blossom – a Buddhist symbol for purity and enlightenment.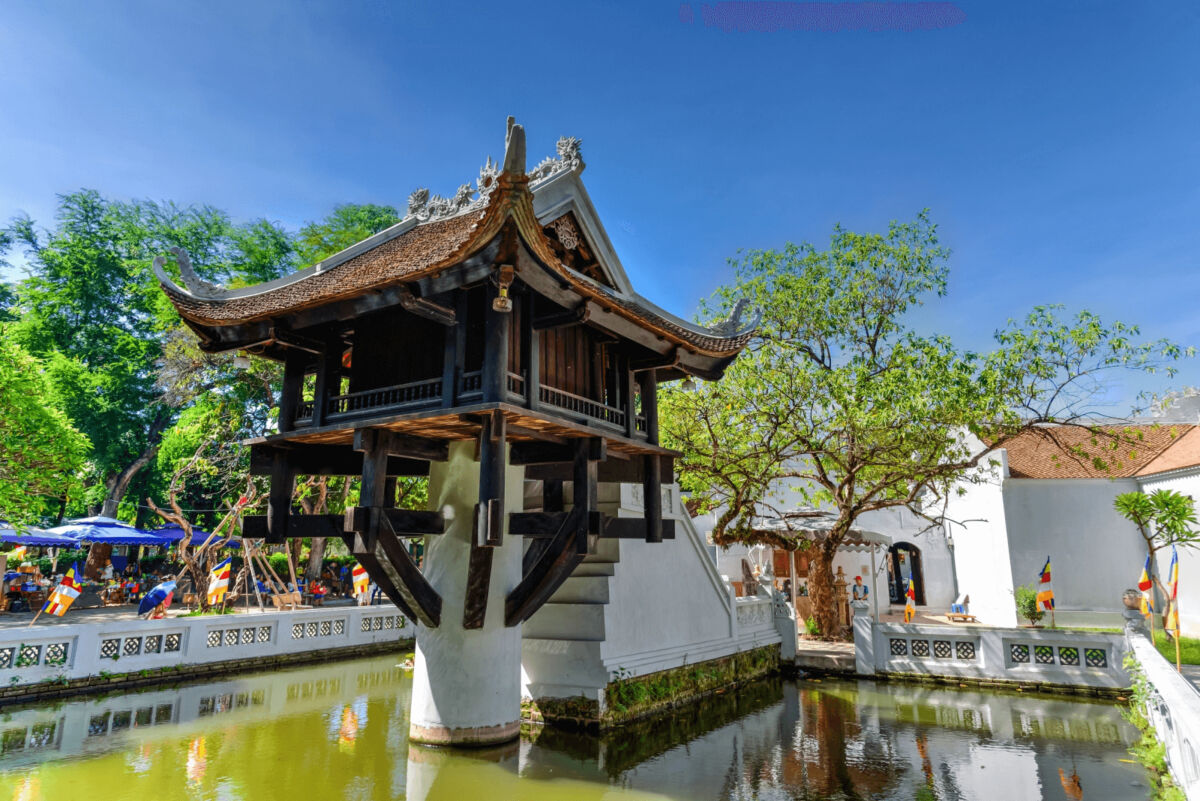 This place is where the King practiced his religion, and Buddhism has also witnessed its flourishing and prosperity since then. Although the pagoda is not a spectacular and large-scale structure, it has a historical and religious significance that makes it worthwhile to visit.
10. Bat Trang Ceramic Village
Located on the east side of the Red River and just 15 kilometers from the center of Hanoi, Bat Trang Ceramic Village is a complex consisting of ceramic museums, workshops, ancient houses, and markets. Every street corner in the village provides a colorful and vintage backdrop for photographers and travelers.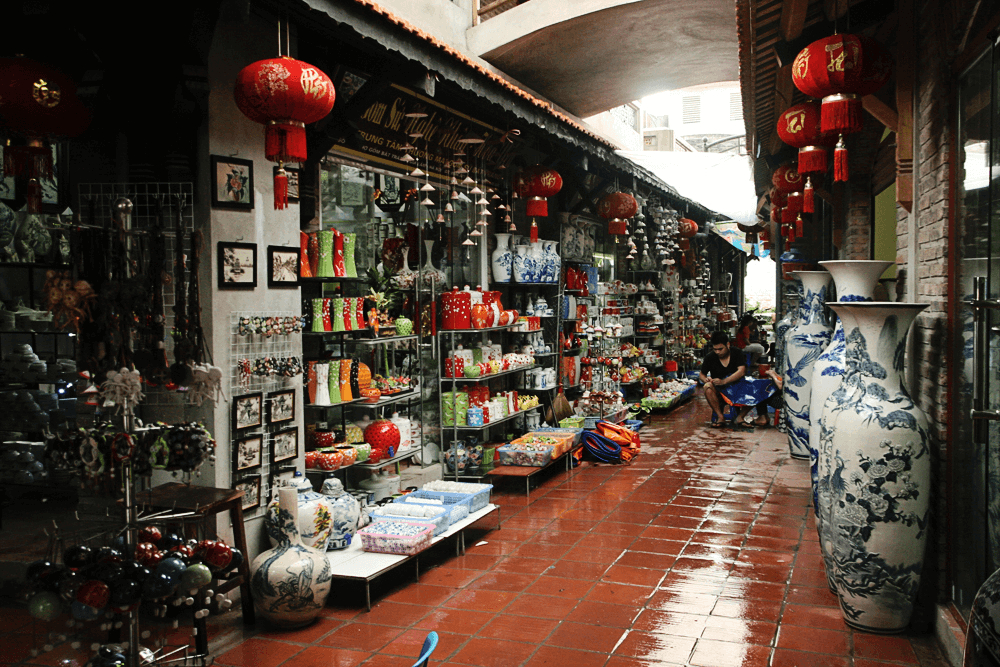 Visitors can attend ceramic-making workshops to gain hands-on experience and create their own ceramic work. The ceramic market is a great place to find lovely and one-of-a-kind ceramics, as each piece of ceramic takes hours for an artist to paint by hand.
---
Overall, Hanoi is a charming city with a long-standing history, a rich culture, delicious cuisine, friendly people, and stunning scenery. All of this makes it appealing not only to tourists but also to locals.
---
Tours related to Hanoi