Not only is it a popular destination for architectural enthusiasts, but Hue also makes a mecca for gastronomes in Vietnam. The city boasts a diverse and outstanding cuisine widely known for its flavors influenced by the best royal chefs.
1. Bun Bo Hue – Hue beef noodle soup
Bun bo hue (Hue beef noodle soup) is a regional specialty consisting of thick rice vermicelli and various toppings in a thick broth. While pho has a perfect balance between salty, spicy, citrus, and sweet, this dish has a harmonious combination of sweet, sour, and spicy. It has flavors of boiled bones and shank, cashews, lemongrass, ginger, fermented shrimp paste, chili oil, and sugar.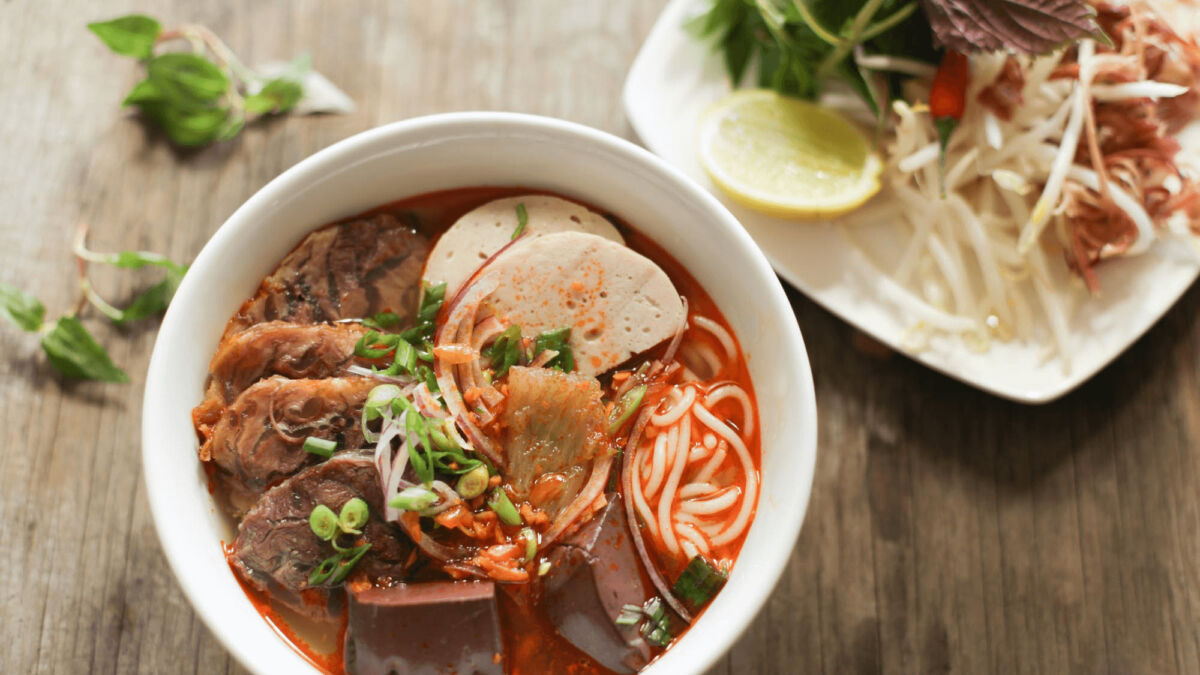 Side dishes for this noodle soup include various ingredients such as congealed pig blood, beef or pork knuckles, beansprouts, lime wedges, cilantro, diced green onions, banana blossoms, mint, and basil. To increase the spiciness, it is suggested to add fresh chilies and fermented fish sauce to the bowl of noodle soup.
2. Nem Lui – Lemongrass skewers
Nem Lui is a dish similar to kebab that is made by wrapping marinated meat, typically pork or beef, in lemongrass stalks and grilling it over a charcoal stove. It is often served with rice paper, lettuce, cucumber slices, rice vermicelli, and fresh herbs.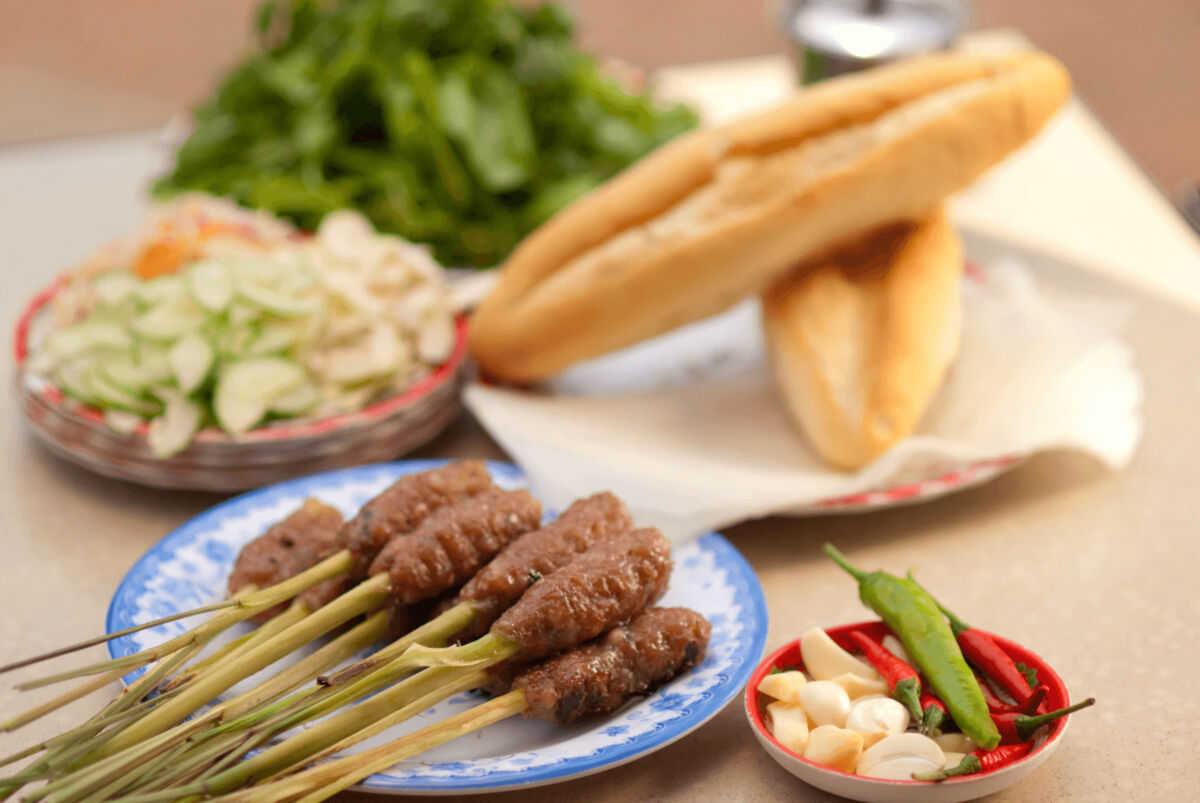 This dish is commonly available as an appetizer in most local restaurants and hotels in Hue. For extra taste, diners can dip Nem Lui into a local sauce made with ground peanuts, fermented beans, sesame seeds, shrimp paste, chopped garlic, chilies, and shallots.
3. Com Hen – Clam rice
Com Hen (clam rice) is a popular dish from steamed jasmine rice, baby basket clams, crispy pork skins, roasted peanuts, shrimp paste, and fresh greens. It is typically enjoyed as a hearty breakfast dish, with the clams stir-fried with chopped garlic, onion, fish sauce, pepper, and mint leaves before being poured over the rice.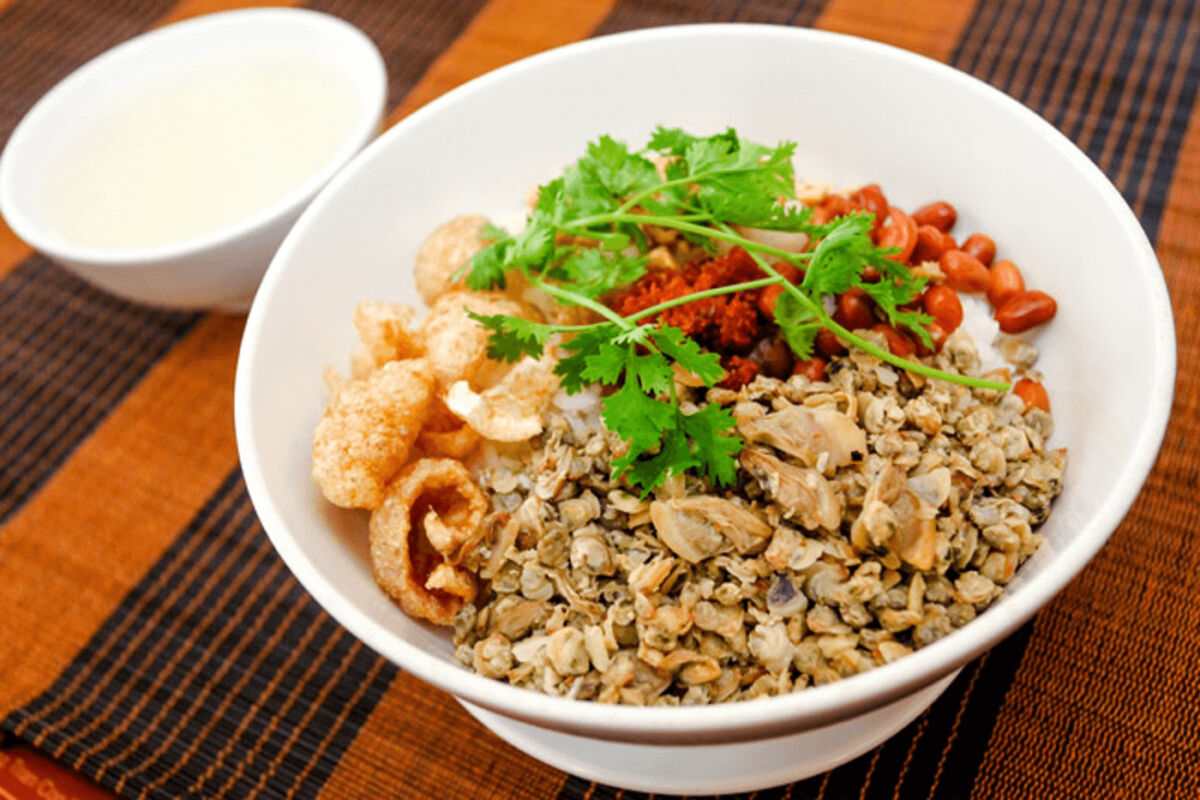 Some restaurants may serve this dish with a bowl of clam broth and a platter of coriander leaves, shredded banana blossoms, and bean sprouts. Dong Ba Market is renowned for being one of the best places to enjoy this delicacy from Hue.
4. Banh Khoai – Vietnamese crepe
Banh Khoai, a savory snack in Hue easily identifiable by its turmeric yellow color, is easily found at roadside stalls, local joints, and markets. This open-faced crepe is usually topped with pork, shrimp, scallions, and bean sprouts.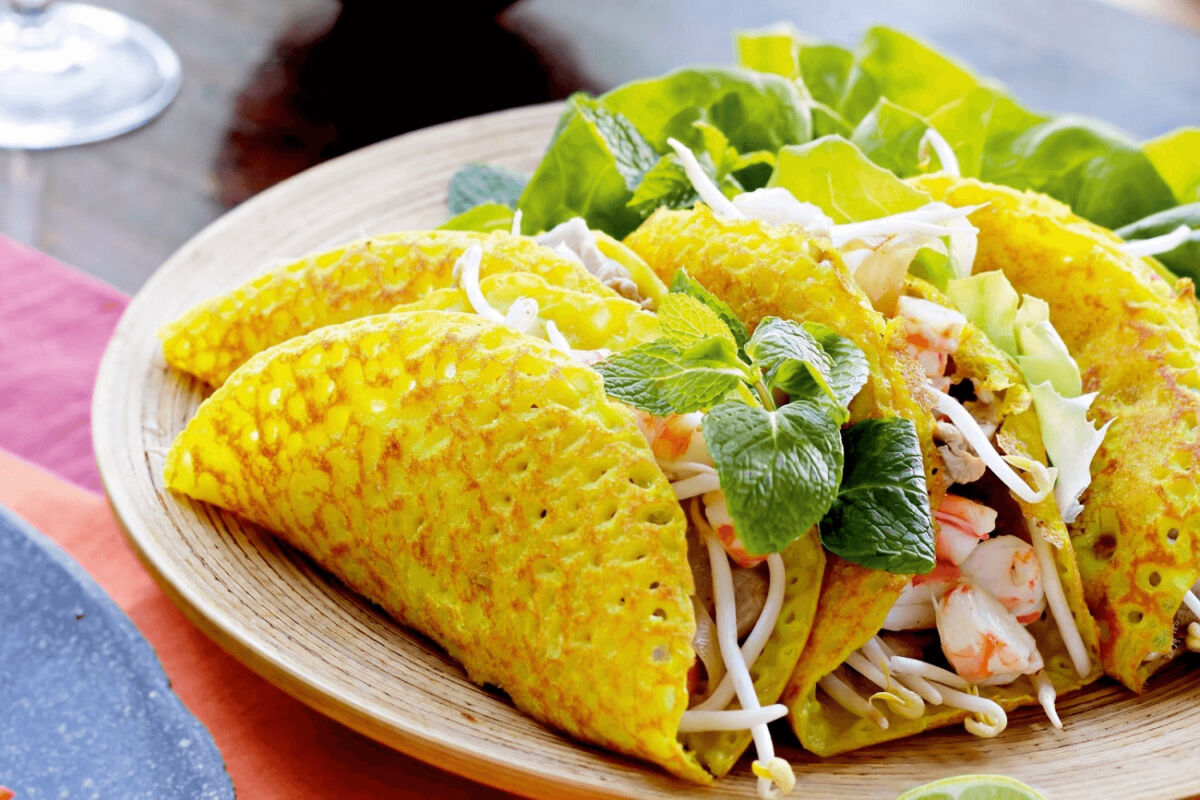 However, some venues offer this local snack with quail eggs and starfruit. As with many Vietnamese dishes, Banh Khoai is best enjoyed with a side of fresh greens, herbs, and a fermented soybean dipping sauce.
5. Banh Beo – Steamed rice cakes
Banh Beo is a traditional Vietnamese dish of steamed rice cake topped with dried shrimp, deep-fried pork rind, shallots, rice vinegar, and fresh herbs. It often comes with a side of fermented fish sauce and red chilies.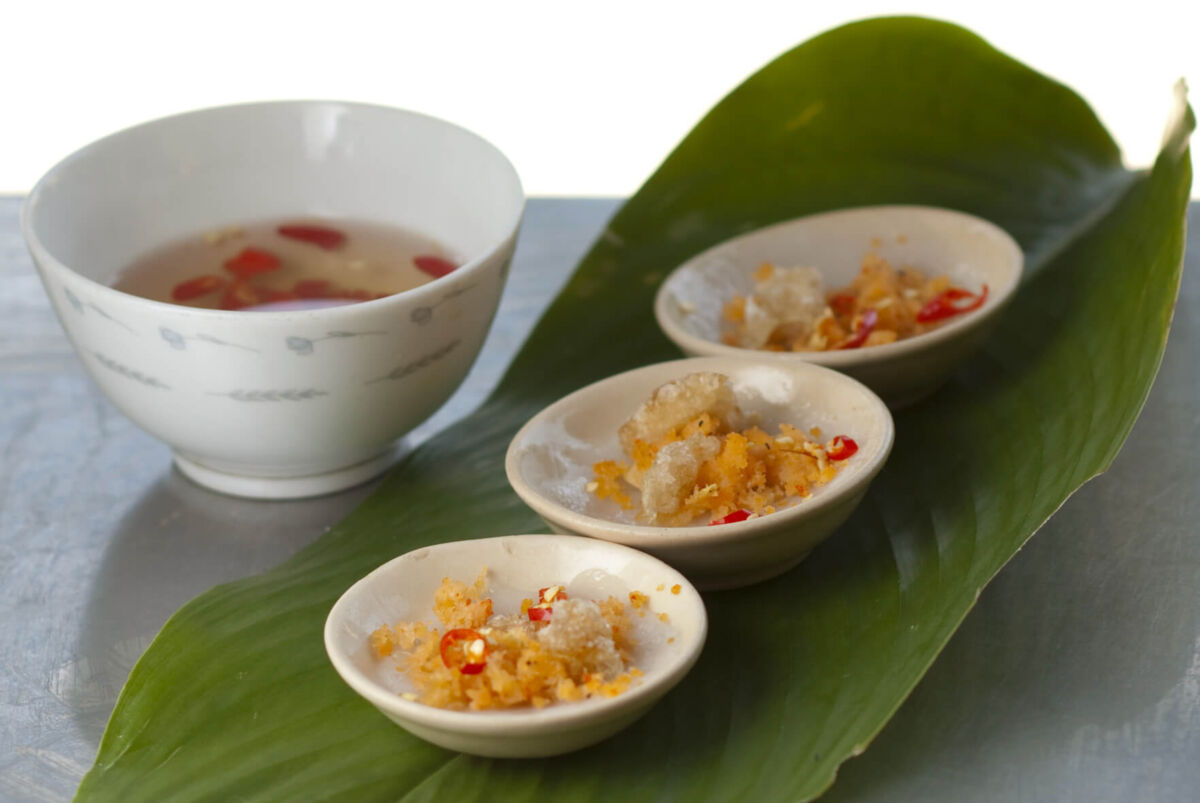 There are two versions of this local delicacy. Banh Beo Chen is prepared in a coin-sized ceramic saucer and usually served in sets of five or six at food stalls, while the larger Banh Beo Dia is enjoyed as a main dish.
6. Banh Bot Loc – Tapioca dumplings
Banh Bot Loc is a traditional Vietnamese snack that originated in the central region of Hue. It is a popular street food, easy to find in many markets and food stalls. This dish is unique because it is made with tapioca starch instead of rice flour, giving it a chewy texture and translucent appearance.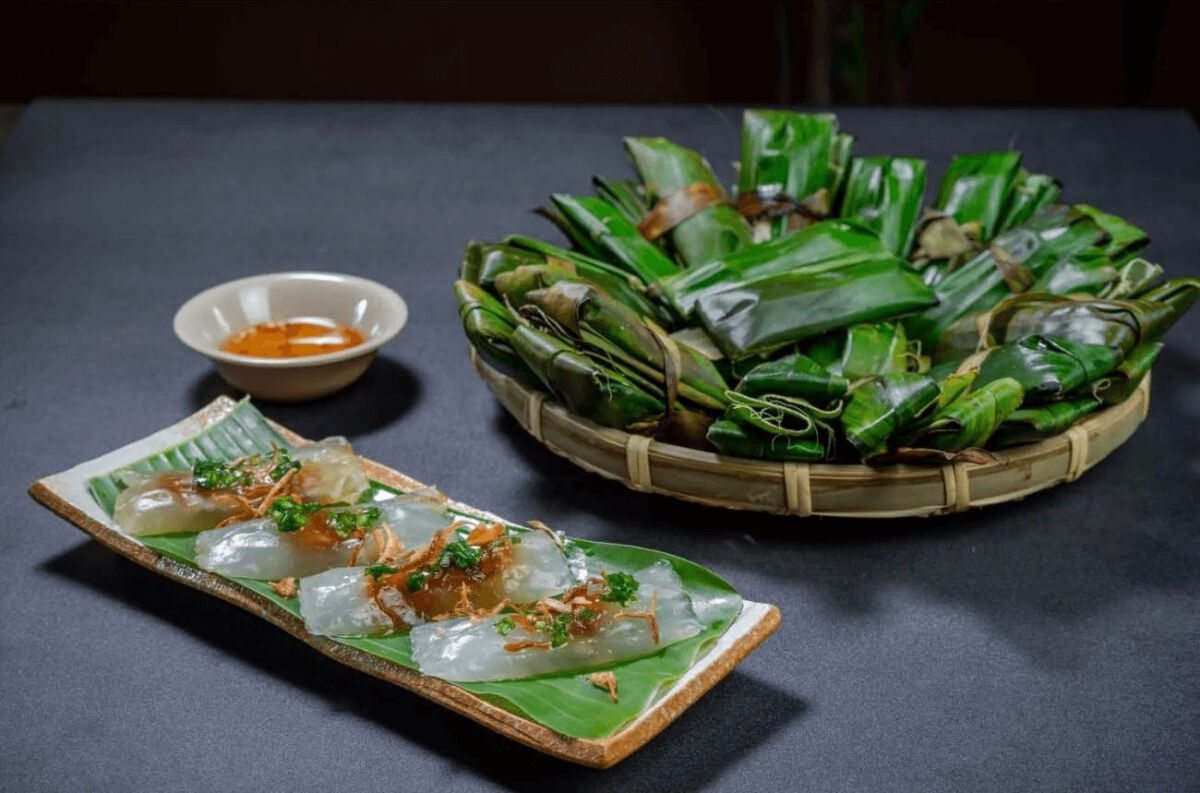 The filling of Banh Bot Loc is made up of marinated shrimp and milled pork wrapped in oiled banana leaves and then steamed until cooked. To enjoy this snack, unwrap the banana leaf and dip it in a platter of dipping sauce made with vinegar, shrimp stock, fermented fish sauce, sugar, and fresh chilies.
7. Bun Thit Nuong – Vermicelli noodles with grilled pork
Bun Thit Nuong is a flavorful dish that consists of rice vermicelli noodles, grilled pork, lettuce, cucumbers, bean sprouts, pickled daikon, basil, mint, chopped peanuts, and deep-fried spring rolls. The mixture of these ingredients creates a harmonious contrast of flavors and textures that excites everyone's taste buds.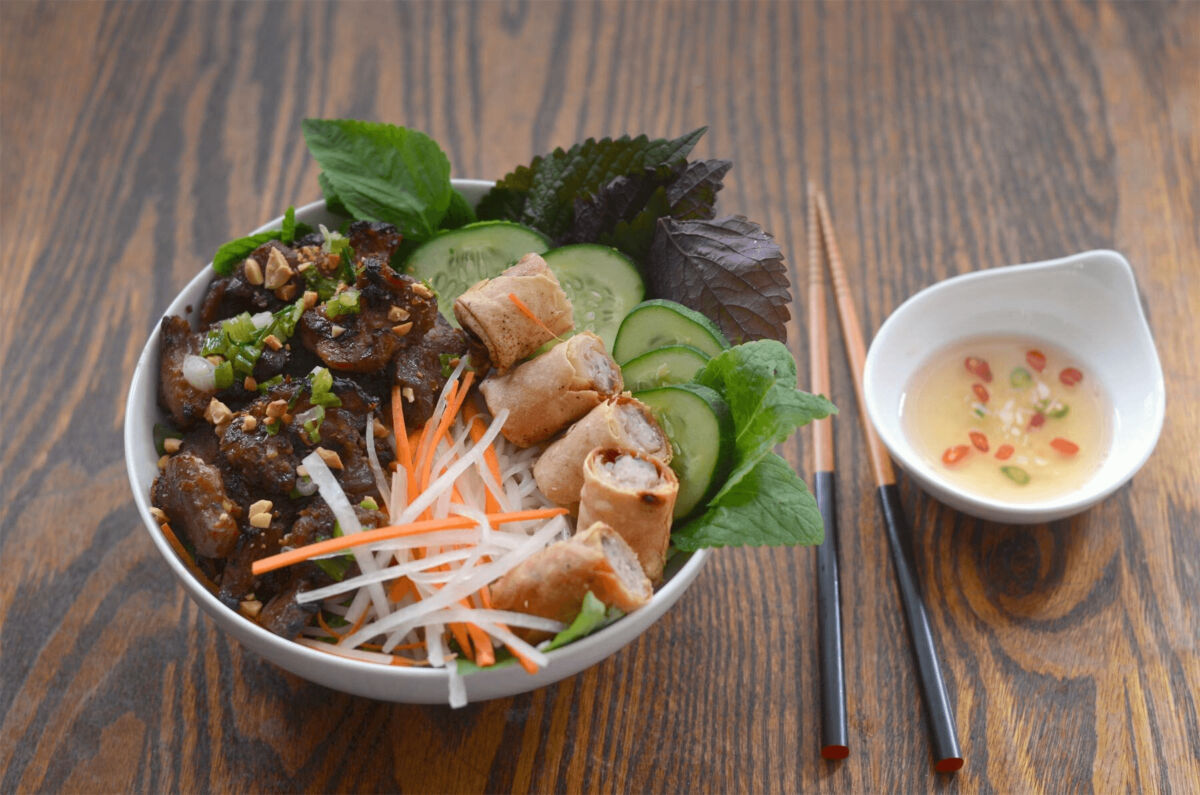 For the side, it often comes with pickled carrots, fresh lettuce, and fermented fish dipping sauce. For an extra kick of flavor, locals usually pour the sauce over the noodles, allowing the flavors to blend and creating a truly unique taste experience.
8. Banh Ram It – Fried sticky rice dumplings
Banh Ram It is a specialty of Central Vietnam that combines steamed sticky rice dumplings with a crispy patty, which has become widely popular over the nation as a whole. These dumplings are similar to Japanese mochi but served as an appetizer rather than a dessert. The dish is garnished with a generous helping of green scallions, shrimp, and pork, adding a savory flavor to this dish.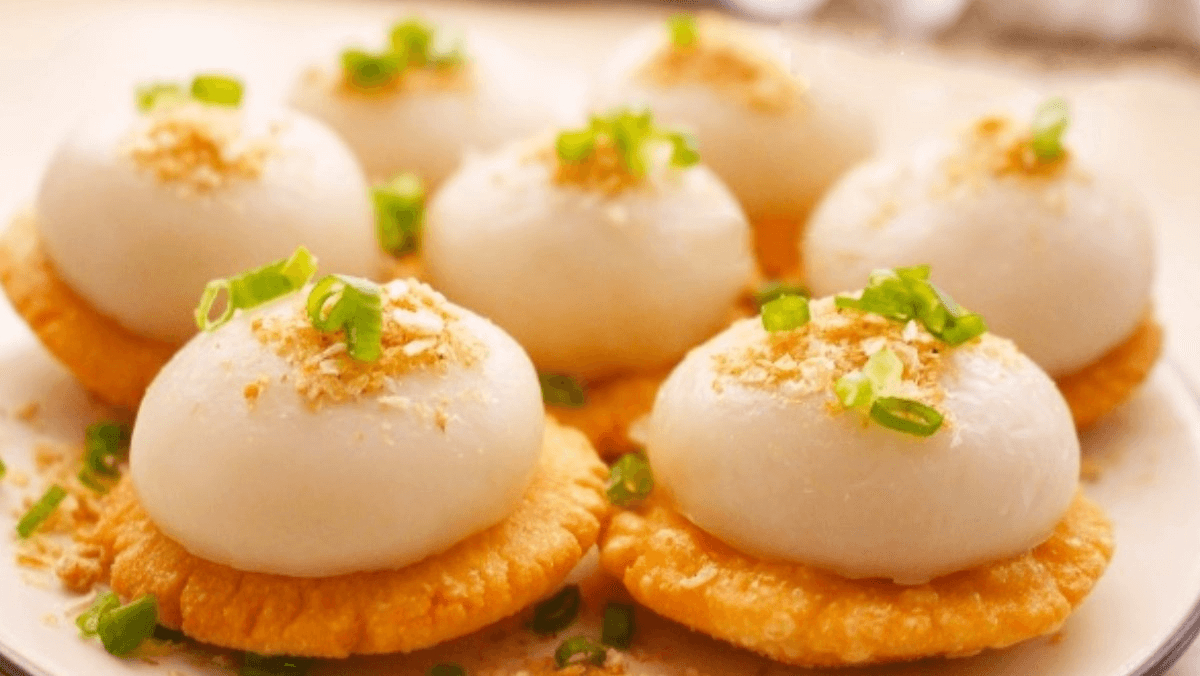 Many local diners enjoy this dish and can purchase a plate of six dumplings from street vendors and local restaurants at a reasonable price. However, various upscale restaurants and hotels in Hue have adopted their twists to the dish, and these variations come at a higher price. Despite its increasing popularity, Banh Ram It is still a unique and treasured delicacy that pleases locals and tourists.
9. Banh Khot – Mini Savory Pancakes
Banh Khot is another delightful dish worth trying when exploring the Hue cuisine. It's a savory cake similar to Banh Beo but with a crispy texture. The batter is a mixture of tapioca flour, coconut milk, and other ingredients that give it a unique flavor.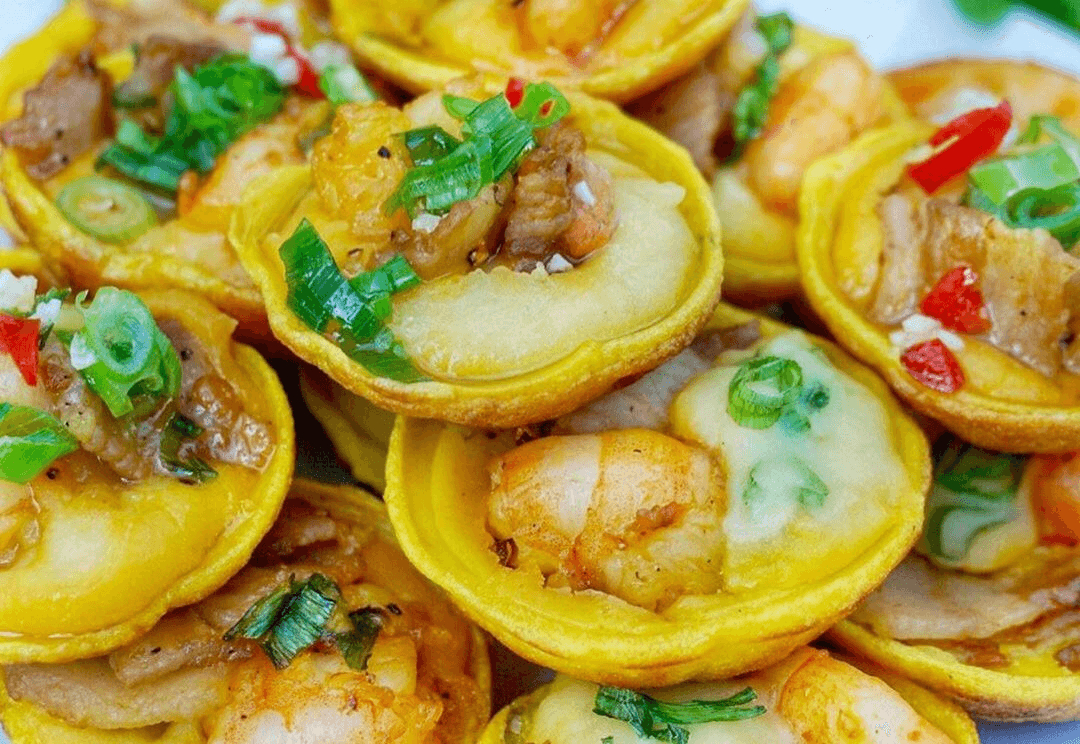 The mini pancakes are traditionally topped with shrimp and diced green onions, but other toppings such as pork belly, beef, or squid can also be added to enhance the dish.
10. Ca Phe Muoi – Hue Salty Coffee
One of the flavorful drinks in Hue is Ca Phe Muoi, which is salty coffee. It might sound unappealing, but don't be put off. This coffee drink is quite tasty. While Ca Phe Sua is a Vietnamese drip coffee served with sweetened condensed milk, at the Hue coffee shop Ca Phe Muoi, a little salt is added to the milk to offset the sweetness. Hue salty coffee is a must-try when visiting the city of Hue.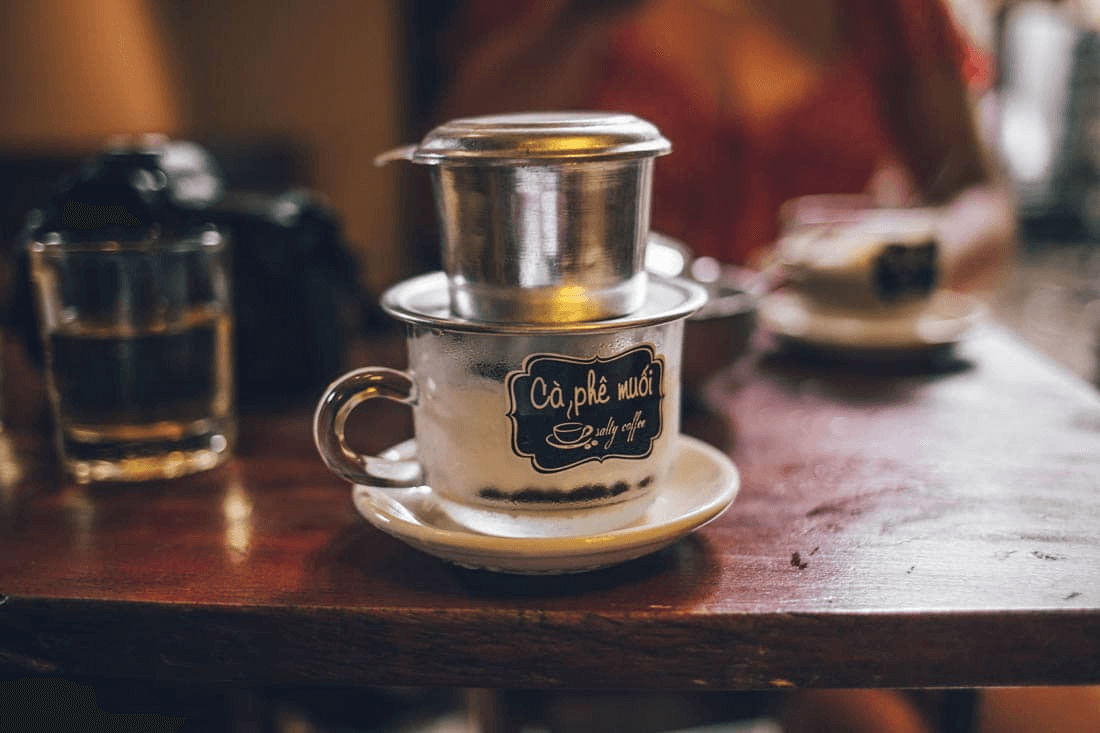 The best local dishes from Hue were once exclusively served to past emperors and members of the royal families of the Nguyen Dynasty. Nowadays, these specialties are easily found in many local restaurants, roadside stalls, and high-end resorts throughout the year. Come to Hue and savor the taste of royal cuisine.
---
Tours related to Hue