Halong Bay, also known as a UNESCO World Heritage Site, is becoming one of Vietnam's top tourist spots due to its stunning limestone mountains rising from emerald waters that formed a thousand years ago. Below are some recommendations so that visitors can have a chance to explore the fascinating limestone caves and the culture of Halong in the best way.
1. Visit Quang Ninh Museum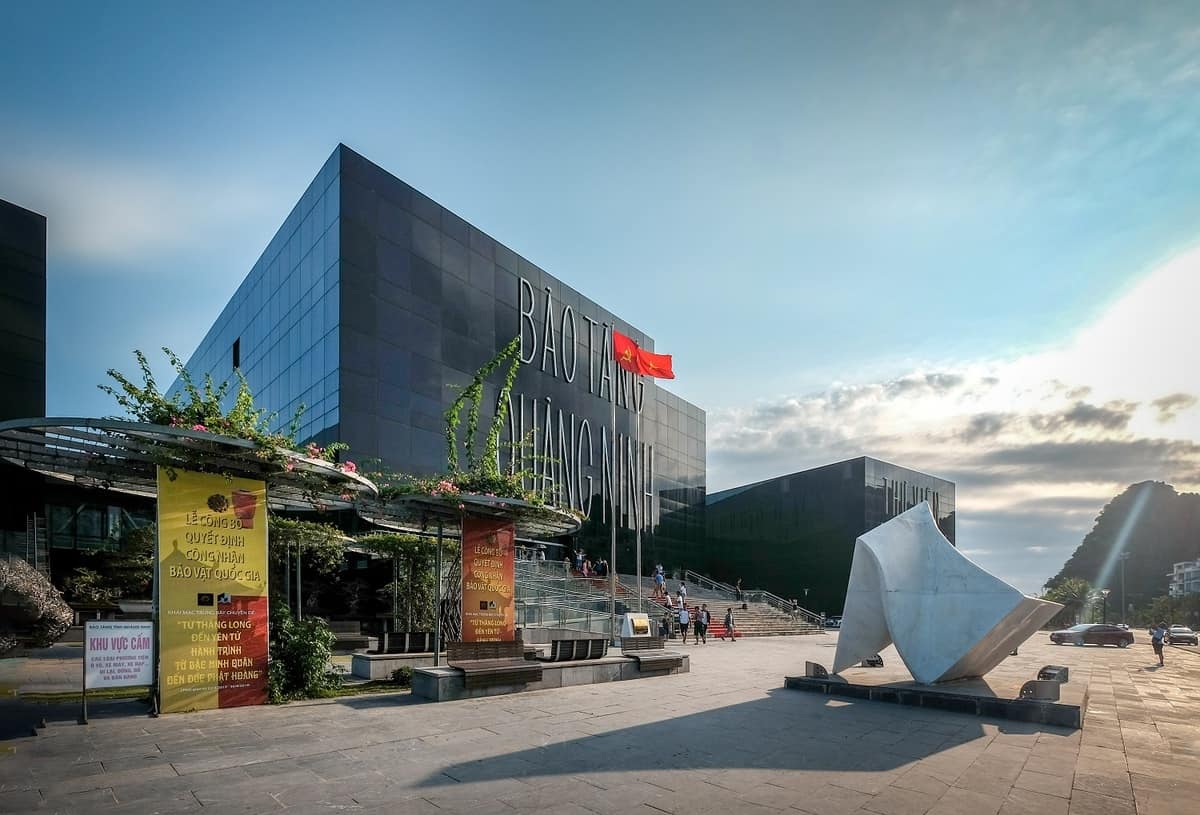 Quang Ninh Museum is such a wonderful place that travelers can learn about the lifestyle of locals, the history, and the natural environment around Quang Ninh province. Inspired by coal, the mineral characteristic of Quang Ninh, this cluster of works stands as a symbol on the most beautiful coastal road of Ha Long. The museum is a unique artistic architecture consisting of an impressive outdoor design and an interior furnished with artifacts covering historical and cultural aspects, which attracts several thousand visitors yearly.
2. Visit Sun World Halong Park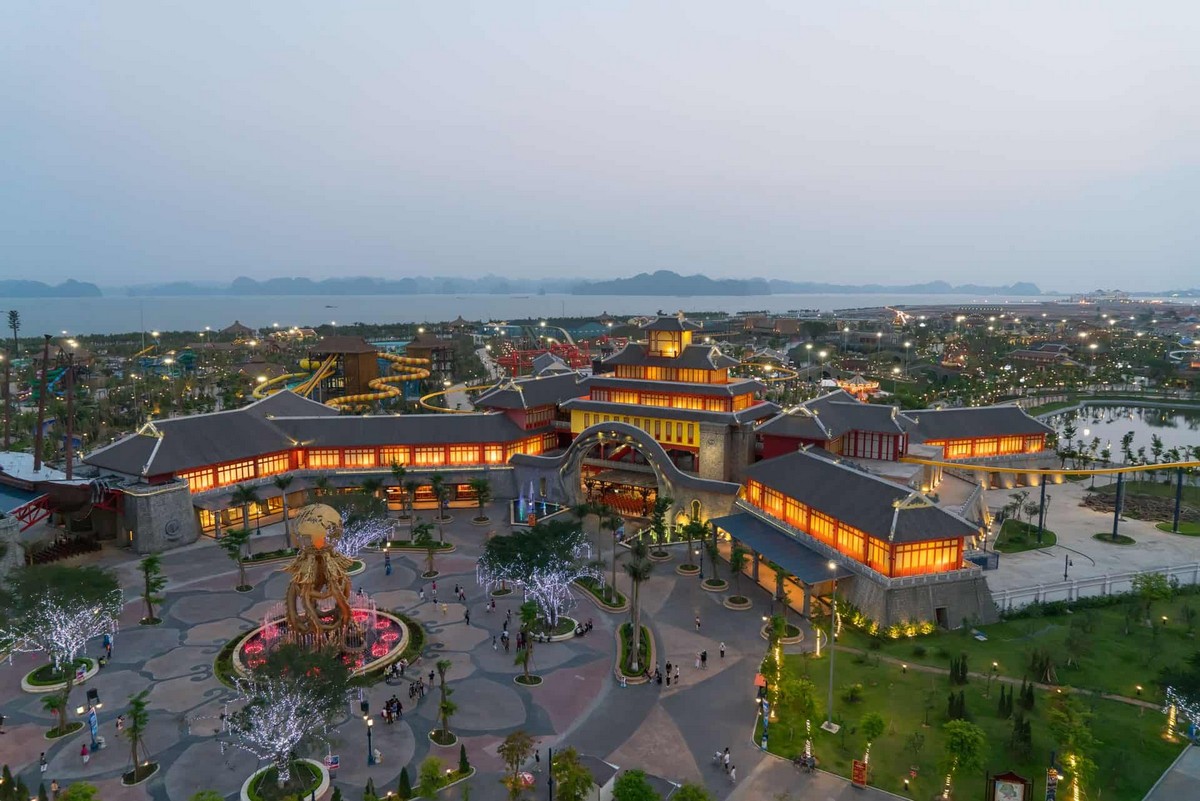 Sun World Halong Park is a new theme park that offers a wide range of activities, from thrill rides to exciting waterslides and towering Ferris wheels. There are also several locations where visitors can explore trees and waterfalls, along with many other attractions designed to keep visitors staying more.
3. Relax on the beaches and try out some watersports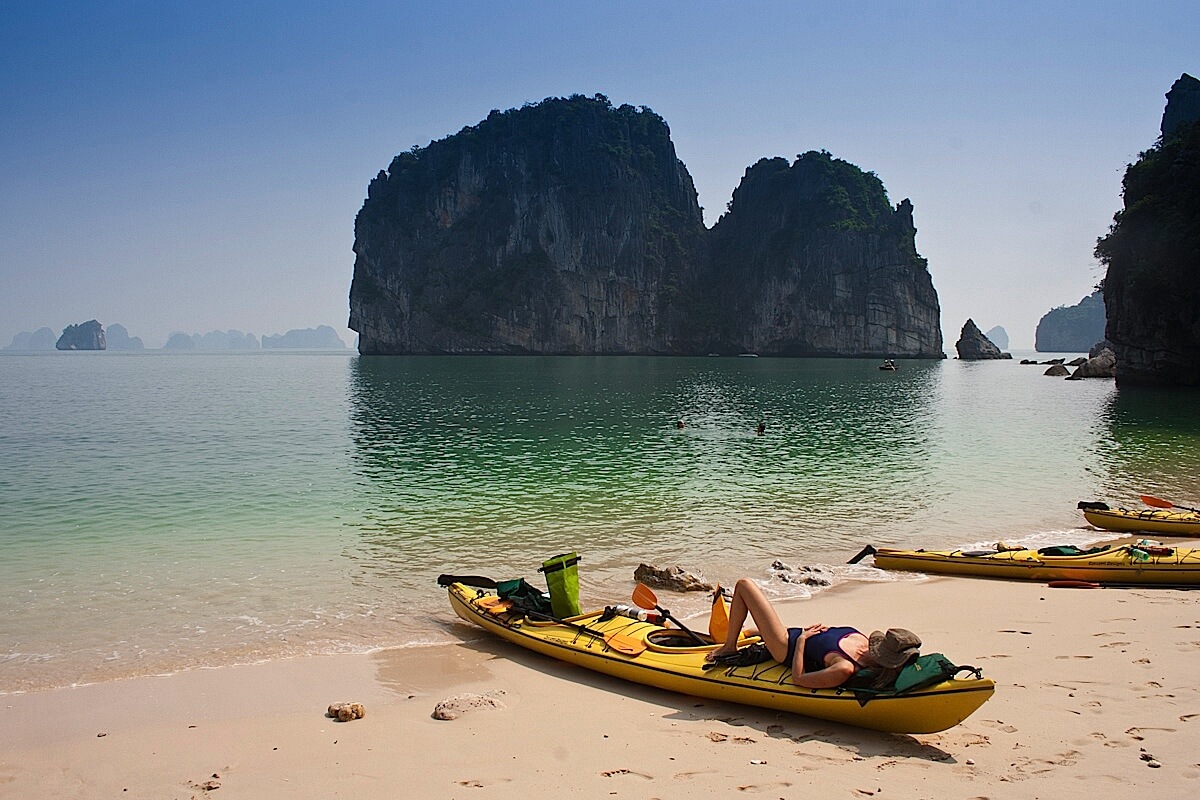 Although Halong Bay has a worldwide reputation for hundreds of islands off the coast, this place is not a popular beach destination in Vietnam. The reason is that many islands do not have a beach, and the others that do have a beach are often small and difficult to access. However, vacationers can still try out a full range of watersports, such as swimming, kayaking, snorkeling, and scuba diving, to name but a few. Ban Chan Beach and Quan Lan Beach, being off-the-beaten-track and featuring turquoise waters, and sugar-white sands, are highly recommended by most visitors.
4. Explore some untamed caves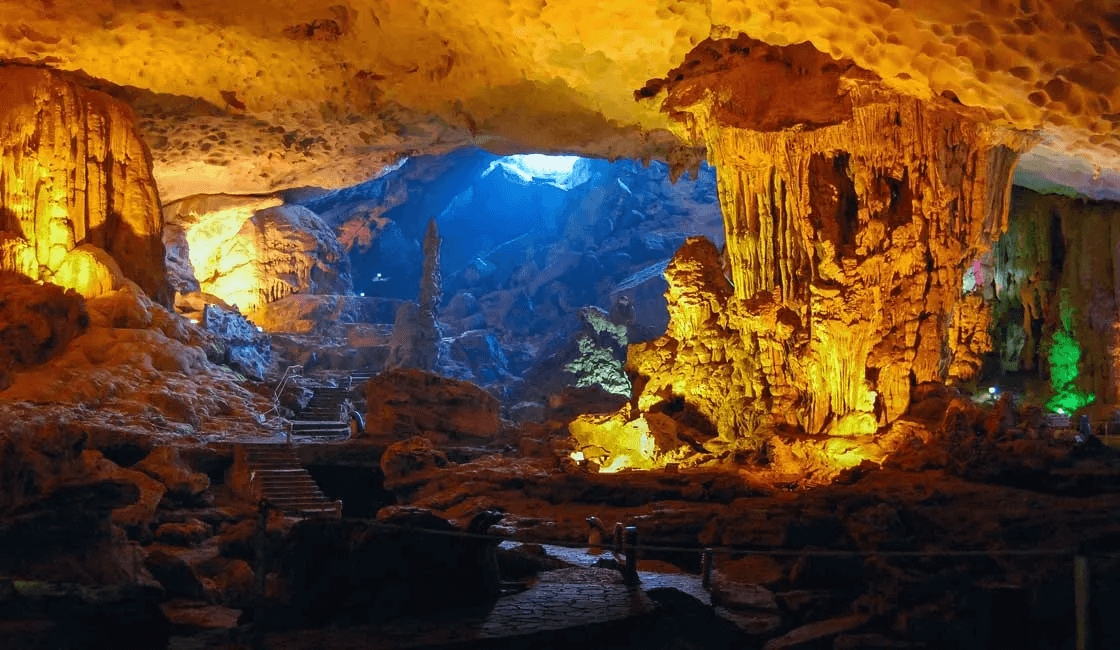 Besides the spectacular coastline, there are numerous caves that provide tremendous opportunities for cave exploration in Halong Bay. The largest cave is Sung Sot (Surprise) Cave, one of the most worth visiting while on the bay. Luon Cave, one of the most beautiful, is accessible only by kayak, thus creating many opportunities for exciting adventures. Additionally, there are several must-see caves, namely Thien Cung (Heavenly Palace) Cave, Trinh Nu (Virgin) Cave, Dau Go (Driftwood) Cave, and so on.
5. Try some fresh seafood dish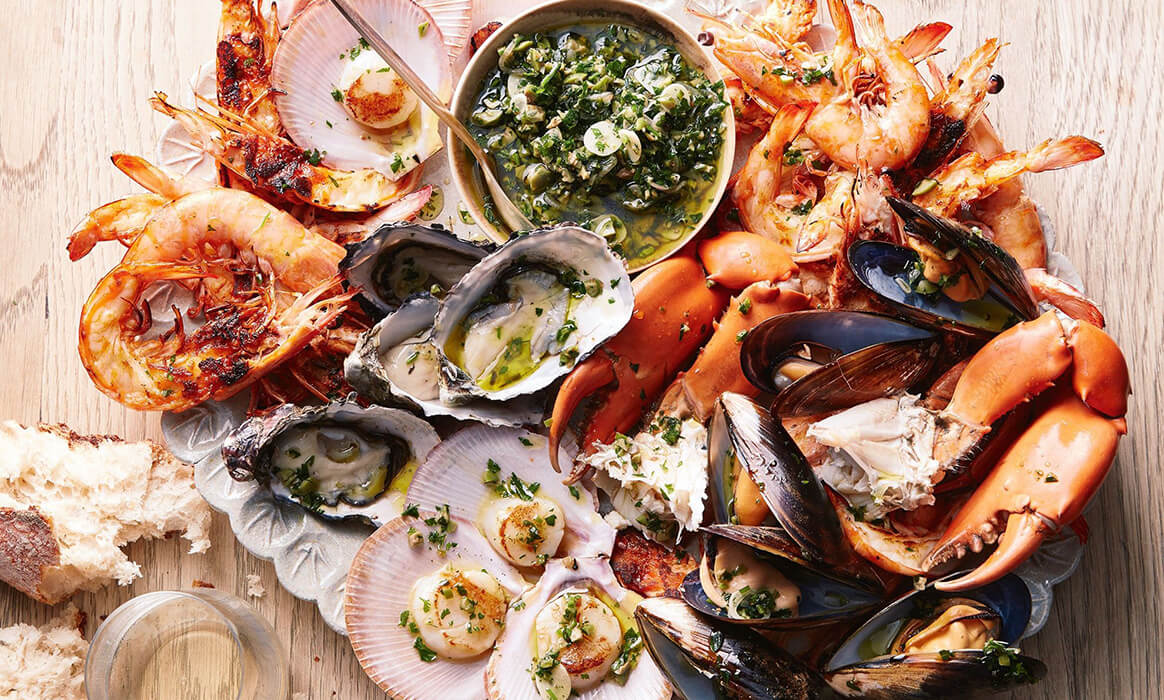 Halong Bay is a fishing area in Vietnam, which makes seafood so fresh and abundant that visitors cannot deny it. There are numerous types of dishes from seafood but Cha Muc, a grilled squid dish, is considered the most attractive. Fried snails and seafood noodles, in addition, are two must-try dishes when traveling to Halong Bay.
6. View the local life and go fishing in floating villages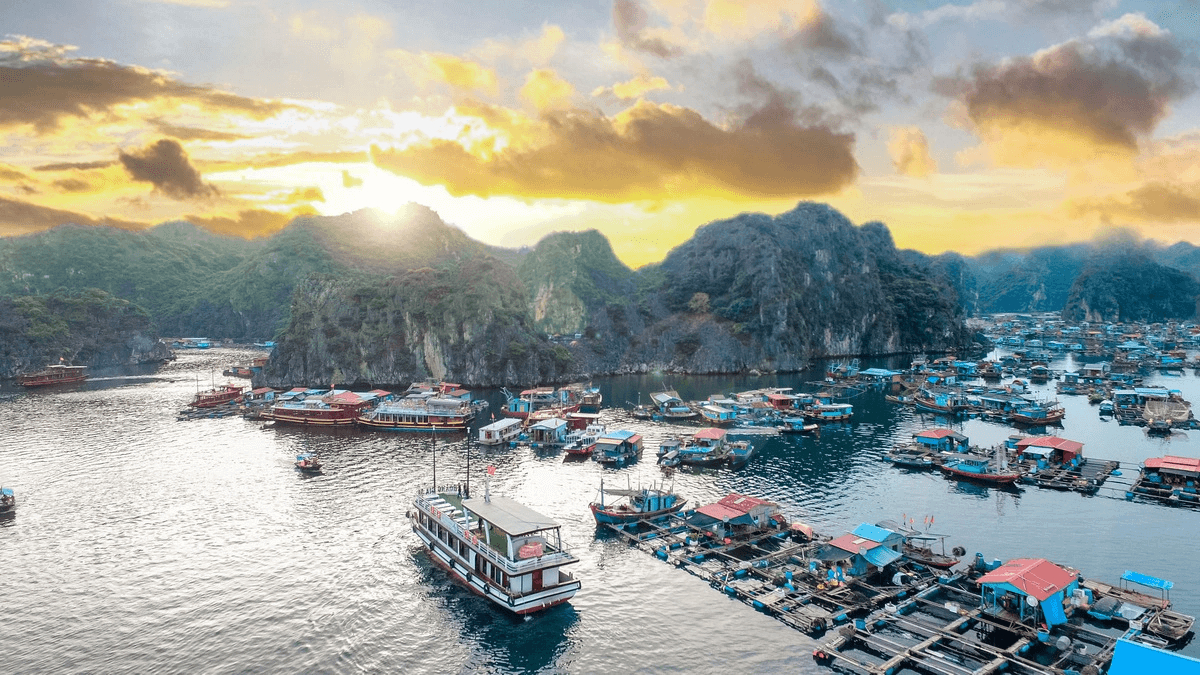 Halong Bay is an ideal place to go fishing. There are many floating fishing villages around Halong Bay, and holidaymakers can visit any of them to immerse themselves in the scenery of turquoise waters and magnificent limestone rocks. Cua Van, Ba Hang, and Cong Dam are some of the most well-known floating fishing villages in Halong bay. Squids are some of the easy-to-find sea creatures in the waters, whereas others, such as crabs, snails, prawns, and shrimps, are also available.
7. Take part in rock climbing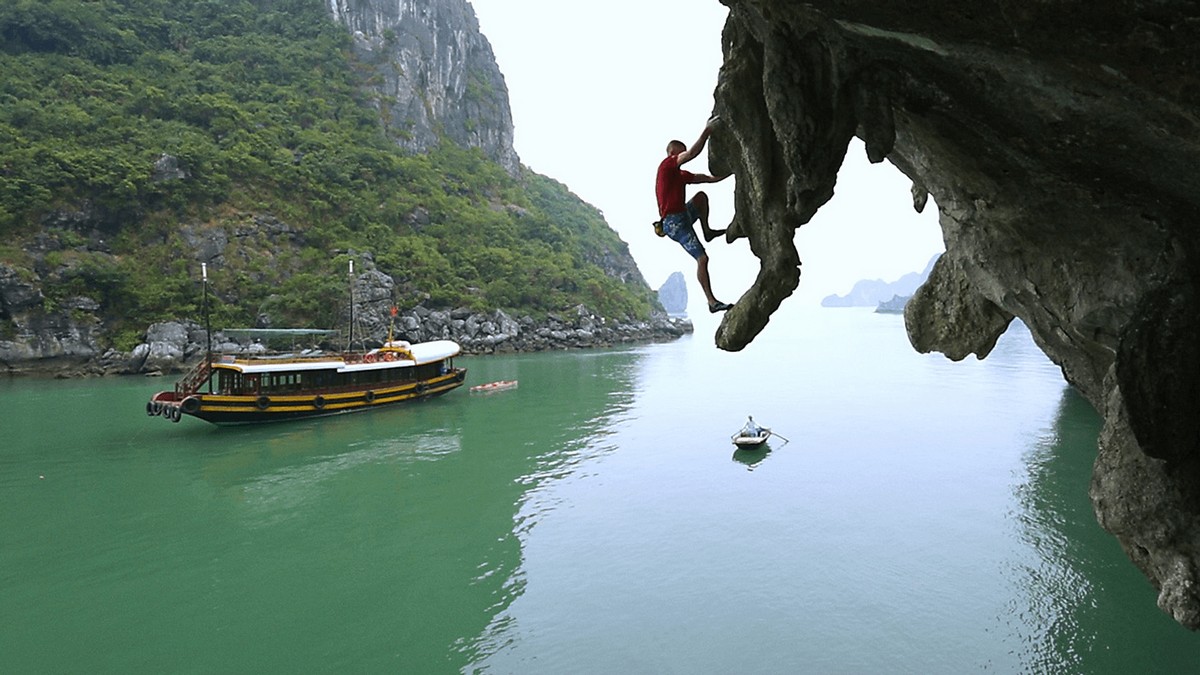 To thrillseekers, rock climbing is a must-do activity in Halong Bay. With specific topographical features of ragged cliffs, this place has become one of the most worth-visiting tourist spots for those who are into mountain climbing. Visitors can kayak to reach those challenging but fascinating climbing spots.
8. Get on a local rowboat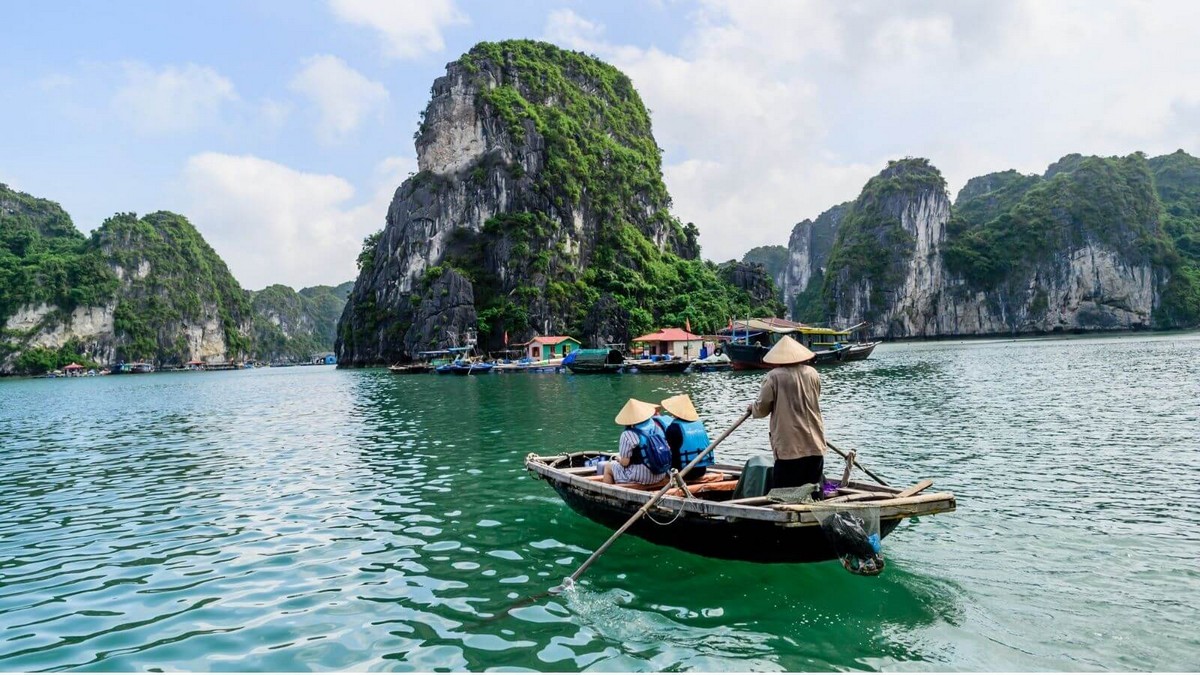 A rowboat is a popular means of transportation for regional people in Halong Bay. To travelers who want to experience a more intimate and local relaxing time on the island, it is a good idea to hop on a rowboat and listen to the history of the surrounding villages from guides for a closer look at the people on the island and their culture.
9. Take a cruise around the Bay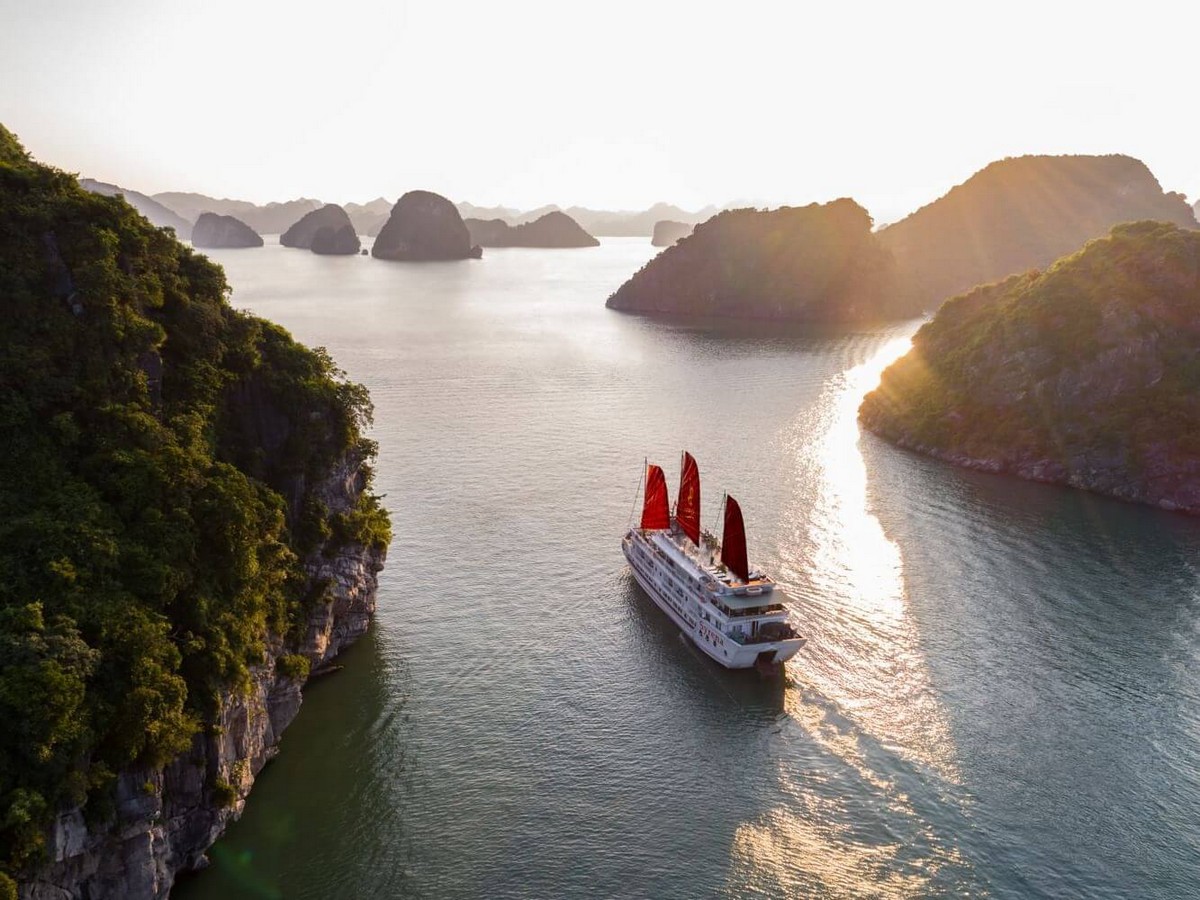 One of the most appreciated activities in Halong Bay is going on a cruise. There is a wide range of boats for visitors' excursions, from small to large, from low-priced to luxurious, and from single-day to multi-day. The cruise will take travelers to numerous islands across the bay, presenting them with views of several thousand limestone formations of distinct shapes and sizes. Taking a cruise at night is suggested to see an entirely different scene with the moonlight and silver color of the sea.
10. Go kayaking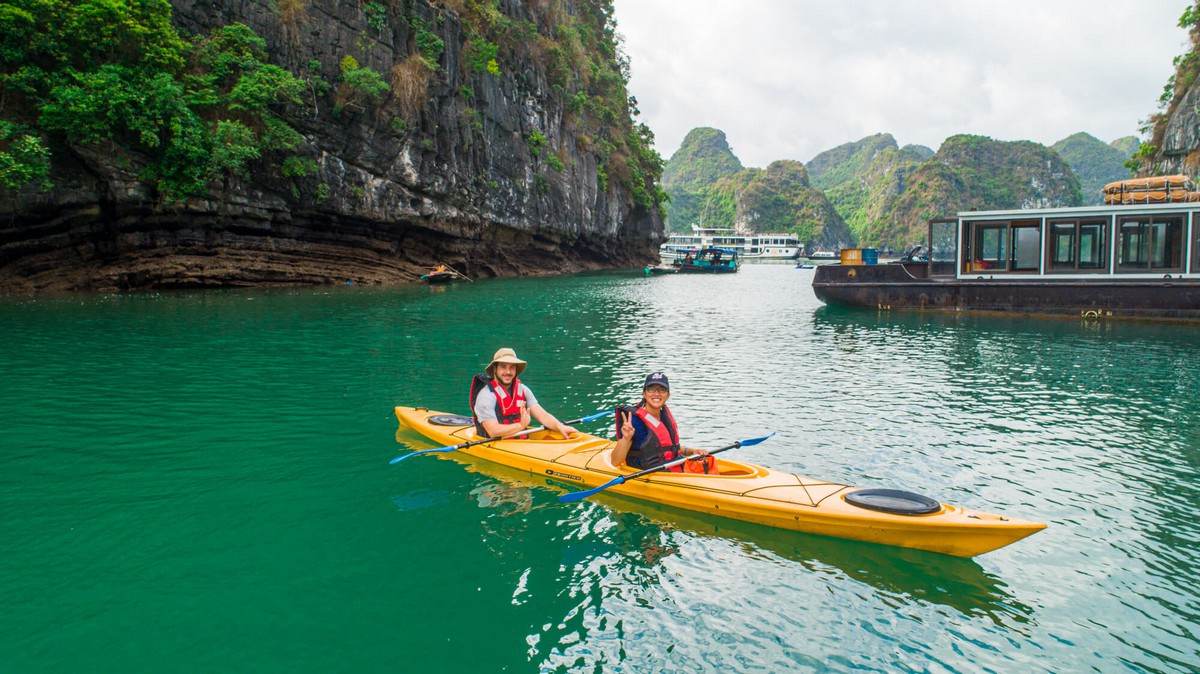 Kayaking is one of the most relaxing activities to undertake in Halong Bay. This activity will give visitors a chance to get a close-up view of giant rugged limestones, lush forests carpeted on unique rocks, and endless stretches of sea and sky. Those all make this nature experience a must-do in Halong Bay.
Overall, Halong Bay is so worth visiting that it brings visitors many unprecedented wonderful experiences of friendly indigenous people, peaceful seaside life, delicious local cuisine, and majestic landscapes with rock, sea, and sky.
---
Tours related to Halong Bay