Phu Quoc is one of Vietnam's most sought-after island paradises for tourists. It boasts a diverse ecosystem of flora and fauna across its 22 small and large islands, and its beaches are nothing short of breathtaking, especially during sunrise and sunset. Moreover, there is no shortage of exciting activities to engage in on this idyllic resort island. So why wait? Discover all the amazing things Phu Quoc has to offer today!
Diving is a Great Activity to Try First
If you're interested in exploring the underwater world, look no further than the waters surrounding Phu Quoc. You can use either a breathing tube or a scuba tank and will be greeted by a variety of marine creatures, with the highest concentration found around the southern and northwestern tips of the island.
Aside from crabs, squid, and hundreds of species of reef fish, you may also have the chance to catch a glimpse of an endangered hawksbill or green turtle. If you're planning a diving trip, the best time to go is during the dry season, from October to April, when you'll have the best visibility.
Trying the Freshest Seafood in Ham Ninh Fishing Village
As a unique blend of an outdoor restaurant and a seafood market, you are in for a fun and affordable night out. Located on the beautiful east coast, the village lies along a canal that flows into the ocean, where you will find colorful boats, floating restaurants, and several houses on stilts. For lunch or dinner, you can enjoy the freshest catch of the day and choose your preferred cooking method – grilled, steamed, hotpot, or stir-fried with local pepper, garlic, and a heap of herbs.
Getting into a Kayak
If you are looking for a fun and easy kayaking adventure, look no further than the Cua Can River in Phu Quoc. This 14-kilometer winding river is located in the northernmost part of the island and surrounded by untouched forests that are full of natural creatures. The river is perfect for beginners, so you won't have to worry about any challenging rapids or rough waters.
As you paddle down the river, you will reach the end, where the water flows into the Gulf of Thailand. Here, you will find some of the most beautiful white sand beaches in the world and a small fishing village with wooden bridges and stilt houses. It's the perfect place to stop and have lunch and soak up the oceanic atmosphere.
Exploring Suoi Tranh Waterfall
Suoi Tranh Waterfall, as its name suggests ("tranh" means "picture" in Vietnamese), has a romantic and peaceful scenery that is sure to enchant all those who visit. Located within the Phu Quoc National Park, the air here is cool and refreshing. As you ascend upstream, you will feel the temperature drop, providing a comfortable feeling, especially in the summer. This destination is perfect for groups of friends or families who want to camp, swim in the stream, and relax in the beauty of nature.
Visiting Some Local Farms on The Island
Although Phu Quoc has witnessed thriving development in tourism in recent years, this island has also maintained its roots as a highly agricultural area. Besides enjoying the beautiful scenery, visitors can purchase valuable souvenirs such as pepper, honey, and pearls. Especially for food enthusiasts, visiting farms in Phu Quoc can be an extremely wonderful experience. You can witness firsthand the production process of agricultural products in Phu Quoc and even participate in this process. You can also buy products at the best price. Some of the farms and factories that you can visit include the Khai Hoan fish sauce factory, the Phu Quoc bee farm, the Ngoc Hien pearl farm, and numerous picturesque pepper farms.
Admiring the Sunset
What to do next in Phu Quoc? The scenery of sunset in Phu Quoc is famous throughout Vietnam. The warm hues and harmonious colors between the sky and sea are absolutely breathtaking. As the round sun slowly sinks into the calm sea, it leaves behind a miraculous orange-red light. The blue water, white sky streaks, and green mountains and forests all seem to freeze under a cover of twilight and then sink into the silence of the night.
Squid Fishing is Unmissable
Looking for a unique and unforgettable night in Phu Quoc? Look no further than Phu Quoc night squid fishing! This fun tourism activity lets visitors experience a night as a fisherman, catching squid and tasting them right on the boat.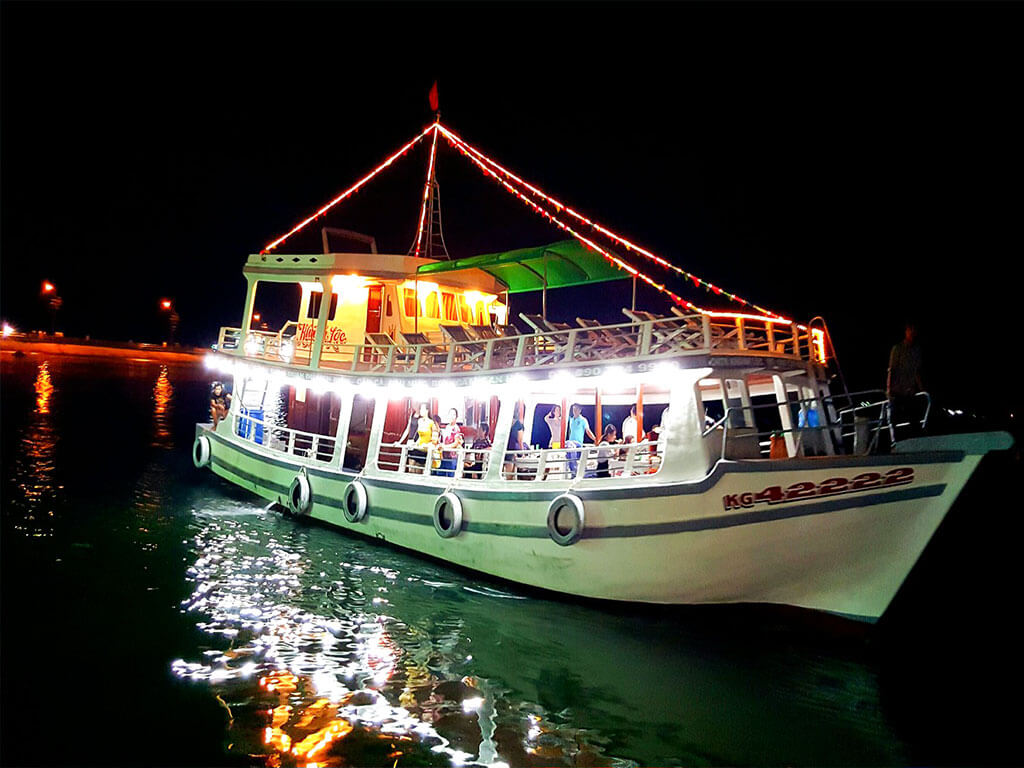 Generally, tours depart from various points on Phu Quoc Island but follow the same itinerary. After a short 30-minute boat ride away from shore, the fishermen turn off the engine and turn on the lights hanging on the water surface to attract the squid. This method, known as jigging, allows them to catch the squid with a net. It is a mesmerizing sight to see the squid swimming in the sea, appearing to glow in the water due to its natural bioluminescence phenomenon. After you've caught your squid, you can sit back and enjoy the fruits of your labor under the beautiful starry night sky. This is an experience you won't forget in your life!
Visiting the historic Phu Quoc Prison
Phu Quoc Prison was designated as a National Historic Site in 1995. The prison offers an array of exhibits for visitors to explore, including various torture devices, numerous photographs of former prisoners, and life-sized mannequins that vividly depict the harsh realities of its operation. Visiting Phu Quoc Prison is an excellent opportunity for tourists to gain a deeper understanding of Vietnam's wartime history. The prison stands as a powerful testament to the atrocities committed by the colonial empire and serves as a poignant reminder of the cruelty of war.
Enjoy the Traditional Water Puppetry Art at Phu Quoc Theatre
Not many visitors have heard about the water puppet shows on Phu Quoc Island. Yet it is a great way to immerse yourself in the local culture and is definitely worth checking out! Water puppetry is an amazing age-old art form that has been around for over 1000 years in Vietnam. These shows use water, music, light, and traditional instruments to tell unique folklore stories about the Vietnamese people.
Going to Phu Quoc Night Market
The Dinh Cau Night Market is a must-visit experience in the coastal town of Duong Dong, the largest urban center in Phu Quoc. It is definitely a foodie's paradise, with dozens of food stalls, delectable barbecue tables, and great souvenir gifts for food lovers – from black pepper and coffee to tea leaves, peanuts, chocolate, and more. After indulging in the market's feast, unwind at one of the small riverfront bars with a cold beer or coconut ice cream in hand. Trust me, you won't regret experiencing this unforgettable night market.
---
Phu Quoc is truly an amazing destination that draws thousands of visitors annually. Hopefully, you will find the above suggestions useful, and they will help you have a fantastic time during your upcoming trip, creating unforgettable memories!
---
Tours related to Phu Quoc Island