Located 180 kilometers northwest of Hanoi, Moc Chau is a district in Son La province, featuring a mild climate with four distinct seasons and breathtaking natural scenery. Moc Chau has something for everyone, from its diverse ecosystem to numerous beautiful grassland areas and dozens of tourist attractions. Don't wait any longer to explore the top 10 must-see tourist spots in Moc Chau on our upcoming trip!
Pha Luong Peak
Pha Luong Peak may not be as high or majestic as other mountains in Northern Vietnam, but it is considered the "roof of Moc Chau." If you visit Moc Chau, conquering this peak is a must! The peak serves as the natural border between Vietnam and Laos, and at medium altitude, it is perfect for a day-long climb. The journey to conquer Pha Luong Peak is about 6 kilometers long. Once you reach the top, you'll be rewarded with a panoramic view of the majestic mountain range, lush forests, and charming small villages on both sides of Vietnam and Laos. It's an experience you won't want to miss!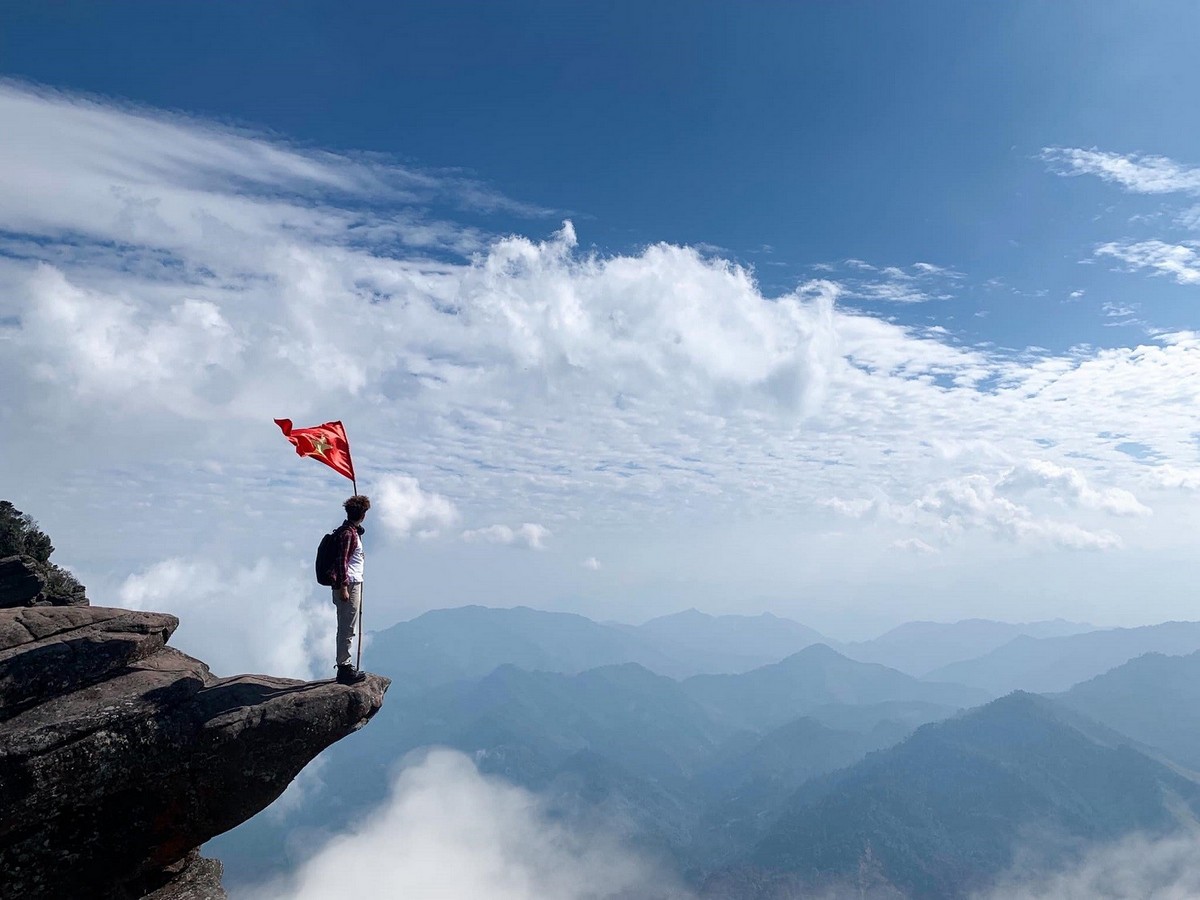 Moc Chau Heart-shaped Green Tea Hill
Moc Chau's heart-shaped green tea hill is a must-visit destination for tourists. It is located in a farming area that cooperates with Taiwan and stands out with its unique heart-shaped architecture. This place is also considered a famous destination for traveling couples to take beautiful photographs. The road to get here isn't too difficult, but you might want to avoid visiting from January to March when the new crop season starts.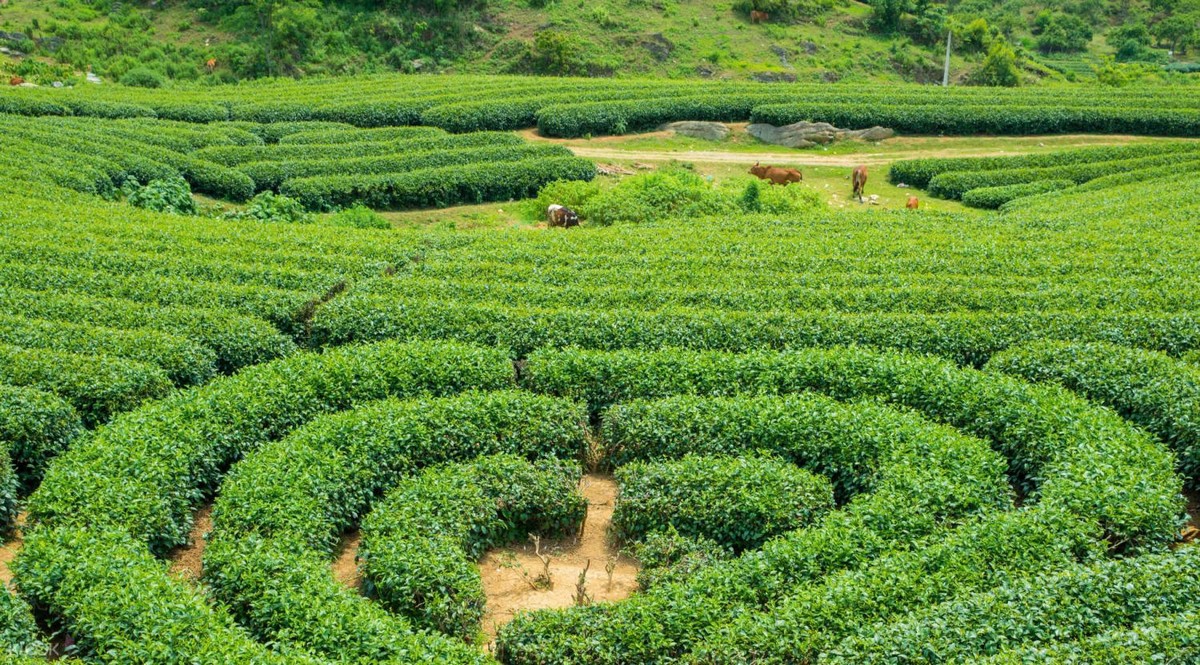 Pine Forest in Ang Village
Another must-see destination in Moc Chau that you won't want to miss is the Ban Ang Pine Forest. This spot is well-known for its gorgeous natural scenery, including the crystal-clear Ban Ang Lake, charming stilt houses, and countless green pine trees that create a serene and relaxing atmosphere. There's so much to do here, too! Not only can you indulge in sightseeing, but you can also choose from a range of fun activities such as cycling, boating, walking, or even camping.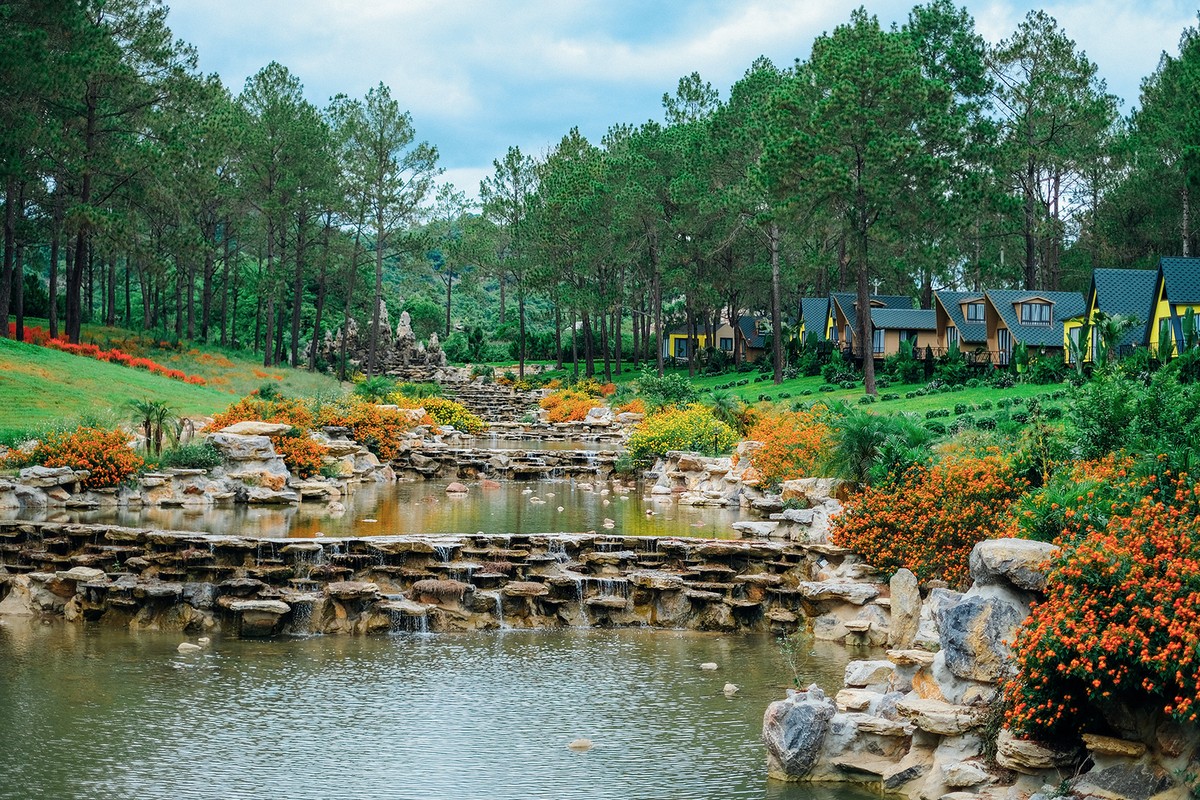 Tat Nang Waterfall
When it comes to the most popular tourist destinations in Moc Chau, Tat Nang waterfall is a must-see. This majestic waterfall is a hidden gem located behind the lush green terraced rice fields that irrigate the fields all year round. Visiting this place and enjoying the beautiful scenery, admiring the traditional stilt houses, and breathing in the fresh air will be an experience that you don't want to miss.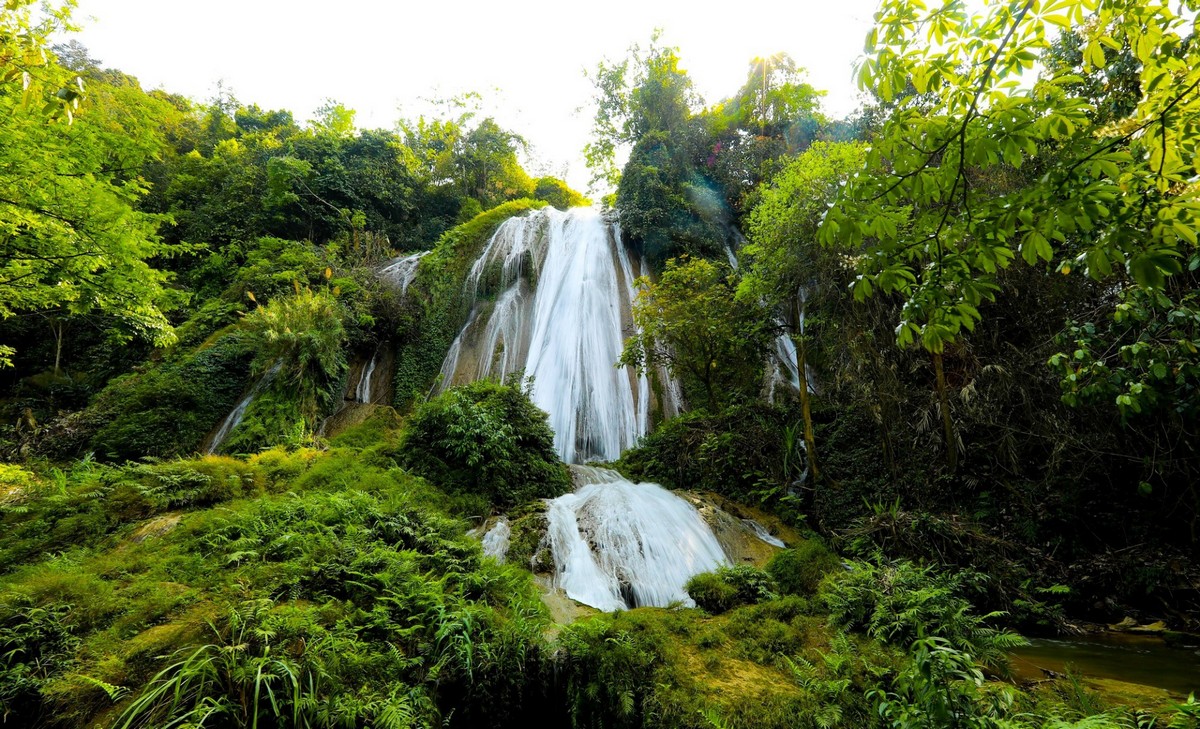 Love Glass Bridge
The Love Glass Bridge is Vietnam's first glass-bottomed suspension bridge with 5D effects. It features state-of-the-art 5D technology with 30 special effects – including nerve-jangling glass cracking, heart-forming, flower-opening, and fish swimming – as well as a photoelectric sensor system. Once you step onto the bridge, you'll be in awe of the breathtaking natural landscape below and feel as if you're floating in mid-air. It's definitely a must-visit tourist destination for anyone traveling to Moc Chau – you don't want to miss it!
Cave of Ghosts
Located in the remote rural commune of Suoi Bang in Van Ho district, Moc Chau, the Cave of Ghosts is a popular destination for adventure and discovery tourism. The mystery of the ancient hanging coffins found in the cave, some dating back 1,240 years, adds to its natural beauty and allure that draws many visitors. To reach the cave, climbers must follow trails for kilometers and finally swing themselves above the steep cliffs. It's a tough but interesting challenge for those who want to explore the Cave of Ghosts.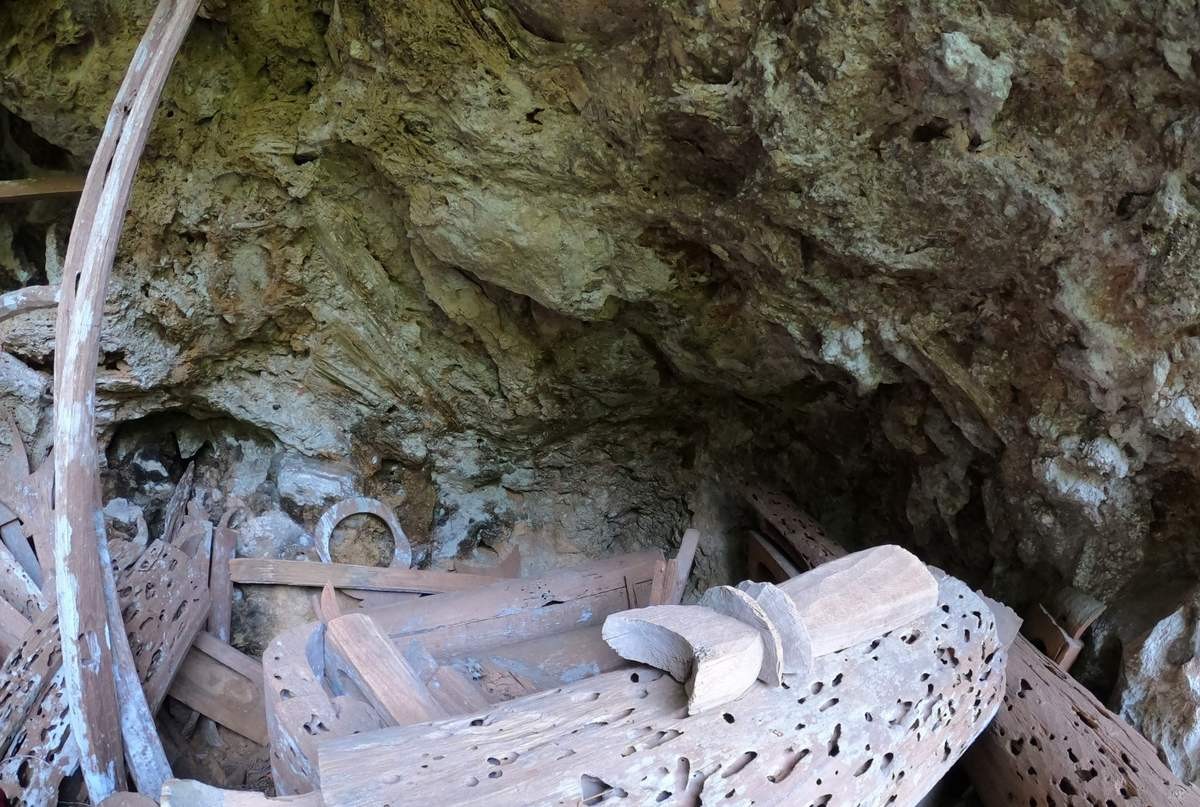 Lao Market at Long Sap Border Gate
If you are looking to explore more spots in Moc Chau, check out Lao Market! Located at the Long Sap border gate, it's always bustling with activity and offers a great selection of food, souvenirs, and clothing. Additionally, you can take a quick trip across the border to Laos for some shopping and sightseeing. This exciting destination is definitely worth a visit – don't miss out on it!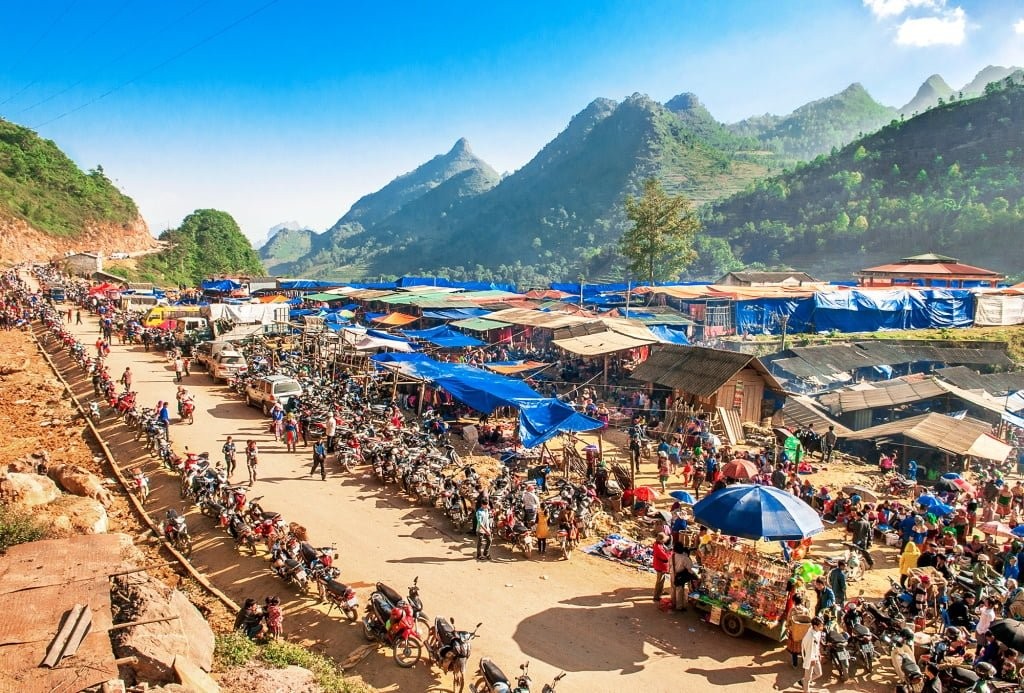 Bat Cave
Just from its name, visitors can already imagine the wonders that await inside. The Bat Cave, also known as Son Moc Huong Cave or Water Cave, is home to several bats, although their population has been dwindling. However, visitors can still admire plenty of beautiful natural stalactites in the Bat Cave. So why not come and check it out for yourself?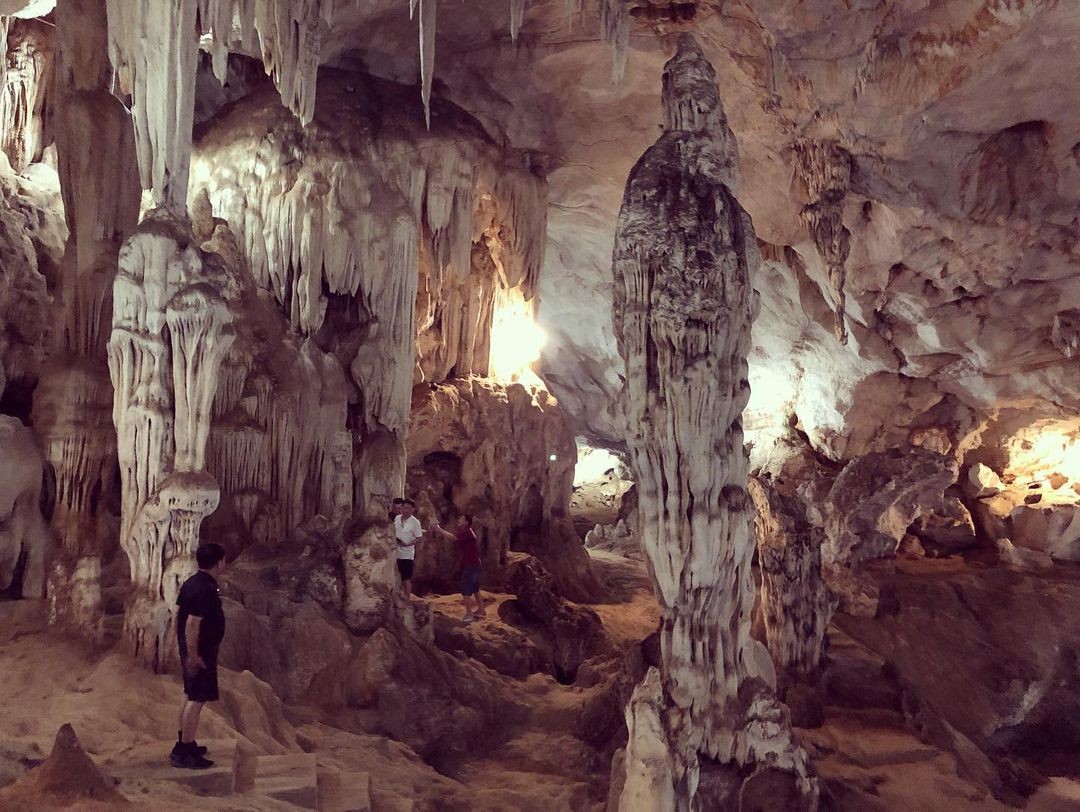 Moc Chau Plateau
Moc Chau Plateau is famous for its delightful weather and breathtaking scenery year-round. You'll be amazed by the picturesque tea hills, charming villages of ethnic minorities, and stunning landscapes during the blooming season of peach, plum, or mustard flowers. It would be regrettable to miss the chance to visit Moc Chau Plateau – it's truly one of the most beautiful plateaus in the Northwest region!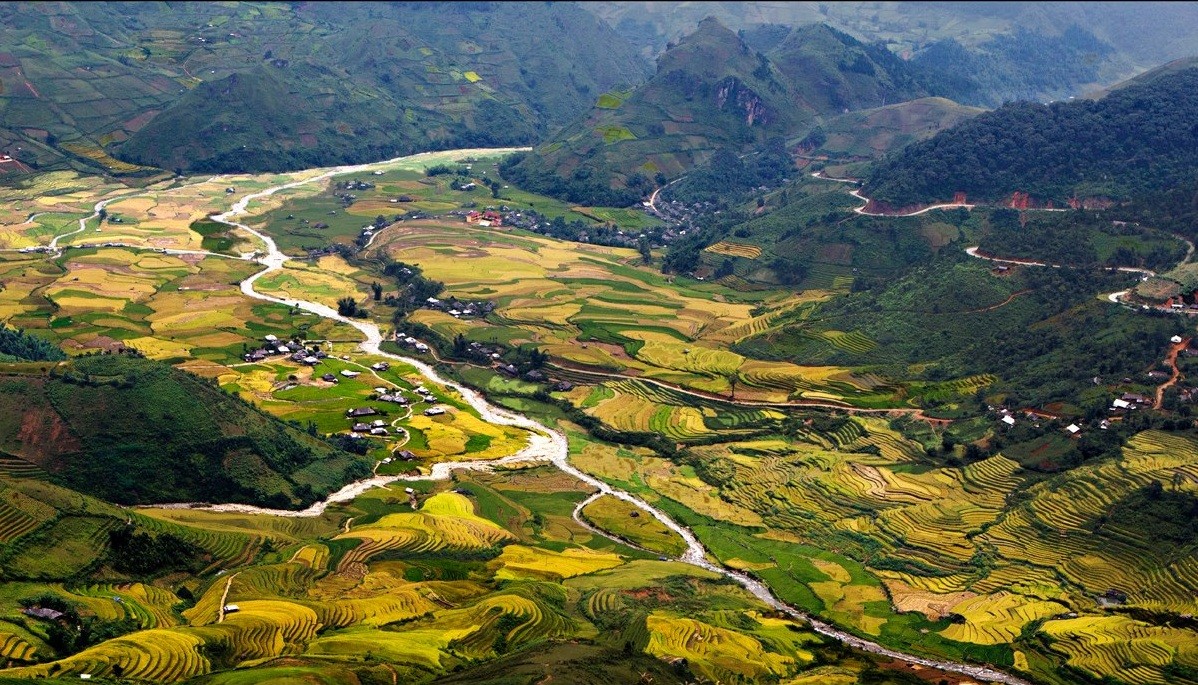 Moc Chau Town
As the center of the Moc Chau district, Moc Chau Town is an ideal place to immerse oneself in the culture of the mountainous area of Moc Chau. From the people to the houses and roads, everything is a perfect reflection of the local culture. Take your time to admire the shops, try out the famous Moc Chau cuisine, chat with the friendly locals, and take lots of beautiful pictures. This trip will surely be an unforgettable memory!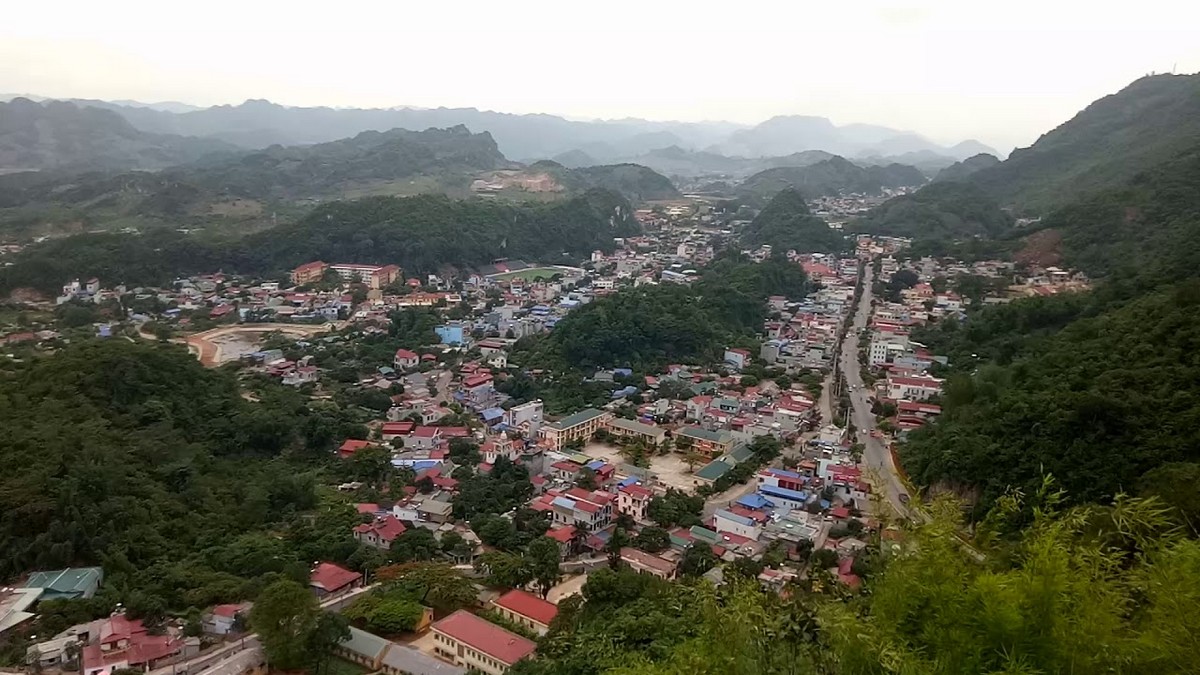 ---
Are there other attractive destinations in Moc Chau? Absolutely. Besides the 10 interesting spots mentioned above, there are countless other tourist attractions waiting for you to explore. So why not visit Moc Chau and enjoy your vacation surrounded by the magnificent and pristine nature here? Let's start your trip right away!
---
Tours related to Moc Chau