The Mekong Delta in Vietnam is considered one of the most alluring destinations in the world that tourists should explore in 2023, according to the Sydney Morning Herald. Let's explore the top 10 incredible destinations in the Mekong Delta that are worth visiting!
Tra Su Cajuput Forest (An Giang)
The Tra Su Cajuput forest, located in An Phu, Chau Doc, An Giang province, is an ideal destination for ecotourism enthusiasts seeking to immerse themselves in nature. This forest is one of the most beautiful and extensive cajuput forests in the Mekong Delta, located approximately 20 kilometers away from Chau Doc. From the beginning of the year until mid-year, the forest is dry and vibrant, while at the end of the year, it transforms into a mangrove forest with water and swamps.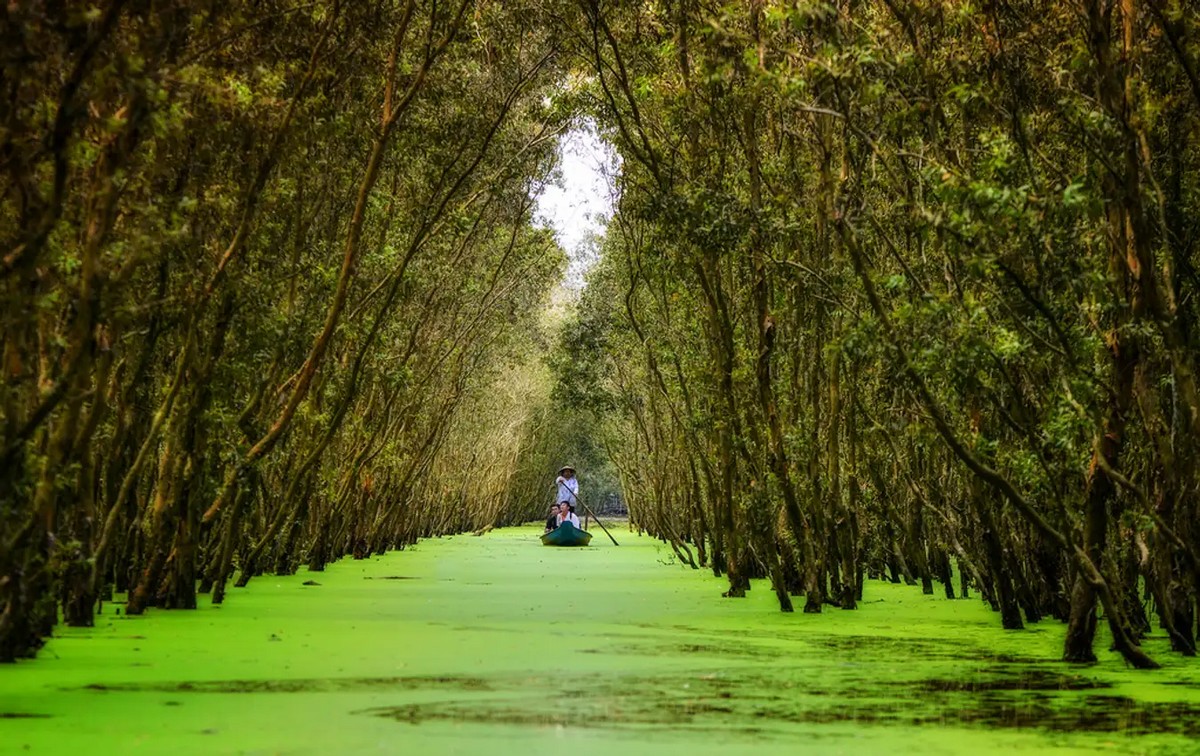 Visitors can enjoy different views of the forest depending on the time of day. In the morning, from 7 am to 9 am, tourists can observe numerous bird species foraging and flying near people. In the afternoon, from 4 pm to 6pm, visitors can ascend a tall observation tower to witness flocks of birds gracefully alighting on their nests in the tall trees. This location is perfect for adventurous explorers seeking to discover and appreciate the natural world.
Nguyen Dinh Chieu Mausoleum (Ben Tre)
The Nguyen Dinh Chieu Mausoleum, a historical site located in An Duc commune, Ba Tri district, Ben Tre province, has been a source of pride for the local people for a long time. It is a renowned spiritual destination for tourism, where visitors can pay their respects and honor Mr. Nguyen Dinh Chieu, a Vietnamese patriotic poet, an exemplary educator, and a virtuous and skilled herbal doctor.
On Mr. Nguyen Dinh Chieu's birthday (July 1st), the locals organize a festival that features various fascinating activities to commemorate the greatest patriotic poet of Vietnam. This festival is also a perfect opportunity for tourists to enjoy and learn more about the cultural history of Vietnam.
Vam Ho bird sanctuary (Ben Tre)
If you are looking to explore the lush gardens of southwestern Vietnam and immerse yourself in the peaceful beauty of the Mekong Delta, Vam Ho Bird Sanctuary is the perfect destination for you! This location attracts many visitors with its breathtaking natural scenery, especially the sight of numerous wild birds flocking to the area.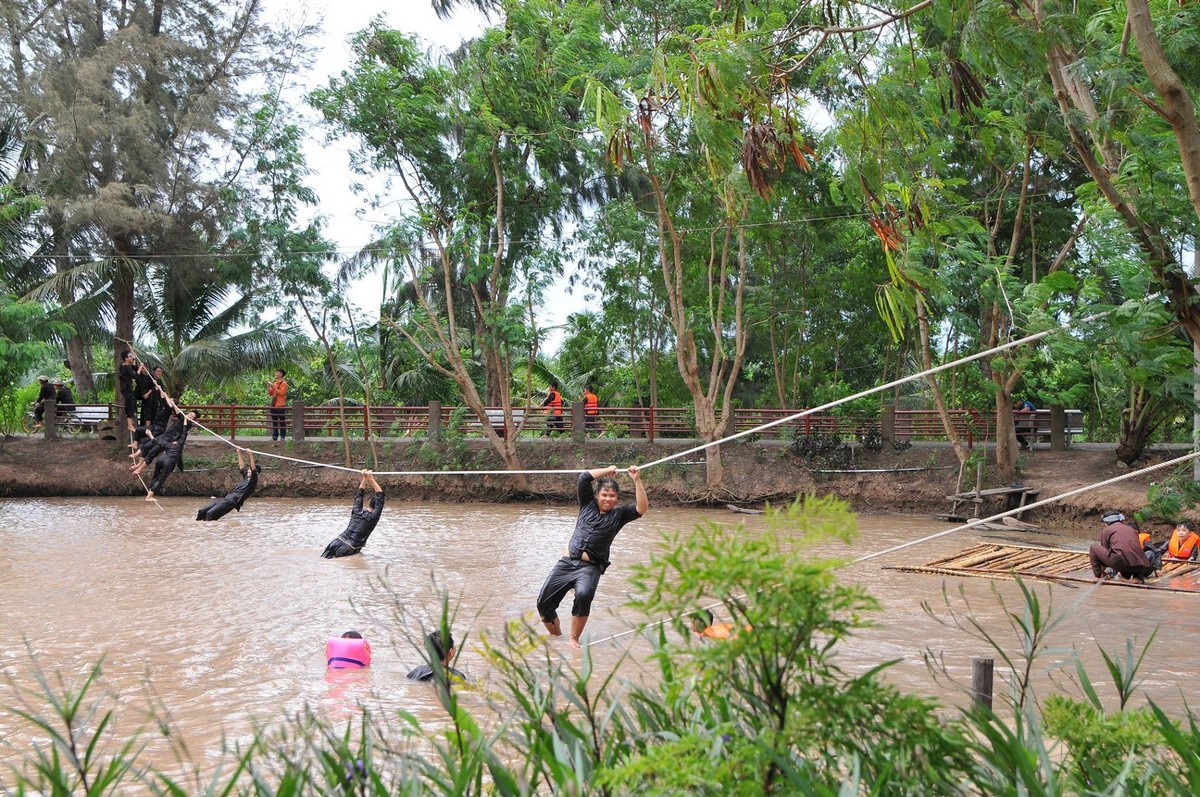 Take time to unwind in this stunning landscape and indulge in all the exciting tourist activities, including boating on the Ba Lai River, touring fruit orchards and fresh vegetable patches, witnessing thousands of birds congregating, and savoring the area's specialties. So why wait? Let's go to Vam Ho Bird Sanctuary today and experience the magic for yourself!
Tan Lap Floating Village (Long An)
Tan Lap Floating Village, located in Long An Province, is a charming ecotourism destination in the Mekong Delta region. You can explore the beautiful mangrove forest by walking through shady paths or taking a boat trip along the canal to catch a glimpse of local life. From the observation decks, you can also enjoy views of the peaceful rural life and stunning forest.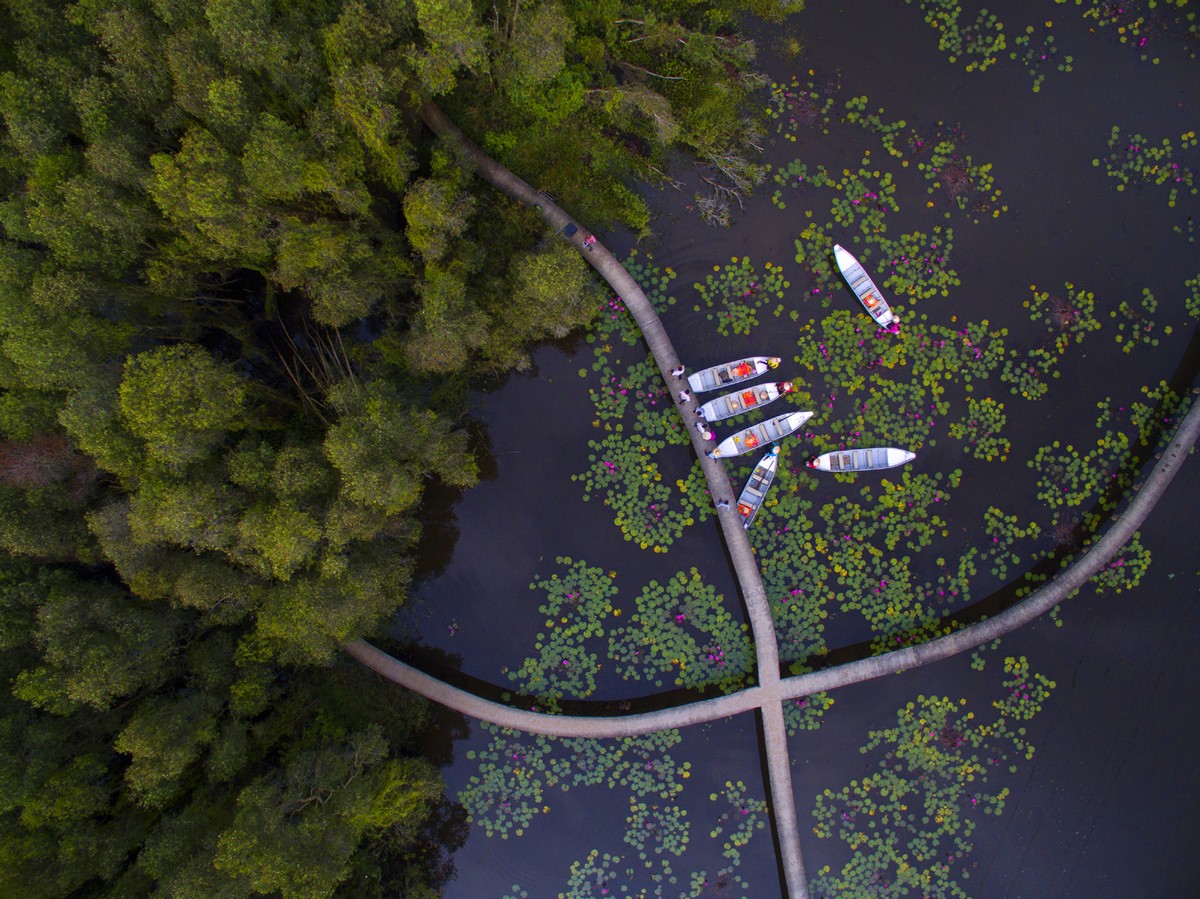 After exploring and sightseeing, it is an excellent experience to indulge in local delicacies, join campfires, and engage in various outdoor activities. The best time to visit is in November, when the lotus flowers bloom, adding to the endless greenery and creating a perfect color palette of nature.
Cai Rang Floating Market (Can Tho)
Cai Rang Floating Market in Can Tho is a national intangible cultural heritage recognized in 2016. Established in the early 20th century, it has become the most famous and bustling market in the Mekong Delta. The market mainly trades in agricultural products, fruits, and regional specialties. Cai Rang Floating Market is a unique and distinctive market that cannot be found anywhere else in Vietnam.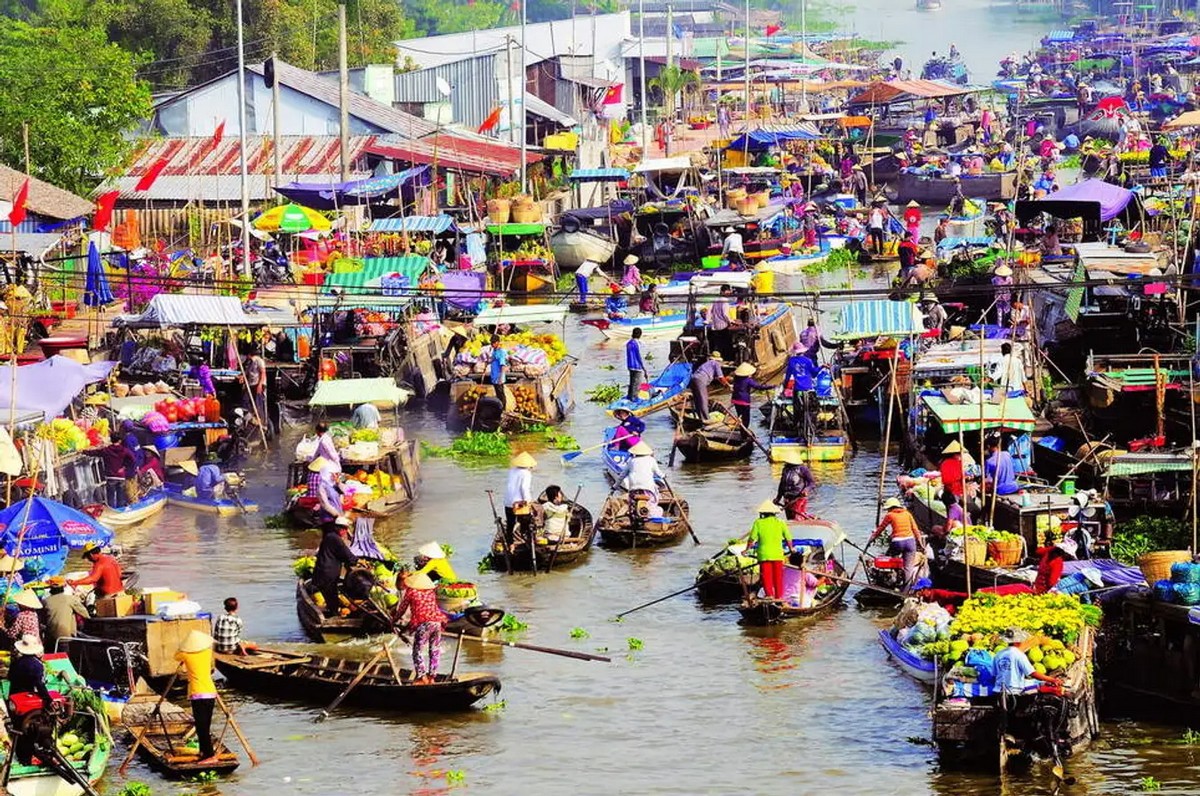 Visiting this market will provide unforgettable experiences, such as admiring the scenic beauty of the market at dawn, sitting on a boat immersed in the bustling trading atmosphere early in the morning, and enjoying a bowl of crab paste vermicelli soup right on the boat. Don't miss out on this fantastic market; you won't regret it!
Hung Kings Temple (Can Tho)
Can Tho is not only renowned for its tranquil rivers, local orchards filled with heavy-laden branches, and refreshing climate, but also for the Temple of the Hung Kings. This cultural heritage of the Mekong Delta spans an impressive 39,000 square meters and encompasses 14 temples dedicated to the Hung Kings, who laid the foundation of Vietnam in ancient times. The Temple of the Hung Kings boasts distinct architecture, a spacious and airy environment, and numerous cultural activities, making it a must-visit destination for anyone seeking extraordinary experiences.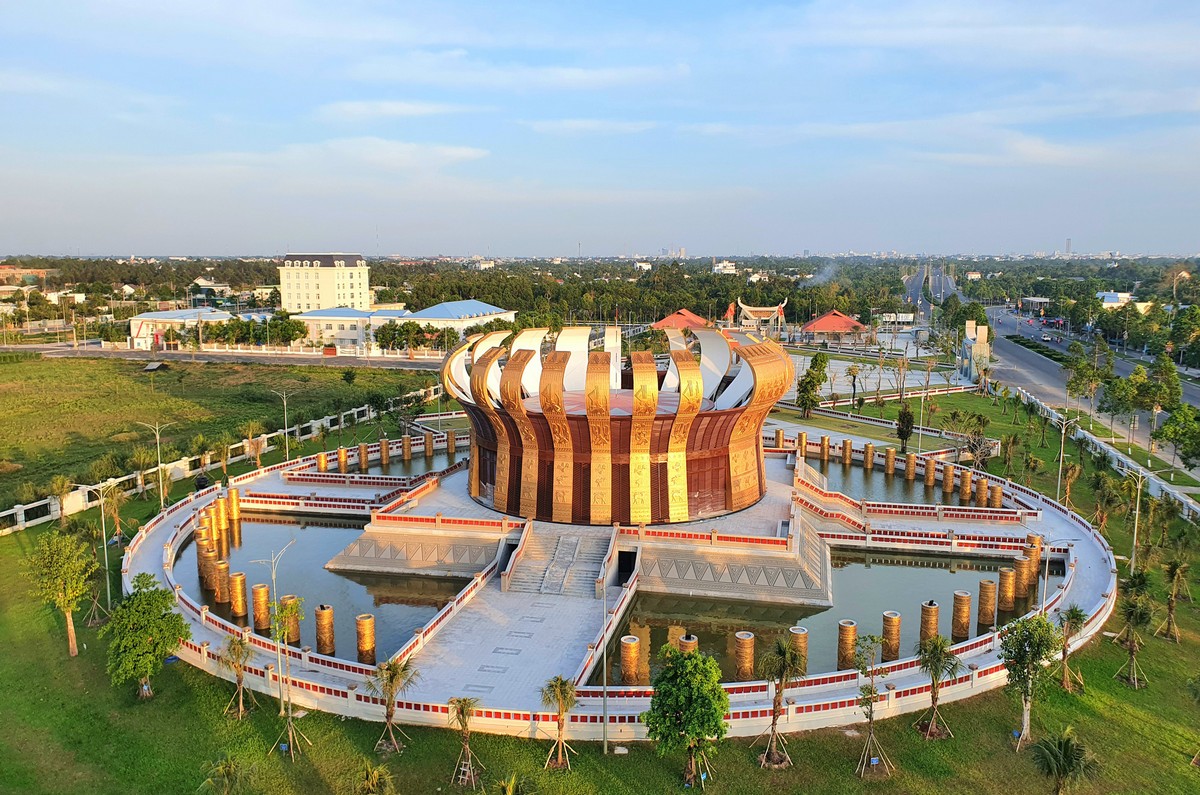 Go Thap Relic Site (Dong Thap)
The Go Thap Relic Site is a fascinating tourist destination in Dong Thap province, famous for its numerous enigmas from the oldest civilization in Southeast Asia. The site was first excavated by French archaeologists during the late 19th and early 20th centuries, who uncovered an array of crucial artifacts that reflect a thriving culture and prosperous country that once existed on Vietnamese territory. This site has been recognized as a national heritage since 1998 and is worth checking out if you're a culture and history enthusiast!
Ba Om Pond (Tra Vinh)
When you visit Ba Om Pond, the first thing that will strike you is the refreshing blue water and sky scenery. The surrounding ancient trees, hundreds of years old, with roots protruding from the ground, create a peaceful and quiet atmosphere that will make you feel like you're in an Andersen fairy tale. Not only is Ba Om Pond such picturesque scenery, but it is also famous for its many legendary myths associated with the exploration and development of the southern land of Vietnam.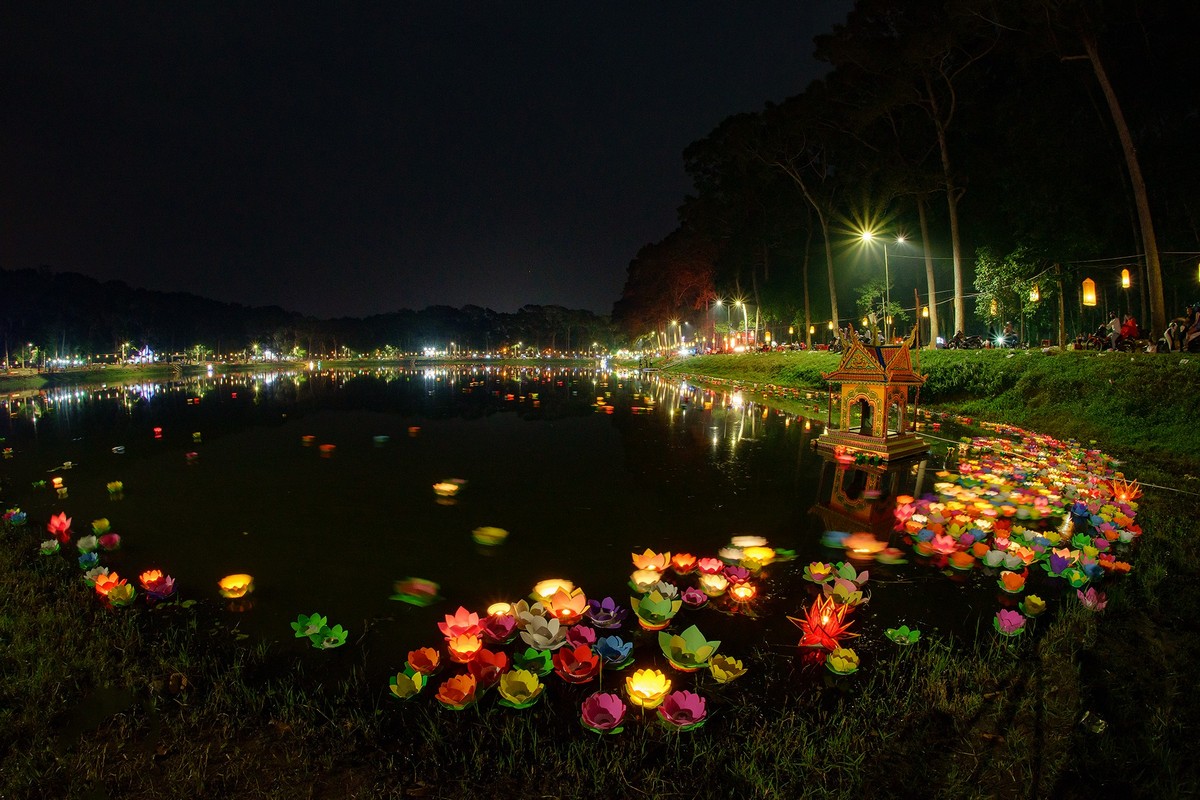 Adjacent to the pond is Ang Pagoda, one of the oldest Khmer pagodas in Tra Vinh, built in 990. You will also find the Khmer Cultural Museum nearby. These attractions make Ba Om Pond a must-visit spot when exploring the Mekong Delta.
Cai Be Fruit Garden (Tien Giang)
The Mekong Delta is a major provider of fruit for the entire country, responsible for 70% of the supply. Thanks to its wonderful climate and rich soil, there are many fruit orchards that yield tons of various tropical fruits, such as mangoes, pomelos, guavas, apples, jackfruits, dragon fruits, durians, mangosteens, Malay apples, and many more.
The Cai Be fruit garden is the most famous orchard in the region, boasting a vast area for visitors to explore. Tourists can enjoy the natural surroundings, pick fresh fruits, and savor them right then and there for the most authentic experience.
Ca Mau Cape (Ca Mau)
Ca Mau Cape, situated at the southernmost point of Vietnam, is a revered destination known for its unique mangrove forest ecosystem. Visitors can explore various tourist spots in this area, such as the Hanoi flagpole, U Minh Ha forest, and especially the Ca Mau floating market. At this market, visitors can purchase famous Ca Mau crabs, which are renowned for their fresh and delicious meat, abundant roe, and high nutritional value – making them a must-try for everyone.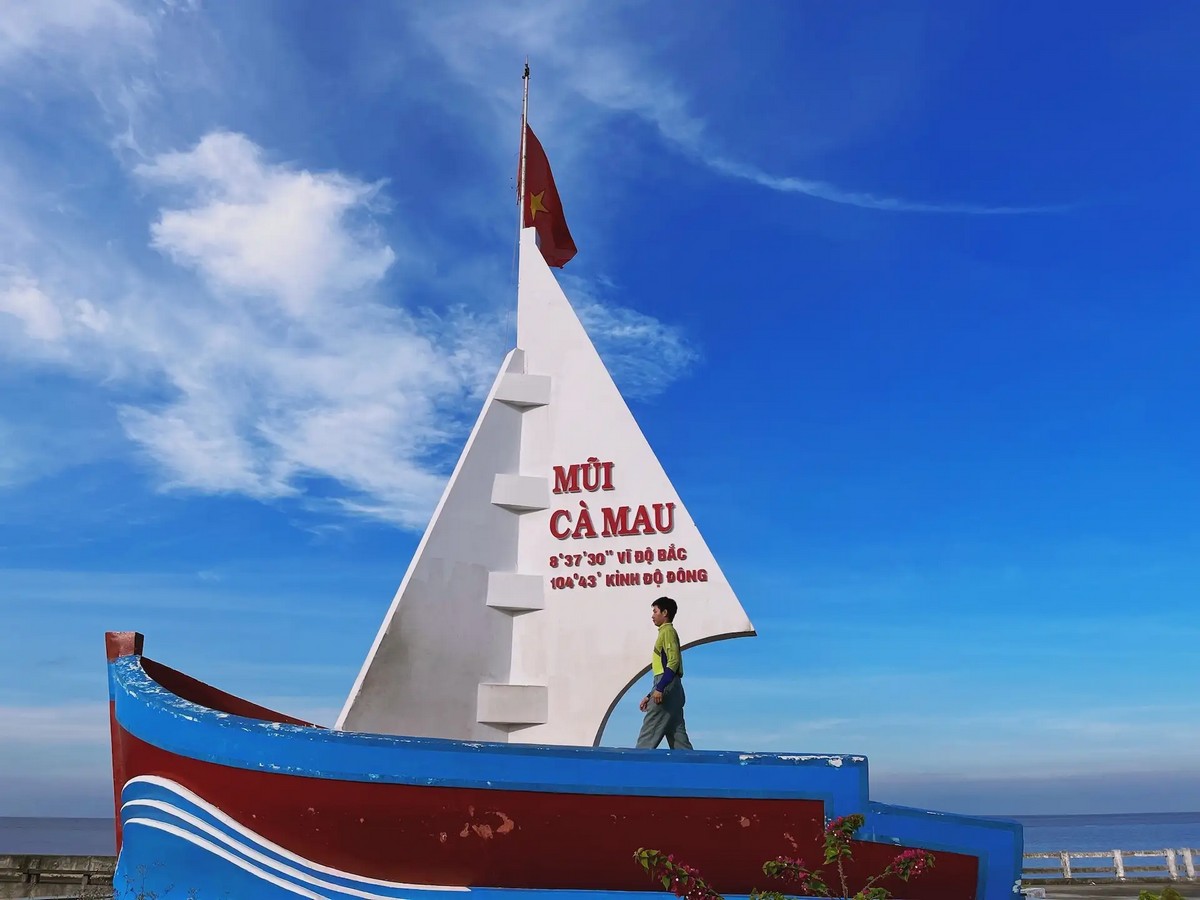 ---
Above are the top 10 destinations that you should visit at least once in a lifetime when you travel to the Mekong Delta. And of course, there are many more hidden gems waiting for you to discover. Experience the beauty of Vietnam firsthand and embark on your adventure today!
---
Tours related to Mekong Delta