The cuisine in the Mekong Delta is a reflection of the modesty and straightforwardness of the local people. The 10 following specialties from the Mekong Delta are widely renowned for their distinctive preparation that will undoubtedly leave a lasting impression on your palate.
Neem leaves salad (Gỏi sầu đâu cá sặc)
This unique delicacy, originating in Cambodia, is very popular among both locals and tourists. The main components of this dish are the flowers and young leaves of the neem tree, grilled snakeskin gourami (a species of fish native to the provinces in Southern Vietnam, such as An Giang and Kien Giang), boiled pork belly, cucumber, and horn chili. To ensure freshness and deliciousness, the flowers and young leaves of the neem tree are boiled beforehand to reduce bitterness.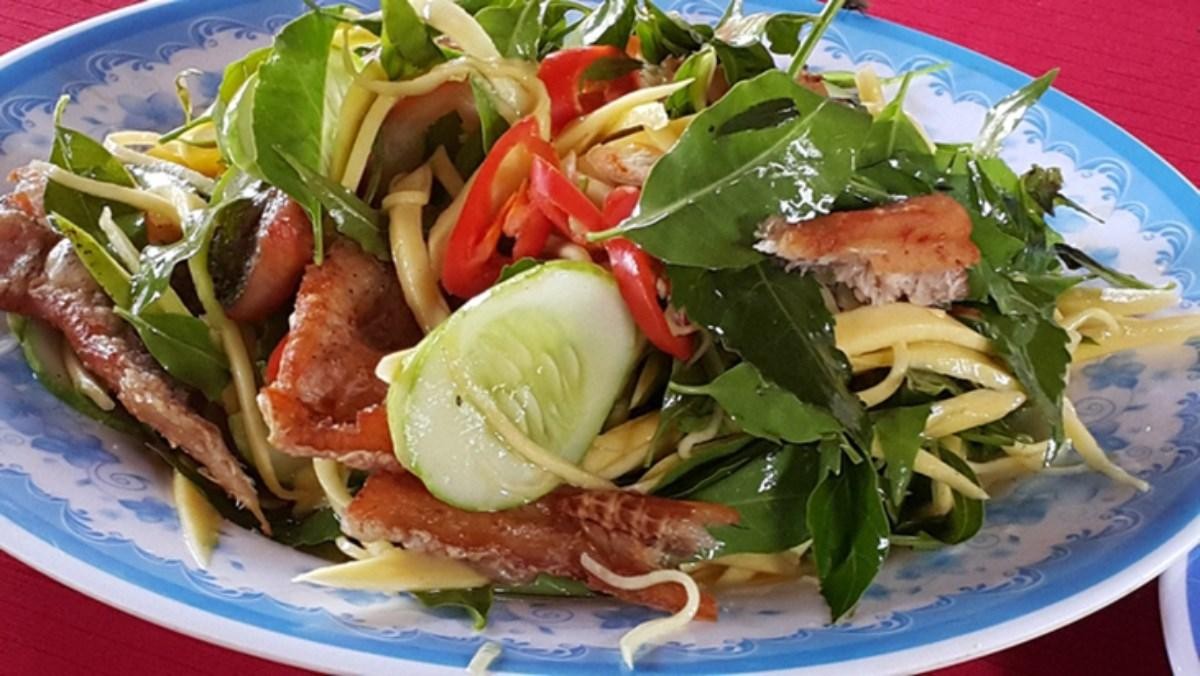 The cook then mixes all the ingredients and pours the tamarind dipping sauce on top to absorb all the flavors before serving on a plate. The dipping sauce is the highlight of this dish, made from various ingredients such as tamarind, sugar, and fish sauce. It balances sour, spicy, salty, and sweet flavors, making the dish extremely attractive.
Ca Linh Fish and River Hemp Flower Hot Pot (Lẩu cá linh bông điên điển)
River hemp flower is a traditional cooking ingredient enjoyed by people in the Mekong Delta. Locals often gather them to make various delicacies, including river hemp flower salad, sour soup with river hemp flowers, and the famous Ca Linh Fish and River Hemp Flower Hot Pot – a specialty of the Mekong Delta.
However, not every visit to the Mekong Delta allows for the opportunity to try this dish. The two primary ingredients are only available at the end of the rainy season, typically around September and October. This period is when the Ca Linh fish, a type of local freshwater fish and relative of carp, is at its most delicious, being tender, having few bones, and having sweet flesh. At the same time, river hemp flowers bloom with their golden clusters of flowers. The combination of Ca Linh's sweet taste, river hemp flowers' sour taste, and chili fish sauce creates a unique countryside dish that one can only experience while visiting the Mekong Delta.
Vietnamese Pancake (Bánh xèo chảo)
Pancakes can be found in many provinces throughout Vietnam, but the version from the Mekong Delta has its own unique characteristics. While pancakes in central regions are made on a round pan with fillings of meat, bean sprouts, and shrimp, the pancakes in southwestern regions are cooked on a large pan over a charcoal stove, stuffed with a rich filling of minced meat, bean sprouts, cassava, shrimp, and sometimes other fillings, such as duck meat, char siu pork, squid, and some species of local flowers like river hemp flower, vegetable hummingbird flower, or cowslip creeper flower.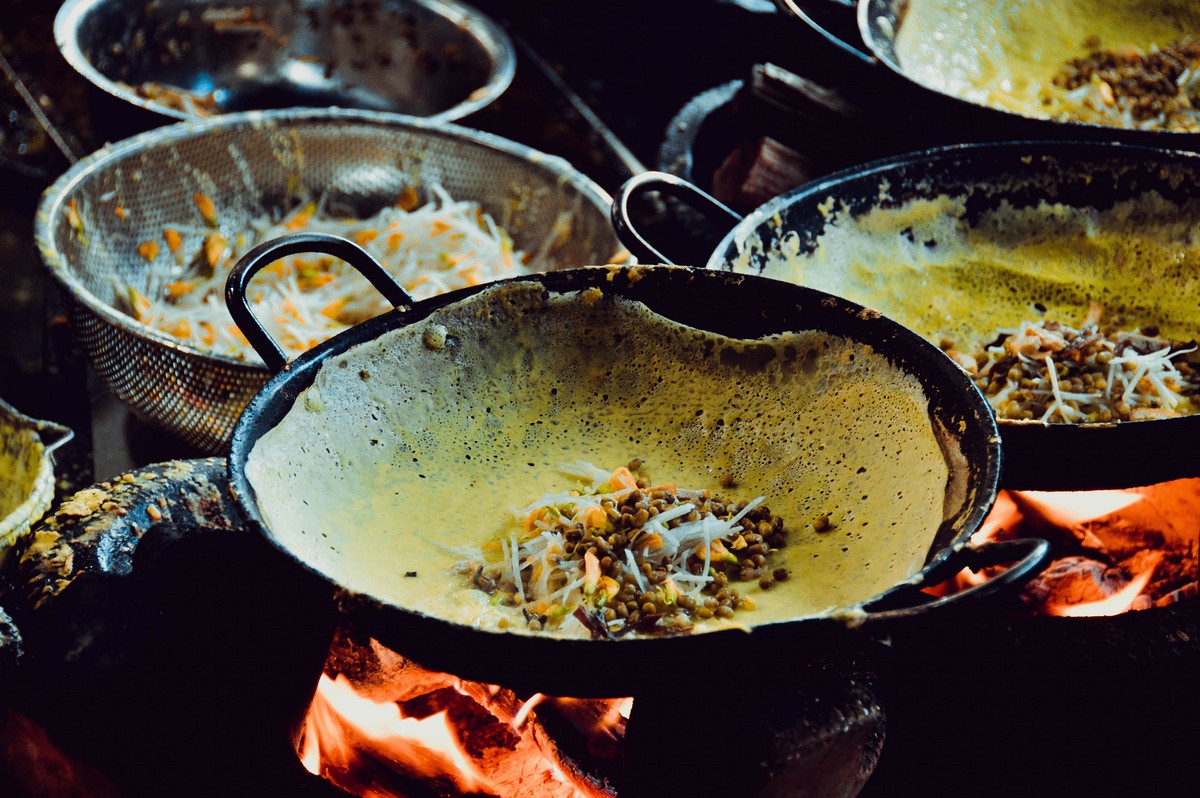 The batter of the southwestern version includes rice flour, coconut milk, scallions, and eggs. It is thinly spread and filled with the filling, served with a sweet and sour dipping sauce made with lime, garlic, chili, and sugar, along with a variety of green vegetables such as lettuce, cabbage, and so on.
Deep-fried Coconut Worms (Đuông dừa chiên giòn)
When travelers first see this dish, they are often shocked. However, coconut worms have a nationwide reputation as a specialty of the Mekong Delta that attracts many to take a bite and savor the flavor. The locals in the area cook them in many ways, including deep-fried coconut worms, crispy balloon-fried coconut worms, coconut worm salad with shredded coconut, and coconut worm shank in fish sauce brine. No matter how they are prepared, they are all incredibly delicious.
Fermented Fish Hotpot (Lẩu mắm)
Indulge yourself in the true flavors of the Mekong Delta by savoring the fermented fish hot pot. The best type of fermented fish to use when cooking this dish is Ca Linh fish. The broth is prepared from simmering pork bones, and some places even add coconut water to enhance the dish's aroma and coolness. Then, the fermented fish is added to the broth and softened until it dissolves. The dish is seasoned to taste, and the cook adds eggplant, bitter melon, and lemongrass for the best flavor.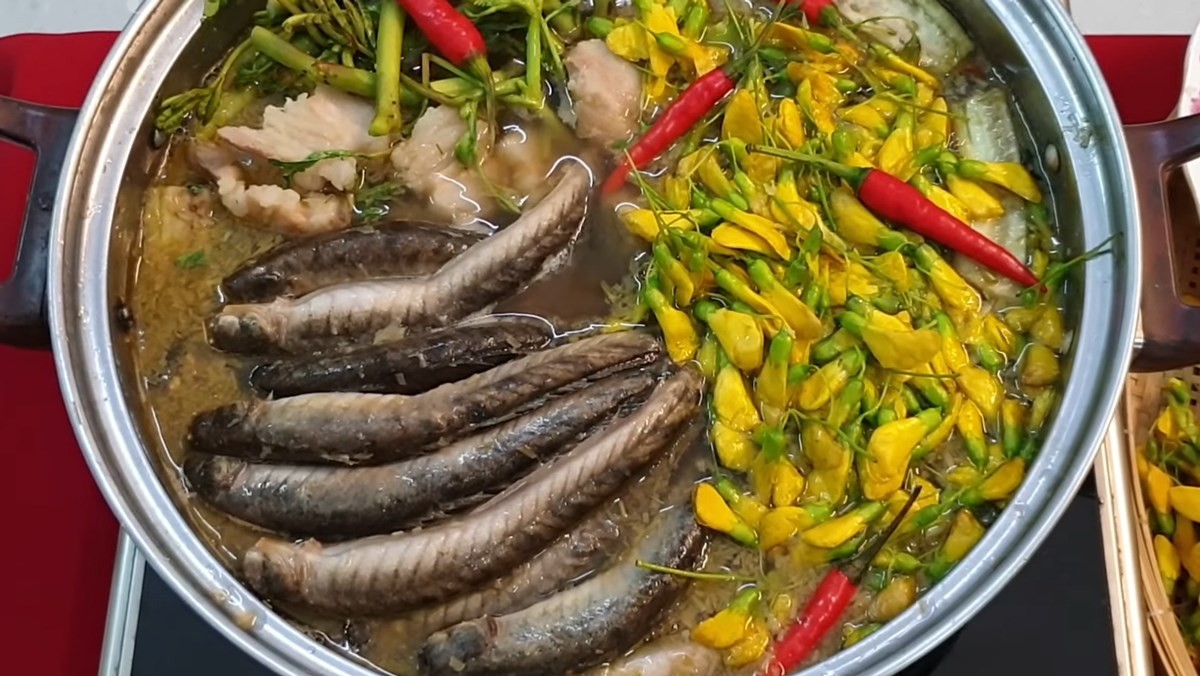 To accompany the hot pot, you can choose from a variety of side dishes, such as shrimp, pork, and different types of fish. The dish goes well with almost any vegetable, but winged beans, water lilies and river hemp flowers are the most commonly used. So why not dive into the fermented fish hot pot and experience the Mekong Delta's unique flavors like never before?
Water Lily Sour Soup (Canh chua bông súng)
The Mekong Delta is an area full of stunning water lilies. This type of flower is a great addition to any fish dish, especially freshwater fish such as Ca Linh and Tilapia. To make a delicious sour soup with water lilies, chefs typically use newly bloomed water lilies as the main ingredient. They then add tamarind, sugar, and salt to boiling water, along with the fish and water lilies. After that, fried onions are added to enhance the flavor. Although it may be a simple recipe, the taste of this soup is simply incomparable.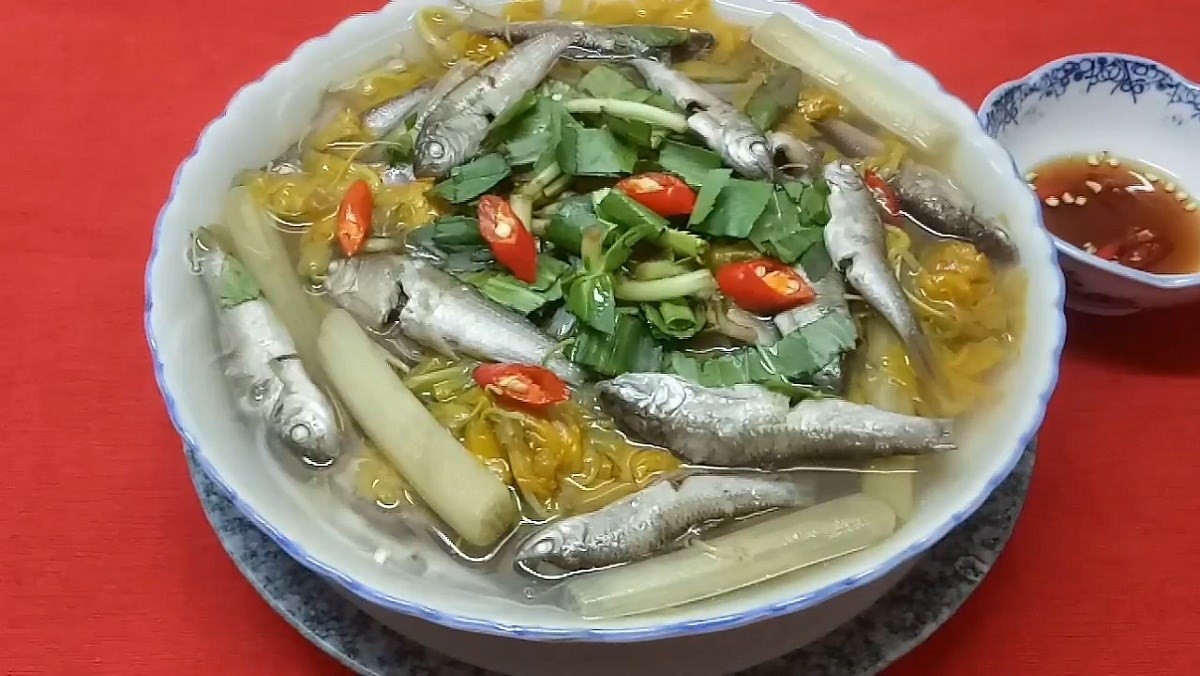 Tien Giang Stewed Fish (Nấu mẳn Tiền Giang)
This dish is a crowd-pleaser in the Mekong Delta region, famous for its unique name and delicious flavor. The secret to its success lies in the main ingredient of bronze featherback fish, which is marinated with chili, salt, scallions, and lime or vinegar. The dish is typically served with a variety of wild vegetables found in the region, adding a touch of local flair. Despite its unassuming appearance, the dish is super nutritious and delectable. With an appetizing aroma and a sweet flavor from the fish, it is sure to stimulate any diner's taste buds.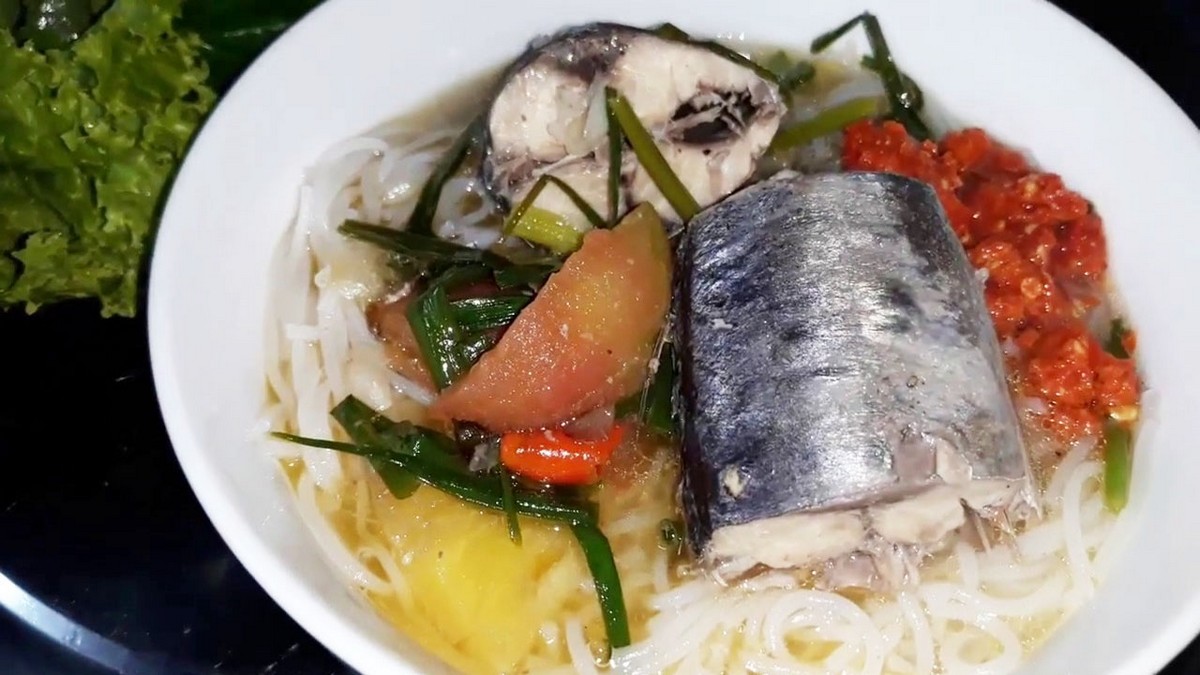 Hu Tieu Noodle Soup (Hủ tiếu Mỹ Tho)
When visiting the Mekong Delta, you must try the famous Hu Tieu noodle soup. Its main ingredients are dried hu tieu noodles and a broth made from minced pork, pork offal, and simmered pork bone. Dried shrimp can also be added to make the broth more flavorful. The secret to making this dish delicious is the chewy texture of the dried hu tieu noodles, which do not become soggy or mushy when cooked. The broth is sweet and fragrant, and when combined with the toppings and noodles, it creates an unbeatable dish that you won't want to miss.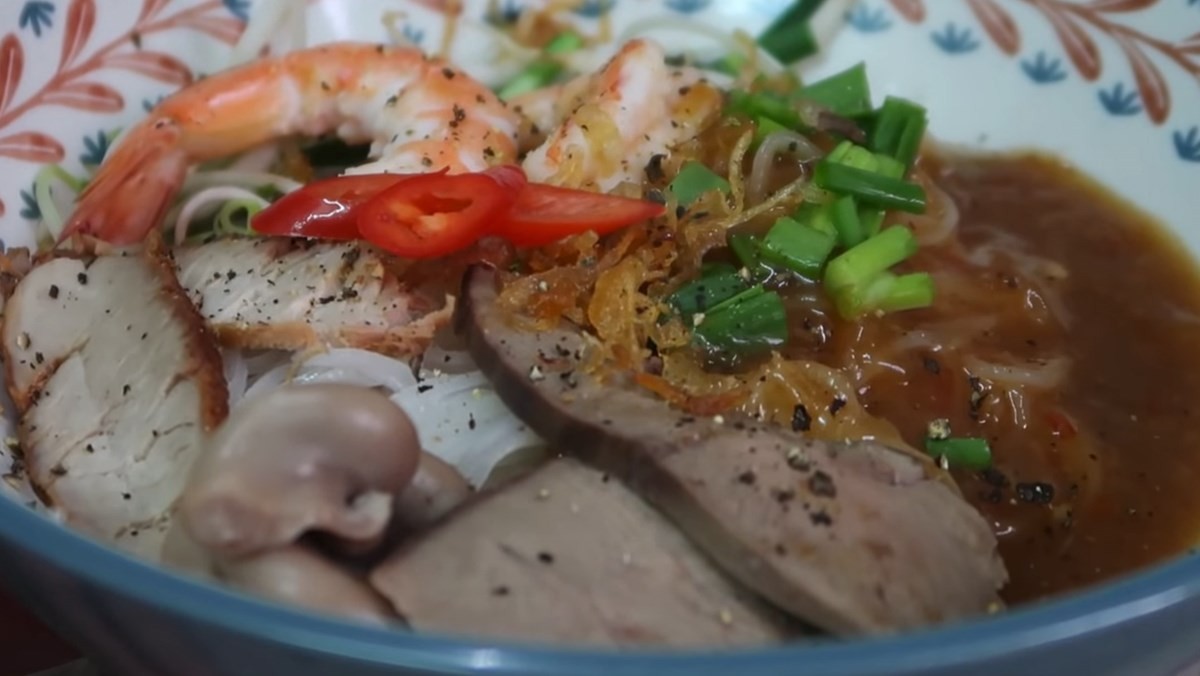 Son Qui Sweet Soup (Chè Sơn Qui)
Son Qui Sweet Soup is a delightful dessert from Son Qui, Tien Giang province, which is a perfect way to cool down on hot summer days. This unique dessert is made with mung beans, navy beans, peanuts, tapioca starch, and coconut milk, all of which come together to create an unforgettable and distinct flavor that you must try when visiting the Mekong Delta.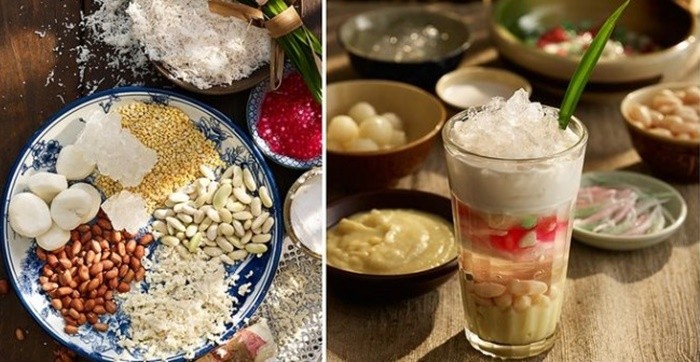 Pia Cake (Bánh pía Sóc Trăng)
Pia Cake is a type of pastry that has a flat, circular shape with multiple thin layers of crust. It is usually filled with different ingredients, including durian, shredded pork fat, salted egg yolk, mung bean paste, taro, and coconut. This cake has a pleasant aroma of durian, a light and fluffy crust, appealing colors, and a well-balanced taste that delights anyone's taste buds.
---
Above are the top 10 delicious dishes to try when visiting the Mekong Delta. Hopefully, this article will give you some great culinary options for your trip to this region. Have a great time exploring and eating!
---
Tours related to Mekong Delta