Da Lat has a nationwide reputation as an alluring destination with its cool climate, the stunning scenery of year-round blooming flowers, ethereal forests, and impressive waterfalls and lakes. If you're a travel enthusiast and have Vietnam on your itinerary, add the peaceful and romantic city of Da Lat to your list. Below are the top 10 must-visit tourist destinations in Da Lat, so let's start exploring them right now!
1. Langbiang Mountain
Located on the Lang Biang Plateau, just 12 km from the city center, Langbiang Mountain is an absolute must-visit destination in Da Lat. Featuring two of the highest peaks in the area, one of which is considered the roof of the city, this mountain offers breathtaking views of the whole region, including the city, rivers, forest, and tribal people's houses.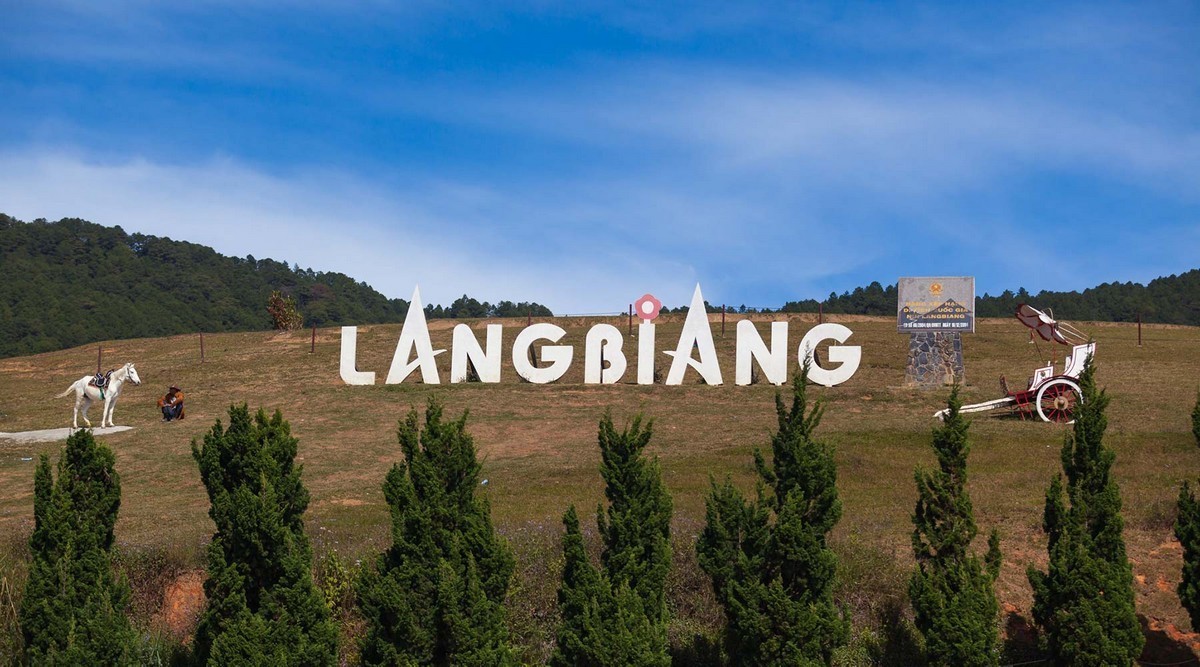 In addition to its incredible natural beauty, Langbiang Mountain is steeped in legend and history. Visitors can explore the origin of the mountain's name, which is said to have come from a couple deeply in love, K'lang and Ho Biang. There are also numerous fascinating activities to enjoy, such as camping, bird-watching, and learning about the flora and culture of ethnic minority groups. For the thrill-seekers, Langbiang Mountain is perfect for mountain climbing, trekking, and paragliding. At the foot of the mountain, you can visit the ecological and tourist site known as "Hundred-year Valley," rounding out an unforgettable experience at this incredible destination.
2. Da Lat Railway Station
As a National Architectural Relic, Da Lat Railway Station is a must-visit destination for anyone coming to Da Lat. This station is one of Vietnam's oldest yet most beautiful stations, with its unique and stunning architecture both inside and outside. Notably, the interior space features a shimmering display of colorful glass cells at the base of the roof, which makes the inside of Da Lat Railway Station truly special. Moreover, outside the station, the three stylized pyramids from the three highest peaks of Lang Biang are combined with the image of the roof of the Central Highlands, creating a striking and memorable sight for visitors.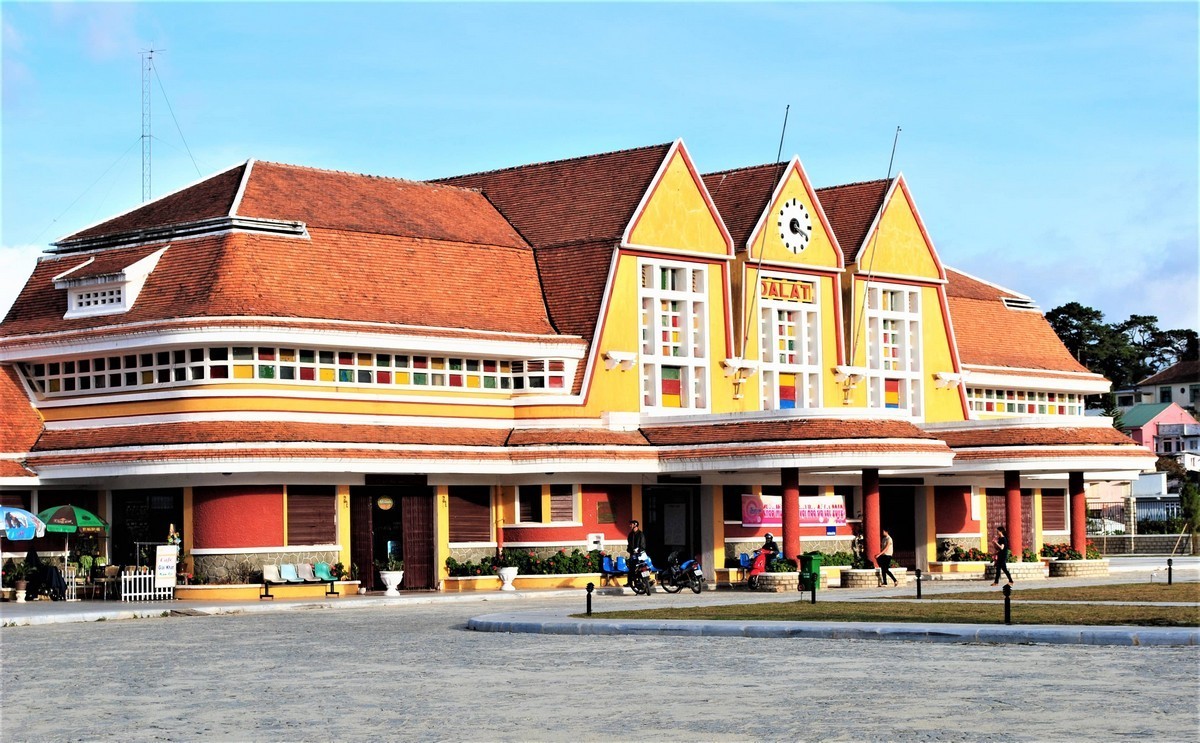 Stepping into the station is an unparalleled experience. The ticket booth, brown-painted tables and chairs, and wooden windows all transport visitors to an ancient European city. Outside the station, tourists can appreciate an old steam train, one of the two remaining old steam locomotives in Vietnam. Besides, visitors who want a more romantic experience can buy tickets to board the train and imagine themselves as gentlemen and ladies from Europe on a journey to discover the beauty of Vietnam.
3. Linh Phuoc Pagoda
Linh Phuoc Pagoda, also known as the Ve Chai Pagoda, is an impressive tourist attraction located about 9 kilometers away from the center of Da Lat. With a rich history and many unique architectural designs that have earned it a spot in Vietnam's top records, it is no wonder that this place continues to draw the interest of many tourists today.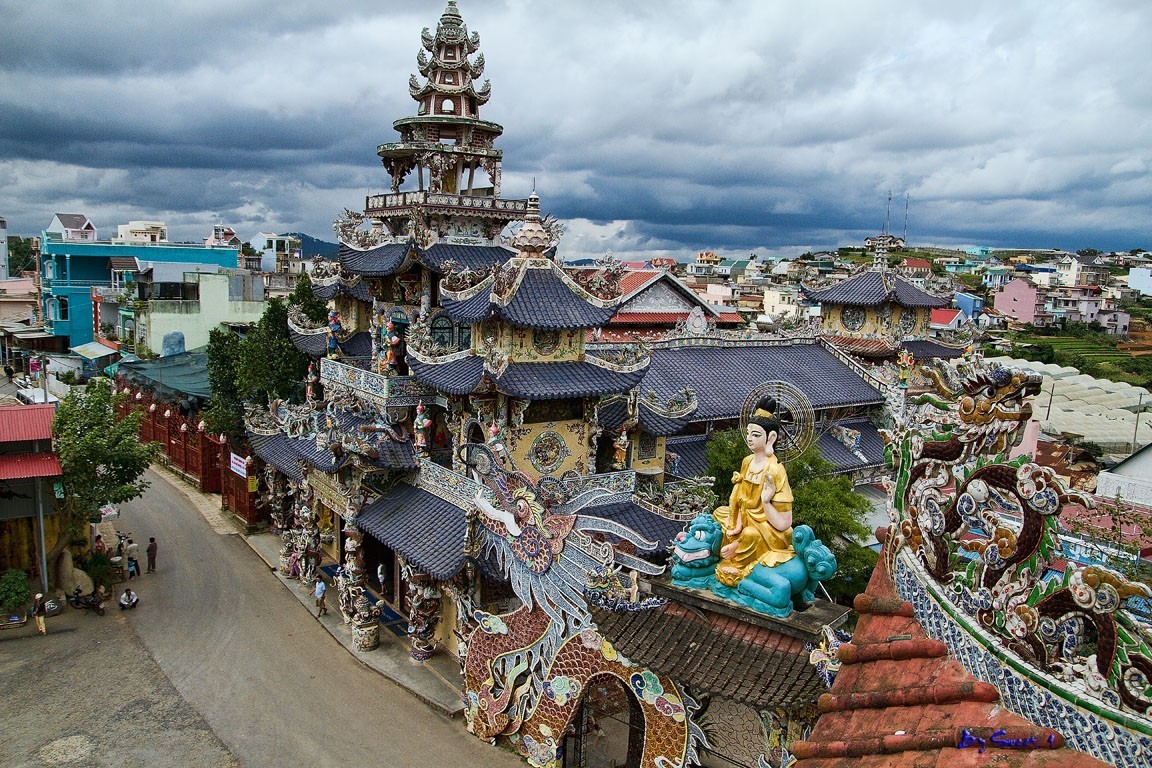 One highlight includes the realistic and delicate wax statues of meditating monks, each expressing purity through their unique facial expressions. Additionally, the pagoda is home to several other notable artworks, such as the world's largest strawflower statue of Lady Buddha, which stands at a height of 18 meters. The Dai Hong Chung bell tower is Vietnam's tallest bell tower, standing at 36 meters high and featuring a 4.3-meter-high, 8,500-kilogram copper bell. Another highlight is the country's largest wooden statue of the Buddha Bodhidharma. Lastly, tourists will not want to miss Vietnam's tallest steel-concrete Lady Buddha statue, which stands over 12 meters high. With so many attractive sights to discover, visitors are sure to have a memorable experience at this pagoda.
4. Xuan Huong Lake
Xuan Huong Lake is an enchanting destination that should not be missed when visiting Da Lat. With the location of the city's heart, Xuan Huong Lake brings a unique charm to this picturesque town. Interestingly, this serene lake is man-made, yet it has become the most beautiful lake of Da Lat, providing the romantic city with the invaluable gift of a stunning lake right in its center.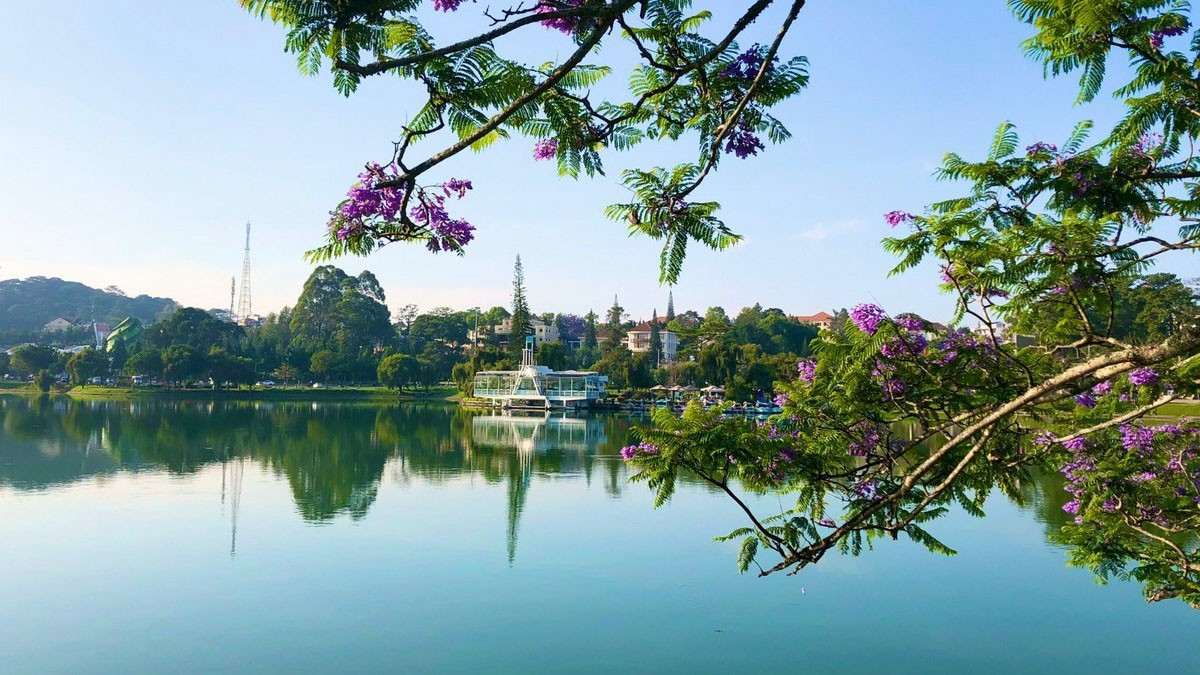 The crescent-moon-shaped Xuan Huong Lake covers an impressive area of about 43 hectares and is surrounded by other attractions such as Da Lat Flower Park and Cu Hill. The smooth, mirror-like surface of the lake reflects the breathtaking scenery of Da Lat, complete with verdant meadows, fragrant pine forests, and vibrant gardens. While strolling along the lakeside, you can take a moment to relax under the shade of the conifers or experience the captivating architecture of Thuy Ta Pavilion by pedal-boating on the tranquil waters. For an even more memorable experience, renting a tandem bike and exploring the stunning lake at your leisure is a good idea. This will undoubtedly create an unforgettable moment that you will cherish forever.
5. Domaine De Marie Church
Built in the 1940s with a classical European style from the 17th century, the Domaine De Marie Church is a must-see tourist attraction that draws in thousands of daily visitors. What sets this church apart is its stunning lime-painted walls. On a sunny day, visitors to this spot will have the opportunity to witness the absolute grandeur of the church set against a breathtaking blue sky.
Like many other churches, Domaine De Marie Church is a hub of religious activities for Christians. Visitors can expect to experience a solemn and worshipful atmosphere during ceremonies. The church interior is adorned with various beautiful flowers, including hydrangeas, sunflowers, and red roses, making it an ideal spot for memorable photo opportunities.
6. Cam Ly Waterfall
As a national-level cultural and historical heritage, Cam Ly Waterfall is one of the most impressive attractions in Da Lat. It is located at the end of Hoang Van Thu Street, just 2 kilometers from the city center. The waterfall is formed by the confluence of a small stream on the Langbiang Plateau, winding through the area of Da Lat before passing Than Tho Lake. The water of the falls flows gently and gracefully through the granite cliffs, resembling the flow of young hair.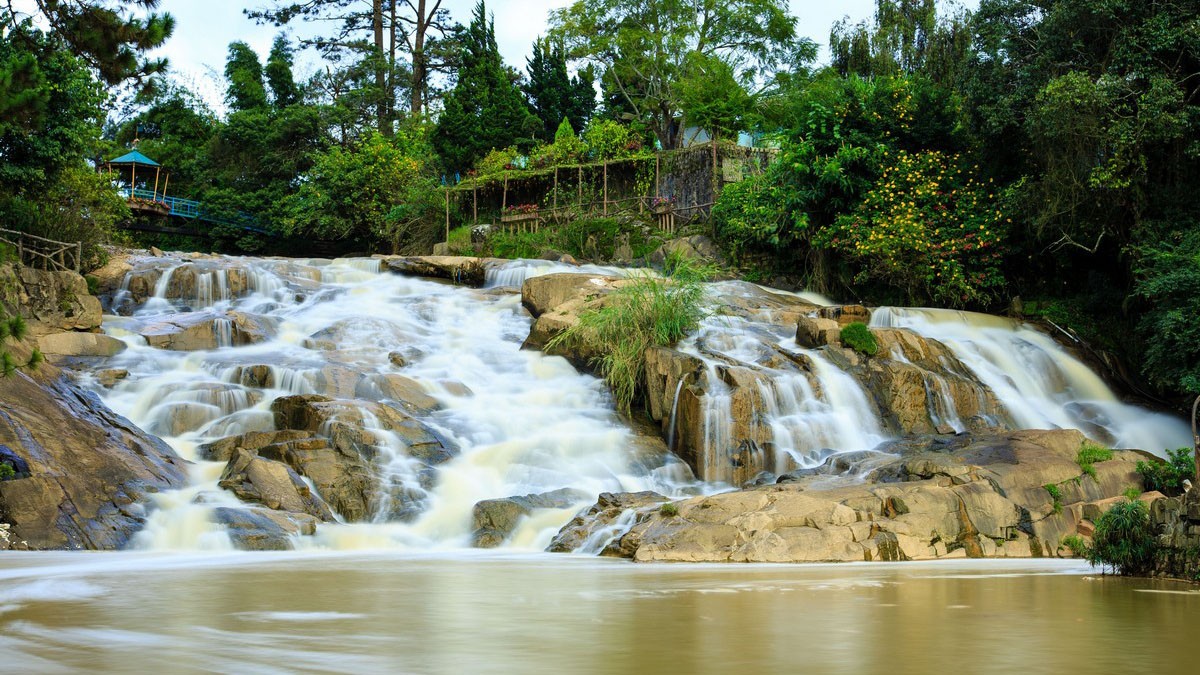 This waterfall has a height of approximately 10 meters. While it may not be as awe-inspiring as other waterfalls in Da Lat, it possesses a unique beauty that sets it apart. There is a bridge crossing the stream above the waterfall, making travel between both sides more convenient for visitors. At the foot of the waterfall lies a small flower garden. The waterfall, along with the surrounding hills, creates an unforgettable scene that leaves a lasting impression on the hearts of tourists.
7. Datanla Waterfall
Undoubtedly, Datanla Waterfall is always a top destination in Da Lat due to its untamed, romantic, and dramatic beauty, characteristic of the Central Highlands. Located in Prenn Pass, just 5 kilometers south of the center of Da Lat city, this waterfall boasts an impressive 20-meter cliff and a generous amount of water that cascades over multiple rock platforms, resulting in a gentle and crystal-clear water flow.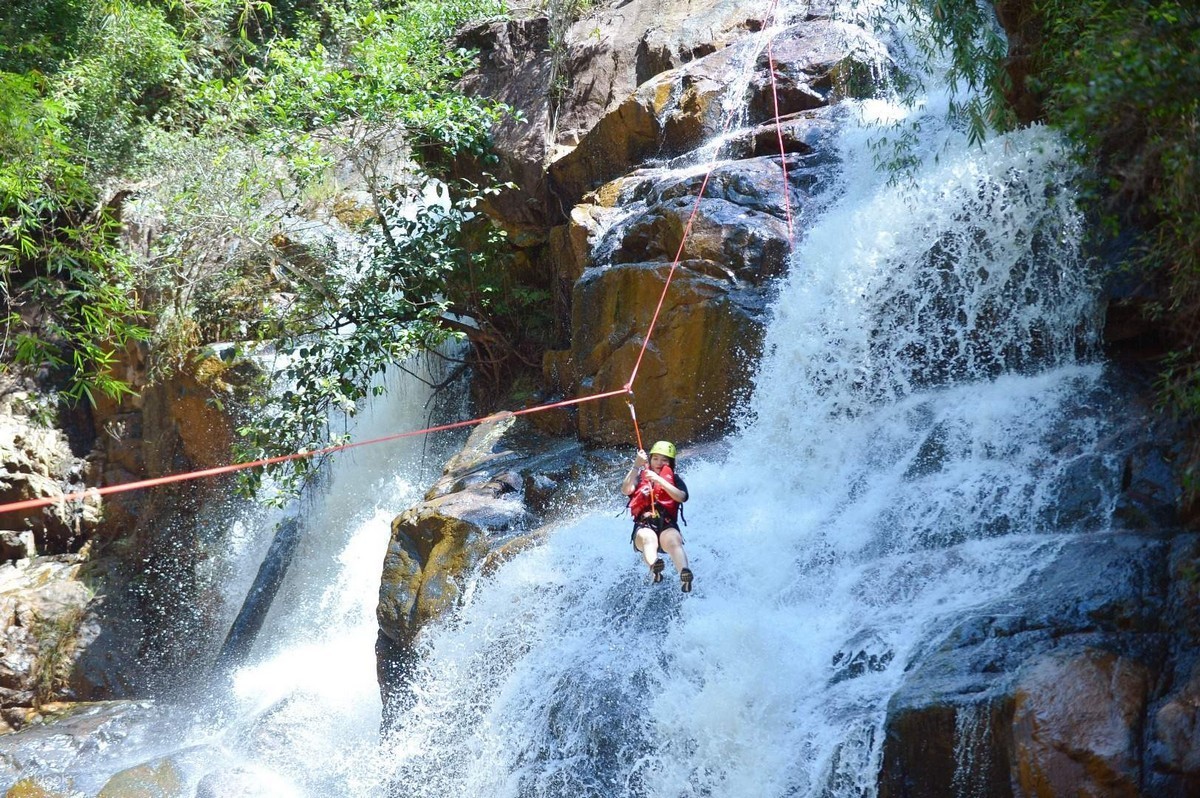 The natural landscape and rugged terrain of the Datanla waterfall area make it an excellent destination for adventure and recreation. Visitors can enjoy a myriad of activities, such as a roller coaster, cable car, zipline, canyoning, free jumping, and more. These exciting and challenging experiences will test your endurance and courage, leaving you with unforgettable memories of your travels.
8. Valley Of Love
Just 5 kilometers north of the city center, the Valley of Love is one of the most stunning landscapes in Da Lat, making it an ideal destination for couples seeking a romantic getaway. Since the 1930s, this picturesque valley has been a favorite of European colonial administrators and French couples for their romantic dates. Not only is it famous for its poetic scenery, but the valley also offers a wide range of fascinating activities and games, making it an ideal spot for anyone looking for a tranquil and engaging place to unwind.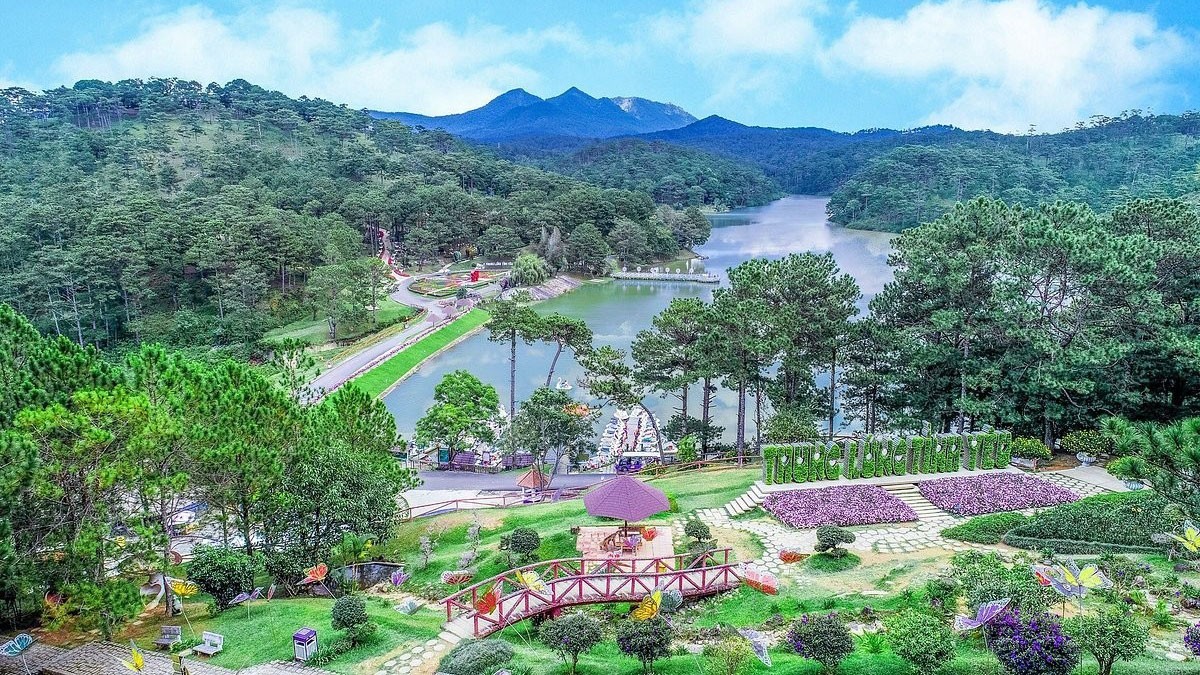 9. Mong Mo Hill
On the way to the Valley of Love lies Mong Mo Hill, or "Dreamlike Hill," a splendid park with a vast, beautiful territory spanning 12 hectares. This poetic landscape of Da Lat possesses a sense of calm and beauty that is even reflected in its name. Some might even consider Mong Mo Hill a miniature version of Da Lat due to its natural beauty and lush pine-tree hills.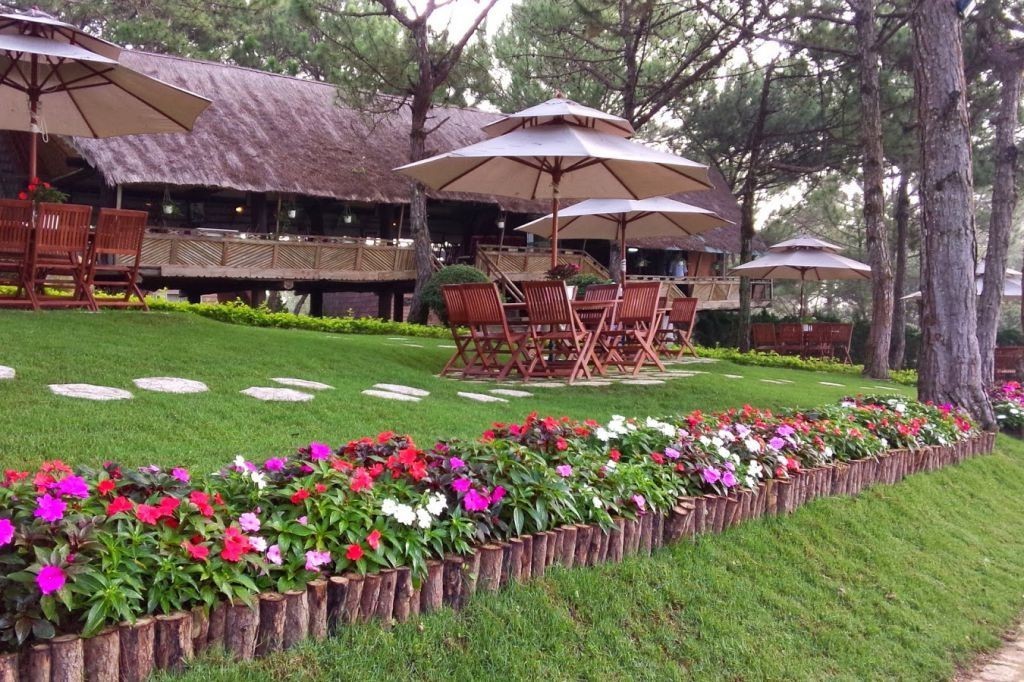 When visiting Mong Mo Hill, tourists can not only enjoy thousands of blooming flowers in an attractive and romantic atmosphere but also take part in a variety of engaging activities, such as stone inlays, floral art, restaurants, lakes, a gold waterfall, sports zones, souvenir shops, and leisure centers. All these amenities provide visitors with a more relaxing and convenient vacation, making Mong Mo Hill a must-see attraction for anyone visiting Da Lat.
10. Than Tho Lake (Lake Of Sighs)
Than Tho Lake is undoubtedly a highlight in the breathtaking picture of Da Lat, which exudes both romantic and mysterious vibes, drawing visitors in with tales of heart-wrenching love stories. As visitors explore the serene and unspoiled landscape of lush hills and vast pine forests, they will also be moved by the sorrow and passion of these passionate love tales.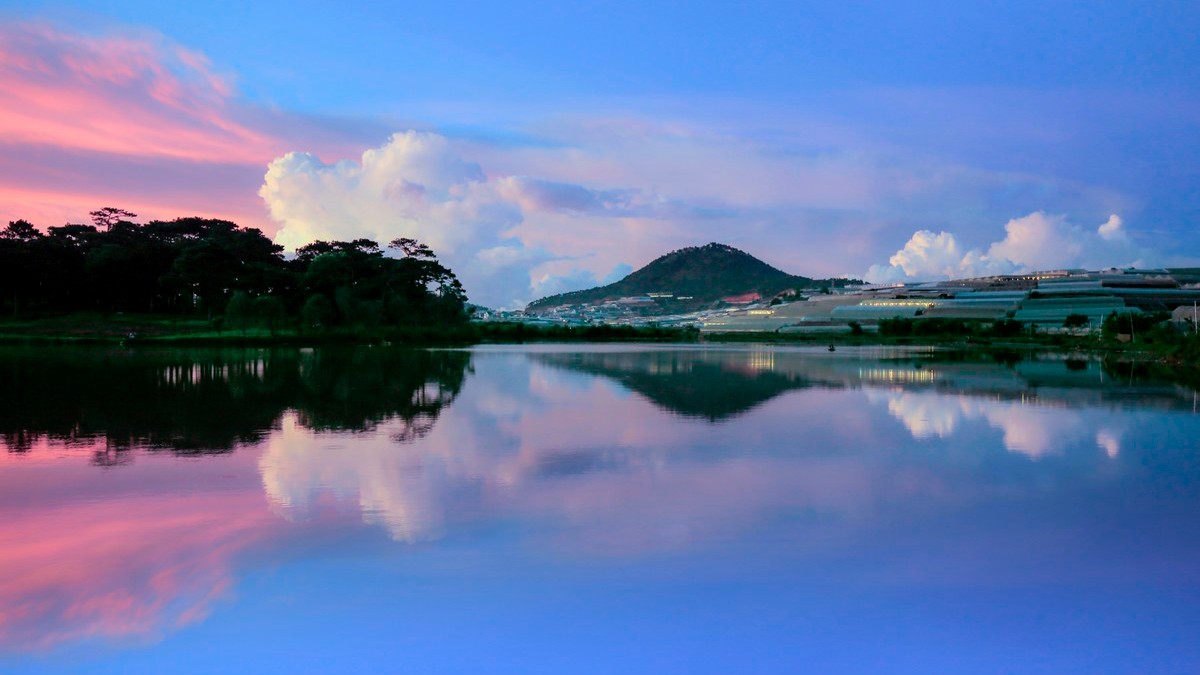 One of the most famous love stories is the tale of Hoang Tung and Mai Nuong. During the Tay Son dynasty, Hoang Tung, a soldier, took Mai Nuong to the lakeside to bid farewell and promised to return on the day of victory. However, Mai Nuong received fake news that Tung had died in battle. Overwhelmed with grief, Mai Nuong threw herself into the lake to die, remaining loyal to her love. In reality, Tung was not dead. Not long after winning the battle, Hoang Tung returned and discovered that his beloved had passed away. Despite his grief, Hoang Tung remained devoted to her memory. However, a few years later, when the Tay Son dynasty crumbled, he was overwhelmed by the fate of the country and his own love. Ultimately, he chose to join Mai Nuong in death and threw himself into the lake. Since then, the lake has been known as Than Tho, meaning "sigh," a poignant reminder of the love that was lost.
---
Tours related to Da Lat