Designated as a UNESCO World Heritage Site since 1999, Old Town Hoi An is an outstandingly well-preserved illustration of a Southeast Asian trading port that dates back to the 15th to 19th centuries. The name itself, "peaceful meeting place," paints a picture of rustic simplicity and poetry for this locale. Whether it is day or night, Hoi An tourism offers a wide range of alluring sights and experiences that are sure to captivate any traveler.
1. Highlights of Hoi An
Hoi An ancient town, a UNESCO World Heritage Site, is a classic Eastern captivation that is located in central Quang Nam province, 30 kilometers south of Da Nang. Its strategic location on the banks of the great river Thu Bon, with one seaside border (East), made it one of the most heavily-frequented trading centers in Southeast Asia during the early western trader occupation period from the 15th to the 19th centuries.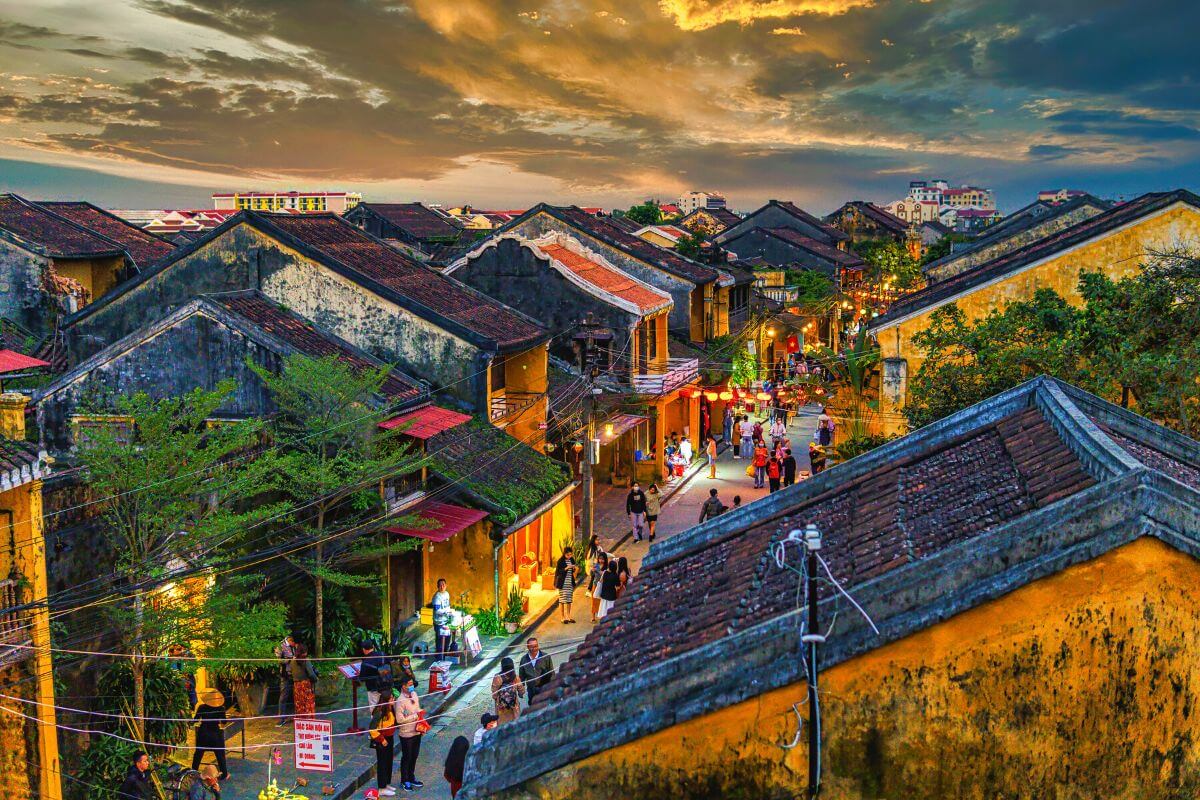 By the end of the 18th century, the prominence of Hoi An as a trading port had sharply declined due in part to the silting up of the Thu Bon River and the emergence of nearby Da Nang as the new center of trade in Central Vietnam. Over the next 200 years, Hoi An faded into a forgotten backwater and was left largely untouched by the changes in Vietnam.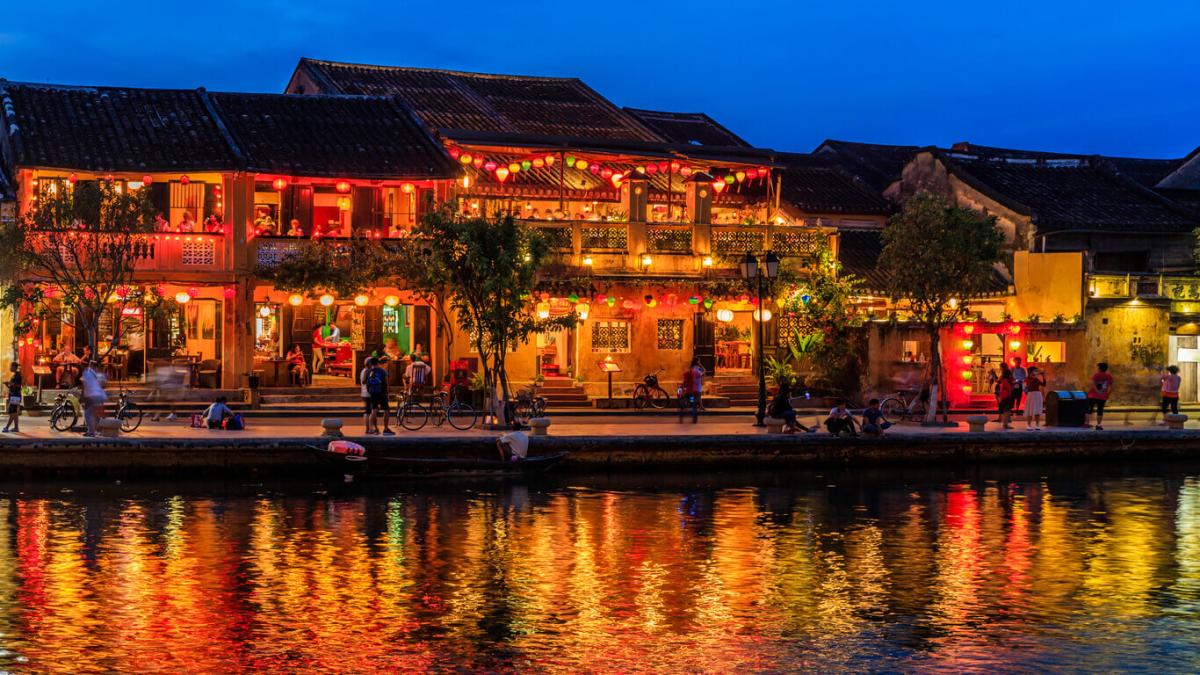 During its golden age, Hoi An was home to numerous foreign merchants, primarily Chinese and Japanese, and later on, Europeans. It made the town a melting pot of different cultures, clearly reflecting in its architecture and cuisine. The local gastronomy is a must-try for visitors, with a wide range of finger-licking dishes such as Cao Lau, chicken rice, crispy pancake, banh my, and more. Hoi An has rightfully earned its nickname, "The Kitchen of the World."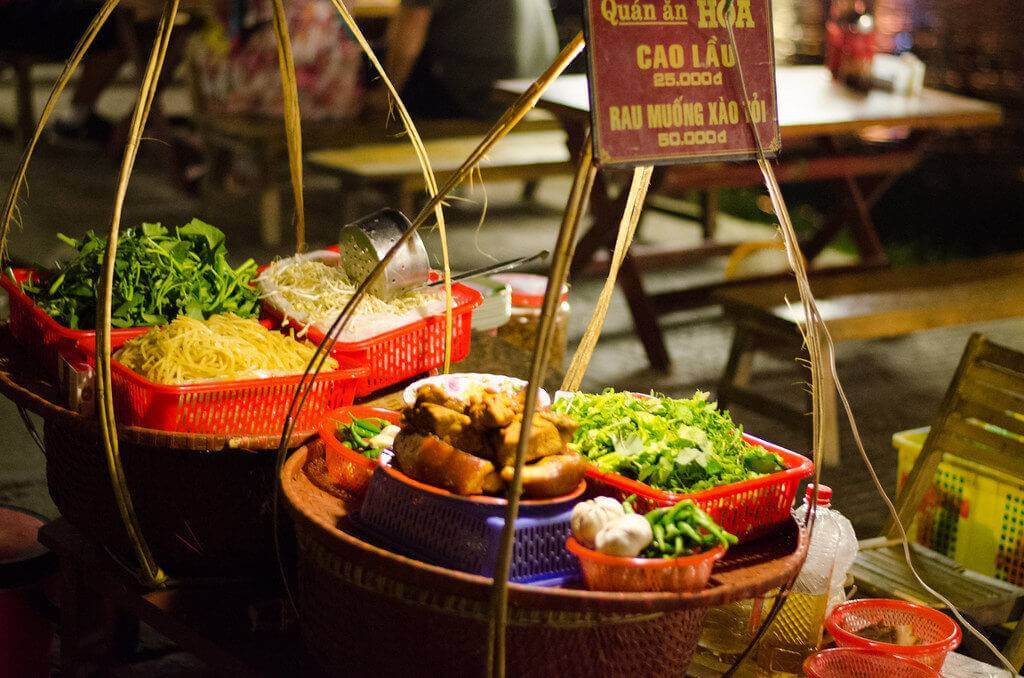 Each dish has a distinctive flavor and unique decoration. Locals use fresh ingredients from their gardens or fresh catches from nearby rivers and oceans. These fresh ingredients, combined with traditional recipes passed down through generations, produce the incredible and unique tastes that define Hoi An's local food scene. Take your time to savor a variety of delicious dishes, and of course, be sure not to miss out on the region's favorite drink, Nuoc Mot ("Nước Mót" in Vietnamese), which can only be found here.
2. Must-go in Hoi An
When visiting Hoi An, visitors will have the incredible opportunity to marvel at the seamless blend of multicultural architecture and breathtaking natural landscape.
Hoi An ancient town
It's time to discover a unique destination and immerse yourself in the hustle and bustle of daily life in Hoi An. The Hoi An ancient town has a worldwide reputation for its unique architecture, which features a harmonious blend of lavish Chinese temples, a Japanese-designed bridge, ancient houses, and French-colonial houses. Visitors can explore a variety of shops, including tailors, souvenir stores, art galleries, restaurants, and coffee shops, to experience life as it was in the 16th century.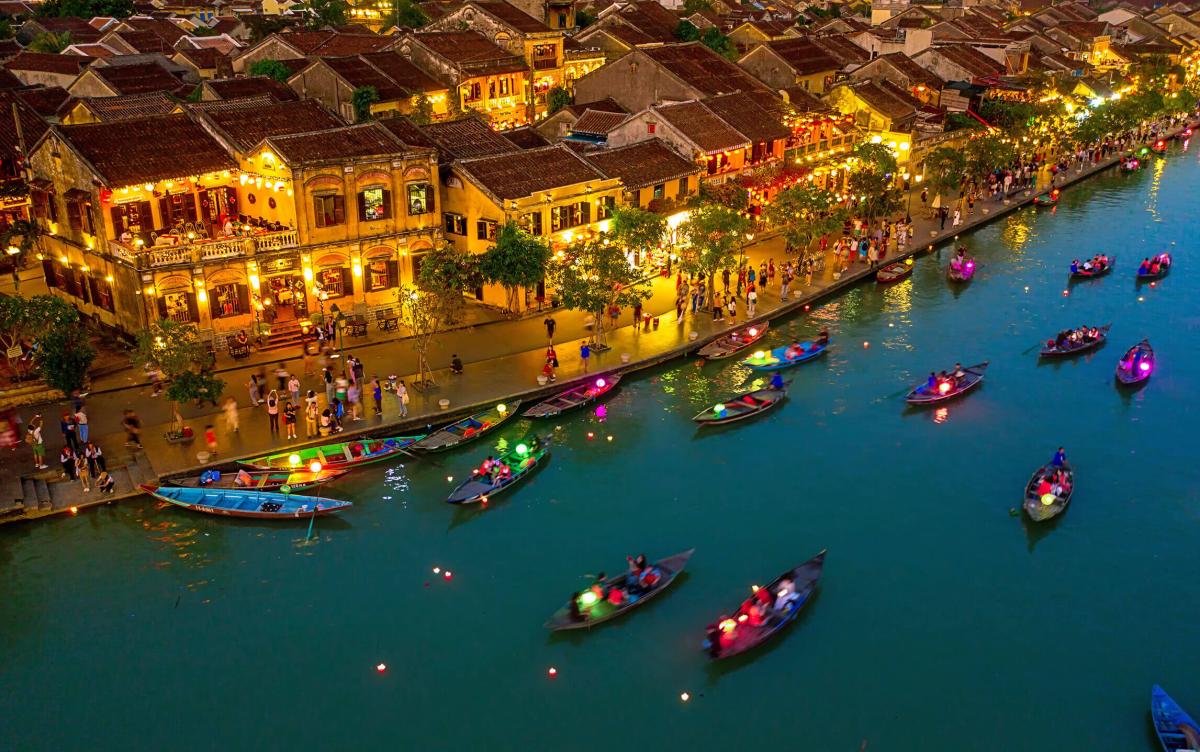 Don't forget to set aside time for a stroll along the riverside area near the bank of the Thu Bon River. This area boasts dozens of restaurants, lively bars, and pubs where you can sample some of the freshest seafood, specialties, beers, or cocktails while enjoying the beautiful scenery of the river. As the sun sets, the riverside area comes alive with hundreds of colorful and diverse-shaped lanterns that illuminate the wooden bridges over the river and every corner of the street. This creates a truly unforgettable scene that will stay with you long after your visit to this old town.
Bridge Pagoda
The Bridge Pagoda is a beautiful and magical tourist destination in the ancient town of Hoi An. As its name suggests, it is a pagoda located on a bridge over a creek. From afar, it stands out with its soft, flexible roof, shaped like a rainbow. Built by Japanese merchants in the early 17th century, it is the only work of its kind originating from Japan in the annals of history. Therefore, this bridge is also referred to as the Japanese Bridge.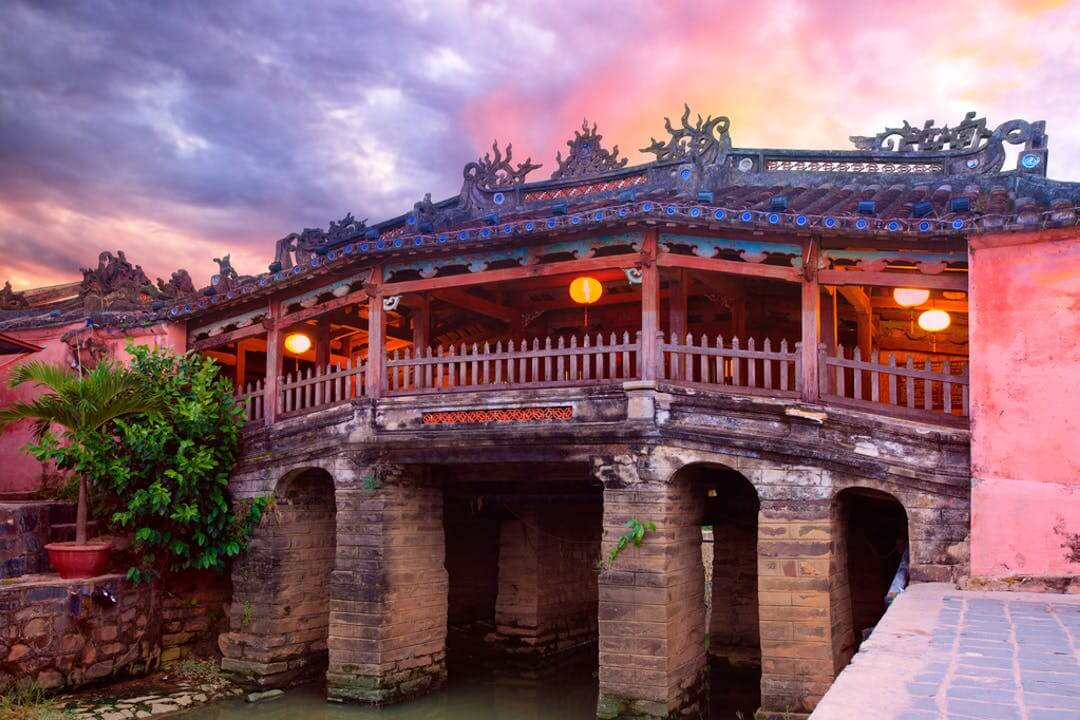 Although built by the Japanese, the Bridge Pagoda boldly bears and inherits the uniqueness and specialties of Vietnamese architecture, such as yin-yang tiles on the rooftop, lacquer paint, and elaborate dragon carvings. Additionally, there are two wooden animal heads at the pagoda, a dog and a monkey, which have been worshiped by the Japanese since ancient times. Today, the pagoda is well-preserved for tourists to visit and is considered an iconic symbol of Hoi An.
Fujian Assembly Hall
Built around 1690, the Fujian Assembly Hall is now a symbol of Hoi An architecture and the talent of Fujian artists. Constructed by people from Fujian, China, the hall served as a meeting and socializing place for overseas Chinese in Hoi An. However, it was soon transformed into a temple dedicated to their deity – Thien Hau, the sea goddess who protects sailors from danger.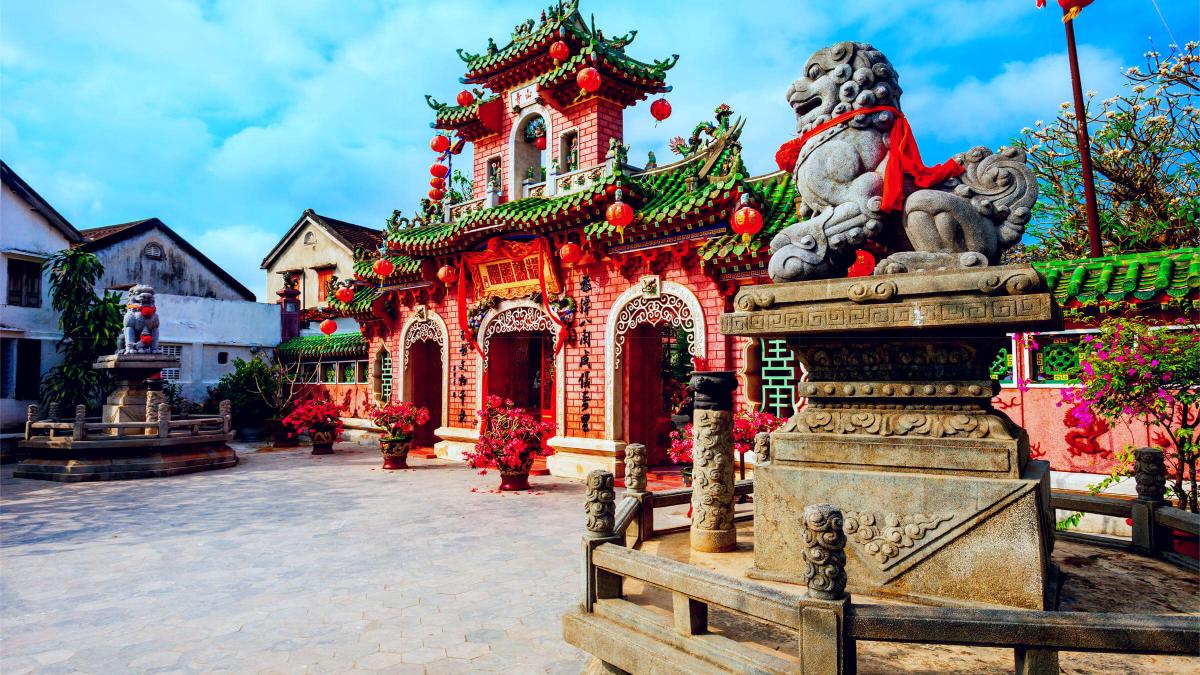 The Fujian Assembly Hall encompasses all the fundamental features of a Chinese Assembly Hall, from the gate to the courtyard with fountains, murals, lacquered boards, and paintings, to the many delicately-carved dragons. It's worth taking the time to explore this site, especially during Chinese festivals, to see the sophisticated and unique typical Chinese architecture, along with the many statues, bronze bells, and drums that represent spiritual meanings and descriptions of mythical creatures.
Hoi An Museum of History and Culture
Located just a 10-minute walk from Bridge Pagoda, the Museum of History and Culture is a must-visit on your journey in Hoi An. This museum offers a glimpse into the ancient town's rich history through numerous artifacts, including ceramics, pottery, and other objects used by residents for over 2000 years.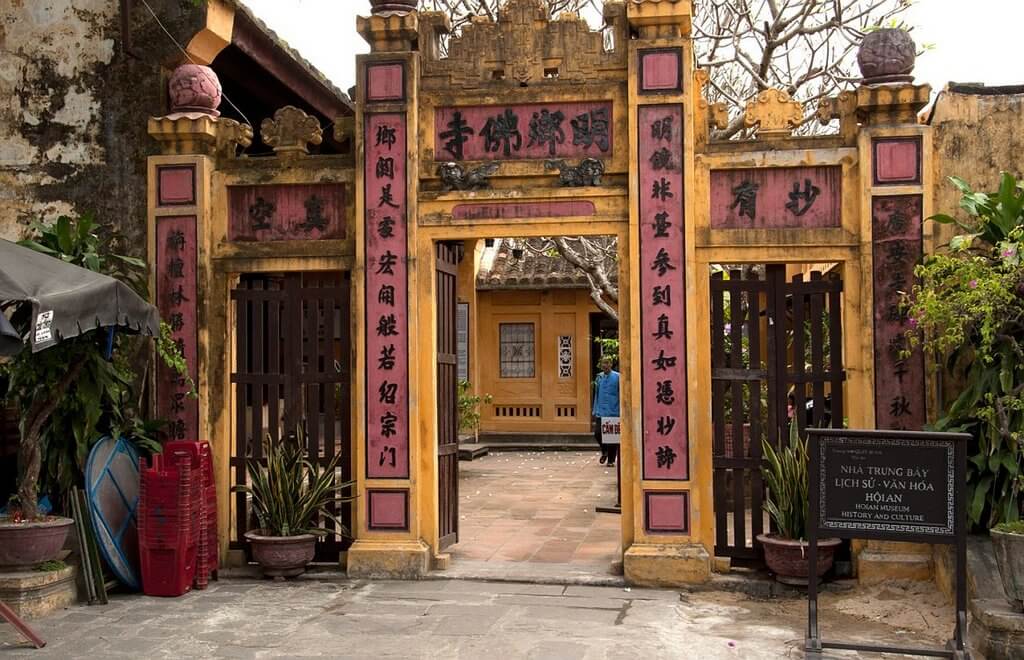 But the Museum of History and Culture is more than just a showcase of Hoi An's history. It also provides an opportunity to immerse yourself in the town's cultural heritage. Exhibitions throughout the museum depict Hoi An throughout the ages, offering a glimpse into the town's past and present. Moreover, with its location in Quan Am Pagoda, one of Vietnam's oldest pagodas, the museum offers an added layer of cultural significance. Take a moment to visit and wallow yourself in the richness of Hoi An's history.
Hoi An Museum of Trade Ceramics
Situated within Hoi An's old quarter, the Hoi An Museum of Trade Ceramics stands as a remarkable testament to the exquisite artistic skills of traditional Vietnamese craftsmen. The museum houses a wide range of Vietnamese, Chinese, and Japanese ceramics found in the architectural digs, dating mainly from the 8th to the 18th centuries. The collection also features stunning drawings which highlight distinctive architectural styles.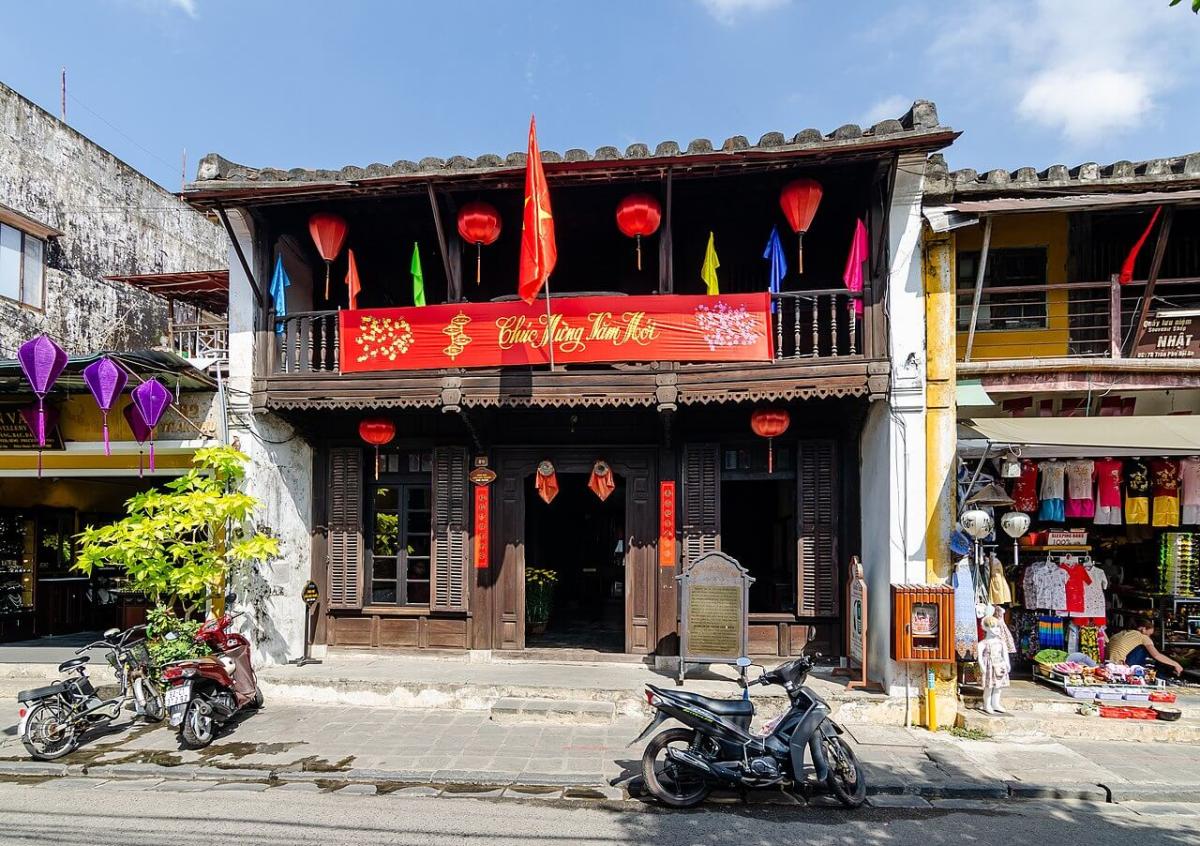 The museum is an exceptional destination where visitors can encounter the intangible past and listen to the echoes of history. A visit to the museum promises to offer cultural insights into the town's history and its relationships with other countries. For history and archaeology enthusiasts, this museum is an absolute must-visit when visiting Hoi An.
Cua Dai Beach
Cua Dai beach is the perfect getaway for beach lovers visiting Hoi An. Just a 15-minute drive from Hoi An ancient town, you'll discover a magnificent three-kilometer stretch of white sandy beach with gentle waves and pristine water. It is such an ideal spot for swimming, floating around, and snorkeling that it attracts millions of visitors each year, both domestic and foreign. Without a doubt, you'll be glad you came here to cool off and unwind, especially during the summer months.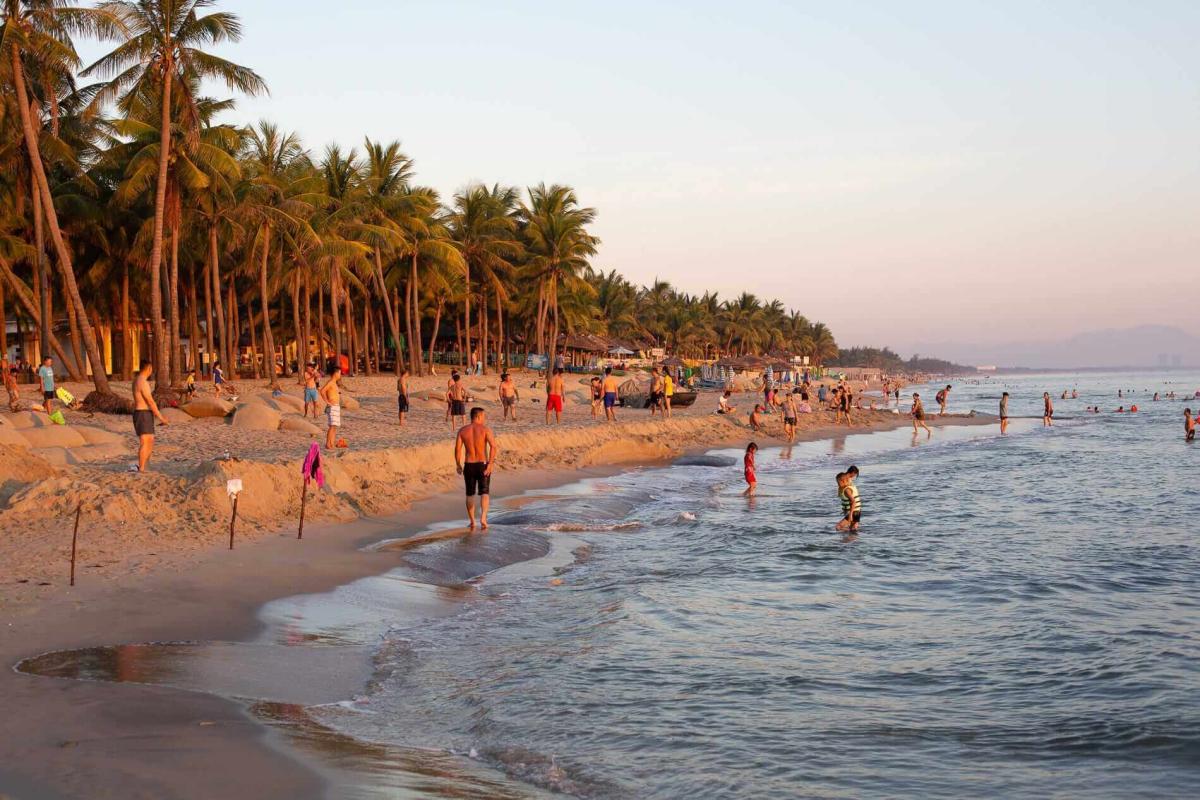 An Bang Beach
For those who sincerely desire to explore, An Bang beach is an undiscovered gem that can not be overlooked. As one of the most breathtaking beaches in Hoi An, some areas of this beach remain unspoiled and retain their pristine beauty. An Bang beach is the ideal location for sunbathing and indulging in several seaside activities, including paddle-boarding, swimming, and surfing.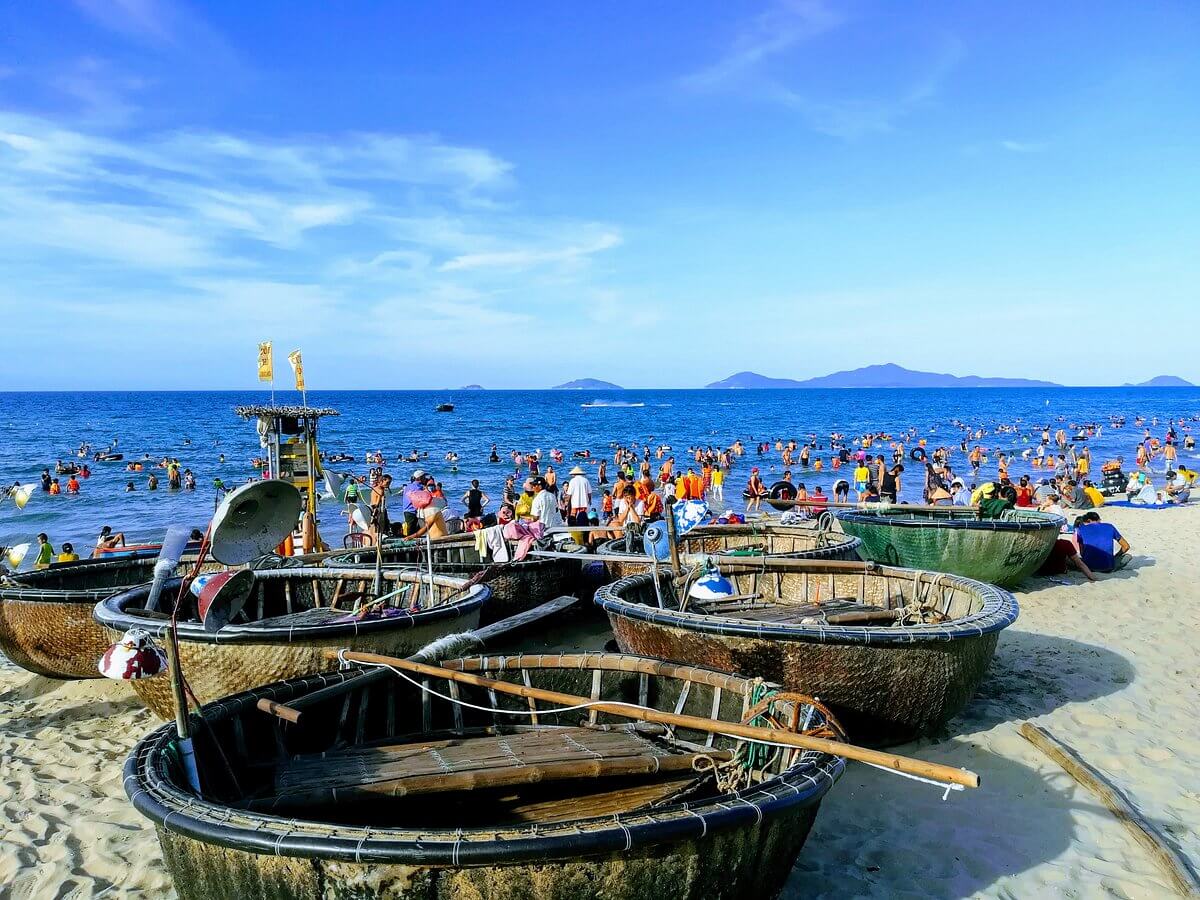 Bay Mau Coconut Forest
The Bay Mau coconut forest, just a 10-minute drive from Hoi An ancient town, is a unique ecological area with a waterlogged forest system. This compelling destination also offers a chance to immerse yourself in the culture of the locals.
In this immense mangrove forest, you will have the opportunity to ride one of the bamboo coracle boats through the forest while listening to stories about the history of the Vietnam war, as it served as a shelter for guerillas. Moreover, you can attend a cooking class where locals will teach you how to prepare some specialties, such as spring rolls and rice pancakes. This experience is sure to be unforgettable during your Hoi An holiday.
3. Time to visit Hoi An
Hoi An has a tropical monsoon climate, similar to the nearby Danang City. It is located at the transition point between the Northern and Southern climate zones, with the Southern climate being more dominant. Hoi An experiences two main seasons: the dry season (from February to August) and the rainy season (from October to December).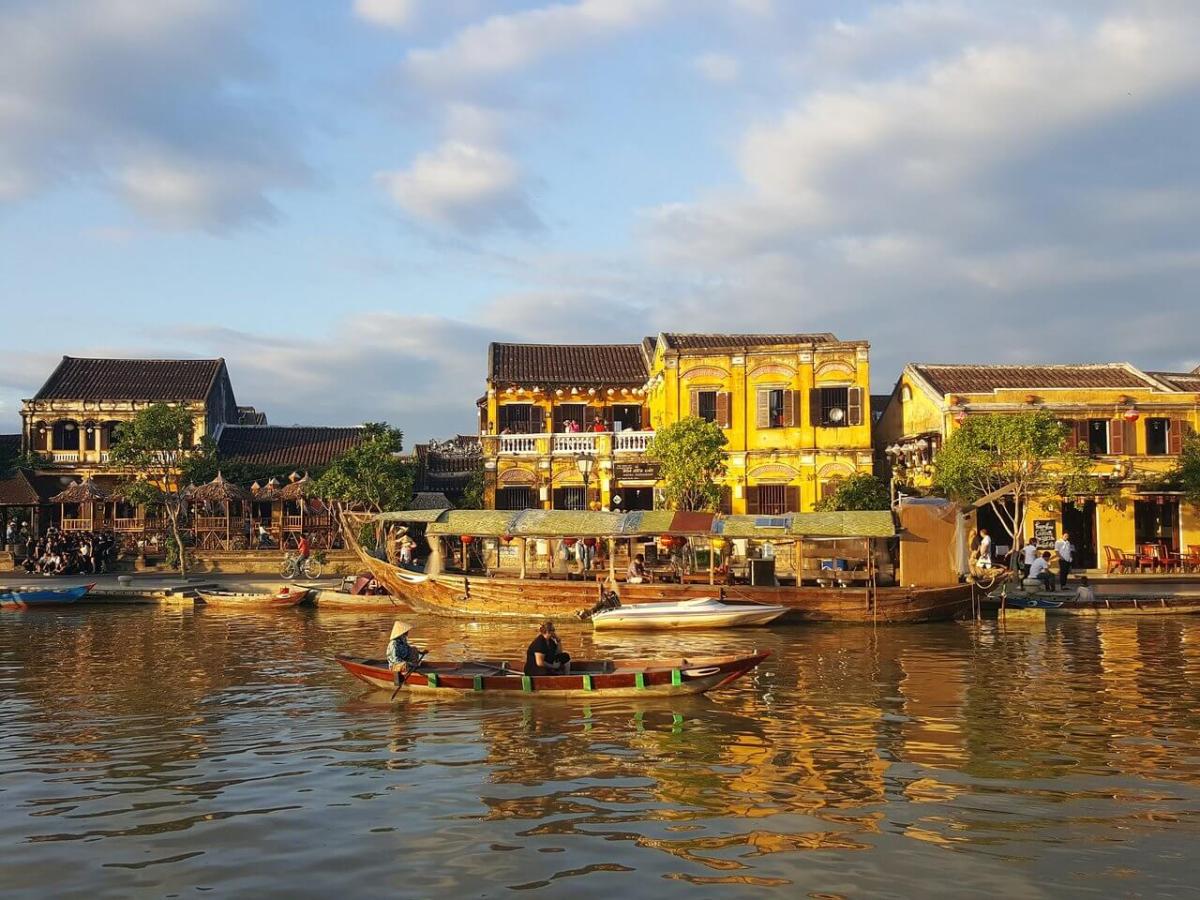 The best time to visit Hoi An is from February to April when it is not rainy and the weather is cool and pleasant. Another ideal time to visit is before Lunar New Year when it is cold in the North but hot in the South. Between May and July, the temperature rises, making it a great time for beach lovers to enjoy Hoi An's beautiful beaches, such as Cua Dai or An Bang. Cu Lao Cham Island is a paradise that can be reached by a one-hour boat ride from Hoi An, where visitors can sunbathe along the beach or go diving to watch coral reefs between January and September.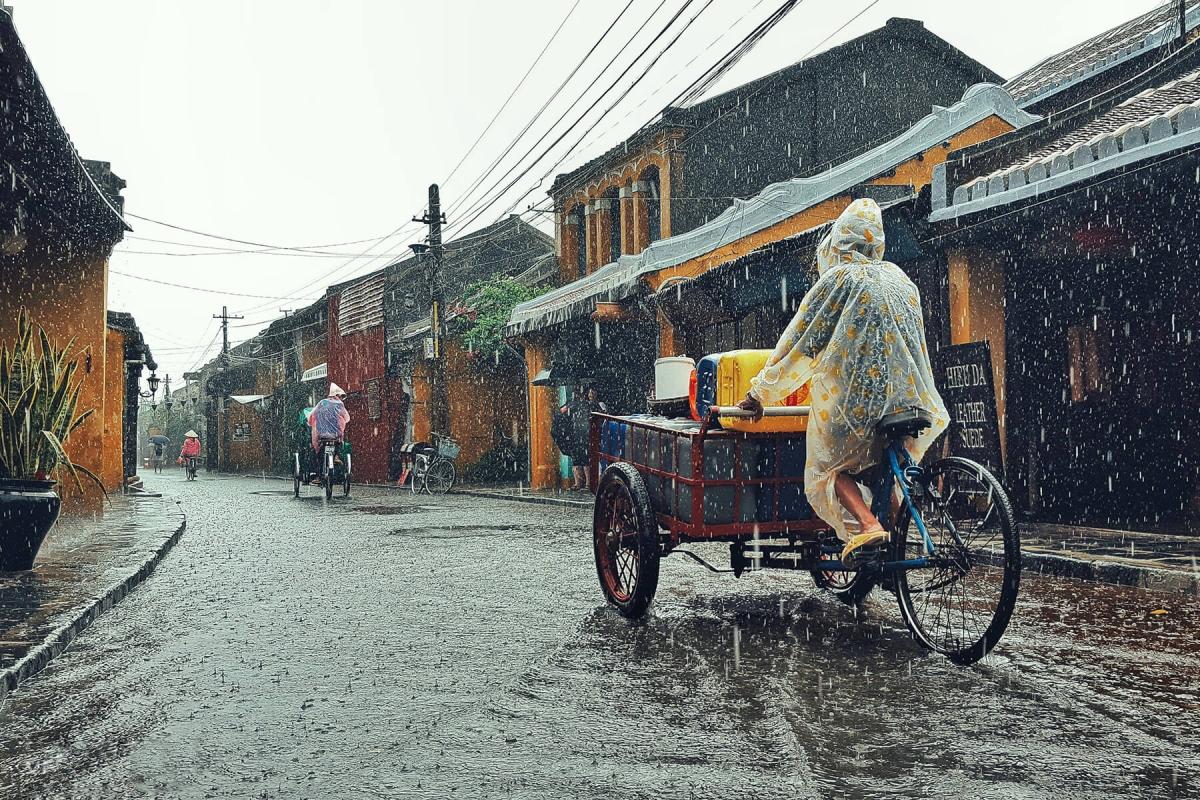 The rainy season in Hoi An is from October to December. It rains more frequently and for longer periods during this time. Occasionally, Hoi An experiences flooding, but due to its location by the sea, the flood usually subsides within a day or two. Despite the rain, the cooler weather of this season makes it a perfect time to enjoy a cup of hot coffee or tea while taking in the city's charming atmosphere.
---
Tours related to Hoi An