Ben En National Park, often called the "Halong Bay on land," is a must-visit destination when you visit Thanh Hoa, Vietnam. Due to its rich ecosystem, it is truly the perfect place for those seeking an outdoor getaway to connect with nature and breathe in fresh air. Let's explore this exciting national park right away!
About Ben En National Park
Founded in 1992, Ben En National Park is located approximately 45 kilometers southwest of Thanh Hoa city center. It spans across two districts, Nhu Thanh and Nhu Xuan, and covers an area of approximately 15,000 hectares. The park features dense primeval forests with diverse and rich flora and fauna ecosystems.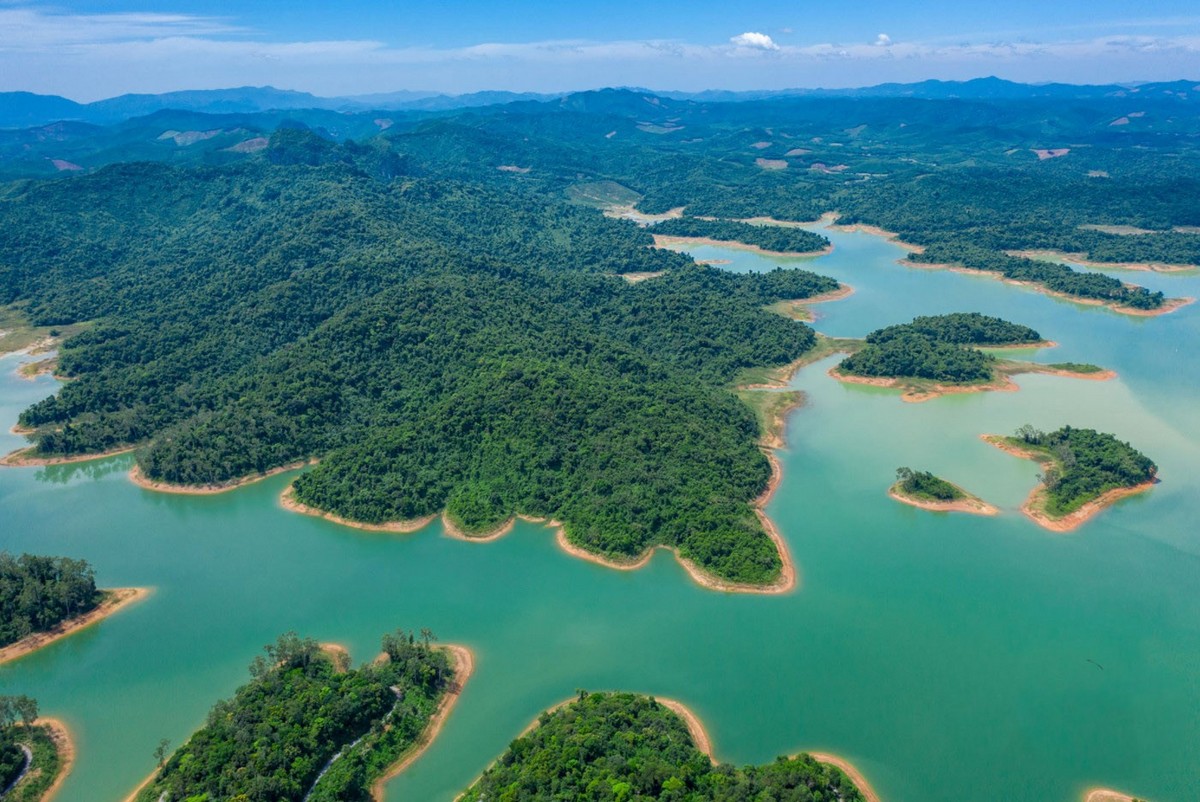 One of the most striking features of the park is the surrounding lakes and rivers, with the most notable being Song Muc Lake, covering an area of over 4,000 hectares. The lake maintains a peaceful, blue appearance all year round, resulting in a picturesque landscape of mountains and water that makes visitors feel as though they are lost in a fairyland.
TOP 7 Things to Do in Ben En National Park
Here are some exciting activities that you shouldn't miss when you visit Ben En National Park.
Enjoying a boat trip on the Song Muc Lake
Ben En National Park is an amazing ecotourism destination that covers a diverse system of lakes, caves, mountains, and forests. The most remarkable spot is the beautiful and serene Song Muc Lake, the largest lake in the region. The lake's crystal-clear waters and clean air create a calming and refreshing atmosphere for visitors who go sailing to admire the breathtaking views of the lake and its surroundings.
In addition, there are many exciting activities for tourists to experience in the surrounding area of Song Muc Lake. Adventurers can explore the riverbed by diving with floating tubes or diving gear. Fishing and catching fish with a net on both sides of the lake's shore are also among the activities worth trying during your trip.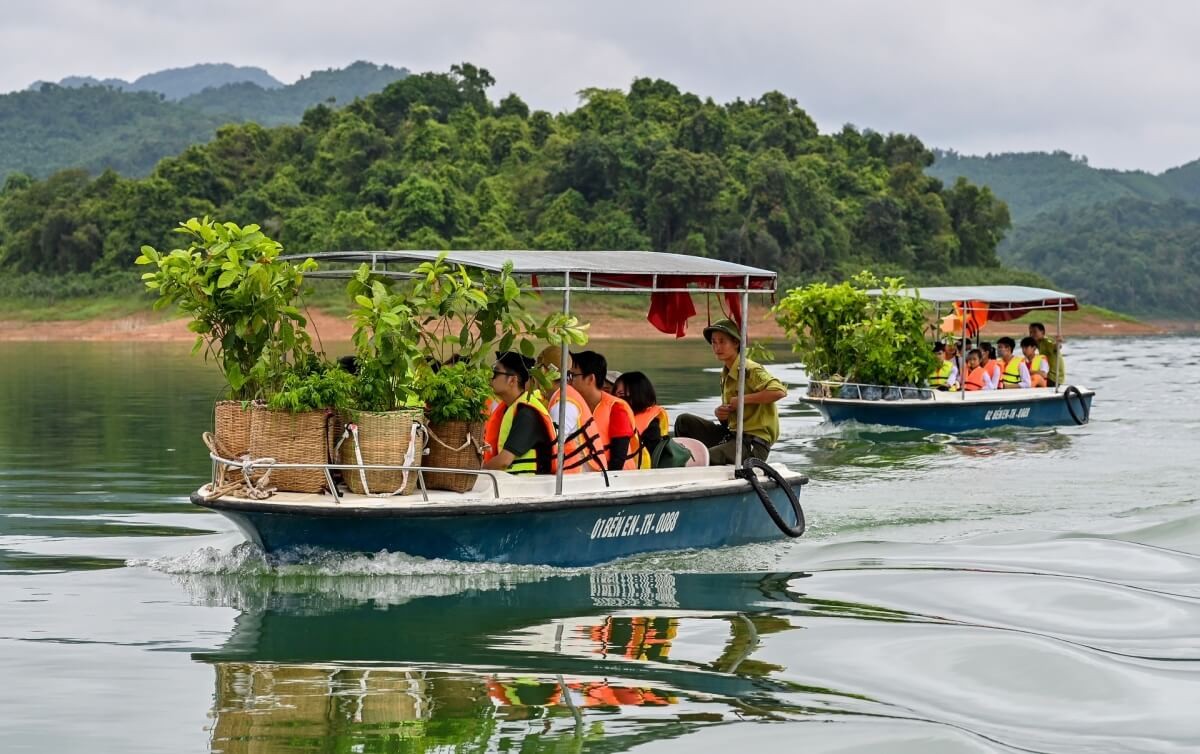 Particularly during the cool autumn months, traditional local festivals take place at Song Muc Lake, turning the usually calm lake into a lively gathering place for outdoor activities such as boat racing and swimming, which draw numerous locals and foreign tourists alike to attend. These festivals provide an excellent chance to unwind and meet new people. Sounds fascinating, doesn't it?
Discover the diverse ecosystem of the area
Ben En National Park, located in Thanh Hoa, is a conservation area abundant with diverse flora and fauna systems. Not only is it home to 1,415 plant species, but it is also the habitat of 1,460 animal species, many of which are rare and listed in the Vietnam Red Book, such as the stump-tailed macaque, great hornbill, and Tonkin leaf monkey.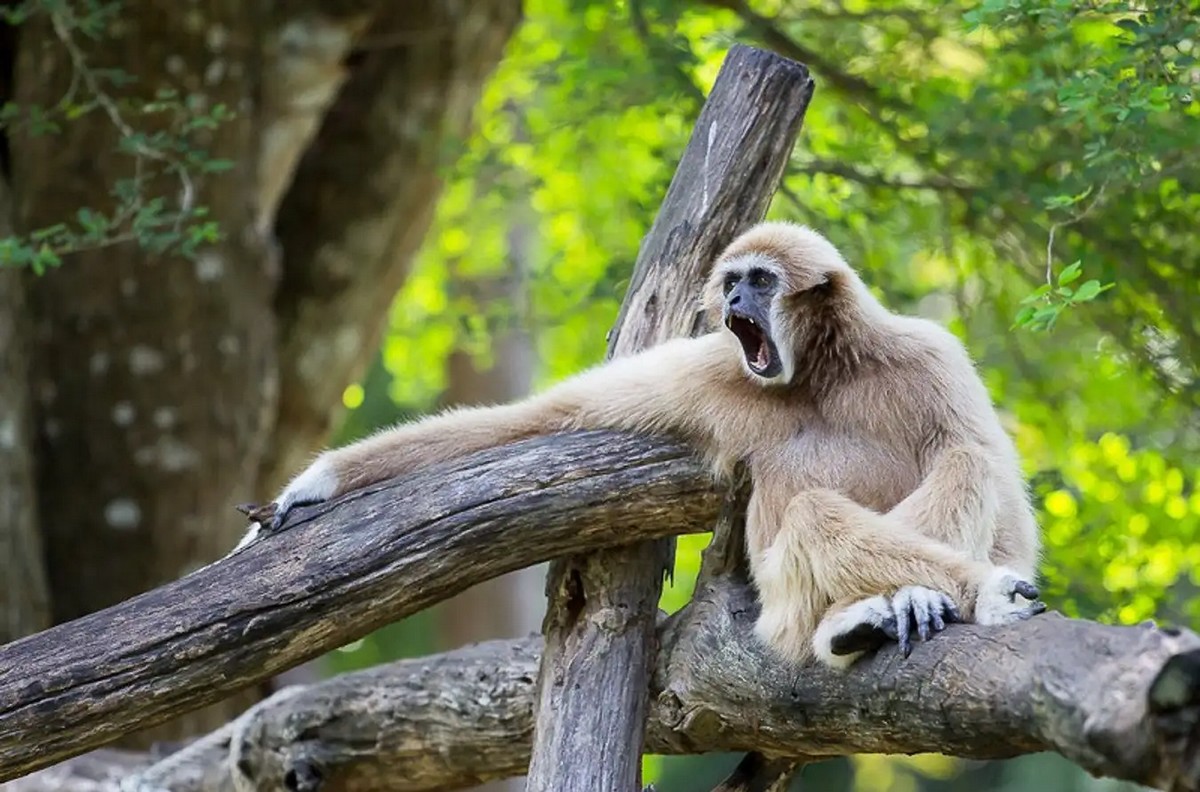 Visitors to the park may be startled by the sounds of wild animals or thrilled when they see a monkey leaping in front of them. The Erythrophleum fordii tree, which has stood for centuries with a trunk diameter of nearly 3 meters, is also a sight not to be missed among visitors. Ben En National Park is a beautiful destination for sightseeing and relaxation in nature, and it also serves as an important place to raise awareness of environmental protection and preserve rare wildlife species that are crucial for human life.
Exploring thousands-of-years-old caves
Exploring the ancient caves in Ben En National Park is a must-do activity for visitors. The park is home to many natural caves, each with its own unique beauty that has lasted for thousands of years, including Jade Cave (Hang Ngọc), Bat Cave (Hang Dơi), Fairy Stream Cave (Hang Suối Tiên), and more.
Jade Cave, in particular, is one of the most stunning sights in the park, leaving a lasting impression on many and drawing countless travelers to explore it. The cave gets its name from a glittering ancient giant stone inside it. According to local legend, bathing in the crystal-clear stream that flows gently through Jade Cave can help people wash away all sins and dust. Although this has never been proven, locals still hold strong beliefs in this beautiful tale and pass it down through generations.
Visit Ben En Museum
Located adjacent to the entrance gate of Ben En National Park, the Ben En Museum is a modern and spacious building that houses many ancient artifacts and relics discovered in the region. The museum features plenty of large windows on all four sides, providing natural ventilation and a more pleasant experience for visitors during their visit.
If you go on a tour, the guide will provide you with information about Ben En National Park, as well as some interesting facts or historical events related to the objects exhibited in the museum. However, please note that the use of cameras or any other devices to capture images of the artifacts is strictly prohibited.
Explore the unique local culture in the surrounding villages
To fully experience Ben En National Park, it would be better to participate in activities that allow you to gain a deeper understanding of the local life and people. These activities include talking with the locals, cooking with them, dancing around a campfire, listening to stories from elders, and tasting local dishes such as Vietnamese sour soup with bard, bitter soup with pig liver and a special local bitter leaf, and grilled stream fish.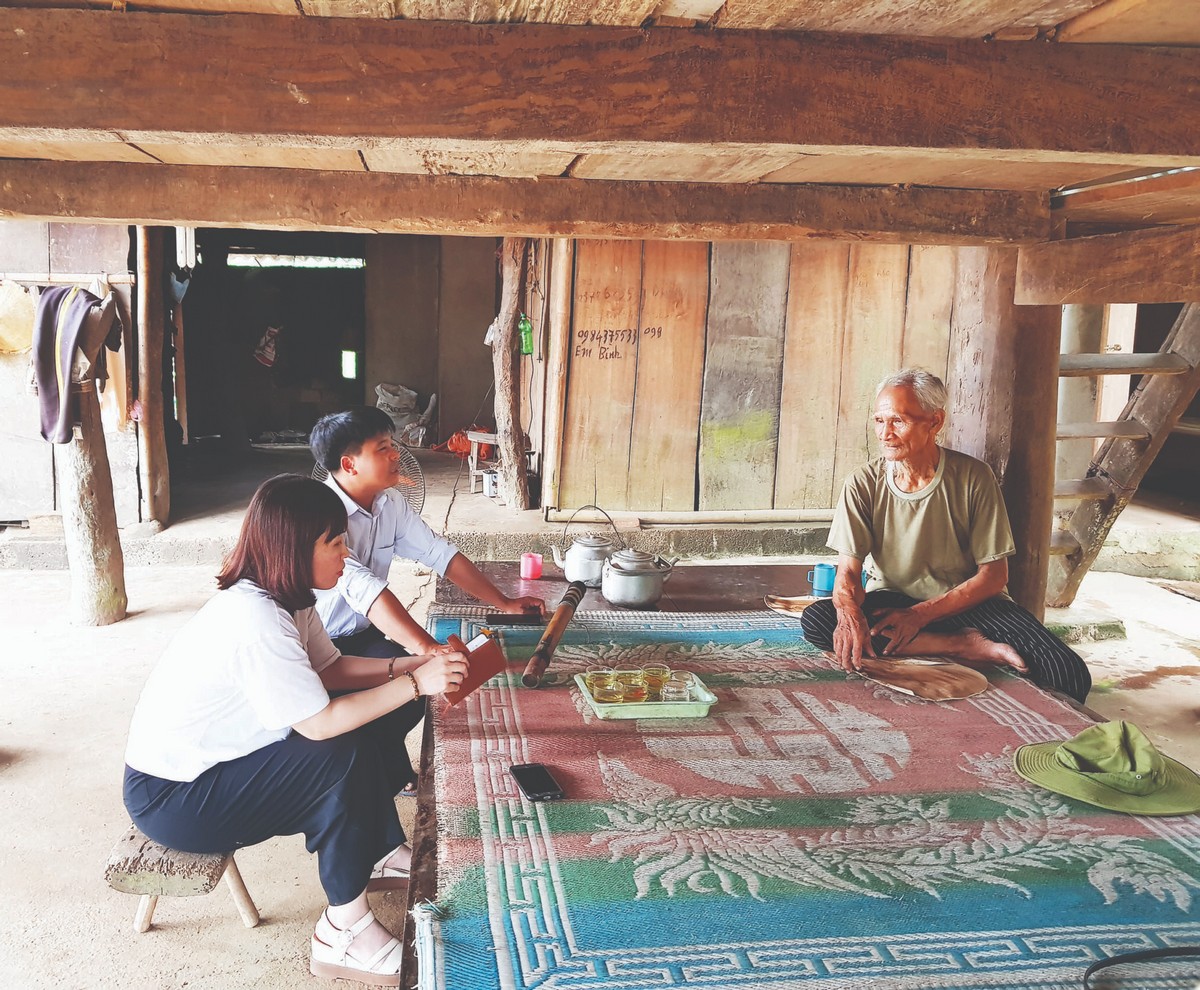 These activities usually occur in the evening, around a warm campfire in the refreshing mountainous environment. With the warm hospitality and kindness of the locals, the experience is sure to be unforgettable.
Camping in the forest at Ben En National Park
With its terrain full of rolling hills, Ben En National Park is an ideal place for one-day or overnight camping. Camping is allowed here for free. The park administrators also offer tent and tarp rental services if you don't have or bring enough equipment. However, during your camping activities in Ben En National Park, be mindful of where you set up camp to avoid starting forest fires, and make sure to leave the park as clean as possible when you're finished.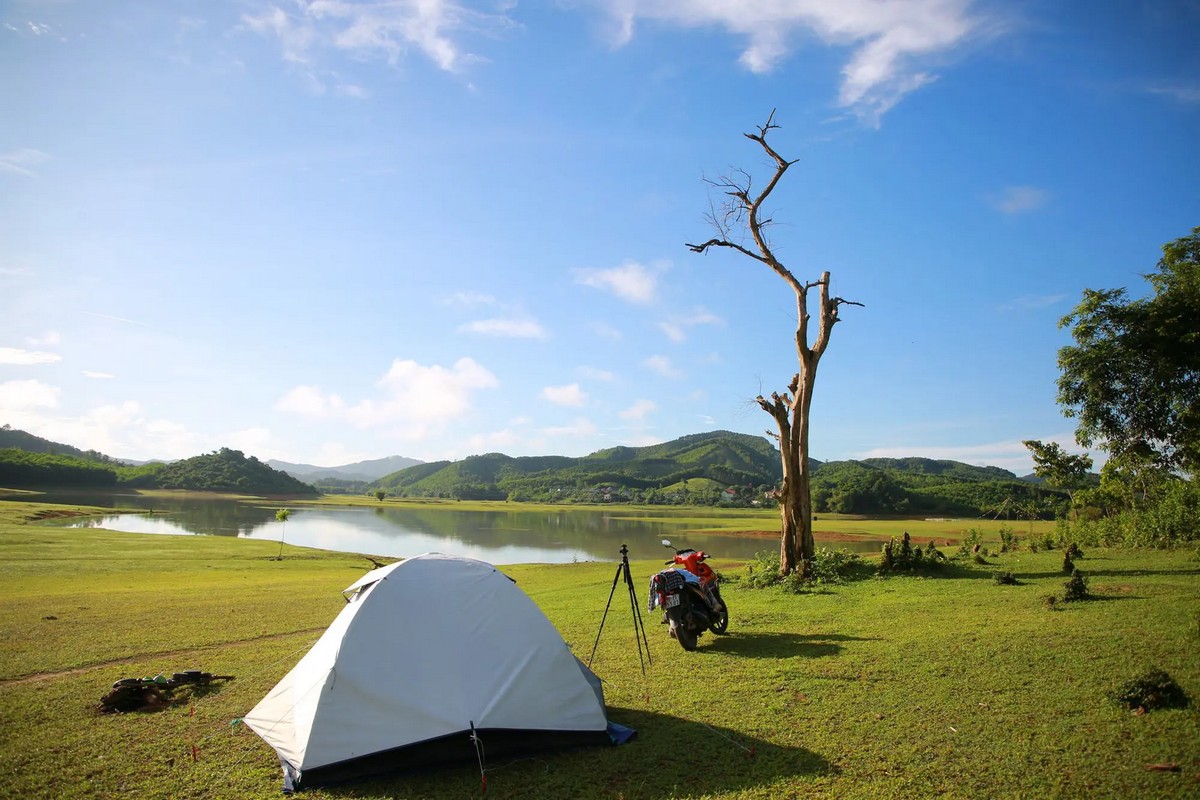 Admiring the flock of storks at Song Muc Lake during sunset
Ben En National Park is stunning at any time of the day, but it is most breathtaking during sunset. When the sun goes down over the lake and hundreds of storks fly back to their nests, it is the most beautiful moment of the day. The sunset view only lasts for 15 to 30 minutes, so be sure to keep track of time to avoid missing out on this magical experience!
Some Visiting Tips for Your Travel to Ben En National Park
If you plan on visiting Ben En National Park, there are several key tips to keep in mind that will enhance your overall experience.
Avoid leaving trash on your journey to preserve the natural environment in Ben En National Park.
Be sure to prepare comfortable and easy-to-move clothes for yourself to have the best outdoor experience.
Remember to bring mosquito repellent cream or even medical equipment if necessary to avoid insect bites in the forest.
Pack some light food and drinks for your trekking and camping adventure.
Don't forget to bring sports shoes to ensure that your feet stay comfortable throughout your journey of exploration. This will help you conquer all the roads that come your way.
---
Hopefully, you are ready to take the time to appreciate all that Ben En National Park has to offer with the useful information provided above. Wish you a fun trip with an unforgettable travel experience!
---
Tours related to Thanh Hoa