With its unique and pristine natural beauty, Quang Binh is an attractive tourist destination for adventurous travelers. A visit to this region, known for its abundant sunshine and gusty winds, is sure to be a memorable experience. Let's explore the following 10 destinations to discover why Quang Binh is such an attractive location!
Phong Nha – Ke Bang National Park
As a World Heritage Site, this is a must-visit destination in Quang Binh. Phong Nha-Ke Bang National Park is home to the world's largest limestone cave system and offers a breathtaking view of the pristine fauna and flora. The exquisite beauty of the 400-million-year-old stalactites and stalagmites inside the caves is a sight that will leave tourists in awe.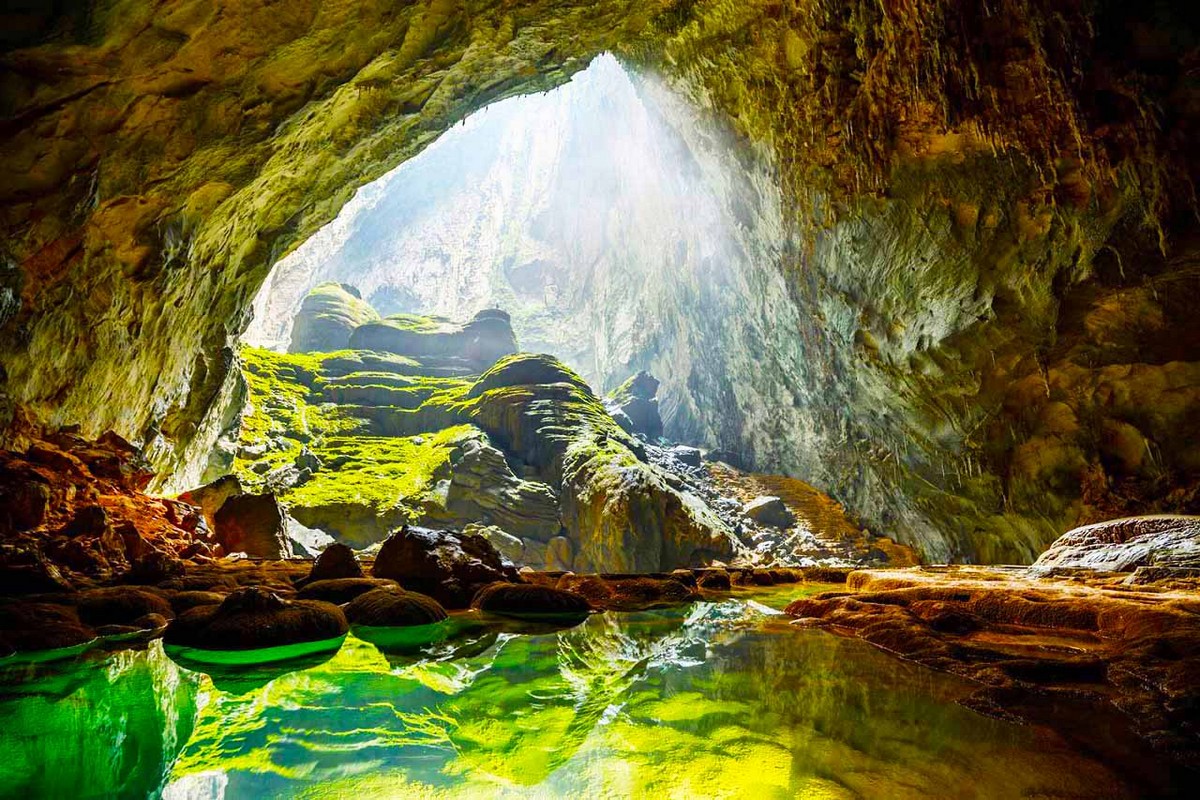 The park is a precious gem amidst the barren desert of Quang Binh, where the sun shines and the wind blows all year round. As soon as tourists enter the cave entrance, they can feel the cool and refreshing air, along with the moisture and the unique scent of limestone. Experiencing boat rides through the water, so clear that visitors can see to the bottom of the cave, is also a truly unforgettable experience for anyone.
Hang En Cave
As the third-largest cave in the world, Hang En Cave is a well-known adventure tourism destination in Quang Binh, Vietnam. Upon entering the cave, visitors will feel as if they have entered a different world – mysterious yet picturesque – with stalactites and stalagmites formed over hundreds of millions of years and a huge crystal-clear lake inside. It is undoubtedly a must-visit destination for anyone interested in exploring nature.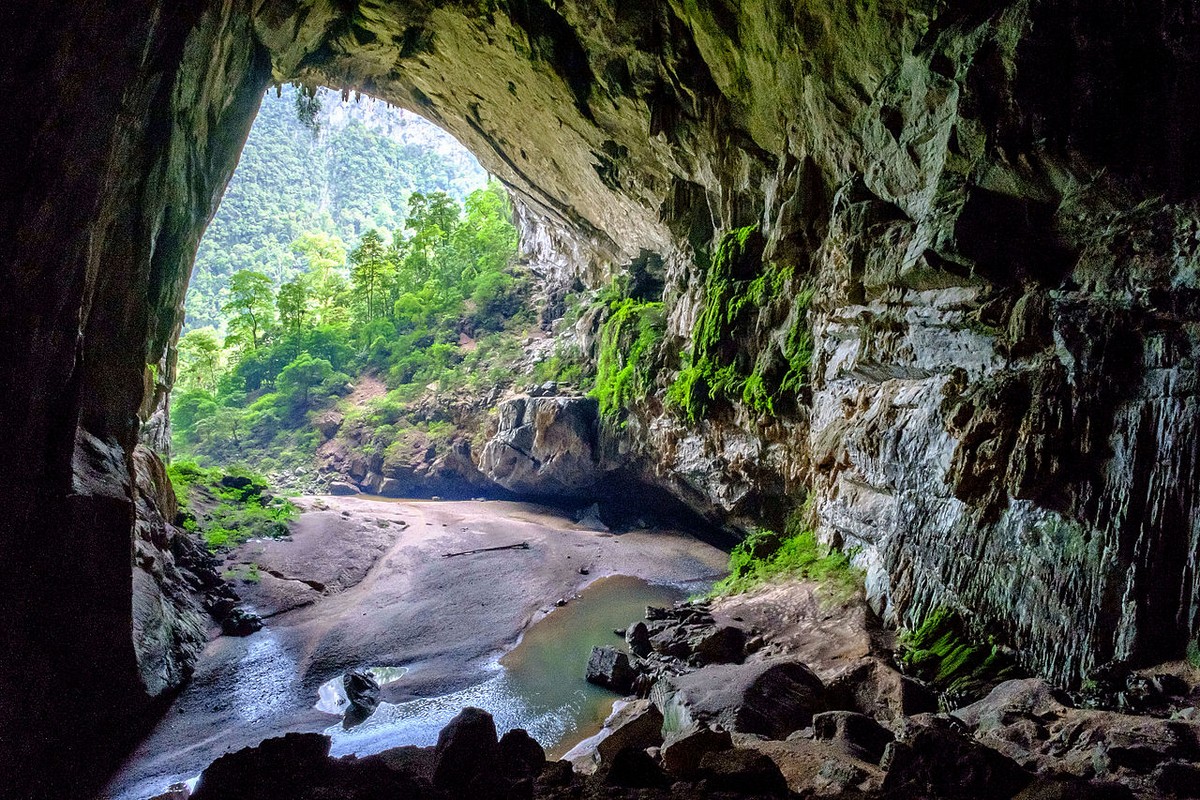 Paradise Cave
The locals call the cave "the underground paradise" due to its unparalleled beauty that cannot be found anywhere else. The cave is full of beautiful and spectacular stalactites and stalagmites that impress anyone, even at first glance. As a UNESCO World Heritage Site, the cave exudes a mystical and dreamlike aura that makes visitors feel as though they are stepping into a magnificent ancient palace. This attracts thousands of visitors to explore its charm, as well as its natural beauty and unique species.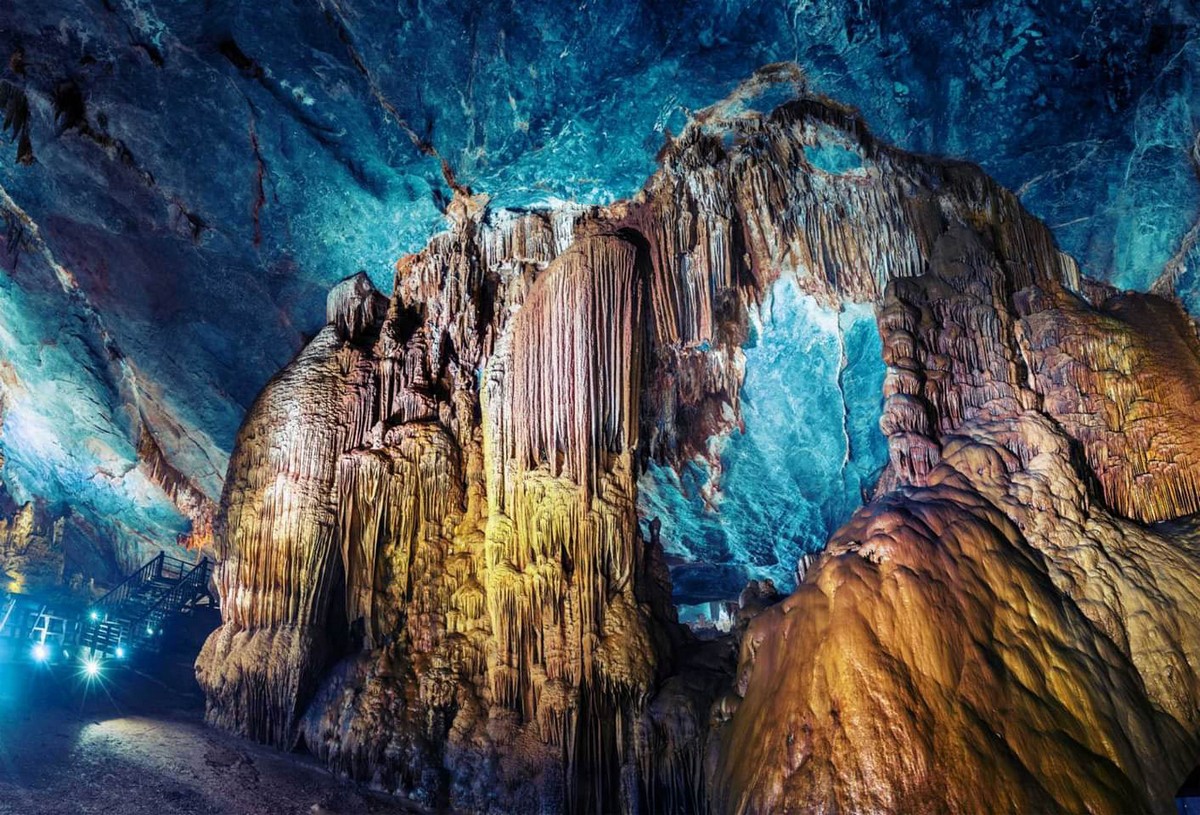 Son Doong Cave
Son Doong Cave is located within the boundaries of Phong Nha-Ke Bang National Park. Recognized by UNESCO as the world's largest cave, the cave stretches over 9 kilometers in length, 150 meters in width, and 200 meters in height. Apart from its immense size, Son Doong Cave is also famous for being home to a diverse and endangered range of species.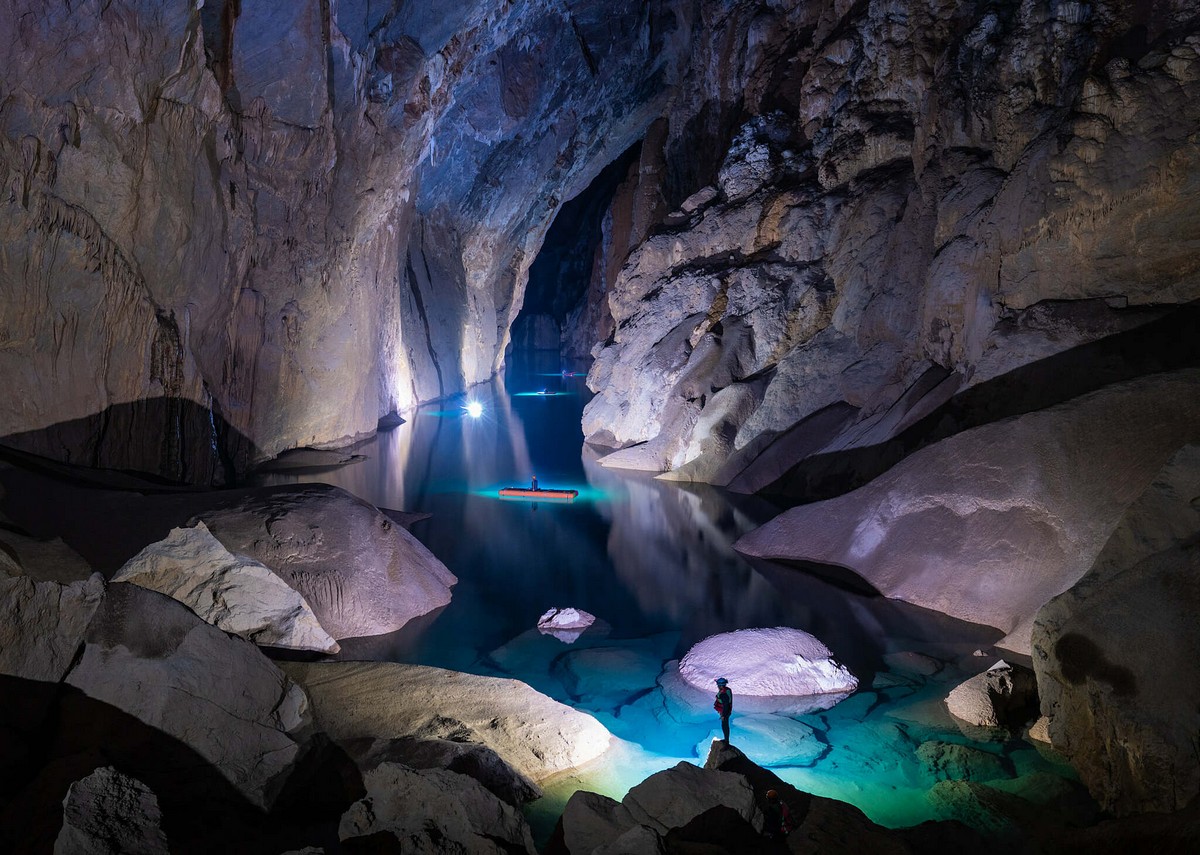 However, this destination is not currently open to mass tourism. To fully appreciate the enchanting and enigmatic beauty of Son Doong Cave, visitors need to go on a guided adventure tour authorized by the provincial department.
Nhat Le Beach
As one of the top 10 most stunning beaches in Vietnam, Nhat Le Beach attracts a large number of local and international tourists annually. The best time to visit Nhat Le Beach is between May and August when the weather is sunny and there is little rain.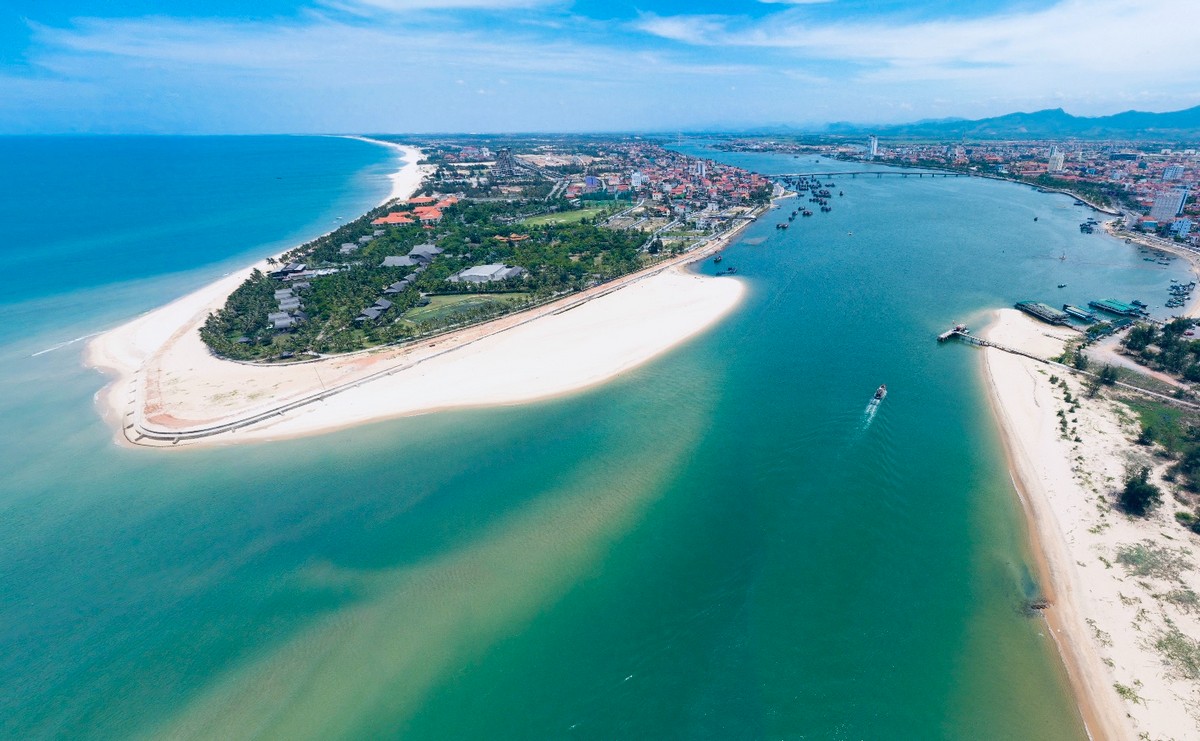 The two most important things that make Nhat Le Beach an ideal destination for a summer holiday are its fine sand and clear blue sea. Despite its location near the city center, the area still maintains its pristine and majestic beauty. Take some time to admire the gorgeous sunset scenery; you won't regret it.
Dancing Rock Beach
Dancing Rock Beach is one of the most breathtaking beaches in Quang Binh. Every rock found here is a natural masterpiece, intricately sculpted into various shapes by Mother Nature. In the area of Dancing Rock Beach, you'll discover the Toad Well, named after a large rock in the shape of a toad that is perched atop the well. The water in the well is crystal clear, so much so that locals often come here to take water, especially when they visit the nearby temple to worship.
Quang Phu Sand Dunes
Located approximately 8 kilometers away from the center of Dong Hoi city, Quang Phu sand dunes possess a pristine beauty of vast white sand dunes stretching towards the blue sea, making it not only an ideal destination for outdoor activities but also a perfect place for taking plenty of excellent photos. The sand dunes are dotted with numerous clumps of wild bushes, creating a desert-like scene that will captivate your senses.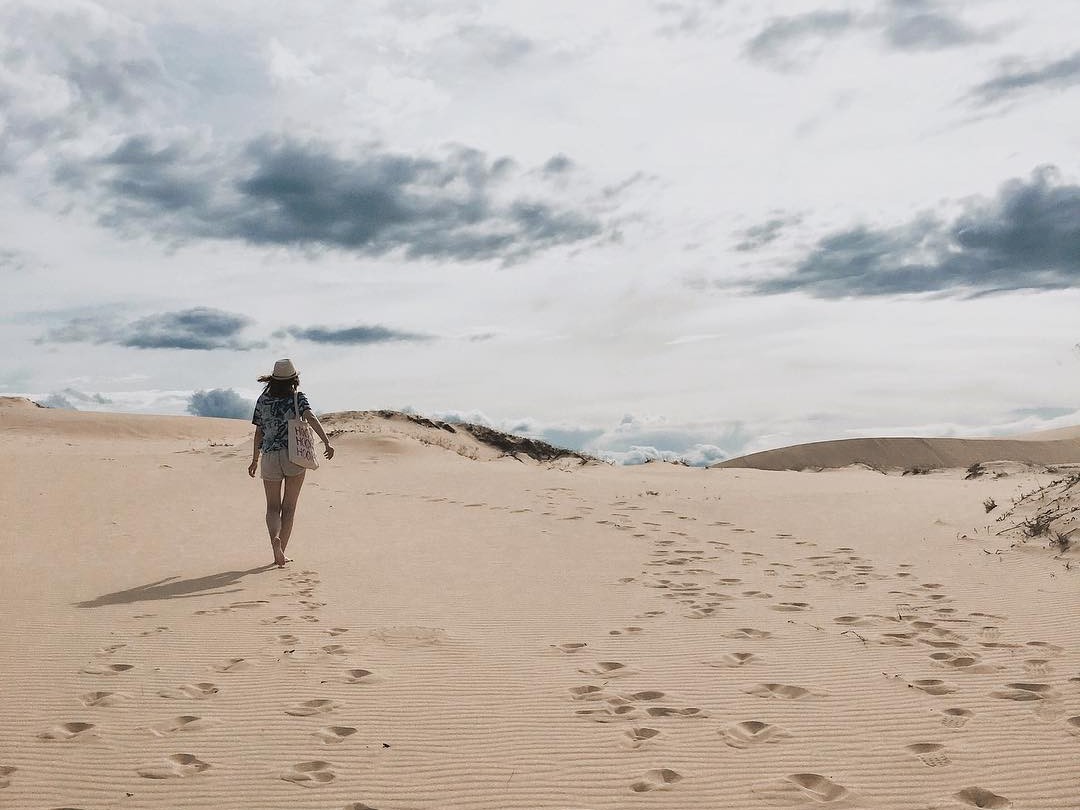 When visiting here, don't miss out on the exciting sand sledding! You can grab a board and slide down from the high peak of a sand dune, glide over the smooth sand grains, and immerse yourself in the sea breeze and beautiful natural environment. This activity is especially popular among groups of tourists, friends, and families, as it can bring back fond childhood memories and help strengthen bonds between people. Plus, it's just incredibly fun and refreshing!
Chay River – Dark Cave
One of the most popular tourist destinations in Quang Binh is the Chay River-Dark Cave, which is part of the Phong Nha-Ke Bang National Park world natural heritage site. The surroundings of the Chay River are breathtaking, with lush greenery covering rocky mountain ranges, creating a fresh and clean atmosphere that helps you recharge your energy levels. You'll be amazed by the naturally green water, which is the result of the erosion of limestone rocks over millions of years.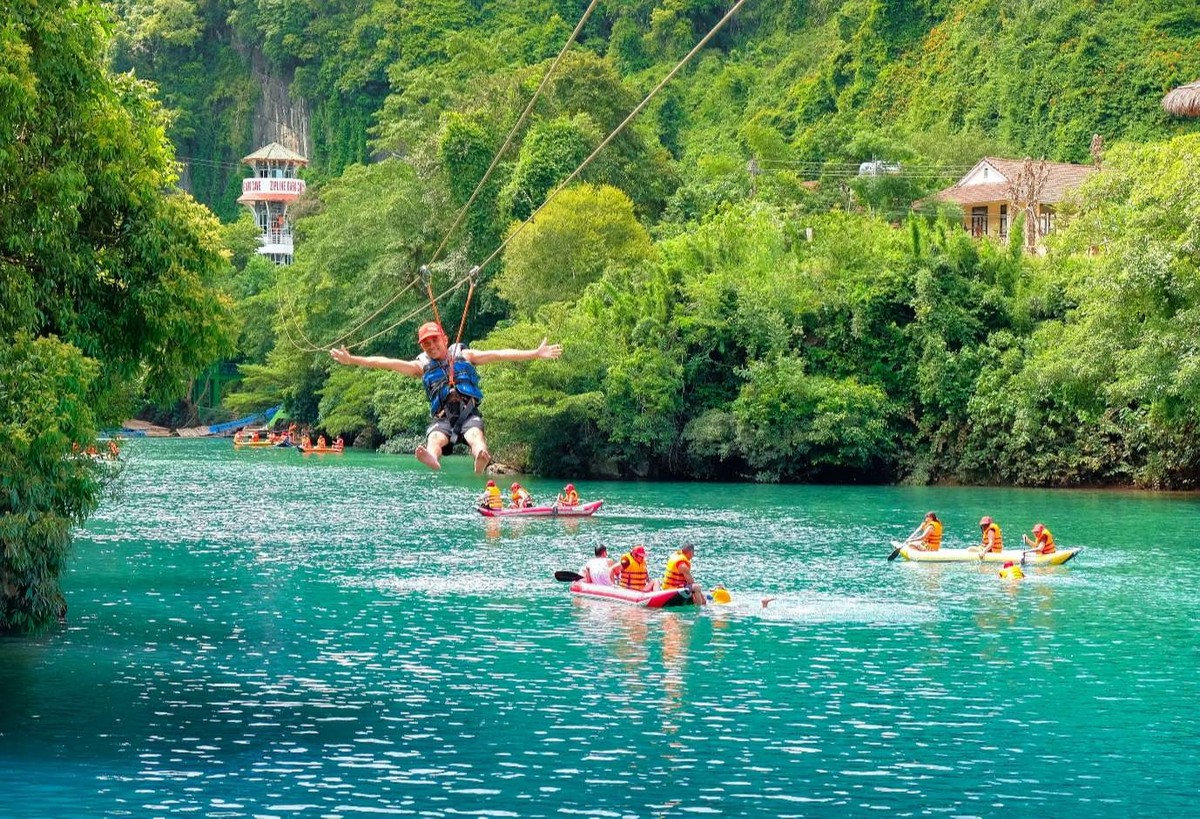 Experiencing a cruise on the Chay River is an excellent idea. During your trip, you will get to observe the ancient lifestyle of the people in villages on both sides of the river, such as Tram, Me, and Chay Lap. Additionally, you can also enjoy adventurous experiences like zipline rides, kayaking, and other fun water games. So why wait? Book your trip to Quang Binh now to enjoy all the amazing things this place has to offer!
Bang Mineral Hot Spring
Located in Kim Thuy commune, Le Thuy district, Quang Binh province, the Bang mineral hot spring is truly one-of-a-kind. Unlike other hot springs, the temperature of this hot spring sometimes exceeds 100 degrees Celsius, with the highest recorded boiling point being 105 degrees Celsius. Bathing in this hot spring is extremely beneficial, as its water contains rare trace elements that are good for your health.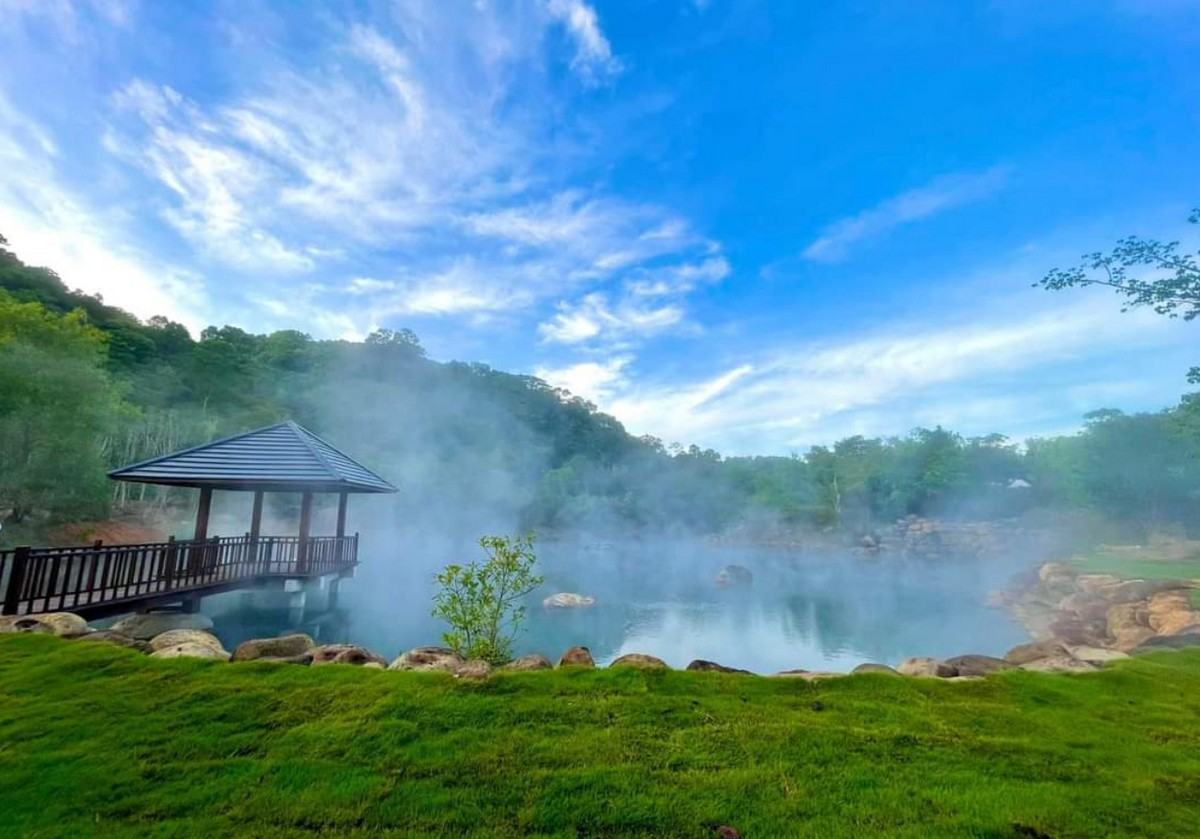 Canh Duong Mural Village
The Canh Duong Mural Village in Quang Trach District, Quang Binh Province is a must-visit for tourists seeking a unique and beautiful experience. As you stroll along the 100-meter-long village road, you will be amazed by a myriad of unique and beautiful murals that vividly depict a variety of themes, such as wartime, peacetime, environment, and the daily life of locals. Do not miss out on this incredible experience!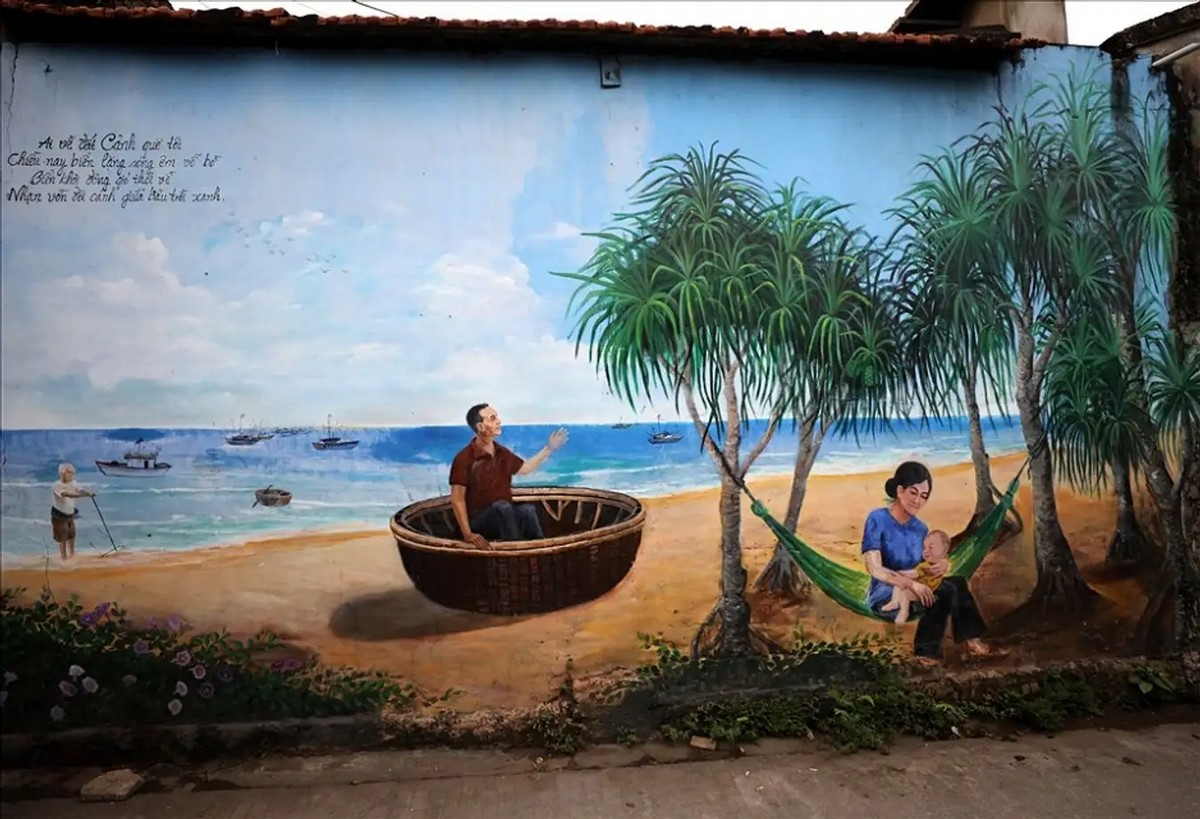 ---
It is undeniable that Quang Binh is home to many captivating tourist destinations for visitors to explore and enjoy. Hopefully, with the 10 attractive tourist spots listed above, you are ready for your upcoming exciting trip to Quang Binh.
---
Tours related to Quang Binh