When exploring the beautiful city of Phoenix flowers, tourists often wonder what to eat and buy as gifts. Fear not, for below are 10 Hai Phong specialties that are perfect for both indulging in and gifting.
Banh Da Cua (Red Rice Noodles With Crab)
The Red Rice Noodles with Crab, also known as crab noodle soup, is the first dish on the list with rich flavors of Hai Phong. If you are visiting this city, you absolutely must try this dish at least once. This fantastic specialty dish features thick, red, and chewy noodle strands, accompanied by a delicious combination of crab meat, shrimp, meat ball, wrapped betel leaf with pork, water spinach, and bean sprouts, all served with a clear broth. You can stop by one of the most famous crab noodle soup restaurants in the city, located in the Lach Tray area, and enjoy a delicious bowl of hot and fragrant crab noodle soup with confidence that you are experiencing one of the best dishes the city has to offer.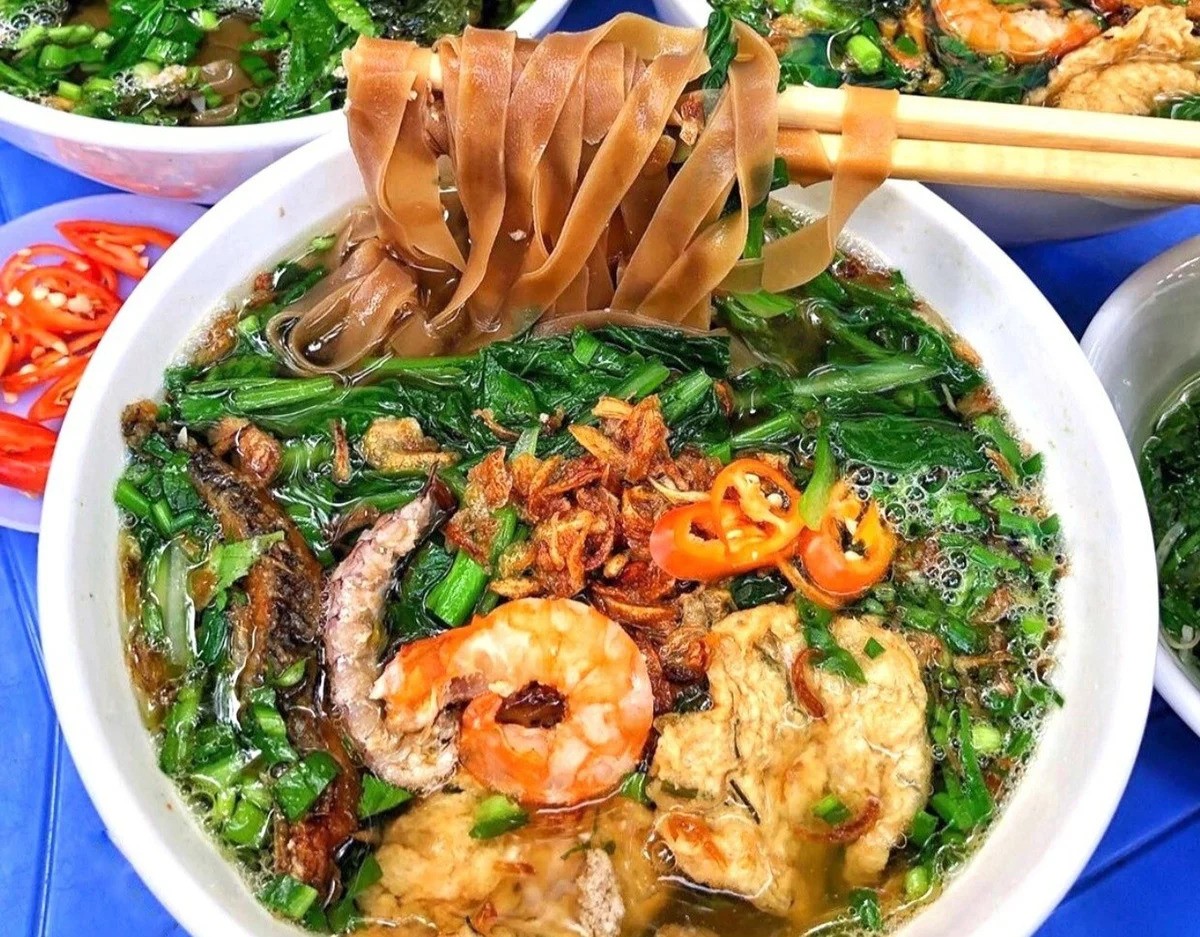 Price: VND30,000 (US$1.28) / bowl
Banh Mi Que Cay (Spicy Baguette Stick)
Spicy baguette sticks may be smaller than the regular ones, about the size of two fingers, but they captivate tourists with their unique filling. The filling includes pork liver pate and red chili sauce, which melt and blend perfectly when heated, creating an unexpectedly delightful flavor. Tourists can visit vendors along Le Loi, Dinh Tien Hoang, Minh Khai, and Hang Kenh streets to enjoy this tasty snack. Don't miss out!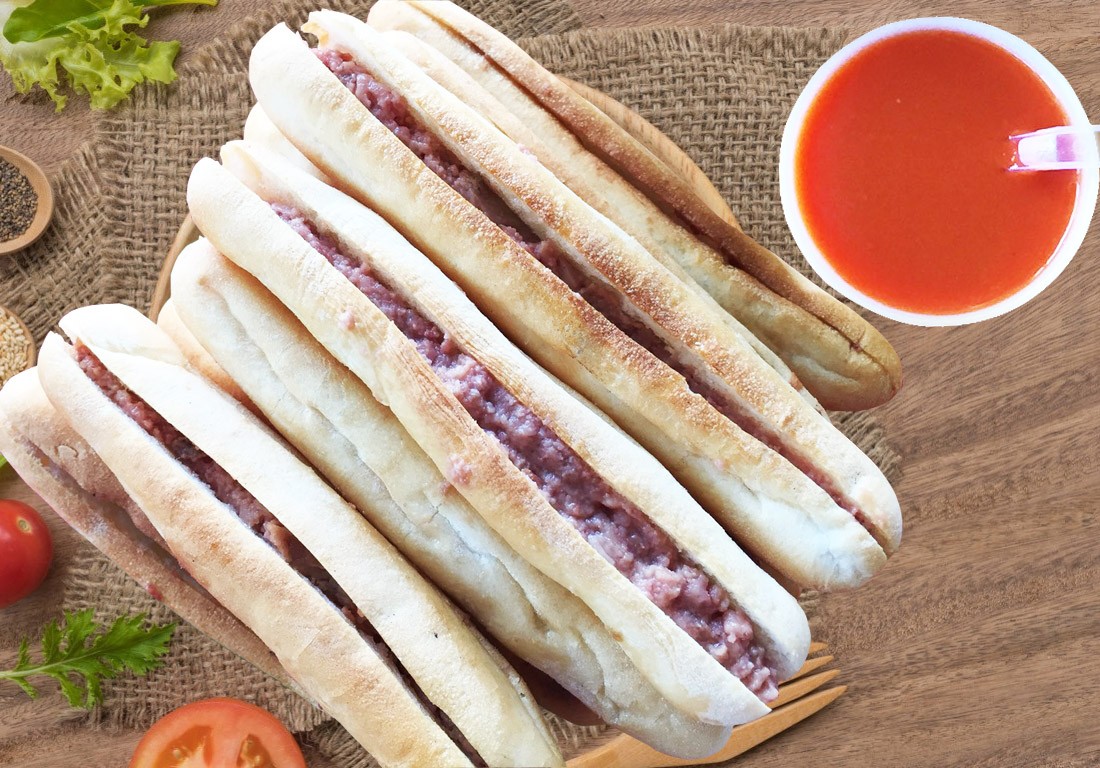 Price: VND2,000 – 5,000 (US$0.085 – 0.21) / stick
Bun Ca Cay (Spicy Fish Noodle Soup)
The spicy fish noodle soup is a must-try for tourists. This dish features chewy noodles, crispy fried fish, smooth fish offal, fresh herbs, and a flavorful spicy broth that is guaranteed to tantalize your taste buds and leave you yearning for more. Rest assured that this delectable soup will not disappoint.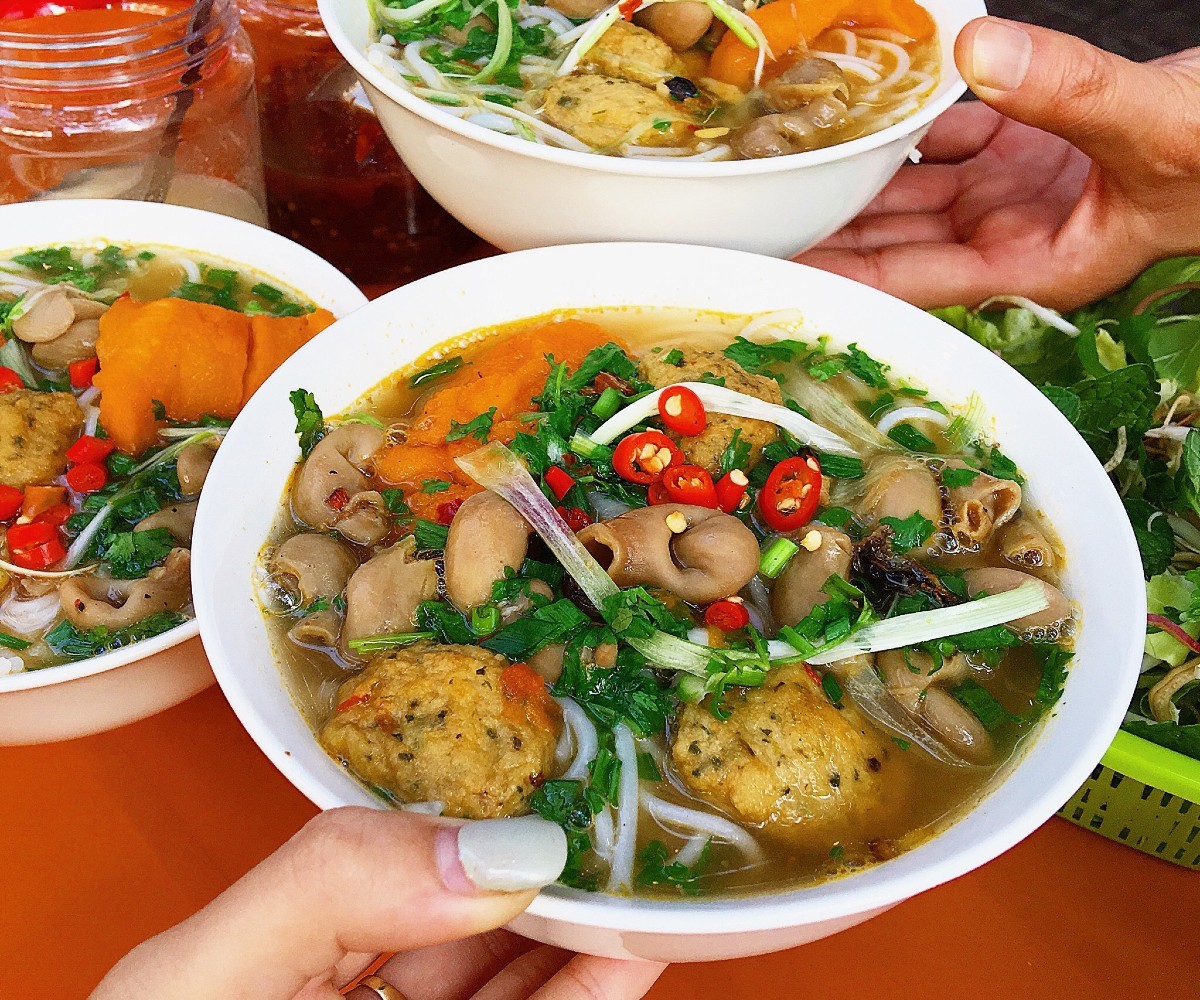 Price: VND20,000 (US$0.85) / bowl
Banh Duc Tau (Steamed Rice Cake)
Steamed rice cake is also a must-try for tourists visiting Hai Phong. This delicacy combines fresh, white cake with various mouthwatering fillings such as cassava, turnip, cabbage, minced shrimp, minced pork, and a unique dipping sauce. The resulting flavor is a perfect balance of tangy and spicy that you simply can't resist. For the best experience, we highly recommend trying this delectable dish at one of the many top-rated restaurants located on Du Hang and Cat Dai streets.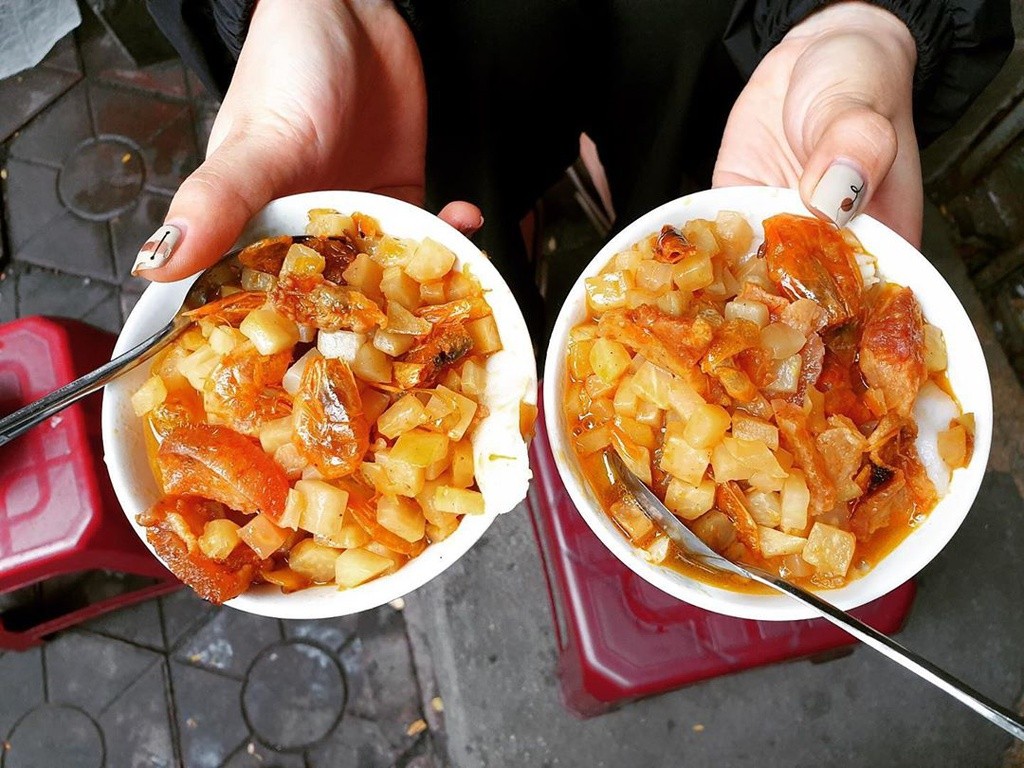 Price: VND10,000 – 20,000 (US$0.43 – 0.85) / bowl
Lau Cua Dong (Freshwater Crab Hotpot)
If you consider yourself a hardcore fan of hotpot, then you absolutely cannot afford to miss out on the unique and characteristic Haiphong-style freshwater crab hotpot. This hotpot boasts a rich, flavorful broth made from delicious crab fat, served with an array of delectable toppings, including pork, beef, offal, cilantro, malabar spinach, and red rice noodles. And the best part? You get to choose between soft white rice noodles and instant noodles to accompany your hotpot instead of being limited to red rice noodles.
What sets this hotpot apart is the unique way it is seasoned in Haiphong, resulting in a heartwarming dish that is perfect for colder weather. Indulge in this delectable dish at the renowned Minh Quynh restaurant (188 Van Cao, Ngo Quyen district) and savor every moment of your culinary adventure.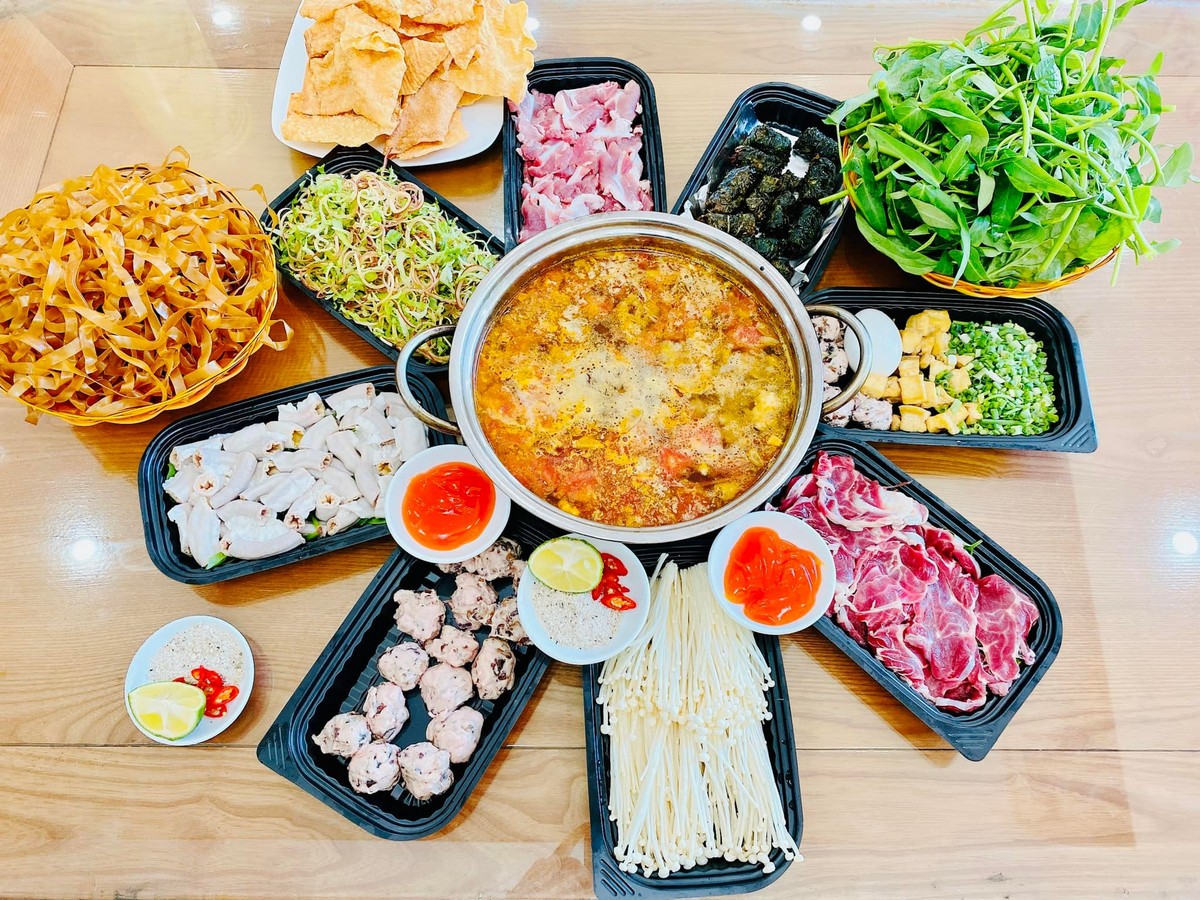 Price: VND140,000 (US$5.96) / pot
Gia Be Xao (Stir-fried Gia Be)
Prepare to be fascinated by the Stir-fried Gia Be – its name alone is intriguing. These ones, each no larger than a freshwater mussel, are cooked to the perfect crispiness and served with a distinctive dipping sauce that creates an irresistible sensation. If you're traveling to Hai Phong, be sure to visit Chu Van An market (55 Chu Van An, Ngo Quyen district) or Cat Bi market (Hai An district) to experience this one-of-a-kind culinary delight.
Price: VND15,000 (US$0.64) / plate
Nem Cua Be (Crab Spring Rolls)
Hai Phong's crab spring rolls are a specialty that should not be missed. Although they have a familiar shape to the Northern Vietnamese spring rolls, the filling sets them apart with its finely chopped seafood and bean sprouts. The crispy, non-greasy wrapper perfectly complements the sweet and savory taste of the filling, making for a truly delicious dish. A visit to Hai Phong would be incomplete without indulging in these famous crab spring rolls – a must-try for any food enthusiast.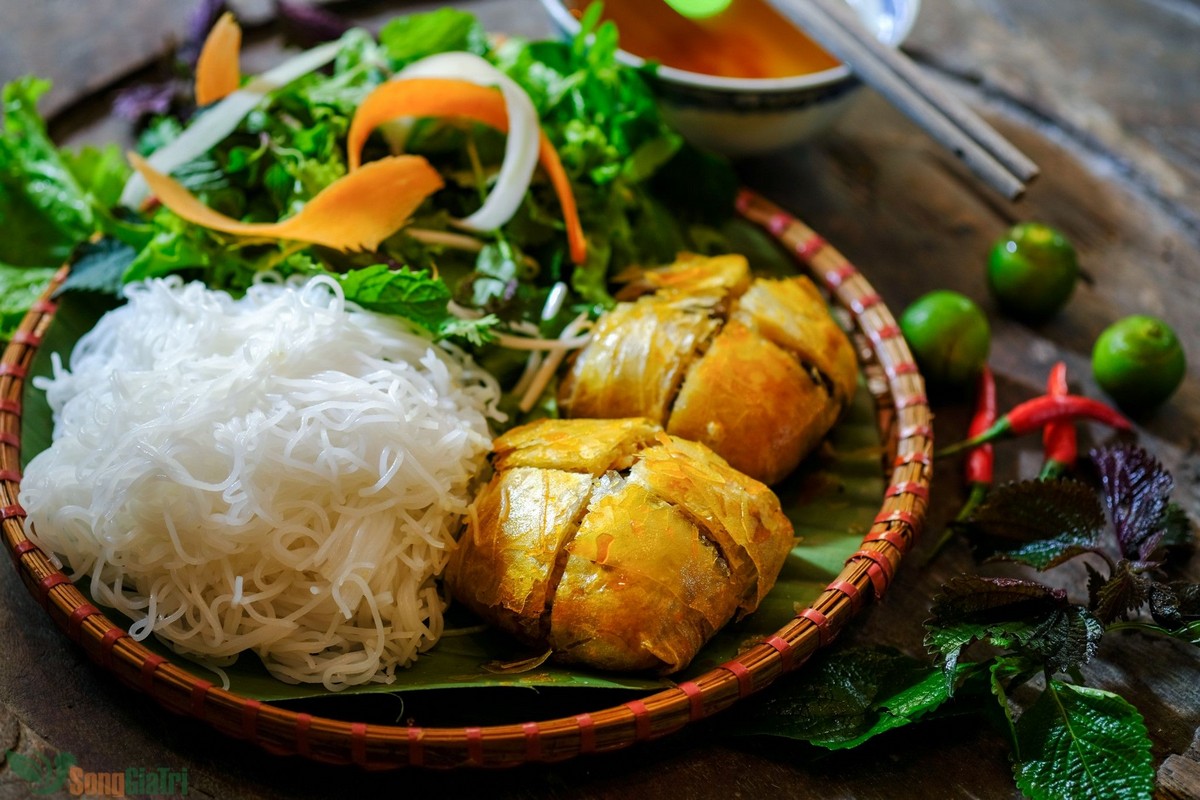 Price: VND20,000 – 55,000 (US$0.85 – 2.34) / plate
Mat Ong Cat Ba (Cat Ba Honey)
Cat Ba honey is one of the great specialties of the city of Phoenix flowers. The shiny, smooth, golden honey is directly sourced from Cat Ba Island. This type of honey not only boasts a delicious taste but also provides high nutritional value, which is advantageous for people's health. Rest assured that consuming Cat Ba honey is an excellent choice for your well-being.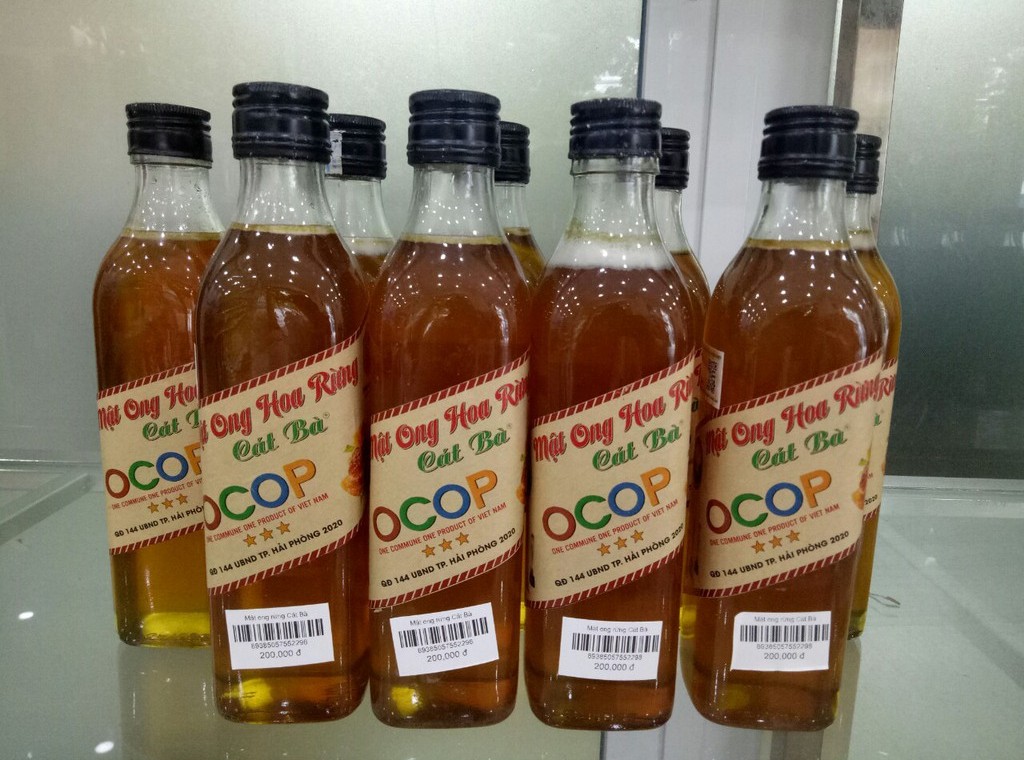 Price: VND150,000 – 200,000 (US$6.39 – 8.52) / liter
Sa Sung (Peanut Worm)
At the Hai Phong market, peanut worm is a beloved specialty. In traditional Vietnamese medicine, peanut worm is referred to as the "ginseng of the sea" due to its high nutritional value. The peanut worms found in Hai Phong always meet quality standards, as they are fresh, nutritious, and have the ability to enhance the health of consumers. When traveling to Hai Phong, visitors should not miss the chance to visit the seafood market located at 4H, Tran Hung Dao Street, Hong Bang district and purchase some peanut worms as gifts.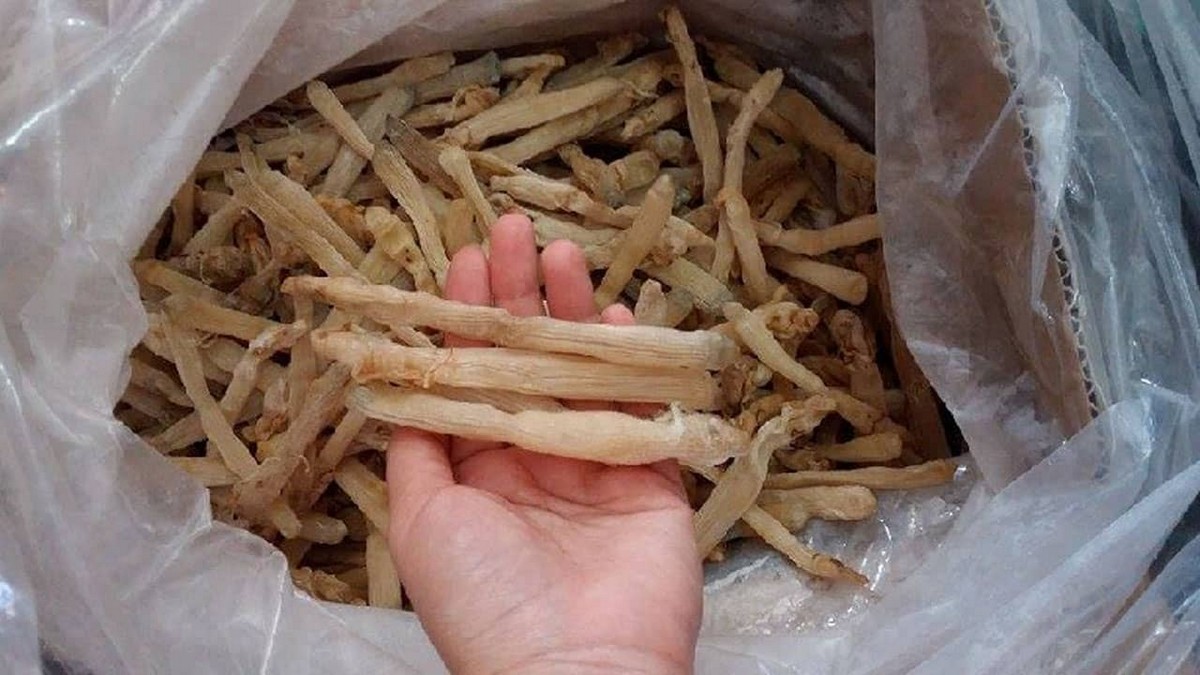 Price: VND790,000 (US$33.64) / kilogram of fresh peanut worms
Seafood & Dried Seafood
Coastal cities offer a unique cuisine that features fresh, delicious seafood creatively prepared to retain the flavors of shrimp, squid, and other seafood while leaving a lasting impression on diners. Dried seafood is also a specialty that many tourists seek out as gifts when visiting Hai Phong. The variety of dried seafood available is impressive, from dried fish to dried squid and dried shrimp. Hai Phong dried seafood is particularly noteworthy for its fragrant aroma when grilled, making it a perfect snack or accompaniment to wine.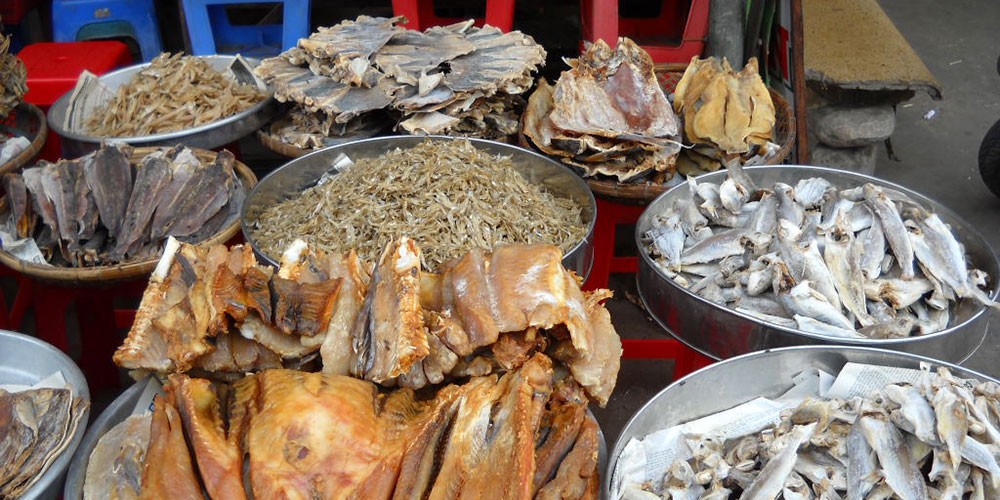 ---
To make your visit to the port city of Hai Phong even more enjoyable, it's not just about finding high-quality tourist attractions. Trying the local cuisine is also a must, especially for foodies like you. With the information shared here, we hope you'll be able to easily find a menu of Hai Phong's specialties to try. Have a great time exploring the city!
---
Tours related to Hai Phong